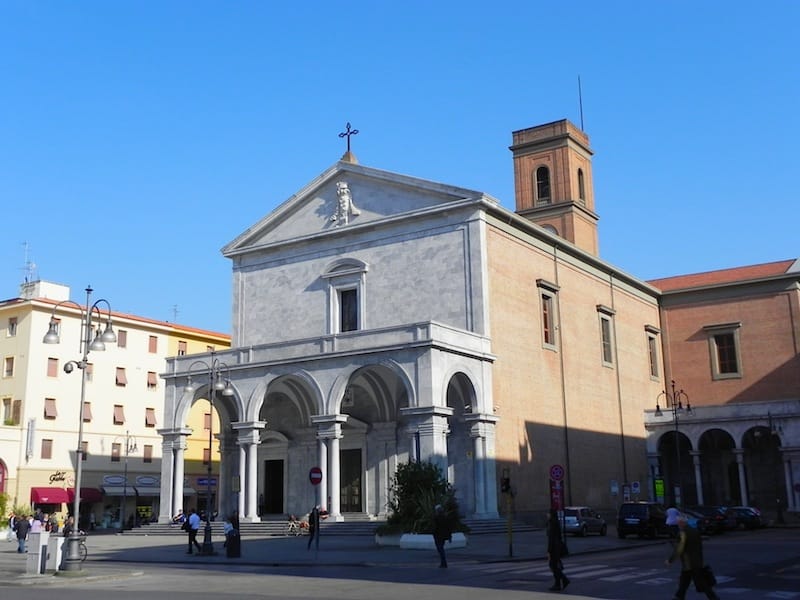 Livorno's St. Francis Cathedral
Photo by R. Rosado © IQCruising
The Cathedral of San Francesco d'Assisi is located in the centre of Livorno, in Piazza Grande and is one of the main highlights of the city. Usually referred to as Duomo, by locals and tourist alike, it was commissioned by the Medicis, designed by Bernardo Buontalenti and Alessandro Pieroni, and built during the late 16th and early 17th centuries by Cantagallina (completed in 1606). The building was completely destroyed by bombings during the Second World War (specially the bombings that took place in 1943), but was restored to its original beauty and grace in the 1950's.
The interior of the cathedral contains a number of tombs on the floor and on the wall, as well as intricate frescoes on the ceiling. "Must See" works of art include Fra Angelico's "Christ Crowned with Thorns" in the left lateral side chapel dedicated to the Eucharist, the "Triumph of Saint Giulia" by Jacopo Ligozzi, "Assumption of the Virgin" by Domenico Cresti da Passignano and "Saint Francis of Assisi" by Jacopo Chimenti. Outside the cathedral there is a front porch with rounded arches. The six bells of the current cathedral were remade from five of the original bells, which were damaged during the war (one was never found).
Getting There
The Duomo is the main building in Piazza Grande, which is no more than 100 meters from Piazza Municipio where the Shuttle Bus from the Porto Industriale stops. If docked at the Porto Mediceo, the Piazza is right in the middle of Via Grande - the main street that connects the old port to Piazza Repubblica - and is at walking distance from this docking spot (less than 1/2 mile or 700 meters). The Piazza Grande is the main transportation hub of Livorno, with bus stops (R on map for the bus #1 to the railway station) and a taxi stand. On each corner of the square there are newsstands that are ideal places to buy bus tickets or phone cards.
Duomo (Cathedral) - Map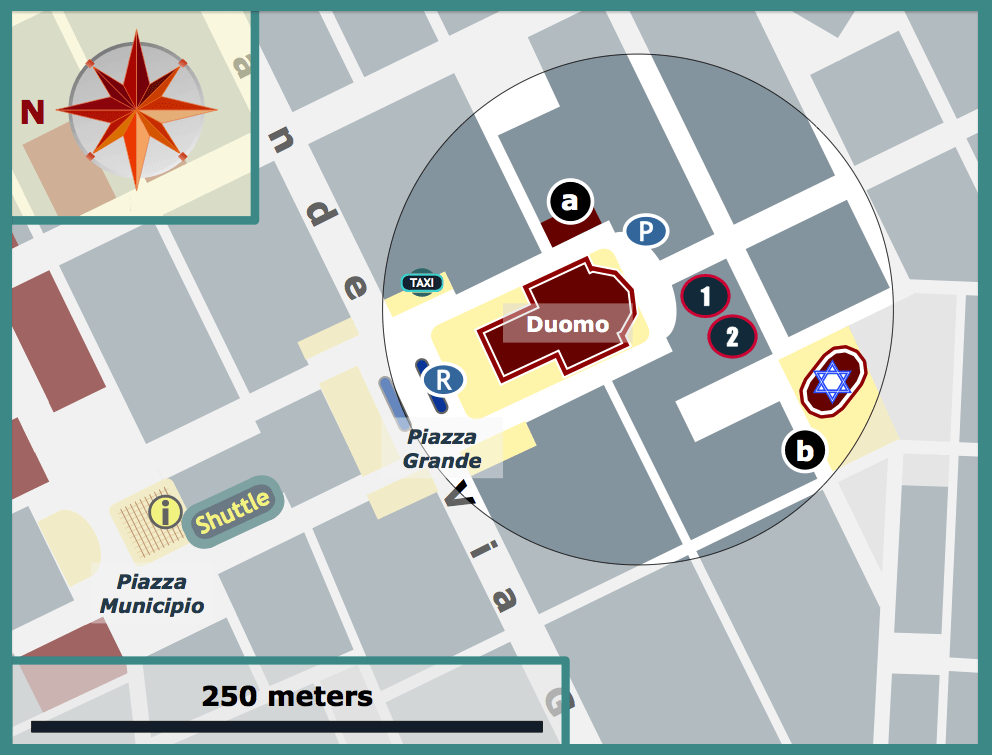 Nearby
Behind the Duomo, on a small street on the north side, the cruise passenger will find the small 'Church of St. Giulia' (a on map) worth visiting and just a few meters away the bus stop to Pisa (P on map), departing on the hour with stops along the beaches of Tirrenia, Marina di Pisa and the city of the leaning tower. The New Synagogue (b on map) is impossible to miss on square (Piazza) Elijah Benamozegh.
Restaurants and Flavors
Also behind the Duomo, on the south side the 'Caffe Duomo' (1 on map) is a nice place to have a quick bite, a cappucino and to check emails as it offers Free Wi-Fi. Around the corner from this well known coffee shop you will find 'La Vecchia Senese' (2 on map), a restaurant favored by locals and offering special prices to cruise ship passengers.