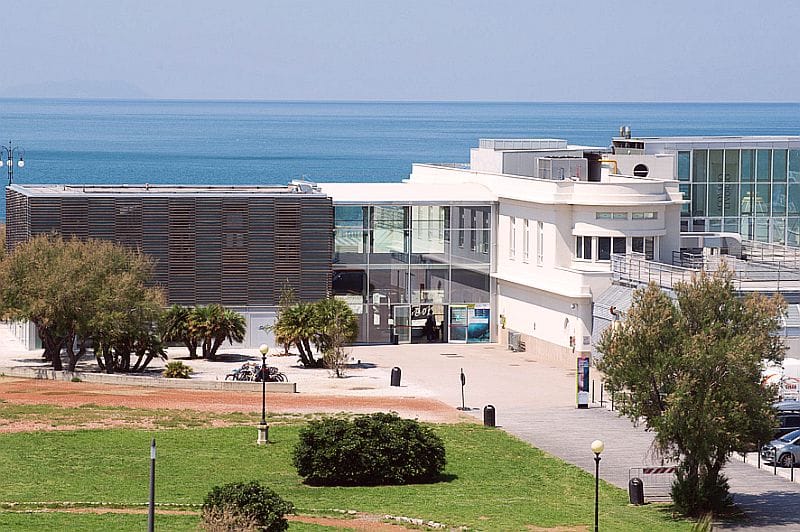 Livorno's Aquarium
Photo by managment
For those cruising with a young family, or for the cruise passenger interested in marine life, the aquarium in Livorno is one of the main attractions in this port of call. With a number of buildings interconnected, the central area has a rectangular plan, around which a semicircular shape accommodates fish tanks. In total, the Aquarium houses 33 display tanks containing approximately 2,000 marine animals of 300 different species. With a public area of 3,000 square meters and 1,000 cubic meters of water, it is the third biggest aquarium in Italy and the largest in Tuscany.
The location by the Mediterranean Sea is unique, and the reason why it once was a medical center dedicated to heliotherapy before it was transformed the aquarium that was first inaugurated in 1937. Destroyed during the Second World War, the aquarium was rebuilt in the 1950's and in 1968 became part of the University of Marine Biology. In the 1990's, when all the area and specially the Terrazza Mascagni were redesigned, the Aquarium was also extended. However, it was only recently that it finally acquired its present form - the new, modern and renovated Aquarium was re-inaugurated in 2010.
Getting There
Only if docked at the Porto Mediceo should the cruise ship passenger contemplate walking to the Aquarium - just over 1-mile away. Considering that there is a Bus #1 stop at the start of Via Grande, very close to the Porto Mediceo, and that bus tickets can be bought at the newsstands right before Via Grande, the editor recommends this public transportation to get to the Aquarium if this is the only highlight on your plans. If the cruise passenger is planning to visit other highlights and attractions in the South Area of Livorno it's advisable to get a Livorno Card at the Tourist Information Kiosk at the Piazza Municipio and enjoy unlimited bus rides for the entire day. Alternatively, get on the Hop-On Hop-Off City Sightseeing bus.
Aquarium Map and Nearby
Nearby
Not far from the Aquarium, the cruise passenger exploring the south area of Livorno will also find the Museum Fattori and the Terrazza Mascagni - two other highlights of Livorno. Very close to the Aquarium you will find the 'Bagni Tirrenio' - a bathing establishment which is a family attraction. Farther south, right after the 'Terrazza' the cruise passenger will find the historically famous 'Bagni Pancaldi'.
Restaurants and Flavors
Along the Viale Italia, between the now ruined 'Scoglio della Regina' and 'Bagni Tirrenio' the cruise passenger will find a couple of informal places to have a quick bite al fresco. With the exception of the restaurant of the Palazzo Hotel, set on luxurious classic décor and with spectacular views of the Mediterranean Sea, there isn't any other recommendation. Be aware that the restaurant at the Palazzo Hotel is far from 'affordable', not exactly a place to go on swimming attire and that the cuisine has received mixed reviews.