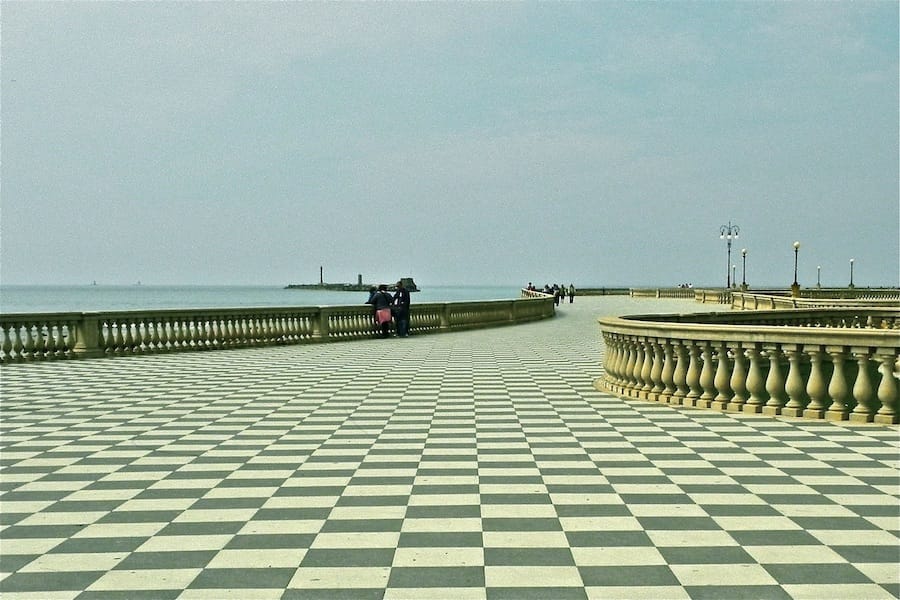 Terrazza Mascagni Livorno
Photo by R. Rosado © IQCruising
The 'Terrazza Mascagni' is an enormous square along the Viale Italia - the coastal road from the 'Porto Mediceo' to the town of Antignano. It is a picturesque spot where the cruise ship passenger can enjoy wonderful views of the ocean and the Tuscan Archipelago. Although the 'Terrazza' was only built in the late 1920s, it has been a popular area for the people of Livorno since the 1890's when it was the site of an amusement park - the "Eden'. Even before the 'Eden', there were already a few 'bagni' (beach concessions) in use since the 1840's - the 'Bagni Pancaldi to the south and the "Bagni Tirreno' next to the Aquarium are still in use today.
Following a design of Enrico Salvais with the collaboration of Luigi Pastore, the 'Terrazza' was built in a couple of years with the addition of the musical Gazebo in the early 1930's. Completely destroyed during WWII, it was rebuilt, expanded to the north (bordering the Aquarium), named after the composer Pietro Mascagni in the 1950's and renovated in the 1990's. The glamour of halcyon times is still evident in the Grand Hotel Palazzo across the street. A favorite amongst wedding photographers, the terrace gets crowded during the Palio Marinaro - a boat race that takes place annually.
Getting There - Nearby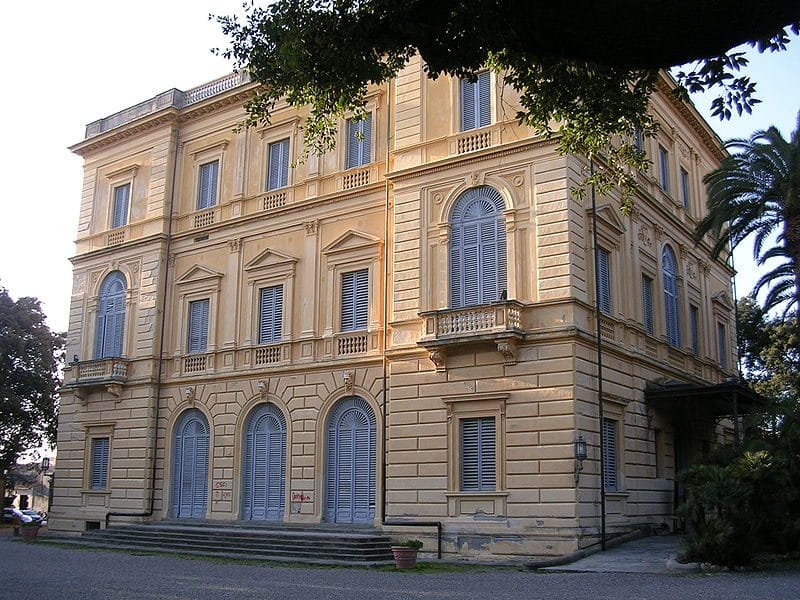 Fattori Museum
Credit: Etienne (Li) - Creative Commons
Although the editor has walked from the city centre to the Terrazza (and back), this southern area of the city isn't that close (just less than 1 mile) and at times, not the most pleasant walk. If the cruise ship passengers is venturing south of the historical centre, other highlights (like the Aquarium or the Fattori Museum) are propabbly on your plans and the walk will be even more stretched.
The Bus #1 or the Hop-On Hop-Off City Sightseeing bus are the best ways to explore the south coastal area of Livorno as both have stops close to any of the highlights and main attractions. Have in mind that with the 'Livorno Card' the visitor gets unlimited bus rides and exploring this southern area of the city becomes very easy.
The Aquarium and the 'Bagni Tirreno' border the north part of the 'Terrazza'. At the south end, the cruise ship passenger will find the 'Bagni Pancaldi' and the impossible to miss Palazzo Hotel. The Fattori Museum is at walking distance - 300 meters east of the Aquarium. Also not far is the Church of San Jacopo in Acquaviva.
Terrazza Mascagni Map