All you need to know about Miami cruise port: how to get to the city and the cruise terminal, flying, driving and parking, embarking and disembarking, what to do before or after a cruise.
In this review, you will find quite a few helpful insider tips about the port of Miami, regardless of whether you are a savvy cruiser or have a cruise scheduled from Miami for the first time.
Unless you are a resident of South Florida, a couple of questions come to mind: "Should you get to Miami on the day before the cruise?", "Should you stay in Miami after a cruise?", "For how long should you stay?", "What is there to do, and is it worth the time and expense? And the topmost question is: "Where to stay overnight?"
You will also wonder about the best way to get to the city: "Is it better to fly, or to drive?", "Are there any transportation alternatives?", "How to get around if staying overnight?"
But let's start from the beginning and the most relevant questions: "Should you get to the city the day before the cruise? Where is the port of Miami? What's the best way to get to Miami and the port?"
Unless you live within a reasonable driving distance, you should go to Miami at least on the day before the start of your cruise. Flying to Miami on the day of the cruise is risky - you may miss the cruise if a flight gets delayed -, and to be by your cruise terminal on time, you should get to Miami airport before noon.
Bear in mind that many savvy cruisers like to fly on the morning of the cruise and brag about never missing a cruise. It's up to you to take the risk, take a red-eye flight, stress out or get yourself on a cruising mood beforehand.
Where is the port of Miami
The Port of Miami is on a man-made island (know as Dodge Island) between Downtown Miami and South Beach. With around 5 million passengers per year, Miami is the busiest cruise port in the World.
This staggering number is concentrated on the weekends when up to eight mega-ships moor at its seven terminals. Inevitably, disembarking and embarking in Miami during a weekend can be far from smooth and, at times, frustrating.
Google map of the Port of Miami
If you have a look at the map above, it is clear that the Port of Miami (on Dodge Island) is connected by a bridge to Downtown on the West mainland. Some cruisers presume, wrongly, that the access to the port is easy.
However, many cruise passengers staying overnight at hotels in Downtown or Brickell and seeing the cruise ships from the window get frustrated once they realize that the distance is way too long to walk (between 2.5 and 4 miles). In particular when dragging luggage over a bridge in the hot and humid Miami weather. Keep reading to learn more about Embarkation / Disembarkation and Staying Overnight.
Walking to the port with luggage is out of the question. When staying overnight close by, and you will not need to walk because most hotels in Downtown Miami provide shuttle buses to the cruise port.
If staying overnight in hotels close to the airport, in South Beach as many like to do, or elsewhere in Miami, the best way to get to the Port of Miami is with Uber, Lift, or by Taxi. Driving (your car or a rented one) is not complicated. But there are a few tricks and tips to consider - more about driving and parking below.
Flying to Miami and Getting to The Port
For those flying to South Florida to embark a cruise ship in Miami on the same day, traveling to the port is very straight forward regardless of the arrival airport - Miami or Fort Lauderdale.
From Miami Airport (MIA) to the Port of Miami
Miami's Airport can be chaotic at times - in particular on weekends in the morning. Most cruise lines offer transfers from the airport to the port. This service is not exactly cheap when compared with taxis or Uber but has the advantage of handling luggage straight to your cruise ship.
Cruise Shuttles, Taxis, Uber and Lift
The downside of cruise line transfers to the port is that most of these are only available on the specific day of embarkation and disembarkation, although the prices can be appealing - Carnival charges $33 per person (round trip).
The cruise traveler will find Yellow taxis right outside the exit doors of the airport and, generally speaking, even on rush hours you may not have to wait more than a few minutes in line. Taxis charge a $27 flat-fare per ride (not per person). Uber and Lift cost between $16 and $30 (depending on traffic and if using premium services). Both Uber and Lift apps are very well designed and you will be able to indicated precisely your waiting location.
From the Fort Lauderdale-Hollywood Airport (FLL) to the Port of Miami
When booking a flight to embark on a cruise sailing out of the Port of Miami, it is advisable to check prices including flights to the Fort Lauderdale-Hollywood Airport. You may find much better prices, in particular, if flying from outside the United States. The Fort Lauderdale airport is only 30 miles (48 km) north of the Port of Miami.
Cruise Shuttles, Taxis, Uber and Lift
Most Cruise Lines also offer transfers from the Fort Lauderdale-Hollywood Airport (FLL) to the Port of Miami - Carnival offers this service for $62 round-trip per person. By contrast, Uber and Lift regular service is around $35 per trip (not per person) and a standard taxi will charge over $75 per ride.
Independent Shuttles
A good alternative to both Cruise Lien Transfers, Taxi, Uber or Lift is the service provided by independent shuttle companies that can easily be booked online. There are quite a few and IQCruising does NOT in any way endorse, sponsor or gets paid to advertise any of them. The cruise traveler should to check these services and prices, which can be very competitive, and also check for reviews online before booking.
Here are some of the best know companies offering the Shuttle Service between Fort Lauderdale-Hollywood Airport (FLL) to the Port of Miami: Super Shuttle | Go Airport Shuttle | Florida Shuttle Transportation | Eagle Shuttle Service | Miami Port Shuttle | Bus Ticket Reservations
Private Car and Limo Services
Like with Independent Shuttles, IQCruising does NOT in any way endorse, sponsor or gets paid to advertise any of the many Private Car and Limo services offering transfers all over south Florida between its Airport and Port. In fact, we strongly advise to check online reviews before booking. However, you may find useful some of the links for these companies: Trans Miami | Family Car Service | Luxury Limousines | Price 4 Limo
Driving to the Port of Miami, the Tunnel and Terminals
Unless you are a resident of Miami or the big residential areas close by and know your way around the web of streets, roads, flyovers around Downtown, there are a few insiders tips that can be useful for those driving to the Port of Miami.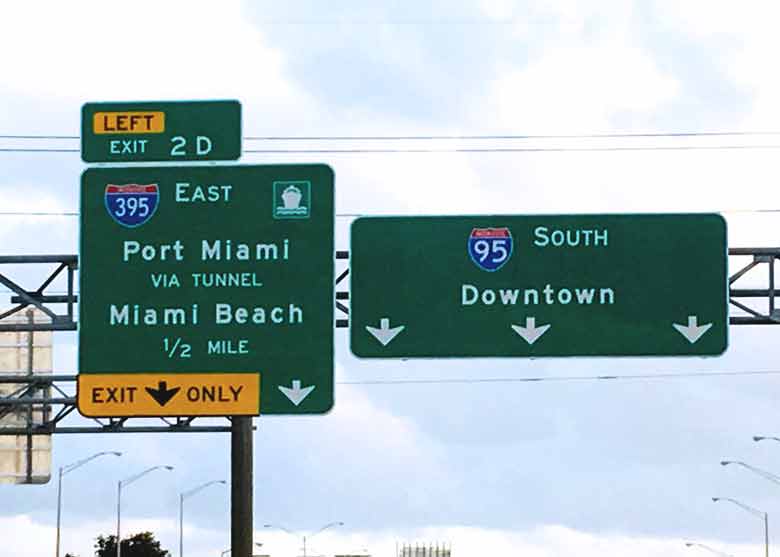 I-95 Tune Sign, Miami
Photo © IQCruising.com
There are two main driving accesses to the Port of Miami. Either driving trough Downtown Miami – can be chaotic but not too bad on weekend early mornings – or trough the Port Tunnel. The latter is advisable unless you are staying in a hotel Downtown or in Miami Beach. The Tunnel entrance/exit is on MacArthur Causeway (I-395) that connects mainland Miami to South Beach, right in the middle of Watson Island (very close to the mainland).
If traveling from North or South, the I-95 connects directly to the MacArthur Causeway. Be aware that there are other connections to South Beach so look out for the sign: 395 East to Miami | Port of Miami via Tunnel | Miami Beach. This will be the Exit 2D regardless if driving from north or south.
When driving from West Florida, the MacArthur Causeway is a continuation of the Dolphin Expressway (I-395) and you will only need to follow the sign: 395 Miami Beach and look out for the sign 'Port of Miami via Tunnel', the exit will be on the left lane. The Tunnel doesn't have access if driving from South Beach and you will have to Exit on Biscayne Boulevard (Exit 2) and make a U-turn on N. Bayshore Drive to re-enter the MacArthur Causeway. Alternatively, just drive Downtown and follow the Port of Miami signs to cross the Port Bridge.
Once on the Port of Miami, there are clear signs indicating the Terminals and where cruise ships are docked. Most cruise lines always dock on the same terminals although these may change. The cruise line-terminal list below is indicative:
Terminal B and C - Norwegian Cruise Line
Terminal D – MSC Cruises, Fred Olsen, Hapag Lloyd
Terminal E - Carnival Cruises, Aida, Princess Cruises and P & O Cruises
Terminal F – Disney Cruises, Royal Caribbean
Terminal G – Celebrity, Royal Caribbean
Terminal H – Short Cruises to Bimini (The Bahamas)
Terminal J - Oceania Cruises, Crystal Cruises, Azamara, Regent Seven Seas and Silversea.
Obviously, the exit of the Port of Miami follows the reversed routes. Just be aware that signs can be rather small and lookout for one of two options: Exit Via Tunnel or Exit Via Port Bridge. The first will take you to the I-95, Dolphin Expressway and also to South Miami. The exit Via Port Bridge is only advisable if going to Downtown, Brickell, Coconut Grove or Key Biscayne.
Parking in and close to the Port of Miami
Parking in the Port of Miami is commendable: both convenient and safe. There is lots of space and all terminals have covered parking just across the main entrances and are clearly signed. Parking is not cheap at $22 per day ($154 for a 7-day cruise) but is absolute;y safe - check pricing updates on the official website - Port Miami Parking.
There is also a good number of Private Companies offering Parking outside the Port that includes Free Round Trip Shuttle for less and equally secure. Some claim half price costs but most charge around $80 for seven days. Just as an example and NOT a recommendation and even less advertisement you may want to check parking services like: Safe Cruise Parking | Premier Cruise Parking | Miami Parking Lots | Miami Port Parking.
Car Rental in Miami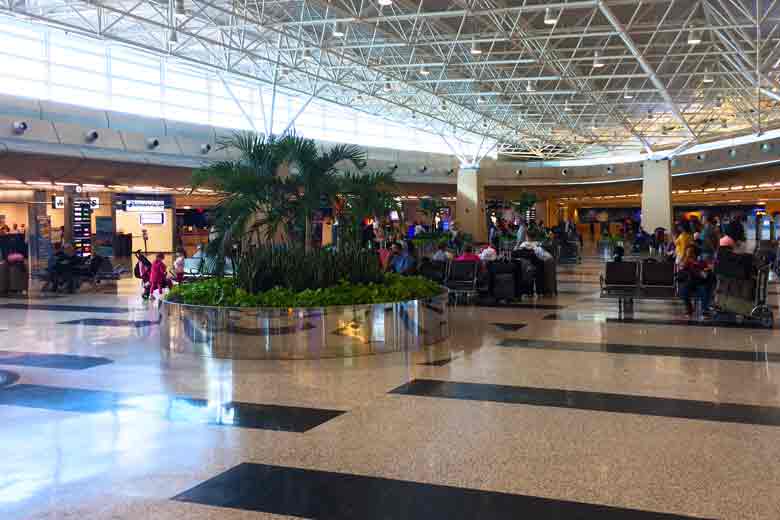 Car Rental Center at the Airport
Photo © IQCruising.com
A good alternative to driving your own car to the Port of Miami is to rent a car. Most companies do not charge much to drop-off a car at a different location than the one where you rent it (within the state of Florida) and, considering the cost of parking in Miami ($20 per day at the Port or $15 with private services), you should at least consider it.
The drop-off is at the Miami International Airport and from here a FREE shuttle will take you directly to the Port of Miami, right to the Terminal of your cruise ship. Once disembarking the cruise, just get on the Car Rental Shuttle (which stops by all the Terminals) to get back to the Airport. If you rent a car in advance it may work out cheaper and more conveniently.
Getting Around - Public Transportation
Unlike most areas in Miami, Downtown (next to the Cruise Port) is very well served by public transportation (and most is free) with direct connections to the Airport, the Viscaya Museum, the Design District, the Entertainment District, Wynwood and all around Downtown - the Historical Center of Miami. All major points of interest in Miami are easy to reach by public transportation including South Beach, Little Havana, Dadeland, Key Biscayne and as far north as the Aventura Mall and Ft. Lauderdale.
Trolley
Although it is easy to drive your personal car to the port, as do limos, taxis (and also Uber and Lift), hotel shuttles or sightseeing buses it is not always easy to find transportation when thousands of passengers are on the move. Ignored by most, there is a Trolley (FREE) with a stop next to Terminal J and another stop close enough to Terminal F - find below the terminals where cruise ships dock. However if your cruise ships docks at any of the other terminals the walk can be quite long - over 3/4 mile (1 km) to Terminal B.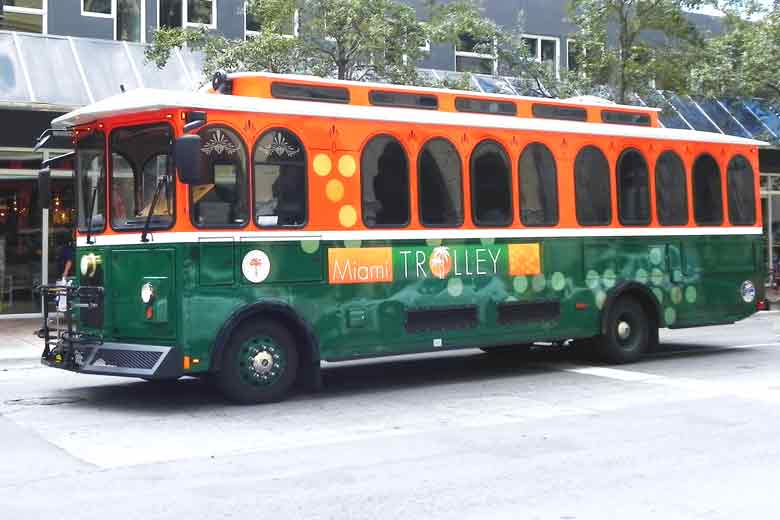 Coral Way Trolley, Miami
Photo © IQCruising.com
This Trolley route goes all the way to Coral Gables but has a few convenient stops next to Bayside and Downtown and can be a good way to get in and out of the port. The Trolley runs every 20 minutes, every day of the week between 6:00 am and 11:00 pm (8:00 am to 8:00 pm on Sundays) but with limited service on holidays like Christmas, New Year and Thanksgiving.
MetroMover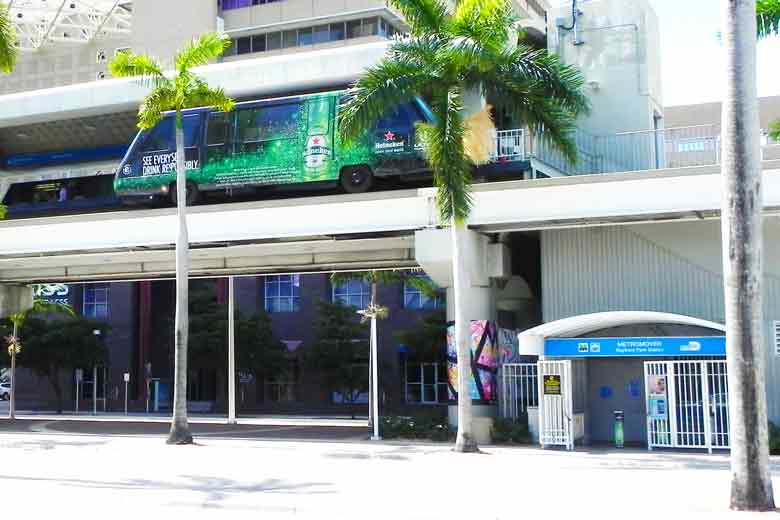 Metro Mover, Miami
Photo © IQCruising.com
Other Public Transportation can be particularly useful when moving around Downtown area prior to Embarking or Disembarking. The free automated electrical MetroMover (aka People Mover) has 21 stations in three loops that connect all major places of interest in the area including Brickell or the Perez Art Museum, and close to major hotels.
Many other Trolley Routes (also free) crisscross downtown, connecting to farther places like Coconut Grove (ideal to visit Vizcaya Gardens), the Design District, Wynwood, Little Havana and Coral Gables. The Downtown Bus Terminal, close to the Government Center, has routes to South Beach, Key Biscayne (good for the Seaquarium) and as far as the Aventura Mall.
Train Station at the Airport
Photo © IQCruising.com
MetroRail
At the Government Center, the MetroRail has a Station with direct connections to the Airport and south to Dadeland (next to Dadeland Mall). The MetroRail also connects to the Tri-Rail (a commuter train to Ft. Lauderdale and West Palm Beach) and to the Amtrack Silver Service Route to New York and Tampa.
Embarkation - Disembarkation
If embarking on a cruise, it isn't advisable to try to get to the port before 11:00 am as you will be going against the current. Most staff at the Terminals are focusing on disembarking guests, and the terminals may not be even fully ready as most cruise ships will not start the embarkation process before 11:00 am. However, if you arrive in Miami on a very early flight, there are sitting areas at the terminals but do not expect more than just a seat, a bathroom, and a long wait.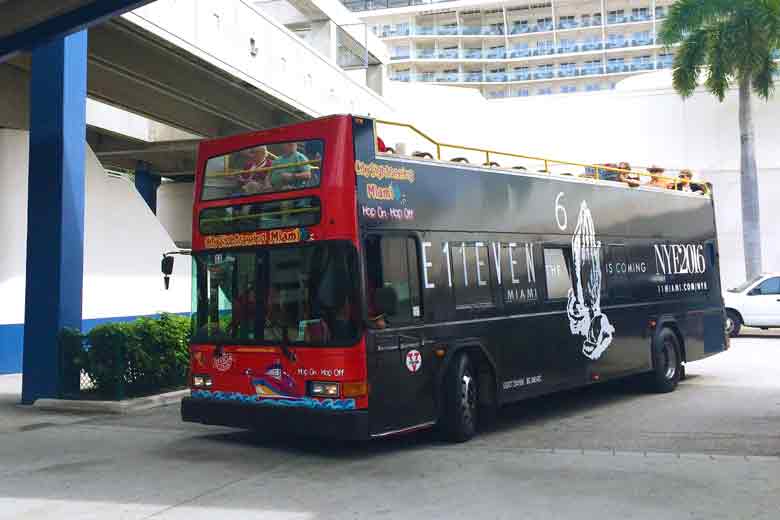 City Sightseeing Bus at the Port
Photo © IQCruising.com
Naturally, when disembarking a cruise ship, most travelers want to get out of the port as fast as possible either to get home or to explore Miami before getting on a flight. Although the same transport limitations to embarkation apply, there are a few interesting alternatives.
Many cruise lines offer tours of Miami including a transfer to the Airport and secured locking for your luggage. But if you want to explore Miami on your own there are booths offering all sorts of excursions, tours, and hop-on-hop-off buses.
Staying in Miami overnight
Miami is a city of multiple charms with lots of attractions to enjoy during a longer stay. Unfortunately, most touristic promotions have been focusing on a few main sites and leave out many other interesting aspects of the city that are worth exploring. Besides the Beach (on South Beach), the Seaquarium, the typical Everglades experience or Little Havana there is much more to enjoy on a overnight stay in Miami.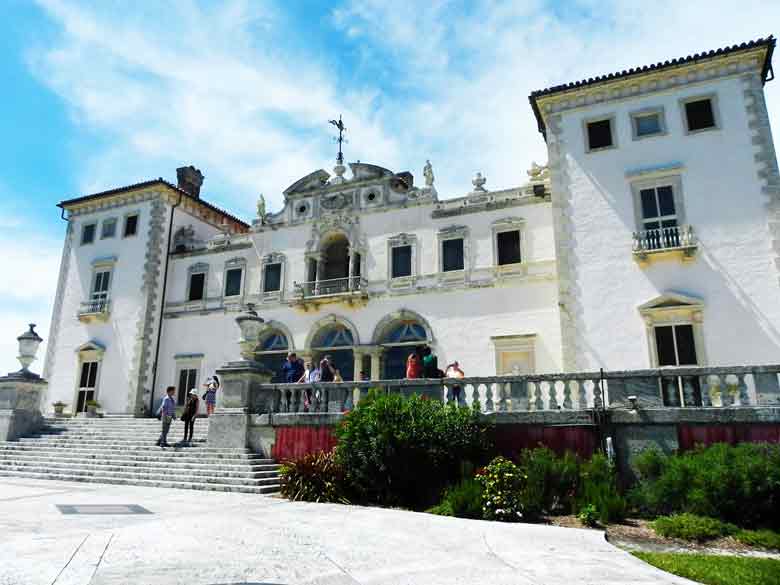 Vizcaya Museum Garden, Miami
Photo © IQCruising.com
After all, how many have traveled 25 miles to Aventura Mall not knowing that Dadeland Mall is just 15-minutes away by train? Or went to Bal Harbor to have a look at luxury shops, when you can find the same and even more stores within walking distance at the Brickell City Center or at the Design District (15-minute Trolley free ride away)? Why pay for a tour to the Vizcaya Gardens and Museum, to Wynwood or Little Havana when you have a Trolley that allows you to explore it on your own for free? What about renting a car – with a free shuttle from the port to the Car Rental center at the Miami Airport - and explore at leisure off-the-beaten-track places like the fabulous Miami Zoo, or Cape Florida.
More Miami Reviews
► Explore: Top Reviews - Caribbean Ports
Discover all Caribbean Port Reviews - Cozumel, St. Martin, Grand Cayman, Aruba, Antigua, Nassau and St. Thomas in Depth
Learn More ►