Overview
Corfu has a rich and diverse history that the cruise ship traveler will have the opportunity to enjoy when cruising the Mediterranean and calling at this Greek port of call. The diversity of religious sites is a testament to this rich history in sites like the Church of St. Spyridon, the Holy Trinity Anglican Church, the Catholic Church of Ayios Iakovos or the Synagogue.
Church of St. Spyridon or Agios Spyridon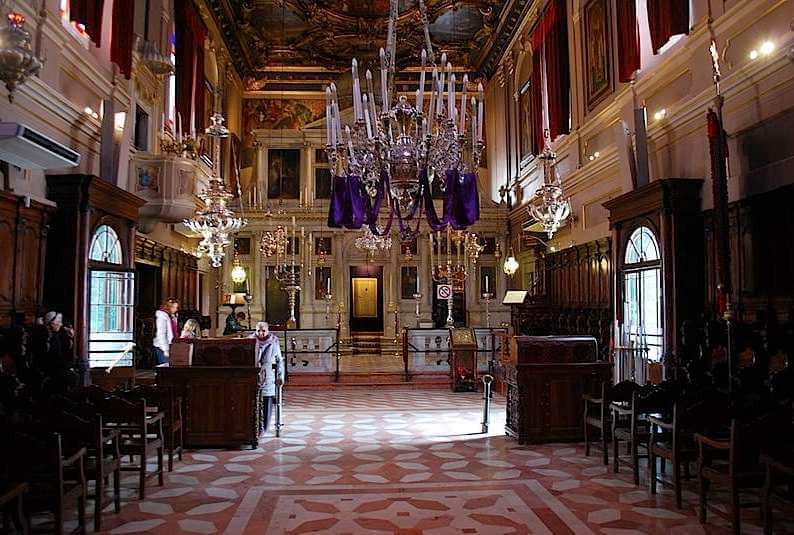 Corfu - Saint Spiridon
Photo by jean housen CC-By-SA
Editor Points: The Church of St. Spyridon's bell tower with its red dome is perched atop the highest point in Corfu Town. It is the island's most sacred religious monument, and it is filled with Ionian treasures, namely the remains of St. Spyridon. It is believed that the patron saint's miracles saved the island four times. He is so revered that Spyros became a very common name on the island. On religious holidays, his remains are carried around town. Built in the late 1500s, the church a typical representation of Venetian architecture. It is a wonderful place to tour or worship, but shorts are not allowed and ladies must cover shoulders.
Where: Agios Spyridonas Street, Old Town
Church of Pantokrator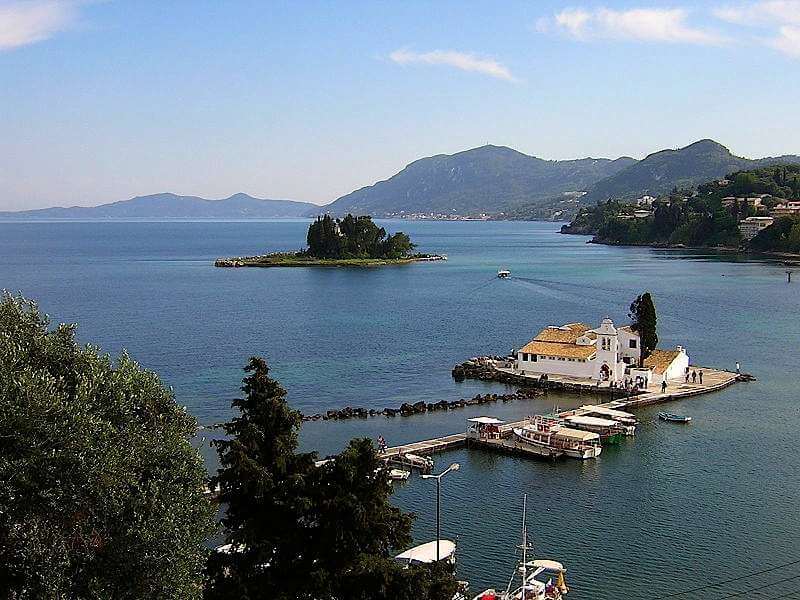 Corfu - Pontikonisi
Photo by stefanos kozanis public domain
Editor Points: Located on the islet of Pontikonisi (Island of Mice), the Church of Pantokrator is a small, domed orthodox church dedicated probably built in the 13th century. To visit you must take a boat from the port opposite the island.
Where: Isle of Mice
Monastery of Platytera
Editor Points: The Monastery of the Blessed Virgin Platytera is located in Mandouki, a suburb of Corfu Town. It was built in 1743 but suffered war damage in 1799 and was renovated. The church displays many important Byzantine and post-Byzantine paintings and icons.
Where: Mandouki, suburb of Corfu Town
Holy Trinity Anglican Church
Editor Points: The Holy Trinity Anglican Church is located near the old Ionian Parliament in Corfu Town. It originally opened in 1864 for British residents. It suffered damage in World War II and was reopened in 1971. Today it is an active church in the community.
Where: Old Town, close to Ionian Parliament.
Catholic Church of Ayios Iakovos
Editor Points: The Catholic Church of Ayios Iakovos is located next to Town Hall in Corfu Town and is known to locals as San Giacomo. It dates back to 1588 when it was built as a beautiful place of worship for Catholic residents.
Where: Old Town, close to Town Hall
Synagogue
Editor Points: Although Corfu's Jewish population today is small, it has a long, complex history on the island. The synagogue, known as Scuola Greca, dates back to the 17 century when it was built in Venetian style. It is still fully functional and in use. Out of all the synagogues on Corfu, this was the sole survivor of the bombing during WWII.
Where: Velissariou St., Old Town
Church of Saint Jason and Sosipater
Editor Points: The church is found in a neighborhood between Mon Repos and Garitsa. Built around 1000 AD, it is the oldest church in Corfu and one of the few with Byzantine architecture. Its distinguishing features include tall wooden doors and a 17th-century bell tower.
Where: Close to Mon Repos
Early Christian Basilica of Paleopolis
Editor Points: This church is located across from Mon Repo Park in Paleopolis, the ancient city of Corfu. In its original form, built prior to 450 AD, it was a grand Byzantine basilica. However, it was destroyed on four different occasions. While the mosaics were restored in 1968, the original relics are housed in the Old Palace Museum.
Where: Next to Mon Repos