Essential guide to the cruise port in Rhodes (Greece): the piers where cruise ships dock, top things to do, how to get around, shops and shoppinng, dining and restaurants, basic and essential Info.
The island of Rhodes has a rich history that goes back as far as 4,000 BC, and cruise visitors can see the marks of past occupants everywhere. Ruins of Greek and Roman temples and acropolises dot the countryside, while the inns left by the Knights of Saint John line the cobbled streets of the walled Rhodes Old Town.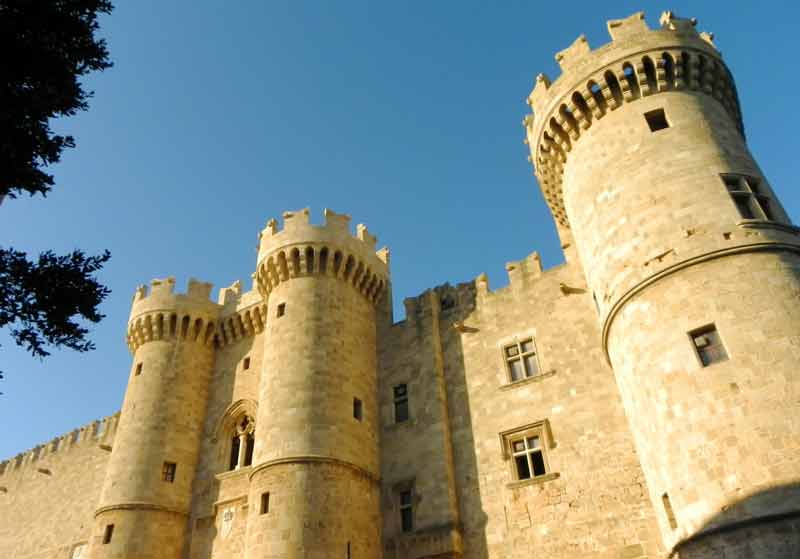 Palace of the Grand Master in Rhodes
Photo © IQCruising.com
The elegant minarets of mosques built by the Ottomans lend an exotic touch to the skyline, while the Italians' renovations add a more modern feel to the city.
But a visit for a day on a cruise to Rhodes is not just all about history, archeology, religious sites, and ancient monuments. Rhodes Cruise Port is also a fun place to frolic in the sun.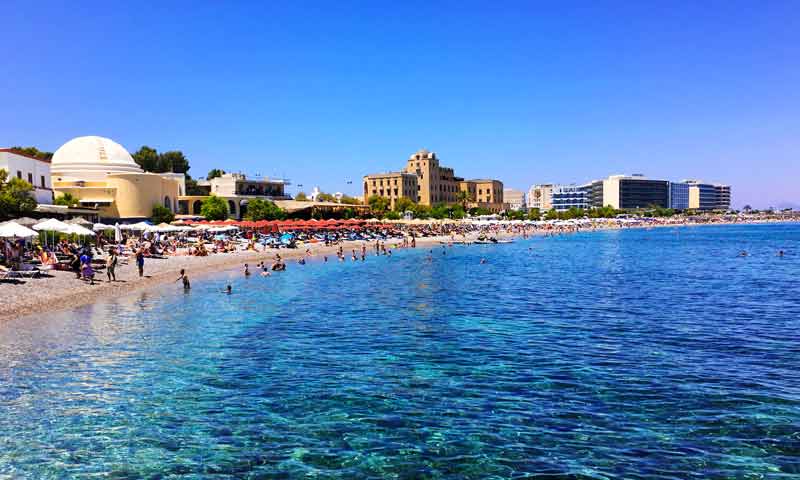 Elli Beach in Rhodes
Photo © IQCruising.com
Rhodes receives about 300 days of sunshine a year, so it is no wonder that the Greek city chose Helios as their divine patron. The Cruise Port in Rhodes is great to work on your tan and enjoy the wealth of water sports available at the pristine, sun-drenched beaches. The northeastern part of the island of Rhodes, where the cruise port is located, is an especially great place for windsurfing and kiteboarding.
Where is Rhodes
Rhodes, a (UNESCO World Heritage Site), is a regularly visited cruise port of call in the Eastern Mediterranean itineraries during the Spring-Summer season, with as many as 258 ship calls and 300,000 passengers per year (2019).
Rhodes (or Rodos) is part of the Dodecanese island group, in the Aegean Sea, on the eastern Mediterranean, no more than 6 miles (9 to 10 kilometers) from the coast of Turkey.
With a population of 50,000, Rhodes is an historical city and capital of the eponymous Greek island, and has a medium-sized mixed (ferry and cruise) port.
Where is the Cruise Port in Rhodes
The cruise port is on large bay with a breakwater, North of the historical center of Rhodes, a stone's throw away - 1/2 mile (800 meters) - from the Virgin Mary's Gate, one of the main entrances to the medieval walled city.
Where Cruise Ships Dock in Rhodes
The cruise port in Rhodes has 6 piers for as many cruise ships up to 380m in length and up to 10m draft. There is a dedicated terminal for cruise passengers with a few shops and a tourist info desk. The area around the port is a pleasant and touristic area but you should watch out for pushy locals.
Cruise Ships Docked in Rhodes Port
Photo Courtesy of Greek Cruise
Almost all cruise lines visit the port of Rhodes including luxury, upper-premium, premium and resort-like cruise ships of lines such as AIDA, Azamara, Celebrity, Celestyal, Costa, Crystal, Fred Olsen, HAL, Hapag Lloyd, Marella, MSC, NCL, Oceania, Princess, Royal Caribbean, Regent, Seabourn, SeaDream, Silversea, Star Clippers, TUI or Windstar.
Things to do and see
Amongst Rhodes highlights and main attractions, cruise travelers should not miss a walking visit to the Old Medieval City.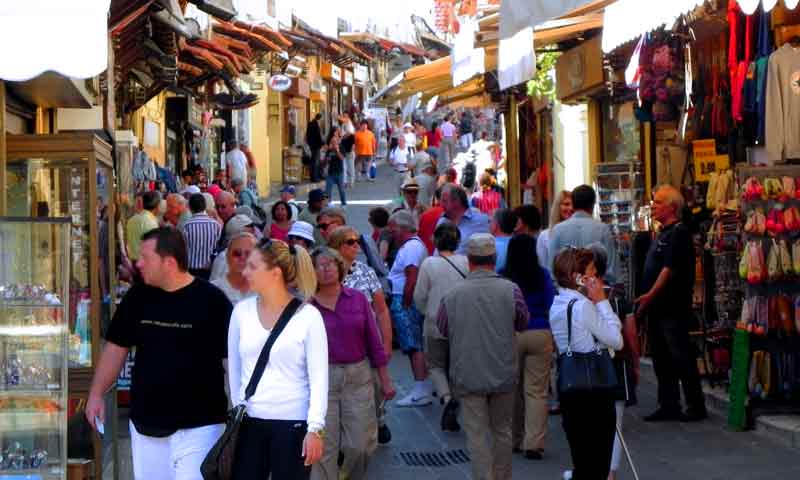 Sokratous Street in Rhodes
Photo © IQCruising.com
The Medieval City Highlights
In the walled city of Rhodes you will find stunning landmarks like the Palace of the Grand Master, the cobbled Street of the Knights (where the knights had inns), the City Walls, the Ottoman Quarter, the Jewish Quarter with its famous Synagogue, the Evreon Martiron Square and the popular Sokratous Street.
Rhodes Museums
In the Old City you there are two museums that should not be missed: the Archaeological Museum and the Museum of Modern Greek Art.
Mandráki Harbor
Outside the Medieval City of Rhodes, between the Port and Elli Beach, the Mandráki Harbor is an area where you will find two symbols of the island: a stag and a hind on two columns overlooking the entrance of the marina and the fortress of Agios Nikolaos. This the site where the mythical Colossus of Rhodes is said to have stand.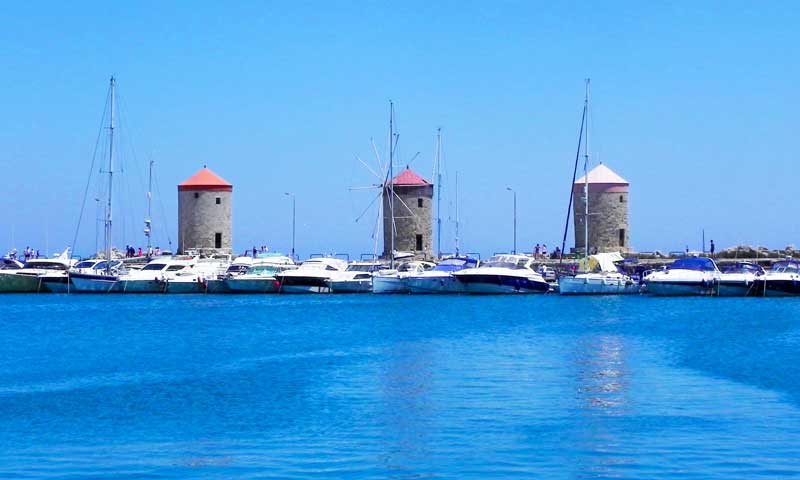 The famous Windmills in Mandraki
Photo © IQCruising.com
The Archeological sites of Rhodes
The archeological site of Lindos with its Acropolis and nearby St Paul's Bay where the apostle allegedly landed during a storm, and the ancient ruins of Kameiros (Kamiros) are another must-see sites.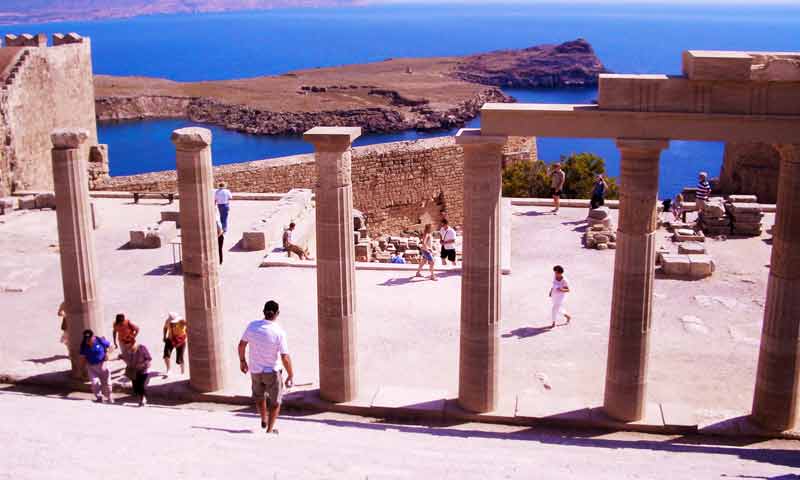 Lindos Acropolis, a highlight of Rhodes
Photo © IQCruising.com
Beaches
For those that prefer to spend a day in port basking in the sun, there are famous beaches like Kalithea and Faliraki or Elli Beach around 1 mile (1,600 meters) from the Cruise Port.
Been There Done That
For those that have visited Rhodes before there are a few off the beaten track sites worth exploring such as Aquarium, the New City or the Acropolis of Rhodes.
Getting Around
Considering that the Medieval City is entirely pedestrian and within walking distance of the cruise port, the main landmarks and historical sites of this UNESCO World Heritage Site are very easy to explore on your own.
Taxis
For those that want to explore beaches and farther away sites like Lindos on your own, there are taxis available right outside the cruise port exit gates. You will also find taxis by the gangway for those that pre-booked a taxi tour online. Check the Official Website of Rhodes Taxis Tours for Prices and to Book Online..
Sightseeing
Like in may European ports, there is a Hop-On Hop-Off Bus that is a great way to explore Rhodes. The Rhodes City Tour bus stop is conveniently located right by the Cruise Port, departing every on the hour. Check the Official Website of Rhodes City Tour Bus for Prices, Stops, Details, Map, and to Book Online..
Shopping
Aside from the souvenirs, of which there are more than one could possibly imagine on Sokratous Street, the walled Old Town of Rhodes has quite a few local specialty items for cruise travelers to bring home: silverwork, carpets, ceramics, wines, embroidery, olive oil, ouzo, and honey.
Shopping Street in Rhodes
Photo © IQCruising.com
Well known shops in Greece like Ilias Lalaounis or Kounakis jewelry stores are impossible to miss. The more modern trendy shops and all major European brands are in the New Town.
Lunch, Restaurants, Local Cuisine, and Flavors
Although the cruise port is within walking distance of Rhodes Old Town, where many restaurants are located, you shouldn't return to your ship for a free lunch and instead enjoy genuine local cuisine al fresco.
Most restaurant menus serve traditional Mediterranean dishes with strong, earthy flavors. Olive oil is a component of every dish and most chefs use garlic, onions, basil, thyme, and oregano when cooking. Local specialties often include fish and tiny Symi shrimp.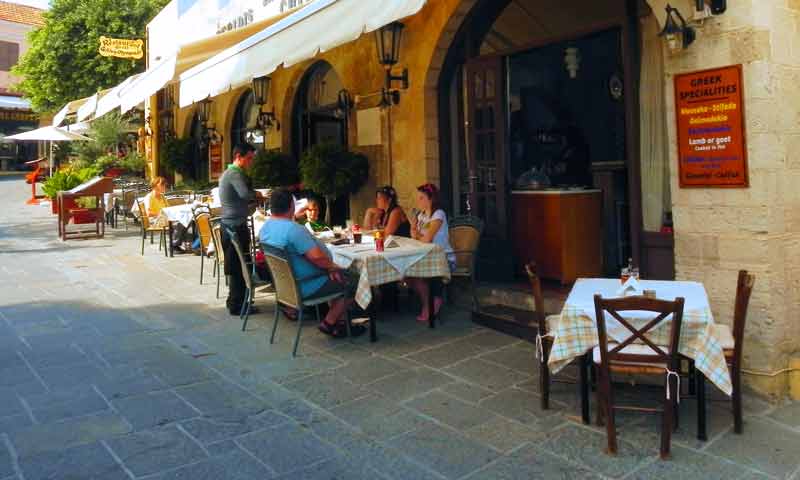 Lunch Al Fresco in Rhodes
Photo © IQCruising.com
The best dining is found in the capital city of Rhodes where restaurants crowd around the main public squares in the Old Town – Plateia Rimini, Plateia Dorieos, and Plateia Damagitou. On these squares or nearby, cruise travelers should look for restaurants and tavernas like Ippotikon, Romeo, Alexis, Hatzikelis, Castello House, Iannis Taverna or Kafenio-Turkiko.
Good to Know - Tourist Info
There is a Tourist Information Office situated just outside the city walls at the old port, usually maned all day, where you can get maps and attraction's brochures.
Rhodes Cruise Port Basics
| | |
| --- | --- |
| Language | Greek is the official language but English is widely spoken in all tourist areas and attractions. |
| Currency: | The legal tender in Greece is the Euro (€) (EUR). US$ dollars are NOT accepted. |
| ATMs: | You will find ATMs in the historical city. Look for the National Bank of Greece, on Platia Mousiou (1 mile from cruise port). |
| Phone Code: | Country Code: 30. T-Mobile offers calls at 25 cents/min. and text at no cost. Other US phone providers may work but is advisable to check with your provider to avoid roaming charges. |
| Internet: | Most cafes and bars in and around Rhodes offer free Wi-Fi but you are expected to be a client and order something. T-Mobile offers unlimited data at up to 2G speeds at no extra cost. |
| Post Office: | Hellenic Post Bank, Karpathou 18 (1 mile from cruise port) |
| Electricity: | The standard voltage is 230 V and the frequency is 50 Hz. Typical European two round prongs are used. |
| Phone Emergencies: | Medical Emergency - 112 | Police - 100 | Tourist Police - 1571. |
| Pharmacies: | There are several pharmacies located in the Medieval Town such as Pantazis Viktor on 26 Aristotelous Street (phone: +30 224 103 3910), and Ypsilantis Zacharias on 60 Agiou Fanouriou Street (phone: +30 224 102 6448). |
| Hospital: | Geniki Kliniki Dodekanissou S.A., Lindou 6 (2 miles from the Cruise Port). +30 2241 045000. |
Rhodes Cruise Port Video
Watch the video below by the Hellenic Ports Association to have a preview of Rhodes.