Everything you must know about Civitavecchia (Rome) cruise port: where ships dock, the port shuttle bus, things to do and top attractions in Rome, how to explore on your own, sightseeing, shore excursions, what's within walking distance, basic info, and more ...
Civitavecchia has been the port of Rome since the days of Roman Emperor Trajan (first century AD). However, cruise passengers must know that the Eternal City is not a stone's throw away from the port in the coastal city of Civitavecchia.
Contents
Overview
Rome is around 45 miles (73km) southeast of the port in Civitavecchia. Because of the proximity to the Eternal City, almost all cruise lines list the port on their Mediterranean itineraries as "Civitavecchia (Rome)" or "Rome (Civitavecchia)" without specifying that there is some traveling involved if you want to visit the Eternal City.
In particular, first-time cruisers to Civitavecchia (Rome) should be aware that it may take up to one hour and a half to travel between the port in Civitavecchia and Rome.
Regardless of the distance between Rome and its Cruise Port, Civitavecchia is one of the most visited cruise ports of call and home port (embark and disembark) in the Mediterranean itineraries during the Spring-Summer season, with as many as 2.650 million passengers and over 800 cruise ships visits in 2019.
The cruise port is relatively close to Civitavecchia (a town with a population of 52,816), which has an enjoyable atmosphere; the vicinity is immaculate and well-maintained. The local population is friendly, pleasant, well-mannered, and speaks English well. For the most part, the city of Civitavecchia is very safe.
Cruise passengers with disabilities or walking difficulties will find it simple to wander around Civitavecchia independently. But, if you are cruising with young ones in your family, be aware that there are few attractions for kids or adolescents in Civitavecchia.
Many Mediterranean itineraries start or end a cruise in Civitavecchia - this means that Civitavecchia is a homeport or a turnaround port. Still, many other cruises call at the port of Rome in Civitavecchia for a day, usually arriving early in the morning and departing as late as 8 pm.
When on a cruise calling at Civitavecchia for the day, passengers will have enough time to travel to Rome and enjoy many, but not all, attractions of the Eternal City. Therefore, you should carefully choose the sites, monuments, landmarks, and things you want to enjoy, visit and explore in Rome.
For example, suppose you are on a cruise calling at Civitavecchia for the day. In that case, you can visit the Colesseum upon arrival in Rome and go to the Vatican to visit St Peter's Basilica, the Vatican Museums, and the Sistine Chapel. But you will not have time to explore other sites, such as the Pantheon, the Trevi Fountain, the Spanish Steps, or the Piazza Navona.
If you want to visit fabulous museums in Rome like the Musei Capitolini (Capitoline Museums), the Borghese Gallery, or stunning churches, you will have to plan carefully.
Besides Rome, there are also a few things for cruise visitors to do near Civitavecchia. In the last 5 years, cruise lines and tour operators have realized that many passengers were looking for alternatives to the excursions to Rome. Amongst other destinations, we highlight the archeological site of Tarquinia and Orvietto.
Where is the cruise port in Civitavecchia
The cruise port, officially named Roma Cruise Terminal, is on the northern outskirts of Civitavecchia, around 45 miles (73km) north of Rome. Civitavecchia is an important port city (population of 53,000) in the Lazio region on the East coast of Italy bathed by the Tyrrhenian Sea.
Civitavecchia is 39 miles (224 km) south of Livorno and 165 miles (266km) north of Naples, two other main Italian ports for cruises in the Mediterranean.
Where cruise ships dock
Ships dock on a large mixed ferry and cruise port where up to 9 cruise ships dock. There are different terminal buildings in the vast 2-mile long u-shaped basin with a breakwater.
The port has two main docking areas: one along the shore and another on the breakwater parallel to the coast. You will be closer to one of the two exits depending on where your cruise ships docks.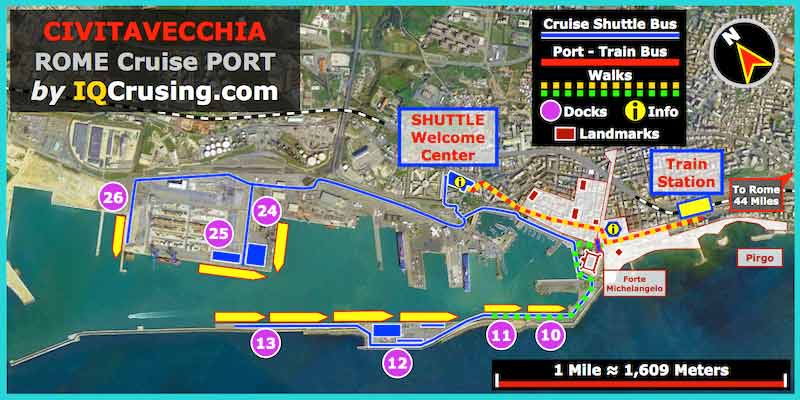 The port shuttle bus
There is a free shuttle bus in Civitavecchia cruise port provided by the port authority. The shuttle bus stop is by the gangway or just outside the terminal buildings. The final drop-off is on a well-organized welcome center. This efficent hub on Largo della Pace has a gated exite to Via Prato del Turco.
The shuttle has an additional bus stop next to the Fortezza Michelangelo for those on cruise ships docked in the breakwater. Close by is the other gated port exit which opens right into Civitavecchia's city center.
Cruise terminals, services and amenities in port
There are nine berths and 4 cruise terminals in the port of Civitavecchia. However, only two have solid modern construction. These two cruise terminals are close to each other on the breakwater.
Americo Vespucci.

The newest cruise terminal has all services and amenities cruisers expect.

Bramante.

Older terminal only with basic amenities.
As a rule of thumb, ships calling at Civitavecchia for the day dock at a berth without a terminal building. Cruise passengers will not find any services or amenities on the other terminals and docking spots. It is on the welcome center in Largo della Pace or right outside that you will find the following:
Restrooms
Tourist Information
Buses to Rome
Shuttle bus to the railway station
Local Tour Operators
Outside the welcome center in Largo della Pace, you will find taxis and the meeting point for independent operators booked online.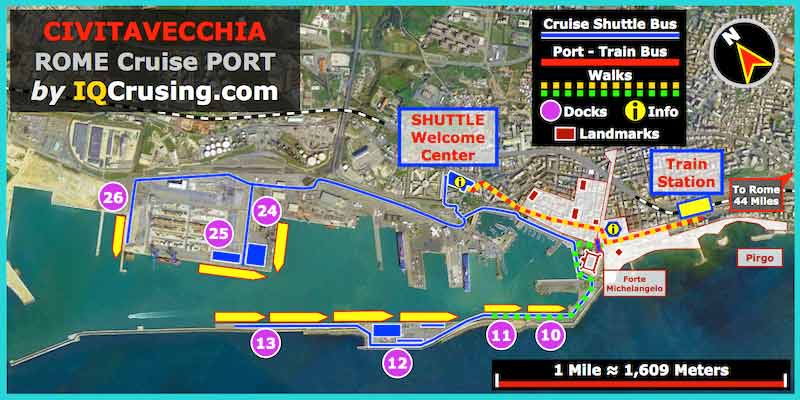 Just a few yards outside the exit gates (turn left and then right into Via XVI Settembre) are the offices of the following car rental: Avis, Budget, and Hertz. Europcar is on Via Tarquinia 14, a street behind the welcome center in Largo della Pace.
What's within walking distance and the highlights of Civitavecchia
There are only a few things to do in the city of Civitavecchia for cruise passengers that prefer to explore attractions within walking distance of the port. Here are our favorite highlights:
Piazza Leandra and Chiesa della Stella (Church of the Star)
The Cathedral of Saint Francis of Assisi
Theater Traiano - the city's historical theatre
The Ghetto of Civitavecchia (piazza Antonio Fratti and surrounding area)
National Archeological Museum of Civitavecchia
Corso Centocelle - main shopping street
Viale Garibaldi - wide and long avenue by the sea
San Lorenzo Market in Piazza Regina Margherita
Pirgo beach area at the end Viale Garibaldi
How to explore Rome (Civitavecchia) on a cruise
Cruisers planning to visit Rome will find it relatively easy to explore the Eternal City. Few cruisers stay in port to explore Civitavecchia. If you decide to do so, it is easy to explore the city on foot. Keep reading to find out what's within walking distance of the port.
Car rental
Car rental is not advisable to travel to Rome for the transit can be chaotic and parking expensive. However, car rental can be a good option for cruise passengers wanting to explore Lazio's countryside. Simply put, these are the best ways to explore the attractions in the Port of Civitavecchia:
Rail to Rome

Bus transfer to Rome

Car Rental

On foot in Civitavecchia

Book a Shore Excursion
Discover Rome on your own
You can travel independently to Rome by rail, buy a bus transfer at the Largo della Pace welcome center, or book an On-Your-Own shore excursion onboard your cruise ship. This is just a straightforward transfer. All cruise lines offer On-Your-Own shore excursions, or you can book online with different sites like the City Sightseing, directly from Civitavecchia among others listed at the bottom of this review.
How to get around in Rome
Many attractions, sites, and highlights of Rome are relatively close to each other, and the best way to explore them is on foot. However, some highlights are in areas that are too far away to walk. The good news is that it is easy and affordable to get around in Rome by metro, by taxi, or Uber.
Sightseeing buses in Rome
You can also visit most of Rome's attractions on a hop-on hop-off sightseeing bus. Cruise travelers will be happy to know that there are three different sightseeing hop-on-hop-off buses in Rome:
Things to do in Rome (Civitavecchia) cruise port
Rome is the must-go destination on a cruise in the Mediterranean, calling at the port of Civitavecchia. But with so many highlights, landmarks, museums in Rome, and other attractions close by, you must be wondering what to do on a cruise to Civitavecchia? Here are the top things to do:
Take a Rome on-your-own shore excursion

Explore the Roman Forum and the Coliseum

Tour the Vatican museums, the Sistine chapel, and St. Peter's Basilica

Enjoy the piazzas and the central landmarks of Rome

Visit the most important churches and the synagogue

Discover top museums and art collections

Savor lunch or quick bites al fresco in Rome

Go on a shopping spree in Rome

Discover the hidden treasures of Orvieto

Visit the papal town of Castel Gandolfo

Enjoy scenic views in Lake Bracciano

Take a day trip to Tarquinia

Walk around Civitavecchia
Top attractions in Rome: sites and highlights
It is impossible to visit all Rome's attractions when calling for a day at the port of Civitavecchia. Tip: plan ahead of time what to do and see, what to skip, and leave for another visit. Cruise passengers planning to spend a few days in Rome before or after a cruise will be able to do and see more. But one overnight will not be enough. If you have never been to Rome before plan to stay at least two days in the Eternal City.
Cruise tip: if exploring Rome on-your-own when calling at Civitavecchia for a day, choose attractions that will take up to 4 hours to visit, add at least one extra hour to have lunch or a quick bite before returning to the ship. Make sure to add at least 3 hours for traveling time to Rome and back to the port. Here are the top attractions of Rome:
Vatican Museums and Sistine Chapel
Thousands of artworks are on display in over 19 different exhibition spaces and museums, including the Sistine Chapel. Must-see: Gallery of Tapestries, Gallery of Maps and Raphael Rooms. Botticelli, Perugino, and Michelangelo's frescoes.Visit time: 2 to 3 hours.
St Peter's Basilica and Square
Although it accommodates 20,000 people, the Basilica can get crowded, and cruiser passengers should book in advance. Must-see: The large bronze baldachin by Bernini, the Pietà (Michelangelo's marble sculpture), the tomb of Pope Alexander VII by Bernini, the Dome, the Confessio (Tomb of St Peter and the popes). In the square: Bernini's colonnade, fountains, and the Egyptian obelisk. Visit time: 1 to 2 hours.
Colosseum (Coliseum)
The amphitheater where gladiator fights, hunting simulations, battle recreations, and executions of prisoners took place for centuries. Must-know: Cruise visitors should take a guided tour of the colossal amphitheater to understand the importance of its history and explore all nooks and crannies. Visit time: 1 to 2.
Roman Forum and Palatine Hill
The forum was the heart, brain, political and social center of the Roman Empire. Must-see: Arch of Titus, Basilica of Maxentius and Constantine, Temple of Saturn, the Arch of Septimius Severus and the Temple of Vesta. Visit time: up to 3 hours.
The Pantheon: one of the best-preserved temples of Ancient Rome built in 124 AD. Must-see and good to know: the majestic dome is spectacular, and the entrance is free. Visit time: 30 minutes.
The Trevi Fountain
The Fontana di Trevi, design by Nicola Salvi, in 1762, is a must-see landmark. According to legend if you throw a coin into the fountain you will assure a return to Rome. Visit time: around 30 minutes
Spanish Steps (Piazza di Spagna)
This iconic landmark's main feature is the staircase with 135 steps known as Spanish Steps. On top is the church of Trinità dei Monti and the stunning vistas of Rome. On the square below, the Barcaccia fountain (by Bernini father and son) is a must-see. Visit time: up to 1 hour.
Piazza Navona
Unique in shape and elegant in form, this square has a warm atmosphere, rare attractions, and iconic cafes. Must-see: Church of Sant'Agnese in Agone by Borromini, Fontana dei Quattro Fiumi by Bernini. Visit time: up to 1 hour
Musei Capitolini (Capitoline Museum)
Open to the public since 1734, the Musei Capitolini are on three main palaces in the Piazza del Campidoglio, designed by Michelangelo, on top of the Capitoline Hill. Must-see: Greek and Egyptian sculptures, San Giovanni Battista by Caravaggio. Visit time: 2 to 3 hours.
The Borghese Gallery
The remarkable art collection started in the 17th century by the Borghese family is on an extraordinary palace and surrounded by expansive gardens. Must-see: Bernini sculptures, Caravaggio paintings, masterpieces by Raphael, Rubens and Titian. Visit time: 2 to 3 hours.
Churches and the synagogue of Rome
Cruise passengers to Rome should also visit other religious sites with rare masterworks and unique architectural features. The sculpture of Moses by Michelangelo is on display in San Pietro in Vincoli (Saint Peter in Chains).
In the Basilica di Santa Maria del Popolo you can see masterpieces of Bramante, Bernini, Rafael and Caravaggio. The works by Caravaggio in the church of San Luigi dei Francesi must be seen. The trompe l'oeil effect in the ceiling of the Church of the Gesù is spectacular. The Great Synagogue of Rome is a must for those interested in Jewish heritage.
Cruise visitors will find remarkable features and masterworks in every religious site listed below:
Basilica di San Giovanni in Laterano
Basilica di Santa Maria Maggiore
San Luigi dei Francesi
Santa Maria in Trastevere
Saint Cecilia in Trastevere
Santa Maria Sopra Minerva
Basilica of Santa Maria del Popolo
San Pietro in Vincoli (Saint Peter in Chains)
Santa Maria degli Angeli e dei Martiri
Santa Maria in Aracoeli
The Church of the Gesù
Our Lady of the Conception of the Capuchins
Great Synagogue of Rome
Museums and art
The Vatican Museums, the Capitoline Museums, and the Borghese Gallery are top highlights of Rome. But there are many other museums in the Eternal City with unique and outstanding collections. Cruise visitors interested in art should also look into planning a visit to the following museums:
Museo Nazionale Romano in four distinct buildings: Baths of Diocleziano, Palazzo Massimo alle Terme, Santa Maria degli Angeli and Palazzo Altemps.
Doria Pamphilj Gallery
Palazzo Barberini
Museum of the Imperial Forums
Villa Farnesina
Galleria Spada
Keats-Shelley House
Landmarks and monuments in Rome
Cruise passengers that have been to Rome before may have visited most highlights of the city. Some may think that there isn't much more to do and see. Besides the churches and museums already mentioned, the landmarks and monuments below should be on any cruise visitor's to-do list.
Appian Way and Catacombs of San Callisto
Ara Pacis
Arch of Constantine
Area Sacra di Largo Argentina
Campo de' Fiori
Castel Sant'Angelo
Domus Aurea
Mouth of Truth
Ostia Antica
Piazza del Campidoglio
Piazza del Popolo
Trajan's Market
Trastevere
Vittorio Emanuele II Monument
Cruise shore excursions (Shorex) and tours
Naturally, all cruise lines and most online services offer many different shore excursions to Rome and other attractions close to Civitavecchia like Tarquinia, Castel Gandolfo, or Orvieto. Norwegian Cruise Line has available 23 shore tours, and Carnival lists 14 cruise excursions.
Celebrity Cruises offer as many 43 shore explorations, Holland America lists 34 shore tours and Princess has available 28 cruise excursions in Rome (Civitavecchia) cruise port.
The upper-premium cruise lines like Oceania, Viking and Azamara visit Rome (Civitavecchia) cruise port on many itineraries. Oceania Cruises organizes 47 shore excursions in Rome (Civitavecchia), and Azamara offers 8 tours.
Although most luxury cruise lines include shore excursions with the cruise fare, Regent, Seabourn and Silversea offer unique and diverse explorations ashore in Rome (Civitavecchia). Regent lists 50 cruise excursions, Seabourn has 12 excursions, and Silversea offers 7 excursions.
The large Italian fleets of Costa and MSC sail the Mediterranean all year round, offering great excursions in Rome (Civitavecchia). Costa lists 16 tours and MSC 44 cruise excursions.
There are also excursions offered by the following reputable private online services and local tour operators:
Must-know: tourist info, language, and money matters
Tourist Info
For a long time (at least over one decade) there was a tourist kiosk close to the exit gates of the cruise port by the Fortezza Michelangelo. Cruise passengers that are visiting Civitavecchia for the first time or haven't been at this port for a while shouldn't despair. The same exact kiosk was moved and stands now by the start of Via Aurelia, the main avenue along the sea in Civitavecchia.
Language
Italian is the official language and there are many different dialects in the country. However, English is widely spoken in all major touristic areas. The English-speaking cruise visitor will easily communicate with locals pretty much everywhere.
Currency and money matters
The Euro (€) (EUR) is the legal tender in Italy as a full member of the European and Monetary Union. US$ dollars or any other currency are NOT accepted and you must have Euros to pay for services or purchases in cash.
Credit cards:
Most credit and debit cards are widely accepted in Rome and also in Civitavecchia.
There are ATMs by all banks, usually labeled "Bancomat" where you can cash Euros with both your debit card and credit card.
Tipping:
Tipping is not expected in restaurants, cafes, or bars as employees have labor contracts with all sorts of benefits. However, it is customary to round up the check but always less than 5%. The same applies to taxi drivers.
Haggling:
Haggling is not expected on any shops or services with exception of street vendors. Be aware that most street vendors are not legal and you can get your purchases confiscated.
Business and commercial opening hours
Museums open from 10 am to 5 pm but close on Mondays. Shops are open on weekdays from 9 am to 7 pm, although some may be closed for lunch between 1 pm and 3 pm. Many shops close on Saturday after 1 pm. Shopping malls are open 7 days a week and on holidays from 10 am to 11 pm. Banks are open Monday to Friday from 8:30 am to 3 pm.
Safety, US travel advisory, and basics
Like all big cities in Europe, Rome doesn't have much violent crime. However, like all cities with lots of tourists, petty crime is common in Rome, and you should be aware of pickpockets and street scams. By contrast, Civitavecchia is very safe.
Nearest US Embassy to Rome (Civitavecchia)
U.S. Embassy Rome
Address: via Vittorio Veneto 121 - 00187 Roma
Phone: (+39) 06.46741
Website: it.usembassy.gov/rome
For comprehensive and updated information about traveling to Italy see the U.S. Department of State website page evolving advisory.
Covid-19 advice for cruises to Rome (Civitavecchia) (Italy)
For updated coronavirus (Covid-19) information and travel advice to Italy and Rome (Civitavecchia) visit the website of the U.S. Embassy in Italy. For more Traveler's Health advice to Italy see the CDC Website.
Rome (Civitavecchia) Basic Info at a Glance
| | |
| --- | --- |
| Entry Requirements: | A valid passport is required for American, Canadian, and British citizens. EU and EEA visitors need valid national ID cards. |
| Emergencies: | Medical Emergency, Police, Fire Rescue - 112 |
| US Emergencies: | US citizens may call the US Dept of State (+1-202-501-4444) for emergencies abroad. |
| Driving: | Driving is on the right. |
| Electricity: | The standard voltage in Italy is 230 V and the frequency is 50 Hz. Typical European two round prongs are used. |
| Telephone Code: | +39 |
| Cell phones: | T-Mobile US plans offer unlimited data at up to 2G and text at no cost. Calls to the US cost 20 cents/min. Calls to other countries (including Italy) may be costly. It is advisable to check for International plans before departing the US. |
| Drinking: | Legal drinking age is 18 years. |
| Smoking: | Smoking is prohibited in restaurants and public buildings. Bars may allow smoking outdoors. |