Overview and Introduction
for Cruise Travelers to Lisbon
- Highlights, Where Ships Dock, Basics,
Getting Around, Explore on Your Own, Restaurants.
Lisbon is a charming city, buzzing with life, with an amazing history and beautiful sights to explore. Not only does it exude beauty through a sublime natural setting, but through its culture of warm, friendly residents. Its atmosphere is a harmonious blend of antique and modern, where ancient cathedrals tower over a cosmopolitan way of life.
Being the westernmost city in Continental Europe - far from other big European cities - Lisbon was not overcrowded by tourists until the last four years. Unlike most European capitals, museums and major sites do not have YET long waiting lines and it is still relatively easy to get a seat at a restaurant. However, it should be noted that in the last two-years cruise ship travelers have inundated the historical center.
What To See and Do: Highlights of Lisbon
The cruise traveler has a lot to choose from. Top highlights of Lisbon for cruise travelers include Belém's UNESCO sites, Sintra's Romantic Castle, the Sanctuary in Fátima or the medieval walled town of Óbidos. But the cruise traveler can also choose to enjoy a leisurely day meandering the old downtown district known as 'Baixa', strolling up the tree-lined Avenida da Liberdade, stop for a warm custard tart in one of the city's patisseries, marvel at the Castelo de Sao Jorge, or lunch al fresco in the quaint Bairro Alto.
You will have the opportunity to venture at your own pace into century-old castles and discover the intricacies of Portugal's own Manueline style. Sample traditional flavors and indulge in local delicacies such as Bacalhau (the national dish). Or taste port wine in the Chiado District at the Port Wine Institute. Whatever you choose to see, go slow and take it all in. Lisbon is best experienced in sync with its laid-back pace, enjoying sun-filled days that melt into festive nights.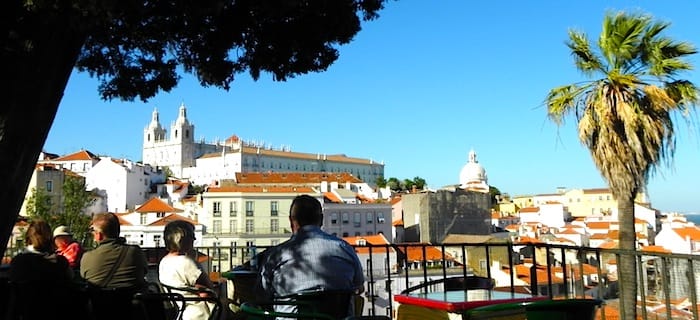 Miradouro St Luzia
Photo by IQCruising.com
Where Cruise Ships Dock in Lisbon
Depending on the tides and the number of ships visiting Lisbon, your cruise ship may dock in two distinct Docks - Alcantara Dock or Santa Apolónia Dock. Both docks are on the north bank of the estuary of the River Tagus (Tejo, in Portuguese), the longest river in the Iberian Peninsula. If you have the opportunity to be out and about as the cruise ship arrives in port do not miss it. But if you miss the arrival, make sure to be out on deck when the ship sails away. Passing under the bridge is great fun and the views of the city from the river are really sensational.
Alcantara Dock
Cais (dock) de Alcantara aka as Rocha de Conde de Óbidos is next to one of the widest bridges in Europe with a striking resemblance to the Golden Gate Bridge. Cais de Alcantara is not far from Downtown District (known by locals as 'Baixa') but a little too far to walk - 10-minute drive but over 30-minute walk. Most cruise lines provide a shuttle bus complimentary or at a reasonable cost, and a taxi ride would cost around $10.00 (USD). The shuttle bus stop is on or close by Terreiro do Paço - the main square in the 'Baixa.
Santa Apolónia Dock
Cais (dock) de Santa Apolónia is a couple of miles up the river and much closer to the Historical Downtown District ('Baixa'). A new cruise terminal was recently built by this dock and this is where most large ships are now mooring. The dock of Santa Apolónia is no more than a 10-minute pleasant walk away from Terreiro do Paço aka as Praça do Comércio. However, when more than a couple of large cruise ships are docked in Santa Apolónia, it can get a bit chaotic and it may take as many minutes just to exit the pier and go through the Terminals and the flood of Tuk-Tuk Drivers, Taxis, City Sightseeing buses and all sorts of local tour operators offering their services.
New Cruise Terminal
Photo by Lisbon Port Authority
Basics - Good to Know
Whatever you choose to see and do in Lisbon, it is easy and affordable to explore the city on your own. However, it should be underlined that for disabled travelers Lisbon is not the easiest city to explore. Naturally, if the cruise traveler wishes to visit attractions outside the Historical Center, it is advisable to book a tour or an excursion.
Language
Portuguese is the official language and is not an easy one for English speakers to understand. Besides a couple of words that may sound familiar with other romance languages, even the most basic are distinct - don't go around saying 'Gracias' or 'Grazzie' like if you are in Spain or Italy, the Portuguese word for 'Thank You' is 'Obrigado'. The good news is that most population - especially the younger generations - speaks good English.
Money Matters
Keep in mind that Portugal is a member of the European Union and that the Euro is the only currency accepted. Prices are reasonable – in fact, Lisbon is one of the most affordable cities in Europe. Both Credit and Debit cards are accepted almost everywhere. If you need to get some cash, there are ATM's in every corner of the historical center.
Weather
Located on the Atlantic coast, Lisbon has mild weather, and only once in a while the city has very warm days, sometimes it can even be a bit chilly in the morning. So check the weather forecast before you plan your tour of Lisbon.
Opening Times
Between March and October most sites and museums are open from 9 AM until 6 PM. But be aware that most historical sites and museums are closed on Mondays. Check Lisbon's and Portugal's Public Holidays on this page.
Getting Around
As mentioned before, Lisbon is a very easy city to explore. Besides an excellent public transportation network, there are lots of different services offering all sorts of tours.
Sightseeing, Bus, Cars and Tuk-Tuk
For those that like sightseeing, Lisbon has a wide choice. There are three different Hop-on Hop-Off bus companies - City Sightseeing, Gray Line , and Yellow Bus. There are also a couple of unusual and fun ways of sightseeing; a self-guided electrical car for two - Go Car Tours -, and what has become a very popular way of getting around the city - Tuk-Tuk Cars. The latter is an upgraded and Eco-friendlier version of the ones found in India.
Taxis and Uber
Taxis are affordable in Lisbon, you find them by all major sites and by the terminal. All taxis are metered, drivers tend to speak English but, like in any big city, make sure you get an estimate before getting into a taxi, as you should not pay more than $10.00 US Dollars (8 Euros) to go anywhere within the historical city center.
In the last couple of years Uber has become available in Lisbon. Prices are very competitive specially considering that the amount paid is converted at the day's rate without any commission fees. However be aware that at pick and rush hours the Uber fares can be more expensive than a regular taxi.
Public Buses and Trams
Public Buses are not particularly easy to navigate or useful for the cruise traveler but the Trams have good connections to major tourist attractions and can be particularly useful for those wishing to explore Belém. Click Here to Check the Official Website in English. Be aware that same of the Routes are famous Touristic Tours - like the Red Train ride up to the Castle and not only are expensive as these can get very, very crowded. Insiders Tip: stick to the real stuff, meaning the public yellow trams. However, so many tourist have discovered the affordability of public trams that these are Usually packed, you guessed it, by tourists.
Metro - Subway - Underground
Known by locals as 'Metro' the underground is the lesser used transportation by cruise travelers and tourist alike but is very easy to navigate, affordable and has stops next to many highlights. If docking at Santa Apolónia there is an underground stop right next to the exit of the terminal. Click Here to Check the Official Website in English.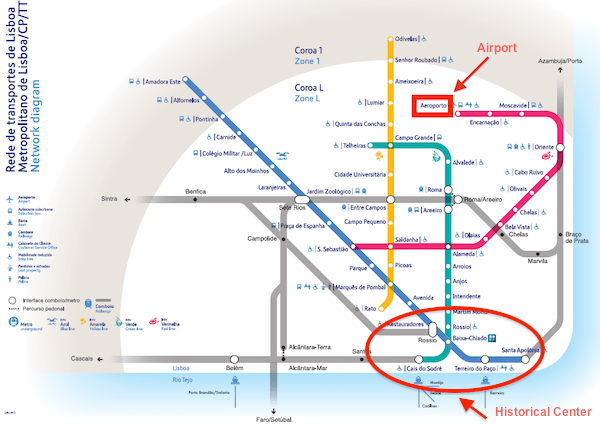 Car Rental
Renting a car is an option we would not advise. The traffic in Lisbon can be chaotic, parking is very limited, the traffic signs can be misleading and you may find yourself wasting hours looking for directions.
Explore Lisbon on Your Own
Either sailing into the River Tejo or away from Lisbon, you will see that the Great Metropolitan Area of Lisbon occupies the sloping hills rising from the north bank of the river and along the Atlantic Coast. But the core of the city is really much smaller. After all, in this capital with close to 3 million inhabitants in its metropolitan area, only less than 600,000 live in the city itself.
Historical Downtown - Baixa
Terreiro do Paço has been embracing visitors to the city for centuries and is the ideal place to start a tour of Lisbon. Here you will find a Tourist Office, the stops for Sightseeing Tour Buses and for the Historical Trams that will take you up and downhill through narrow streets for a memorable 45-minute ride.
The statue of King Joseph I on horseback stands in the middle of the square as a guardian of the city. During his reign, in 1755, Lisbon was hit by a devastating earthquake (followed by a tsunami and a fire), which destroyed most of the city and the old Royal Palace that once stood here.
Under the supervision of the King's Prime minister (the Marques de Pombal) the square was renamed Praça do Comércio. All area behind this square was rebuilt as a grid of 48 streets ending in two other squares: the Rossio (with its beautiful fountains, the National Theatre and a majestic column in the center) and Praça da Figueira a less elegant square but with a great view of the Castle.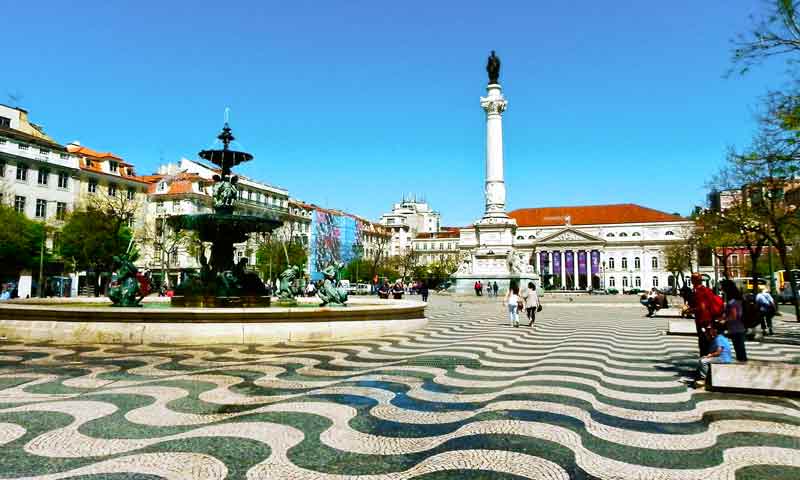 Rossio Square
Photo © IQCruising
The Baixa used to be the main shopping district of Lisbon, but as the city expanded it is now on the way uphill to Bairro Alto that you will find the best of high-end shops
Reaching Largo do Chiado it becomes obvious why the outdoor sitting of two coffee shops become so popular. These are ideal fro cruise travelers to have a rest, before venturing up to visit the Igreja de S. Roque one of the most interesting churches in Lisbon. After this church, don't miss the view from Miradouro de S. Pedro de Alcantara.
From here you can take the Elevator da Gloria to go down to Restauradores or walk back. Another tip: instead of walking up to Chiado, take the elevator up and then walk down.
To the right of Terreiro do Paço you can see the castle towering above the entire city. The walk to the castle (St George's Castle) is steep at times. The best way for cruise travelers to explore the castle district is to take the tram up as close as possible to the castle and then walk down to visit the church of S. Vicente de Fora and the Lisbon Cathedral.
You can then venture through the narrow streets behind the cathedral to explore Alfama, Lisbon's medieval working-class district. And if you feel like a stop before heading back to the ship, the Martinho da Arcada, oldest café in town is the place to go in Terreiro do Paço.
Beyond the Historical Downtown
The western border of the Lisbon, known as Belém, is the site from where the Portuguese navigators departed to explore the seven seas in the 15th and 16th centuries. Here you will find two UNESCO Heritage sites in Lisbon: the Tower of Belém and the Mosteiro dos Jerónimos both built in the 16th century to commemorate the glorious days when Vasco Da Gama sailed to India and Cabral discovered Brazil.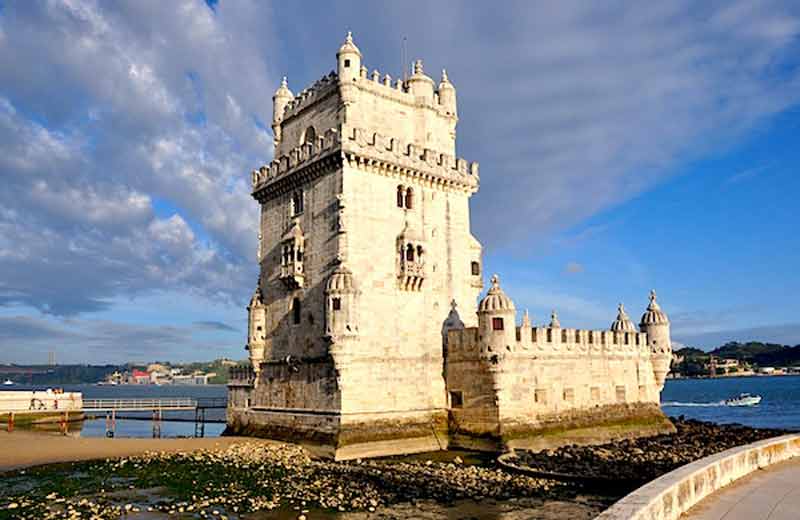 Belém Tower in Lisbon
Photo © IQCruising
In Belém you will find as well another monument to these explorers built in the 1960's, the Padrão dos Descobrimentos, the new Cultural Center of Lisbon and the most visited museum in Lisbon: the Museu dos Coches with an amazing display of old Carriages. With so much to see in Belém, visiting this area can take more than half-day.
The Museum of Art Antiga – the Ancient Art Museum – is also worthwhile visiting. Hieronymus Bosh, Zurbaran, and Portuguese medieval painting are the highlights. By the way, if docking in Cais de Alcantara this museum is within walking distance.
The walk up Avenida da Liberdade to Marques de Pombal and then to the top of the Parque Eduardo Sétimo (Edward VII Park) is a long stretch and only worthwhile to see a fantastic panoramic view of Lisbon. Most sightseeing buses stop at the top of this park and there is no reason to walk all the way up to this viewpoint. If planning to go that far, we suggest a visit to the Gulbenkian Museum with its collection of Lalique jewelry, Egyptian and Persian Art.
The Oceanário is one of the largest aquariums in the World and because it is in the East extreme of the city will take an entire morning to visit including traveling time.
Local Flavors and Restaurants
Unless you are looking for a gourmet cuisine, you will find that even those restaurants that look like "tourist traps" serve fresh, simple and tasty food, in lovely outdoor settings.
Almost every single restaurant will offer fresh seafood and the most popular Portuguese fishes - Sardines and Bacalhau – this one cooked in an incredible variety of ways.
Don't expect to find tapas, light meals, salads or filling sandwiches. So, if all you want is a snack you are better off by sitting in a Pastelaria or a Coffee Shop and order one of the many pastries on display – the famous Pastel de Nata is simply delicious. "Empanadas", meat croquets, and the shrimp rissole are the best snacks to taste in Lisbon.
A tip on wine: Although Portugal is a producer of good wine, restaurants do not offer house wine at reasonable prices. The wine list starts with bottles at $15.00. By contrast, beer is very affordable.
If you want to taste the elaborate Portuguese gourmet cooking, you will need more than a couple of hours to enjoy the menus of restaurants like Belcanto, Tavares, Tagide, or Casa da Comida. These restaurants are ideal for dinner which you can only enjoy if you are staying in Lisbon overnight. By the way, if this is the case, do not miss a show of Fado (the typical and worldwide acclaimed Portuguese song).