Everything you must know on a cruise to the port of Split in 2022: where is the port and cruise ships dock, things to do, shore excursions, sightseeing, how to get around and explore on your own.
The port of Split (in Croatia) has a good number of cultural attractions a stone's throw away, such as the Diocletian's Palace or the Saint Domnius Cathedral, which are within walking distance from where cruise ships dock or the tender-boats moor when anchoring.
Contents
Overview
The heart of the Split is a pedestrianized UNESCO World Heritage site. However, less than a 1-hour drive from the cruise port there are also fabulous destinations not to be missed.
In particular, the Krka River National Park with magnificent waterfalls, the roman city ruins of Salona, the historic towns of Šibenik, Trogir, and Primošten. And the mighty Klis fortress made famous by the Game of Thrones series.
Split is one of the most visited cruise ports of call in both Eastern and Western Mediterranean itineraries during the Spring-Summer season, with as many as 360.000 passengers and over 282 cruise ship visits in 2019.
The cruise port of Split has a very appealing character, the historic area is very clean and immaculately kept. On the whole, Split is perfectly safe. The local population is friendly, pleasant, well mannered, and speaks English very well.
For those cruising with families, there are just a few enjoyable things to do. Cruise passengers with disabilities or with walking difficulties will find it relatively easy to wander around in Split on your own.
Where is Split and cruise ships dock
Split, in Croatia, is the country's 2nd city with a population of around 250,000 urban residents. The city is located in the Dalmatian region, on the picturesque West coast of Croatia, on the Eastern shore of the Adriatic Sea, 140 miles (229 km) north of Dubrovnik.
The cruise port in Split is very close to the heart of the historic city center. Depending on the pier where the cruise ship docks the distance is between 0.5 mile (800 meters) and 0.7 mile (1,000 meters).
Where cruise ships dock
Ships dock on a medium-sized mixed (ferry and cruise) port with 3 piers, perpendicular to the coast, and quays for up to 6 cruise ships to berth.
If you read in less accurate port guides that cruise ships anchor in Split be aware that those reviews are outdated. In fact, it seldom happens that there are over 6 cruise ships in port and tendering does rarely occur.
Shuttle bus
Because the cruise port is at such a close distance from the historic city center of Split, neither the port authority nor the cruise lines provide shuttle buses.
Cruise port services and amenities
The cruise port in Split doesn't have a terminal building. However, cruise travelers will find on the pier, close by the ship's gangway, the following services and amenities:
Taxis
Shore excursion buses
Restrooms
Outside the port gates, there are will also many other services and amenities such as:
Coffee shops
ATMs
Exchange Office
Tourist Office
Local tour guides
Post Office
Bus Station
Railway Station
Public phones
Car and scooter rental
Things to do in Split cruise port
Split is an extraordinary port of call for cruise travelers interested in historic and archeologic sites, unique museums, religious sites, and Jewish heritage.
In Split, cruise visitors will enjoy strolling quaint villages and historic towns, admire monuments and notable landmarks.
If you appreciate breathtaking scenic sights and magnificent natural wonders, there are a couple of sites not to be missed.
Cruise passengers will have the opportunity to savor local flavors and cuisine. And there is plenty to shop for those that like to look for local souvenirs and regional crafts.
Finally, Split is a great cruise port if you typically prefer hop-on hop-off sightseeing, and exploring on your own on foot.
Top highlights, sights and attractions in Split
As much as the Old Town has very interesting sites, cruisers should also look into other major highlights close by.
Diocletian's Palace (Dioklecijanova Palača)


In (and) the heart of Split, the Diocletian's Palace dates back to the latter part of the 3rd century AD when the Roman Emperor Diocletian had it built. This is where he spent the remainder of his life. In 1979 it was designated a UNESCO World Heritage site.

Riva (Obala hrvatskog narodnog preporoda)


Literally translated as the Quay of the Croatian National Revival, the Riva is a wide promenade on the waterfront, which runs along the south side of the Diocletian's Palace. The Riva is known for its trendy and chic shopping, restaurants with outside seating and a reminder of all that Split has to offer: history and natural beauty.

Ivan Meštrović Gallery (Meštrović Galerija)
This stunning villa and art gallery houses a great selection of large-scale and religiously-inspired works, and also portraits by Ivan Meštrović, one of the most famous modern Croatian artists. Distance from cruise port: 16.5 miles (26.6 km.) west of Split port.
The Cathedral of St Domnius and the Peristyle (Peristil i Katedrala sv. Dujma)


The Cathedral of St. Domnius was originally the mausoleum of Diocletian. The large courtyard where the Cathedral is located is known as the Peristyle and was once used as a ceremonial entrance to Diocletian's quarters and to the mausoleum.

Jupiter's Temple (Jupiterov Hram)


In the heart of the historic city on Kraj Sv Ivana. Originally built in honor of the Cult of Jupiter, it was eventually converted into a baptistery.

Šibenik, Trogir and Primošten


Between 30 minutes and 1-hour drive from the cruise port in Split, these 3 jewels have a unique charm. The historic center of Trogir is in the UNESCO list of World Heritage Sites and so is the Cathedral of St. James in Šibenik. On the way to or from Šibenik, a stop at the quaint peninsula of Primošten is a must.

Salona (Solin)
The ancient Roman city where emperor Diocletian was born is a notable archeological site. Distance from cruise port: 5 miles (8.3 km) north of Split.
Krka National Park
Scenic and nature lovers will marvel in the Krka National Park where the Krka River flows into cascading waterfalls. Distance from cruise port: 53.5 miles (86 km) west of Split.
Cetina Valley and Omis (Omiš)
The Cetina River meets the sea in the picturesque town of Omis where many active pursuits like rafting, kayaking, canoeing or rock climbing. Distance from cruise port: 16 miles (25.8 km) east of Split port.
Klis fortress
Once the seat of Croatian kings, the medieval fortress of Klis was the setting for the fictional city of Meereen in the Game of Thrones series. Distance from cruise port: 9.7 miles (15.6 km) north of Split.
Bačvice Beach (Uvala Bačvica)


The closest beach to the Old Town and the cruise port, this tree-lined beach features bars, restaurants and cafés, and a true city beach scene. Distance from cruise port: 0.5 mile (900 meters) east of Split port.
Landmarks and monuments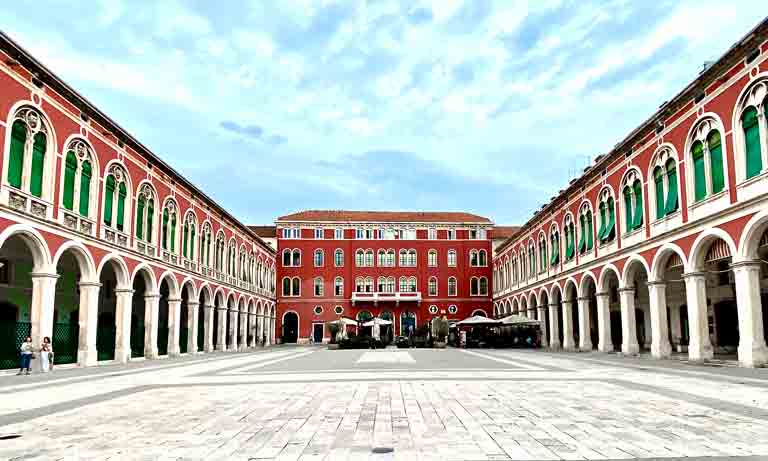 The historic squares and streets in the Old Town of Split are a delight to meander, contemplate, and enjoy people watching. Many have remarkable historic buildings, landmarks, and monuments that should not be missed.
Papalić Palace
Built by the famous Croatian architect Juraj Dalmatinac, the Papalic Palace served as a home for noblemen during the Middle Ages. It now houses the City Museum of Split (more about this below). Where: inside the Diocletian's Palace on Papalićeva 1.
People's Square (Narodni trg)
The most important square of Split where the Town Hall (now a gallery) is located. Where: just outside the of the Diocletian's Palace.
Golden Gate (Zlatna Vrata)


Once the main entrance of the Diocletian's Palace on the north side, the enormous bronze statue of Grgur Ninski (Bishop Gregory of Nin) by Ivan Meštrović is a must-see.

Marjan Hill (Marjan)


On a hilly peninsula, east of the city center and the cruise port, the Marjan Hills offers stunning views of the city, nice restaurants, and beaches.

Veli Varos


Veli Varos is a charming old neighborhood with narrow and picturesque streets located on the slope of Marjan Hill, just northwest of Diocletian's Palace.

Republic Square or Prokurative (Trg Republike)
The inspiration for the Republic Square came from St. Mark's in Venice. Three of its sides are lined with the beautiful neo-Renaissance buildings of the Prokurative, which were built in the late 19th century. Where: west of the Diocletian's Palace
Marmontova Street (Marmontova ulica)


The main shopping street in Split next to Republic Square.

Fishmarket (Ribarnica - Peškarija)


On Marmontova Street the fishmarket is fun to visit in the morning.

Croatian National Theater (Hrvatsko narodno kazalište)
Dating back to 1893, the theatre is one of the first structures built outside the old city walls. Where: North of the Republic Square, at the end of Marmontova Street.
Fruit Square (Voćni trg)
this small quaint square with nice restaurants and shops has a few major landmarks: the Milesi Palace, the Marko Marulic Statue by Ivan Meštrović, and the Venetian Tower. Where: Inside the Diocletian's Palace, next to the southern walls.
Museums, art galleries, and zoo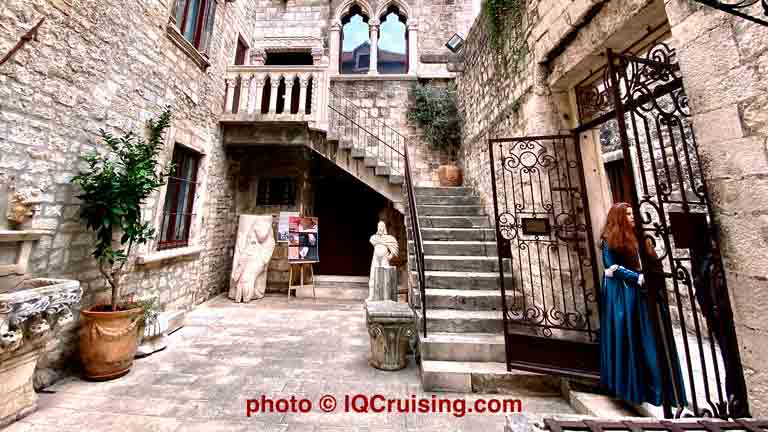 Split doesn't have one single large museum but, by contrast, the city has a good number of small interetsig museums and art galleries that are woth exploring.
Ethnographic Museum (Etnografski muzej) Founded in 1910, the museum displays a wide range of traditional Dalmatian embroidery and costumes, but also household items, woodcarving, and pottery. Where: Within the walls of the Diocletian's Palace on Severova 1.
Vidović Gallery (Galerija Vidović)
the gallery displays the works of Emanuel Vidović (1870– 1953) the most celebrated painter of Split. Where: In the heart of the city on Poljana Kraljice Jelene.
Museum of Croatian Archaeological Monuments (Muzej Hrvatskih Arheološki Spomenika)
The museum houses a large collection of items such as tools, jewelry, weapons, sculpture, and epigraphic monuments. Where: In the Marjan Hill, 3.6 miles (5.7 km) west of the port on Šetalište Ivana Meštrovića 18.
City Museum of Split (Muzej grada Splita)
The museum displays a collection of artifacts, documents, photographs, maps and manuscripts telling the history of Split and the Dalmatian region. Where: in the Old Town on Papalićeva 1, housed in the Papalic Palace
Archeology Museum of Split (Arheološki muzej)
The oldest museum in Croatia, it displays archeological findings from pre-historic, pre-Christian, Greek and Medieval periods. Where: north of the city center on Frankopanska 25
Croatian Maritime Museum Split (Hrvatski pomorski muzej)


Inside the 16th-century Gripe fortress on Glagoljaška 18, the museum is devoted to all things nautical and displays such items as naval uniforms, lighthouse lanterns, and model ships.

The Gallery of Fine Arts (Galerija umjetnina)
Dating back to 1931, Split's main art gallery features over 3,500 works that represent regional art from the 14th century to the present. But also works by great masters such as Paolo Veneziano and Albrecht Dürer. Where: Just north of the Diocletian's Palace on Ulica kralja Tomislava 15.
Froggyland
This unsual venue has on display a strange collection of over 500 stuffed frogs in human scenarios, like playing tennis, seating in class or washing clothes by a pool. Where: on Ulica kralja Tomislava 5, at the end of Marmontova Street
Split Science Museum and Zoo (Prirodoslovni muzej i zoološki vrt grada Splita)
Small and modest zoo with local farm animals. Where: in the Marjan Hills on Kolombatićevo šetalište 2.
Religious Sites
Saint Dominic's Church and Monastery (Crkva i Samostan sv. Dominika).
Renovated at the beginning of the 19th century, the church structure dates back to 1682. Where: opposite the Diocletian Palace's Silver Gate on Hrvojeva 2.
Church of Our Lady of the Belltower (Crkva Gospe od Zvonika).
Small chapel with the oldest bell tower in Dalmatia. Where: inside the Iron Gates on the west side of the Diocletian's Palace.
Church of Saint Francis (Samostanska crkva sv. Frane).
Dating back to the 13th century, it is a stunning display of gothic-renaissance architecture. Where: next to the Republic Square
Church of Saint Martin (Crkvica sv. Martina).
The diminutive Church of Saint Martinis is possibly the smallest church in the world (1.64 meters wide and 10 meters long). Where: by the Golden Gate, on the north side of the Diocletian Palace.
Synagogue and Jewish cemetery.
It isn't easy to find this small synagogue in a medieval building housing Split's Jewish cultural center. Where: north of the People's Square, on Židovski pro. 1. The remains of a 16th-century Jewish cemetery are located in the Marjan Peninsula.
How to explore Split on a cruise
Due to the Coronavirus pandemic cruise travelers may only be allowed to explore Split on a shore excursion. Regardless of public health concerns, shore excursions are always advisable to discover destinations that are farther from the cruise port and considerable time consuming to properly explore on your own or using public transportation. In one word, there are 3 possible ways to discover Split:
Book a shore excursion

Sightseeing services

On foot
Shore excursions and tours
Obviously, all cruise lines offer many and diverse shore excursions in Split. Celebrity Cruises and Royal Caribbean offer as many 16 shore excursions. Norwegian Cruise Line has available 14 shore excursions. Oceania Cruises organizes 27 shore excursions and Princess has 20 excursions.
There are also excursions offered by the following reputable private online services and local tour operators:
Discover Split on your own
Cruise passengers that prefer to explore Split on your own and/or on foot will find many attractions nearby, a few sightseeing services and good public transportation.
Sightseeing in Split cruise port
In the port of Split, cruisers will find a few good sightseeing tours by bus, train, TukTuk, rickshaw, or bike.
Hop-on Hop-off Sightseeing Bus
Tour of city and surrounding including Trogir, Klis, and Salona over 3 different lines. Departures every 75 minutes starting at €20.00 per person. For updated info, fares, and schedules, check Split City Hop-on Hop-off Bus
Tourist Train
Fun train tour around and in the Marjan Hill. viking-split.com
Old Car Tours
A two-hour tour of Split in an electric replica of Ford's Model T from 1908 starting at €120.00 for 4 passengers (maximum 7 people per car). viking-split.com
TukTuk Tours,
Tour of the Old City starting at 40 €40.00 per car up to 3 passengers with 30 to 40-minute duration. viking-split.com
Split Cabrio Tour.
Tours starting at €30.00 per person for one hour and a half tour with 5 stops. pickmeup.hr
Rickshaw Ride Tour


One hour tour for up to 2 passengers starting at €40.00 per ride.

Bike Tours
Tour of the Old Town on a bike last around 2 hours and costs €37.00 per person
bluebikesplit.com
What's within walking distance and nearby
Cruise passengers that like to explore on foot will find close by port the following attractions:
All highlights and attractions in the Old City.


Where: 0.5 mile (800 meters) from the cruise port.

Bačvice Beach.


Where: 0.5 mile (900 meters) from the port.

The Marjan Hill and Veli Varos.


Where: over 1 mile (1.7 km) from the cruise port.
How to get around and transportation in Split cruise port
For those that want to discover attractions farther away but without tour guides, there a few good ways to travel aeround such as:
Taxis.


cruisers will find taxis right at the pier and also outside the port. In the Old Town, there are 2 taxi stands, one by the start of the Riva on the west side and another at the end of the Riva, close to the Republic Square or Prokurative.

Uber


works very well in Split

Cammeo
Cammeo is a Croatian app similar to Uber that has mixed reviews. Check the Cammeo website in English.
Car Rental


All major international Car Rental companies have offices in Split

Bicycles and Scooters.


Bicycles and scooter are available to rent at the start of the Riva, on the left side, with Split Rent Agency.
Must-know: tourist info, language and currency
Tourist Info
There is a Tourist Information Office in the Riva and also a Tourist Information Center in the Peristyle. Both have maps and brochures but we have found that the one in Riva is usually less crowded.
Language
Croatian is the official language, but English is widely spoken in all the tourist areas and sites. The English-speaking cruise ship passenger will not have communication issues when going to a historic site, museum, shop or restaurant.
Currency
The Kuna (Kn) is the official currency and although Croatia entered the European Union in July 2013, the country has not adopted the Euro. Therefore, be aware that it is illegal for businesses to accept payments in currencies other than Kuna. The Kuna is divided into 100 Lipa. There are 1, 2, 5 and 25 Kuna coins. Banknotes are in 5, 10, 20, 50, 100, 200, 500 and 1.000 kunas.
Safety, US travel advisory and basics
For comprehensive and updated information about traveling to Croatia see the U.S. Department of State website page evolving advisory.
Coronavirus advise for cruises to Split (Croatia)
For updated coronavirus (Covid-19) information and travel advice to Croatia and Split visit the website of the U.S. Embassy in Croatia. For more Traveler's Health advice to Croatia see the CDC Website.
Split Basic Info at a Glance
| | |
| --- | --- |
| Entry Requirements: | Passport is required for U.S. citizens. Most EU visitors are required a valid passport. |
| Emergencies: | General Emergency - 112 |
| Driving: | Driving is on the right and generally speaking it is easy to drive around. |
| Electricity: | The standard voltage is 230 V and the frequency is 50 Hz. Typical European two round prongs are used. |
| Drinking: | Legal drinking age is 18 years. |
| Smoking: | Smoking is prohibited in restaurants and public buildings. Bars and some restaurants may allow smoking outdoors. |