Basic guide to the top attractions close to the port of Dubrovnik to visit on a cruise in 2023, including reviews and how to get to Cavtat, Lokrum, or Korčula.
Dubrovnik's Old Town is such an enchanted place that the overwhelming majority of cruise travelers will spend the day in port exploring the beauty and charm of the walled city.
Contents
However, there is more to see in Dubrovnik than the buildings, churches and attractions inside the medieval stone walls. In particular, for those that have been in Dubrovnik before and look forward to discovering hidden treasures, there are a few attractions close by that should be included on any ones' must-see list.
Overview
The wonderful town of Cavtat is on the top of the list when docking at the Port of Dubrovnik and always offered on shore excursions. Mljet Island is also offered on tours and its National Park, in particular, is top highlight.
The Island of Lokrum is just right in front of the Old Port and easy to explore on your own. Very close to the Cruise Port in Gruž, the Lapad Peninsula has beautiful beaches and wonderful walks. The Elafite Islands are a delight to explore on a boat tour.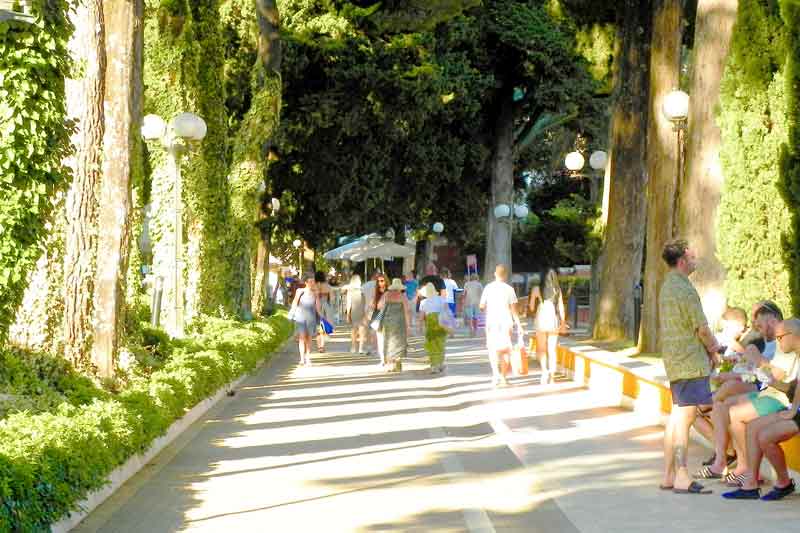 Lapad
Photo ©IQCruising.com
Last but not least, Korčula is a cruise port in itself. Although only small (and luxurious) cruise ships visit the legendary birthplace of Marco Polo some cruise lines offer shore excursions to Korčula when docking at Dubrovnik.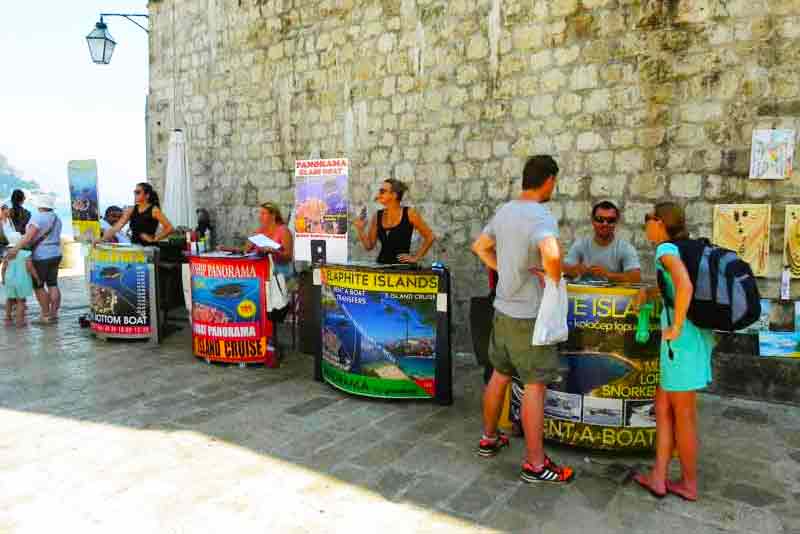 Tour Kisoks by the Old Port
Photo © IQCruising.com
Excursions to most of the attractions close by Dubrovnik are offered onboard the cruise ship. There are also a number of local operators offering tours online and others right by departing piers. Regardless of who is offering the shore excursions, it is always advisable to check if and how you can explore these attractions on your own by boat, taxi or bus. You may want to read more about transportation from Port of Gruž and also about Basic, Must Know Info for Dubrovnik. You may want to check the section with useful links on this page for more info about taxis, buses and excursions.
Cavtat
The approach to this little gem of a Mediterranean town is a memorably breathtaking sight as the campaniles of its churches poke their way into view above a canopy of lush trees. But that's not all - this was the ancient Greek settlement that the Romans renamed to Epidaurum whose inhabitants populated Dubrovnik. A pleasant promenade fringes the rambling old streets, edged by cafés, a couple of good places to have a refreshing drink and a selection of good restaurants.
The promenade leads to the pleasant town beach, a park and a cemetery with an imposing mausoleum by sculptor Ivan Meštrović as its centerpiece. Among the many attractions of Cavtat, the Bukovac House, where the Croatian artist Vlaho Bukovac (1855-1922) grew up, the Franciscan monastery, the Pinakothek, the Rectors Palace Museum and the St. Nicholas Parish Church are sights not to be missed. The Official Tourism Board of Cavtat has an excellent Website in English.
How to Get to Cavat
Besides the shore excursions offered onboard and online with independent tour operators, it is easy to get to Cavat by public bus or by taxi. The Bus #10 departs every 30 minutes from the Main Bus Station (next to to Cruise Port in Gruž), costing around US $4.00 one way. Journey time is around 30 minutes. You can check itineraries, updated prices and buy tickets online with libertasdubrovnik.com (Dubrovnik's Public Bus).
Cavtat Video
Watch the 4-minute below to have a better idea of Cavat's ambiance.
Island of Lokrum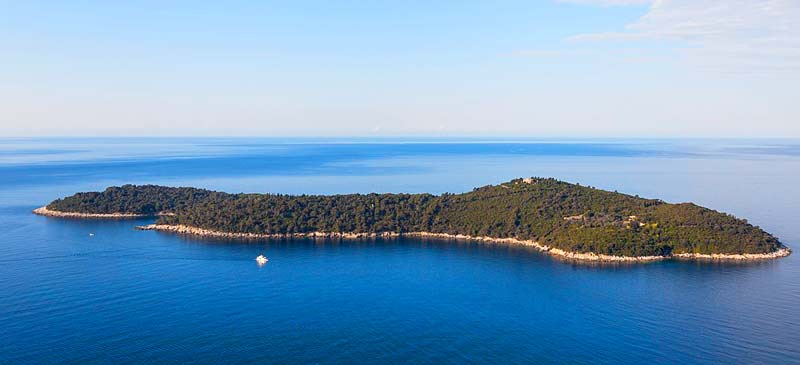 Photo: Diego Delso CC-by-SA 3.0
Lokrum Island is just a 10-minute sail away from the Old Port in Dubrovnik. Boats depart frequently and tours are also available at the port. The island is preserved as a nature park under UNESCO protection. On the island, you will find a fort, a monastery, botanical gardens and a naturalist beach.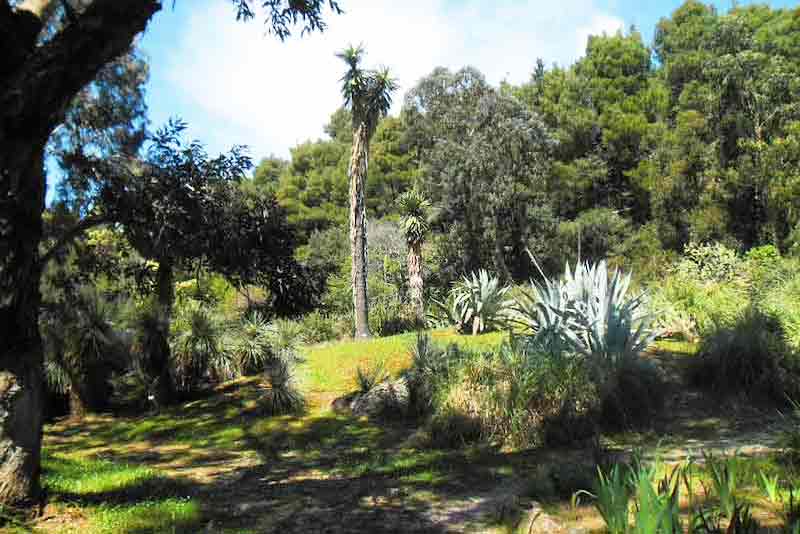 Lokrum Botanical Gardens
Photo: August Dominus CC-by-SA
First records of this island date from 1023 with the foundation of the Benedictine Abbey and Monastery. The Lokrum Island is also the place where (legend has it) King Richard the Lionhearted shipwrecked in 1192. In gratitude, he provided the funds for the building of the church. For a great view of the city, you can visit the star shaped fort built by the French in 1806, up on the hills. And, like in many sites in Dubrovnik, you can visit some of the locations where Game of Thrones was filmed. Cruise travelers will find great info on the Lokrum official Website in English.
Boats to Lokrum
The boat to the Island of Lokrum departs from the Old City Harbor every half hour during the summer, taking the cruise traveler to the little bay of Portoč. It takes around 10 minutes. Tickets can be purchased at kiosks next to the Old Port.
Elafite Islands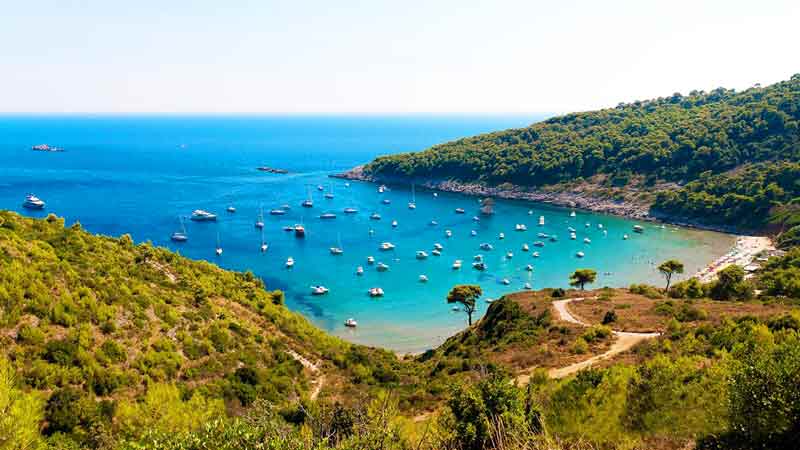 Lopud Island
Photo Courtesy of Dubrovnik Boat Excursions
Cruise travelers on the look for a slow pace day excursion to relax in sheer tranquility can hop on a boat to the small and stunning Elafite Islands. This small archipelago consisting of several islands although only Šipan, Lopud and Koločep are inhabited. These small, islands are quite the getaway.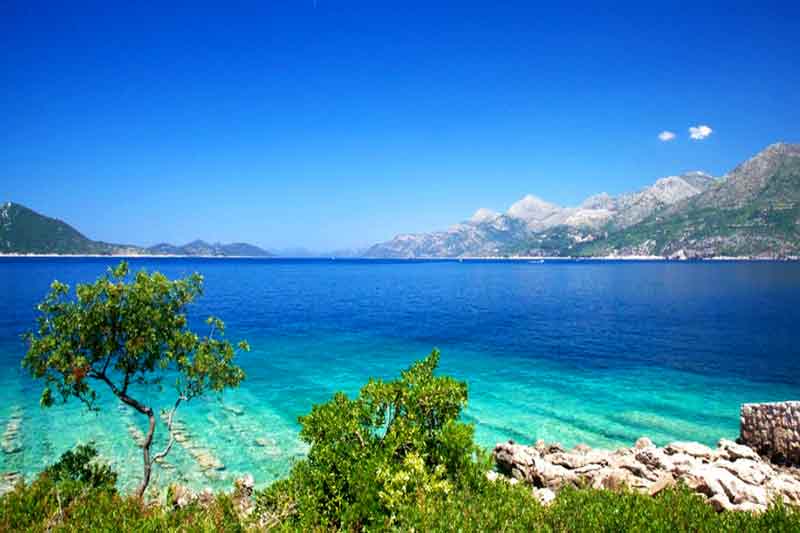 Koločep Island
Photo Courtesy of Dubrovnik Boat Excursions
For the most part, the beaches are like scenes from Robinson Crusoe, as they are off the beaten track. Here you can enjoy a "fish picnic" excursion for a day, catered by local tour operators both in the Old port and in the Port of Gruž (see below "How to Get There"). You will get your round trip boat ticket, along with a lunch of grilled fish, bread, potatoes and beverages.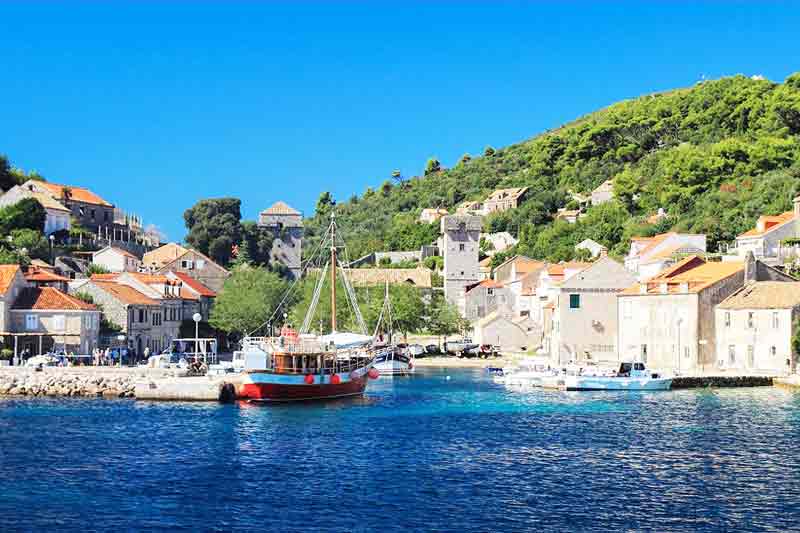 Šipan Island
Photo Courtesy of Dubrovnik Boat Excursions
How to Explore the Elafite Islands
To get to the Elafite Islands, the cruise traveler can choose between the boats departing from the Old City Harbor, with tickets being sold right by the pier or excursions boats departing from the Gruž Harbor. The main operators two companies with the same name, which can be confusing, Dubrovnik Boat Excursions and Dubrovnik Boat Excursions and Karaka the replica of a medieval ship
Mljet Island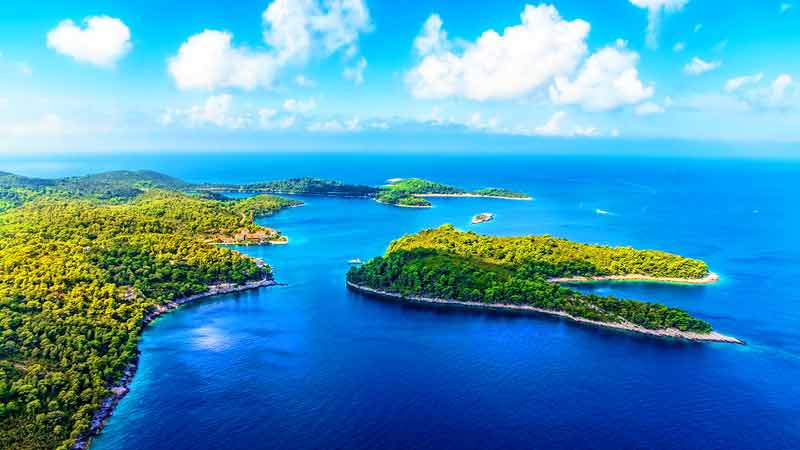 Photo Courtesy Mljet National Park
Mljet and its National Park are easily reached by boat and ferries from Dubrovnik. There are a good number of full day excursions and, most probably, your cruise ship will offer one or two. But if you prefer, Mljet can also be explored on your own with a ferry transfer or with local tour operators. Be prepared to fall in love with this island, which is one of the largest in Croatia. This is a peaceful, laid back destination, without busy streets, restaurants, clubs or bars.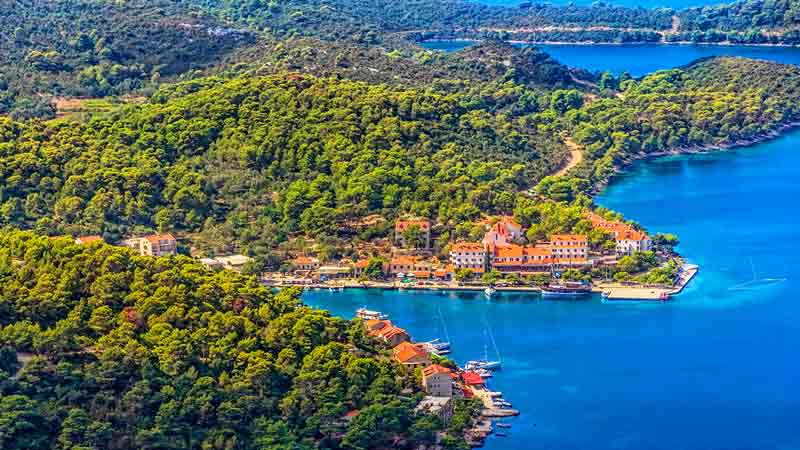 Photo Courtesy Mljet National Park
There are signs of earlier inhabitants, on different parts of the island, with remaining' of forts, walls, and as recently as mid-1900's, mass graves from battles, containing bones, spears, swords and arrows. Today you have the advantage of finding nothing but peace here. The surrounding waters are a haven for an array of fish species, sailing, scuba diving. Bicycle paths and hiking trails take you everywhere.
Mljet National Park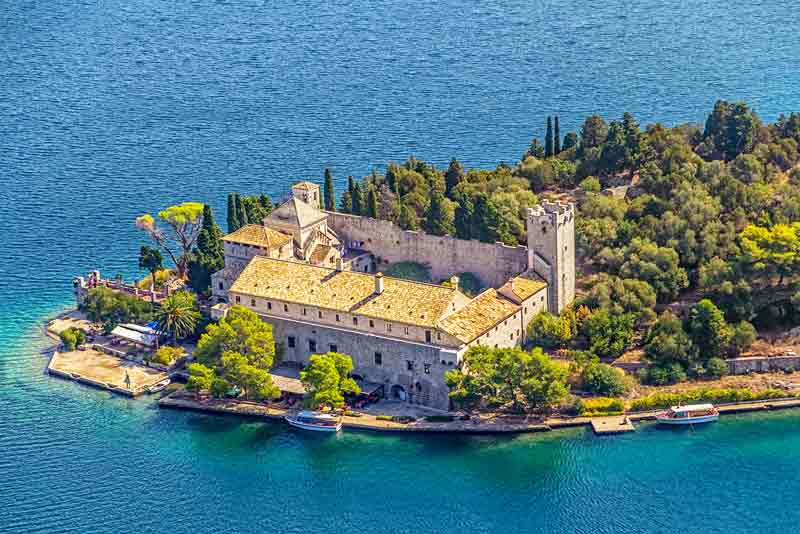 Photo Courtesy Mljet National Park
This national park is located on the island of Mljet, and contains quite the nature phenomenon, two natural salt water lakes, Jezero and Mali Jezero. Located on a third of the western portion of the island, it includes three villages of mention, Polace, Okuklje and Saplunara. Cruise travelers should tour the Benedictine Monastery of St Mary as well as the sandy beach of Blace. The entrance to the par costs between 70 Kuna and 125 Kuna (depending on the season). For more information about the Mljet National Park check the Official Website (in English)
Boat to the Island of Mljet
There are two main transfers to the Island of Mljet, both departing from Gruž Harbor. The Jadrolinija Ferries will take passengers to Sobra Harbor in Mljet and an hydrofoil operated by G&V Line agency sails to Polače Harbor located very close to the Mljet National Park.
Korčula
Korčula is famous as the legendary birthplace of Marco Polo and has fast become a haven for the "Rich and Famous" who from time to time, purchase property for their vacation getaways. The reason is that this is a haven for architectural delights and one of the most romantic historical towns you will find anywhere.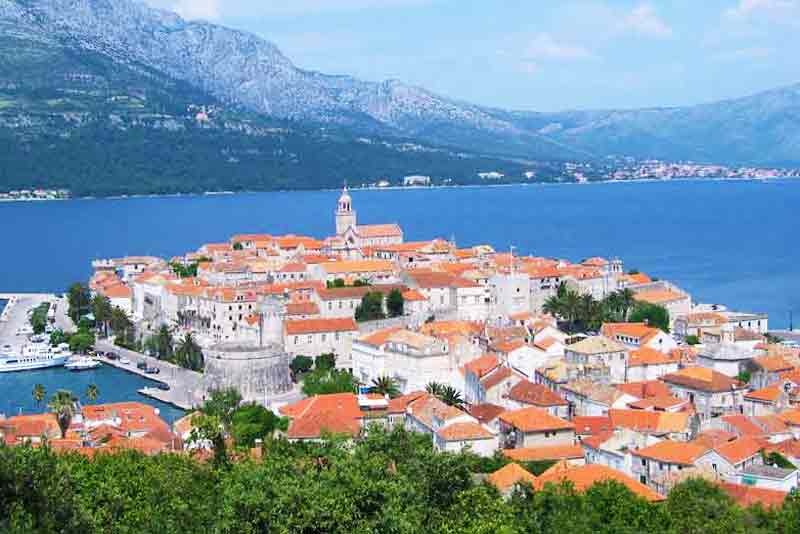 Korčula is an island where you will hear of more legends and tales and monuments than anywhere else in Croatia today. It is a charming town and a wonderful place for hikers and cyclists to visit the woodlands and vineyards. When visiting the island, the best way to explore it is to rent a cycle or a scooter from a tourist agency in town, then head off to the village of Lumbarda and its picture perfect vineyards. Also while on this island, you must try some of the local wine - Grk - rumored to have been introduced by the ancient Greeks after the fall of Troy. The Tourist Board of Korčula has a very good Website in English.
How to Explore Korčula
Not all cruise lines offer excursions to Korčula as it takes at least 2 hours to get there by boat from Dubrovnik. If your cruise ship offers such a tour this is the easiest way to explore the island. To explore Korčula on your own when docking in Dubrovnik is not as easy as other attractions close by. Most regular ferry connections do not give cruise visitors enough time and it is better to check with local operators such as Elite Travel. The alternative is to rent a car and drive to Orebić (just shy of two hours) and cross to the island on a car ferry. It is feasible but scheduling will be very tight.
Trsteno Arboretum
If you're looking for some relaxation out of town, a trip to the Trsteno Arboretum is just what the doctor ordered. Located on the grounds of a summertime villa, built in 1494 by Ivan Marinov Gucetic, the historic gardens are well known for the exotic plants, flowers and a historic olive grove.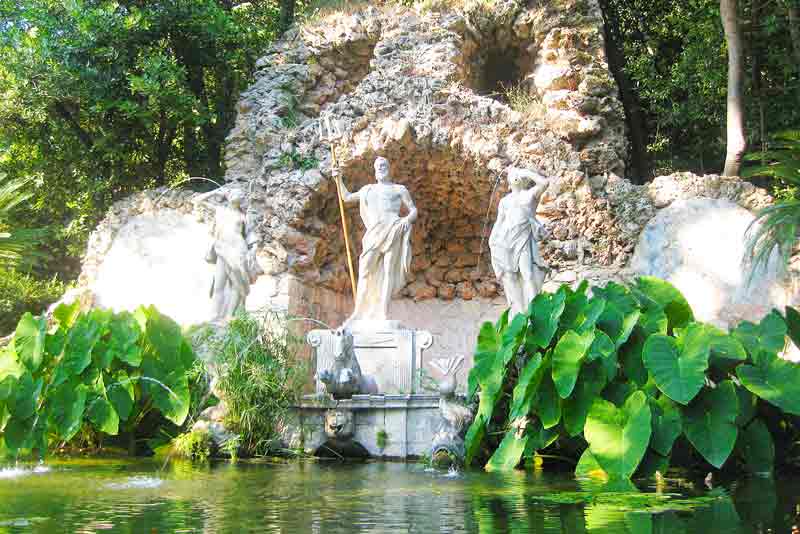 Garden Fountain in the Arboretum
Photo by Ivica Vlahović CC by-SA 3.0
Visitor will also find the Garden Fountain which used to be part of a 70-meter long aqueduct that rests on fourteen arches. In 1736, the fountain was transformed into a Baroque Nymphaeum, and now boasts a statue of King Neptune in the center. You will also see here two amazingly huge 500-year-old Asiatic Plane trees.
How to Get to Trsteno
Public Buses and Taxis are the best way to get to Trsteno if you want to visit the Arboretum on your own. Buses departs every hour from the Main Bus Station (next to to Cruise Port in Gruž), costing around US $4.00 one way. Journey time is around 20 minutes - 10 miles (17 km). You can check itineraries, updated prices and buy tickets online with libertasdubrovnik.com (Dubrovnik's Public Bus).
➤ Explore: Top Highlights
Must See and Do in Dubrovnik: Cathedral, City Walls, Cable Car, Rector's Palace, Aquarium ...
Explore Dubrovnik