Find out all the essential information cruise passengers should know about the port of Dubrovnik in 2022: tourist information, Dubrovnik card, public transportation, shuttle bus, taxis, public buses, currency, exchange kiosks, ATMs, credit cards, tipping, haggling.
Croatian is the official language, but English is widely spoken in all the touristic areas and sites. The cruise passenger will not have any communication issues when going to a historical site, museum, shop or restaurant.
Contents
However, when exploring off the beaten track areas and less used services - like public buses - be prepared to use some additional 'sign' language to get yourself understood.
Tourist Information
The Tourist Information Office close to the Port of Gruž where the cruise ships dock is within walking distance (no more than 300 yards) from the exit gates. But if you are heading to the Old Town, the cruise ship traveller can always get all required information from the Tourist Office next to the Pile Gate.
Dubrovnik Card
The Dubrovnik Card is a great service for tourists and cruise ship passengers. For a special price - HRK 200.00 (US$24.00) - the Dubrovnik Card allows FREE entrance to all major museums and attractions in the city including the City Walls and FREE travel on the city's bus services.
The card is on sale at the Tourist Offices and all cultural institutions. Click dubrovnikcard.com to find out about great savings with Dubrovnik Card.
Public Transportation
Cruise Travelers will find that it is very easy to travel around when docking at the Port of Gruž. Therefore, it is good to learn about all the different options revied below - taxis and public buses - before deciding to jump on a shuttle bus provided by your cruise line.
Cruise port shuttle
Although the cruise port of Dubrovnik (in Gruž) is around 2 miles (3km) from the Old Town, the port does not provide a shuttle bus. Some cruise lines (like Viking or Regent) offer a shutlle free but many will charge as much as €15.00 for a round trip.
Taxis
As the Cruise Ship Traveler walks down the gangway it will be impossible to miss the Taxis offering a ride to the Old Town for €14.00 (Euros) per car. It may be worth the convenience. A Taxi ride, specially if sharing, is cheaper than what cruise lines offer for shuttle transfer but, naturally, costs more than public buses.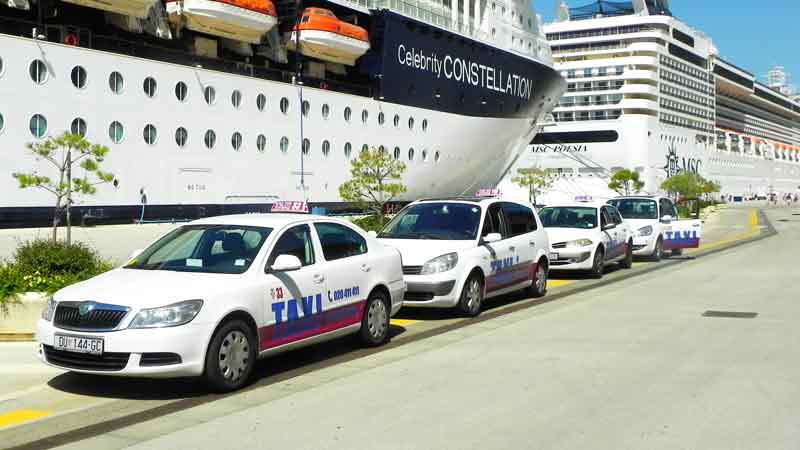 Taxis by the Cruise Ships
Photo © IQCruising.com
If your cruise ship is located close to the Main Gate, you will find right outside the Main Bus Station and, right in front Taxis will only charge €10.00 (Euros) per car to the Old Town. Learn More about What's At The Pier.
Public Buses
Dubrovnik has a good network of public buses. Right by the main exit gate of the Port of Gruž, the cruise traveler will find the bus of the Dubrovnik Heritage Line, which only operates when cruise ships are in port.
The ticket to the Brsalje Square (next to the main entrance of the walled city) costs 15 kuna (around $2.00). Be aware that you will need Kuna (the legal tender and only currency accepted in Croatia). More about using money below.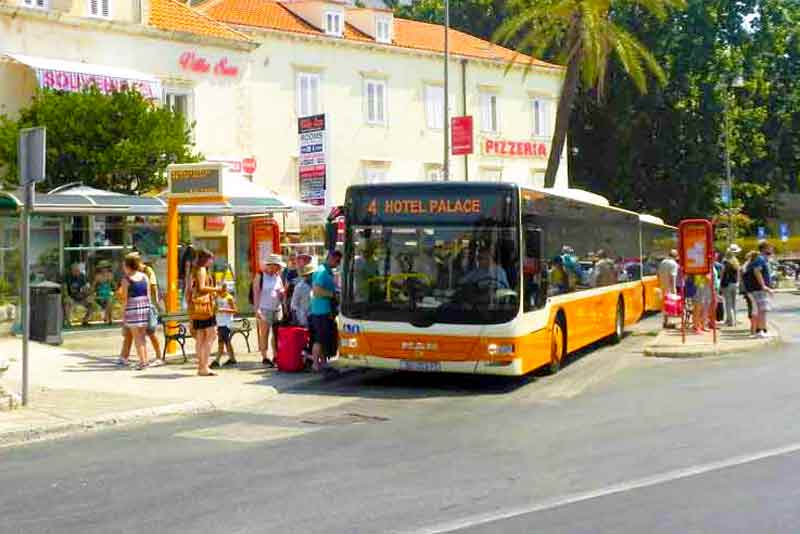 Bus Stop on Brsalje Square
Photo: © IQCruising.com
Alternatively, you can walk (100 meters) to the Main Bus Station where buses 1, 1a, 1b, 3 and 8 will take you to Brsalje Square right by the Pile Gate, which is the main entrance to the Old Town.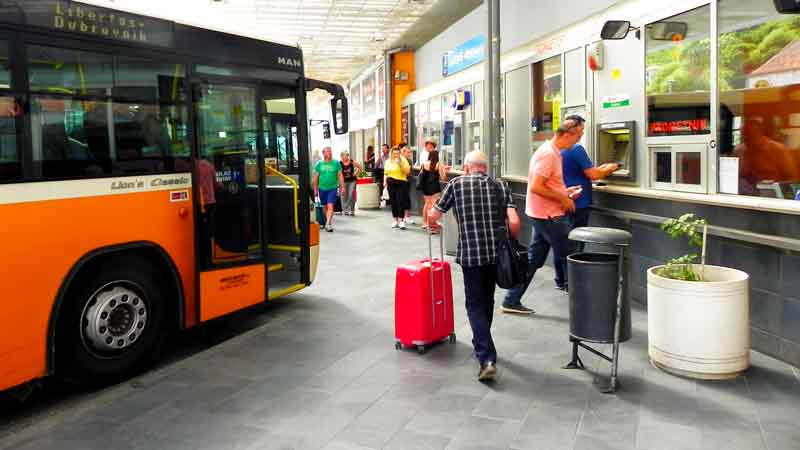 Main Public Bus Station
Photo: © IQCruising.com
Buses #7 will go to Lapad if you wish to explore the beaches in the area. The regular bus ticket costs 15kn (Kuna) - around US$2.00 - one way. For the way back, you will find the clearly marked bus stops on Brsalje Square and you can buy tickets at the Local Buses Kiosk.
Be Aware: Public Buses only accept Kuna.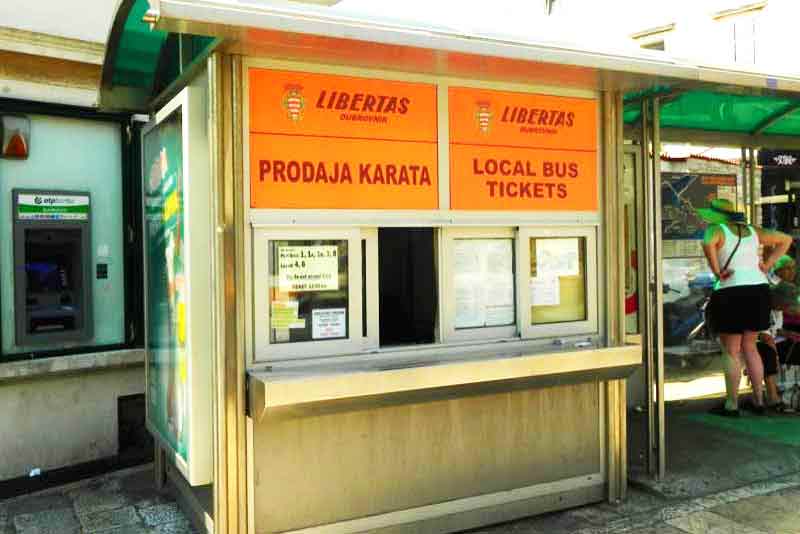 Public Bus Tickets on Brsalje Square
Photo: © IQCruising.com
Currency
Cruise Travelers should be aware that it will be useful to have at least some pocket money in local currency and that this is easy to aquire.
The KUNA is the official currency and although Croatia entered the European Union in July 2013, the country has not adopted the Euro - therefore, be aware that it is illegal for businesses to accept payments in currencies other than Kuna. The Kuna is divided in 100 Lipa. There are 1, 2, 5 and 25 Kuna coins and 5, 10, 20, 50, 100, 200, 500 and 1.000 Kuna banknotes.
Exchange Kiosks
You will find a few exchange kiosks in most touristic areas and, naturaly, inside the old walled city.
ATMs
The cruise ship passenger will find exchange offices and ATM's all over the Old Town. Most restaurants accept credit cards but, even so, do ask as you can not pay cash with any other currency but Kuna.
If you plan to explore sites and attractions out of town, it is strongly advisable to carry a reasonable amount of cash (Kuna). The nearest ATM and currency exchange is on the Main Bus Station - righ outside the Main Gate.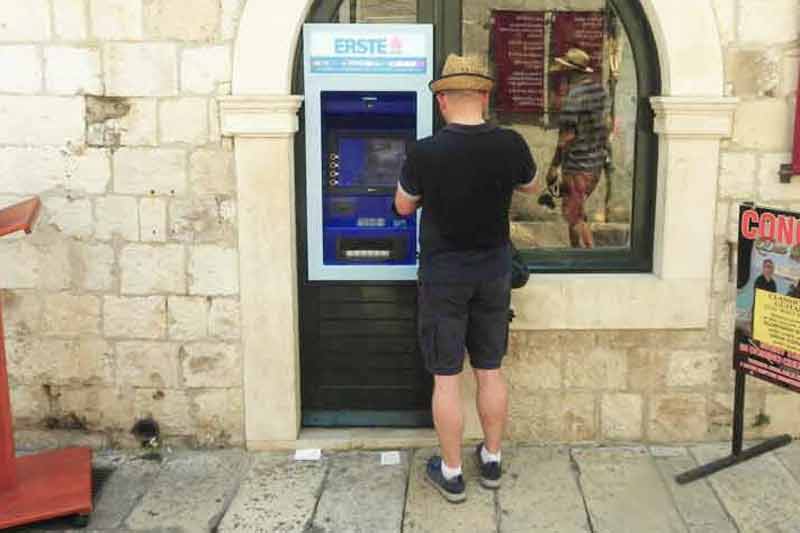 Cashing Money in the Old Town
Photo: © IQCruising.com
Credit Cards
Most restaurants, shops and tourist attractions accept credit and debit cards, namely American Express, Diners Club, Eurocard/Mastercard and Visa.
Tipping
Tipping is not expected like in the USA. However, a 'keep the change' kind of tip will be appreciated for good service - Croatians usually round up the bill as a goodwill gesture.
Haggling
Unless you are dealing with street vendors selling local crafts and souvenirs of all sorts, haggling will not take you far in regular shops and can even be taken offensively.
Good to Know
Electricty: the electric supply in Croatia follows the continental European standard of 220W, 50h. Therefore, American and British cruise passengers may need a transformer and surely need an adaptor for a typical European two pin plug.
Smoking: smoking is strictly forbidden in all enclosed public spaces, including restaurants and bars. HOWEVER, smoking is allowed in outdoors seating areas of many (but not all) restaurants and cafés.
Toilets: there are four public toilets in the Old Town charging 5 kunas and kept both safe and clean - all these open between 7:00 am and 8:00 pm. The cruise passengers will find two public toilets by the Pile Gate, another one close to the Ploče Gate and one other next to the Fishmarket.
Dubrovnik Basics At a Glance
| | |
| --- | --- |
| Language | Croatian - English spoken in tourist areas. |
| Tourist Info | Offices by the Port and Old Town |
| Currency | Kuna (Euro is NOT accepted) |
| ATMs | Widely available. |
| Exchange Kiosks | A few in touristic areas. |
| Credit Cards | All major cards are widely accepted. |
| Tipping | NOT required |
| Haggling | NOT customary, will not take you far. |
| Transportation | Taxis, Buses and Airport. |
| Communications | Good and efficient. |
| Internet | At Coffee Shops |
| Phone Codes | Country (385), Dubrovnik (20) |
| Post Office | Efficient - Old Town |
| Health Matters | Dubrovnik has a modern Hospital; Pharmacies close to the Port and in the Old Town. |
| Time Zone | European Continental Time (+ 1 GMT) |
| Electricity | 240 V - 2 pin european socket |
Explore Dubrovnik