Shopping guide to the best shops and what to buy in Dubrovnik for passengers on a cruise to the port of Dubrovnik in 2022: local crafts, souvenirs and gifts, wines, chocolates, open air markets and international brands
Shopping in Dubrovnik is pretty much all geared for the visiting tourist, but if you really look around you can find some unique items at local boutiques in the Old Town. From paintings by local artists to wines from the area you can find them everywhere.
Contents
One thing that Dubrovnik is known for is embroidery, and the best place to find it is in the region of Konavle located between Dubrovnik and Cavtat, but as the cruise traveler meanders the Old Town stumbling upon locals selling embroidery is inevitable.
If you are seeking handmade jewelry, Swarovski crystal or famous brands, the place to go is right on the main street of the Old City where you will find shops like Benetton and Max Mara. For those looking for more competitive prices, try some of the shops on the side streets off the Placa - Stradum. Also, you might want to check out the daily market on the Gundulić Square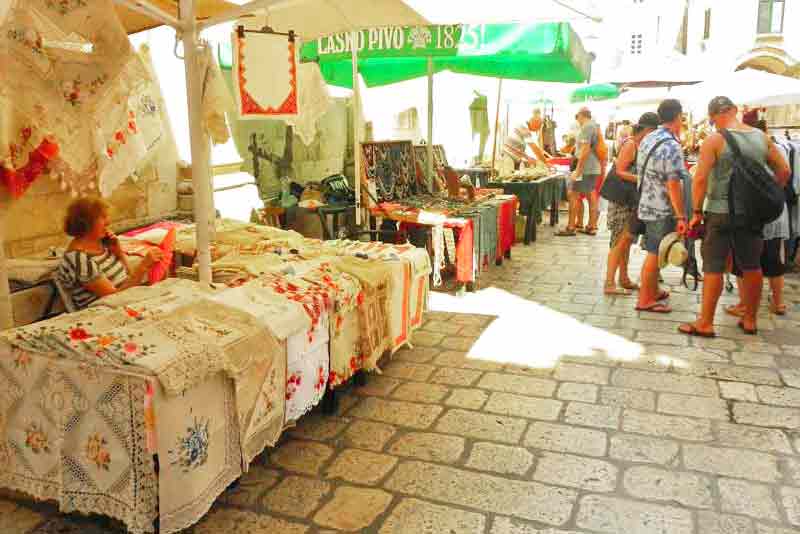 Embroidery and Souvenirs
Photo © IQCruising.com
Opening Hours
FOREWORD OF ADVISE: Although Dubrovnik is a touristic port like few in the Mediterranean and most shops are open as long as there are visitors in town, some shops may closed on Sundays and on Public Holidays. With some exceptions, shops are open between 9:00 am and 1:00pm; and from 3:00pm to 8:00pm.
Editor's picks
Dubrovnik is bustling with shops, in particular, in the walled Old Town. The shops below were all reviewed by the Editor along many years and on the most recent visit to Dubrovnik in June 2018.
Boutique Croata
Tie's Galore
In the country where the Neck Tie was invented it would be impossible not have a shop exclusively dedicated to this accessory. Here you will find an excellent selection of silk ties in presentation boxes and will be invited to get acquainted with the "History of the Tie".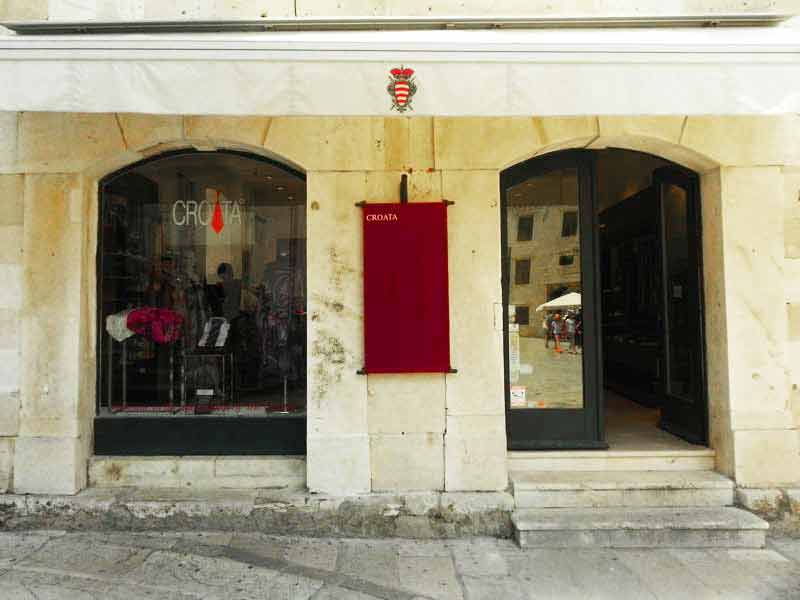 Neck Tie Invention
Photo © IQCruising.com
What:Gentleman's Fashion
Where: Old Town - close to the Gundulić Square.
Address: Pred Dvorom 2
Website: www.croata.hr
Dubrovačka Kuća
Wines and More
This is the shop for the cruise ship traveler to purchase Croatian wines, honey, olive oil and even works by a local artists.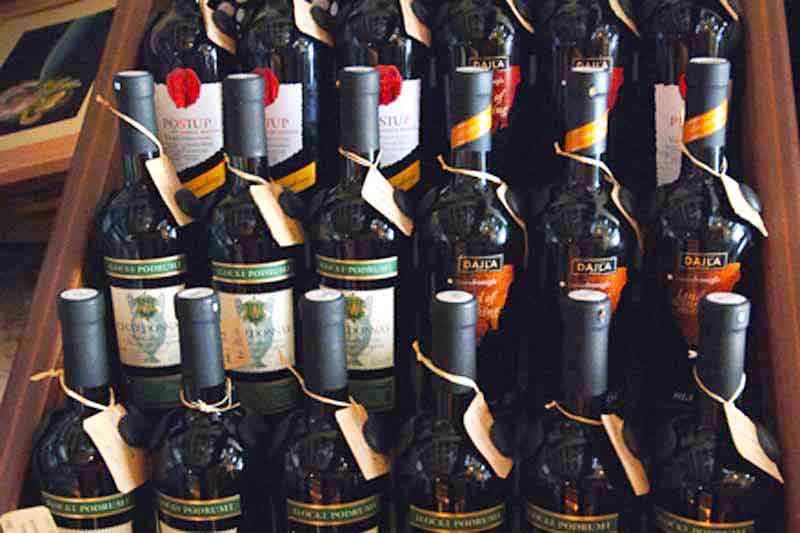 Gourmet Delights
Photo: Tourist Board
What: Wines, Delicacies, Arts and Crafts - Souvenirs / Gifts
Where: Old Town
Address: Svetog Dominika

Kraš
Croatian Chocolates
Have a sweet tooth? Do not miis the best Croatian chocolates and visit this store for your chocolates, hazelnut sweets, or bag of Krasotice biscuits.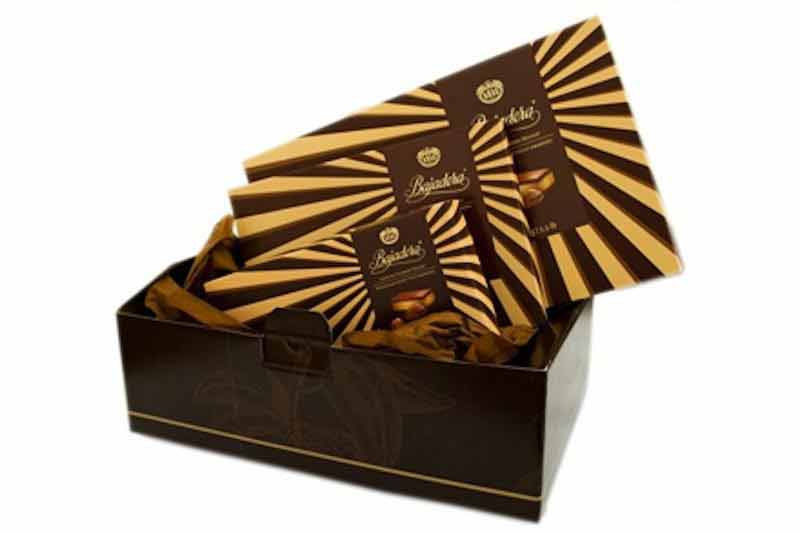 Sweet Delicacies
Photo: Dubrovnik Tourist Board
What: Chocolates, Delicacies, Biscuites and all types of Sweets
Where: Old Town
Address: Zamanjina 2
Website: www.kras.hr
Maria
Fashion Design
If in need of a special attire for a special occasion / event - when on a cruise ship you may need one for a gala night - this ladies store features designer clothing where you can feel rich just looking around.
Designer Clothing
Photo: Dubrovnik Tourist Board
What: Fashion Design for Ladies
Where: Old Town - close to Ploce Gate
Address: Svetog Dominika
Website: www.maria-dubrovnik.hr
Medusa
Natural Gifts
Far from being a tourist trap, it has a nice choice of authentic Croatian gifts and souvenirs like natural cosmetics, hand made wooden toys, gourmet products (black truffle, flower sea salt, home made fruit liqueurs), sponges and embroidery.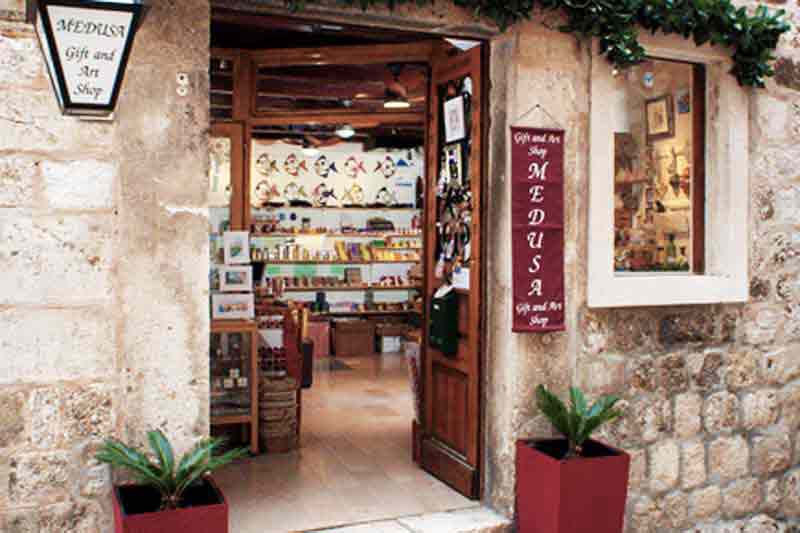 Gifts and Art Shop
Photo: Dubrovnik Tourist Board
What: Gits, Souvenirs and Art Shop
Where: Old Town
Address: Prijeko 18
Website: www.medusa.hr
Michal Negrin
Fashion Design
This is where you can find whimsical Victorian dresses providing old style Dubrovnik's elegance.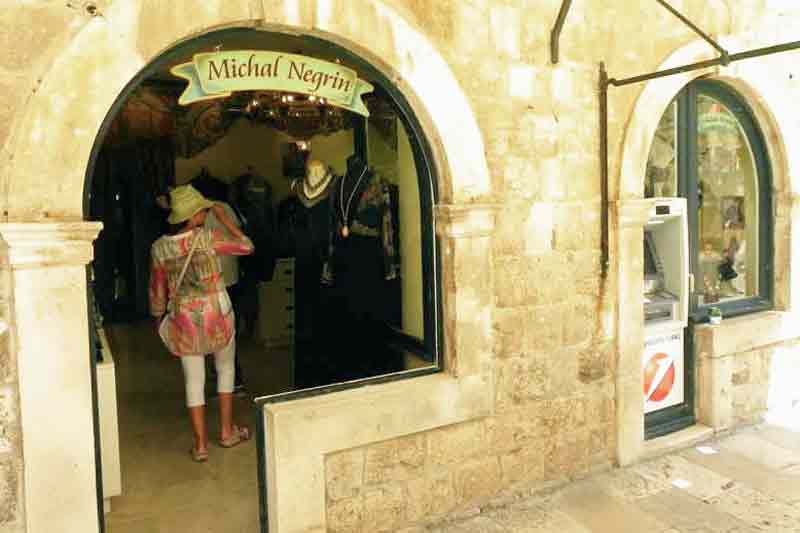 Halcyon Days
Photo © IQCruising.com
What: Fashion Design
Where: Old Town - close to Old Port
Address: Pred Dvorom 1
Website: www.michalnegrin.com
Open Air Market
Local Produce
Located in Old Town, this is where you find fresh fruit and vegetables, some souvenirs, or maybe some fresh figs. An event nor to be missed between Monday and Saturday from 7:00am to 1:00pm
What: Fresh Market and Souvenirs
Where: Old Town - close to St. Blaise Church
Address: Gundulić Square
Website: Facebook Page
Ronchi
Hat Shop
This is family run millinery where you find traditional hats has been open since 1858.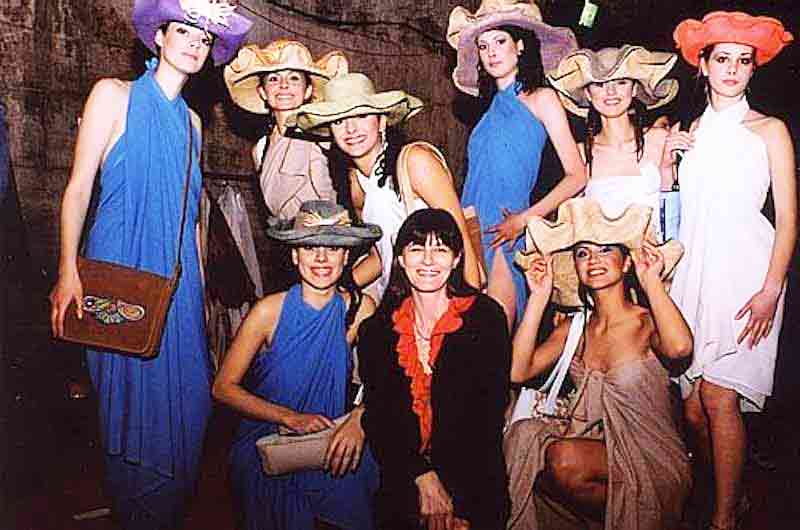 Designer Hats
Photo: Dubrovnik Tourist Board
What: Hats and more hats
Where: Old Town - close to St. Blaise Church
Address: Lucarica 2
Website: Facebook Page

More Dubrovnik Reviews