Everything cruise passengers to Venice need to know about shopping areas, shopping streets and best shops in Venice: unique shops, italian and international Design.
Considering that few people do actually live in Venice itself (population rounds fewer than 50,000), the cruise traveler will find that most shops are geared to the 20 millions of tourists that visit the city every year.
But although you may find a few tourist traps here and there, the majority of the shops the cruise traveler will come across in Venice display very high quality. Besides the boutiques of top fashion designers, the cruise traveler will find excellence pretty much everywhere, be it an art gallery, the wonderful hand made glass from Murano, leather products, lace form Burano or the amazing carnival masks. Even the most basic souvenirs are of very good quality.
Venice Unique Shops
Shops in St Mark Square
Luxury to Spare
Shopping St Mark Square, Venice
Photo © IQCruising.com
Under the arcades around Piazza San Marco, the cruise traveler will find boutiques of international top names. High end watch shops shops like Rolex, IWC or Panerai are found here. But you will also find unique Italian brands and souvenirs. Definitely, these shops are always worth a look.
North of Rialto Bridge
Souvenir Shopping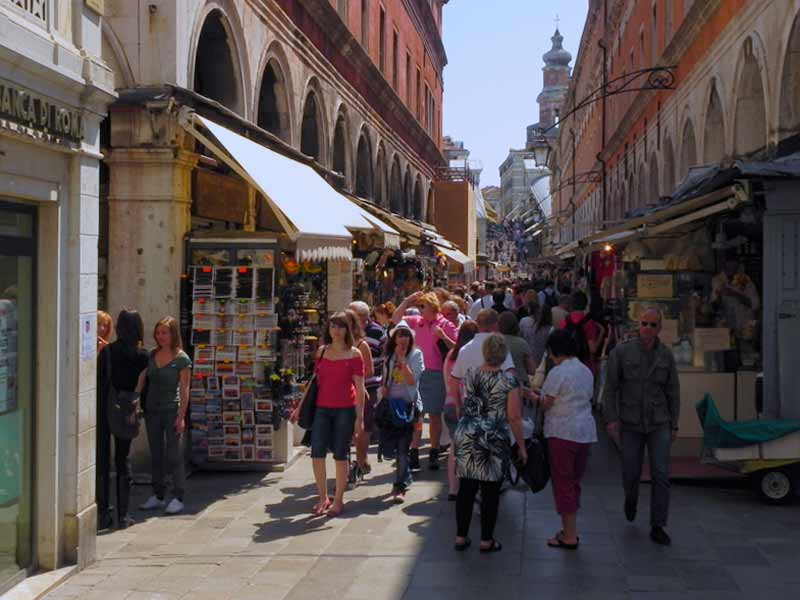 Shopping Street, Venice
Photo © IQCruising.com
As the cruise visitor crosses the Rialto Bridge (to the north side) a long street is lined with small boutiques and stands with all sorts of souvenirs. But also some unique shops that you can only find in Venice. This is a great place to browse for something to take home a memento from your time in Venice.
Italian and International Design
A to Z
Borsalino Boutique
Stylish Hats
Borsalino Boutique, Venice
Photo © IQCruising.com
Borsalino is present in the most elegant boutiques and best department stores in the world, including Bergdorf & Goodman, Barney's, Neiman Marcus, Sacks Fifth Avenue, Harrod's, and Galleries Lafayette. The brand also has fifteen stores in Italy, and one in France.
Brunello Cucinelli Boutique
Sporty Chic
Brunello Cucinelli Boutique, Venice
Photo © IQCruising.com
This leading cashmere knitwear company, produces high quality luxury goods for men and women. Craftsmanship and quality are the company's core values. Cucinelli's clothes are usually described as "sporty chic." The company devotes many resources to the study of experimental techniques for the creation of innovative prototypes and a superior, technologically-advanced end product.
Bulgari Boutique
Italian Jewelry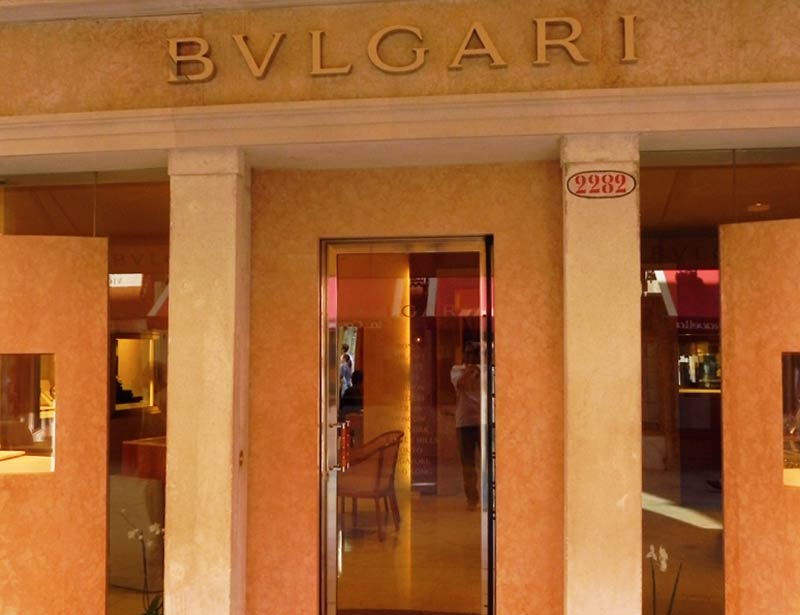 Bulgari Shop, Venice
Photo © IQCruising.com
Bulgari has been setting the pace for Italian style in jewelery for over a century. The brand draws inspiration from the timeless beauty of Greek and Roman art, while giving it a distinctive contemporary touch. Bulgari jewelry design is distinctive and often imitated and counterfeited. Many of the more expensive Bulgari pieces (such as necklaces, bracelets and earrings) are characterized by instantly recognizable, bold, designs combining large and weighty gold links with black-surfaced steel.
Chanel Boutique
Simplicity Redefined
Chanel Shop, Venice
Photo © IQCruising.com
Soft and tailored, made in jersey, velvet, silk, charming or tweed, Chanel suits share the practical constants of boxy cardigan jackets with sleeve buttons that really button up, pockets where one needs pockets and straight knee-length skirts with walking pleats. Chanel's "little black dress" was deceptively simple, dresses were wizardry's of cut and proportion, using traditional elegant materials such as lace, tulle, embroideries, soft weightless silks - in a newly tailored way.
Fendi Boutique
Italian Leather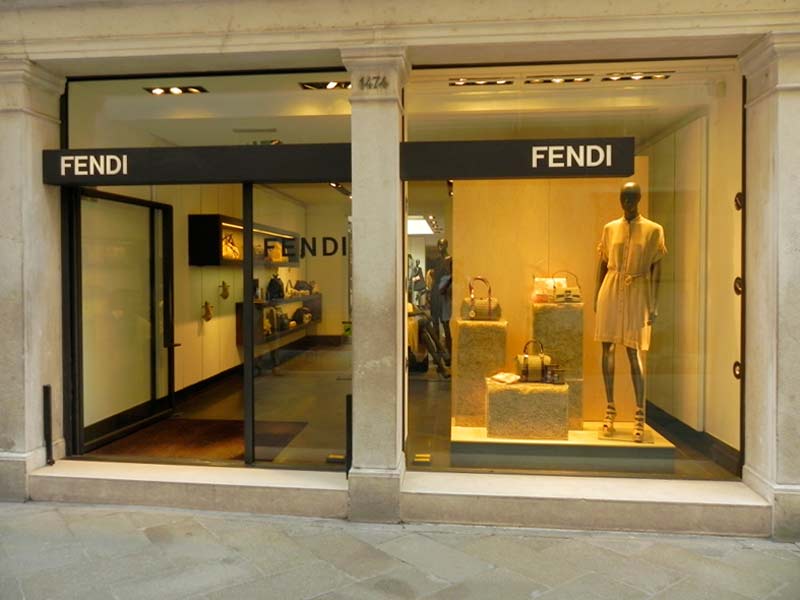 Fendi Boutique, Venice
Photo © IQCruising.com
Fendi started in 1918 as a fur and leather shop in Rome, and today is a multinational luxury goods brand with Karl Lagerfeld as the creative director. It is an Italian fashion house best known for its "baguette" handbags.
Fratelli Rossetti Boutique
Luxury Shoes and Leather
Fratelli Rossetti Boutique, Venice
Photo © IQCruising.com
Founded by shoe aficionado Renzo Rossetti, luxury shoemaker Fratelli Rossetti has prospered over the years. It's a success story the company attributes to traditional values mixed with a healthy dose of passion and a progressive vision of the future. The company has burgeoned into a successful family business that is a force to be reckoned with in the luxury shoe world and is synonymous with quality and style.
Hermes Boutique
Luxury Accessories
Hermes Boutique, Venice
Photo © IQCruising.com
The height of luxury with a nod to the house's equestrian heritage—sheared mink jackets, velvet jodhpurs, fringed blanket jackets, leather car coats, kilts. The accessories line has structured bags, belts with chunky hardware, signature printed silk scarves, and riding boots. Worn by celebrities such as Nicole Kidman, Julianne Moore, Elle McPherson, Elizabeth Hurley, and Madonna.
Louis Vuitton Boutique
French Luxury
Louis Vuitton Boutique, Venice
Photo © IQCruising.com
Louis Vuitton is famous for it's handbags, beautiful, creative, unusual and in fantastic demand. It is a luxury French fashion and leather goods brand and company, and it's signature leather goods are considered a status symbol around the globe and are highly regarded in the fashion world. Vuitton bags and purses have a considerable list of celebrity adherents who are frequently seen in magazine photographs carrying the brand. The Vuitton collection has also created a cult-like following among male and female consumers throughout the world.
Prada Boutique
Italian Royalty
Prada Boutique, Venice
Photo © IQCruising.com
The Prada brand has become one of the most prestigious and widely-recognized brands in the fashion and luxury goods industries. The brand's iconic trademarks incorporate the Savoy coat of arms and Savoy figure-of-eight knot, reflecting its heritage as an official supplier to the former Royal family of Italy. Prada's famous black nylon bag with the signature triangle logo has been an enduring classic. The Prada brand targets an international customer base that is modern, sophisticated, attuned to stylistic innovations, and expects craftsmanship of the highest quality.
Salvatore Ferragamo Boutique
Celebrities Shoemaker
Salvatore Ferragamo Boutique, Venice
Photo © IQCruising.com
Salvatore Ferragamo has been synonymous with Italian luxury for more than 75 years. The Florence-based, family-owned company continues to produce the shoes that once earned it the nickname "Shoemaker to the Stars," but also designs, produces, and distributes a full range of men's and women's clothing and accessories. In addition, Ferragamo sells its own branded perfume lines, as well as a range of Ferragamo branded eyeglasses.
Tiffany Boutique
America's Heritage
Tiffany Boutique, Venice
Photo © IQCruising.com
Over the past two centuries, Tiffany has built an international reputation as a premier jeweler and the ultimate source of gifts for life's most cherished occasions. Whether it's a milestone in the life of a company or a family, or an individual's crowning achievement, Tiffany gifts wrapped in the signature Tiffany Blue Box symbolize the rich heritage and unparalleled reputation Tiffany & Co. has enjoyed as one of America's great institutions.