The Docks, Piers and Terminal in Venice Port for Cruise Travelers: the Passenger Terminal and San Basilico, What's at the Piers and Terminals, Getting Around, Piazzale Roma, Embarking and Disembarking.
With the exception of very small ships such as the ones belonging to ultra luxurious cruise lines (like Silversea or Seabourn), most cruise ships will dock at the Venice Passenger Terminal.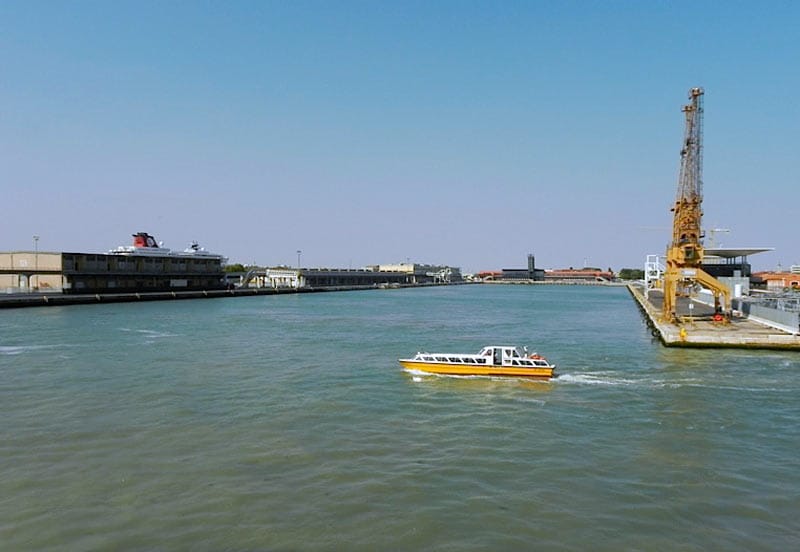 Cruise Terminal, Venice
Photo © IQCruising.com
The Passenger Terminal is a massive basin harbor with three very long and wide piers, where as many as 8 cruise ships dock. Within walking distance, you will find the People Mover - a small electric train (like the ones found in many an airport, costing €1.50 for a 1-minute ride)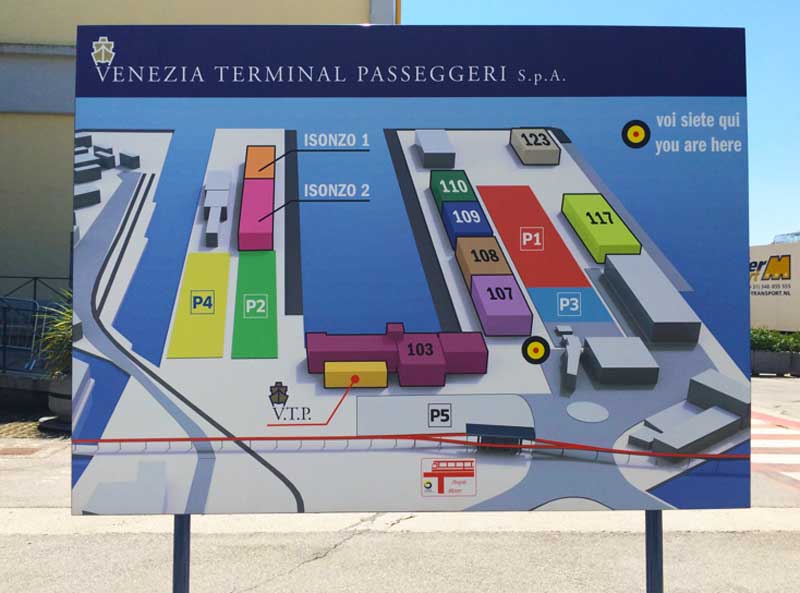 Cruise Terminal Map, Venice
Photo © IQCruising.com
What's at the Venice Cruise Terminal
The passenger cruise terminal in Venice has very good amenities and services. All piers where cruise ships dock have modern, updated terminals buildings with air condition, escalators and elevators between the ground a upper levels.
Getting Around in Venice
Just outside the terminal building, the cruise traveler will find very good public public transportation: a shuttle bus to the people mover that connects the terminal area to Piazzale Roma (a main square in Venice), taxis and the water transportation pier, which is centrally located to all piers.
On the water transportation pier you can get on a Vaporetto or a Water Taxi to all the main highlights, including the Airport if your cruise ends in Venice, or the other way around if your are embarking. Keep in mind that the Vaporetto - public bus service - covers the entire city and has stops close to all and every main highlight, landmark, museum or religious site of interest.
Passenger Cruise Terminal, Venice
Photo © IQCruising.com
Vaporetto, Water Taxi and Hop-On Hop-Off
Do not be put off by the price for a single journey (€8.00) on the Vaporetto and look instead for a 1-day, 2-day or 3-day pass. You will save a lot of money and walking. The Vaporetto network is very easy to navigate, with maps at every stop and once you buy a pass you will just hop-on and off to wherever you want to go. Since 2016, the ubiquitous Hop-On Hop-Off City Sightseeing Bus has also been operating in Venice with a water-bus departing from here. However, the cruise traveler should check the prices of the daily pass for the Vaporetto - for a very similar cost you will have more stops available.
Shuttle Bus
If your cruise ship is docked at the farthest spots and the walk to the main buildings where public transportation services are found seems too long, do not be discouraged, there is a shuttle bus service connecting all docking spots to the main service area and stopping close to the people mover station.
Shuttle Bus, Venice Cruise Terminal
Photo © IQCruising.com
Basic Services and Amenities
At the Passenger Cruise Terminal in Venice you will find pretty much everything you may need, including a Pharmacy, ATM and Exchange Office, Souvenir Shops, a couple of Coffee shops and you may even find a tourist representative or, at least, a desk with maps of Venice - make sure you grab one.
Taxis
Be aware that a taxi - the regular ones with wheels, not the water ones - will only be useful if going to Piazzale Roma or if embarking/disembarking and going to the airport. The fare to Piazzale Roma will be at least €20.00.
Taxi Stand, Venice
Photo © IQCruising.com
Luggage Storage
One service that can be very useful is the luggage storage and transfer - you can leave your suitcases at the pier or, even better, have them transferred to the airport or to the railway station. You can even have your luggage delivered anywhere in the European Union.
What's Close By: Piazzale Roma
The Venice Passenger Terminal is around 3/4 of a mile (1 km) from Piazzale Roma. This large square is at the eastern edge of the Old City and his the main transportation hub of Venice. In fact, this is the last area where cars and buses can circulate before entering the maze of water canals and the exclusively pedestrian zone that Venice is.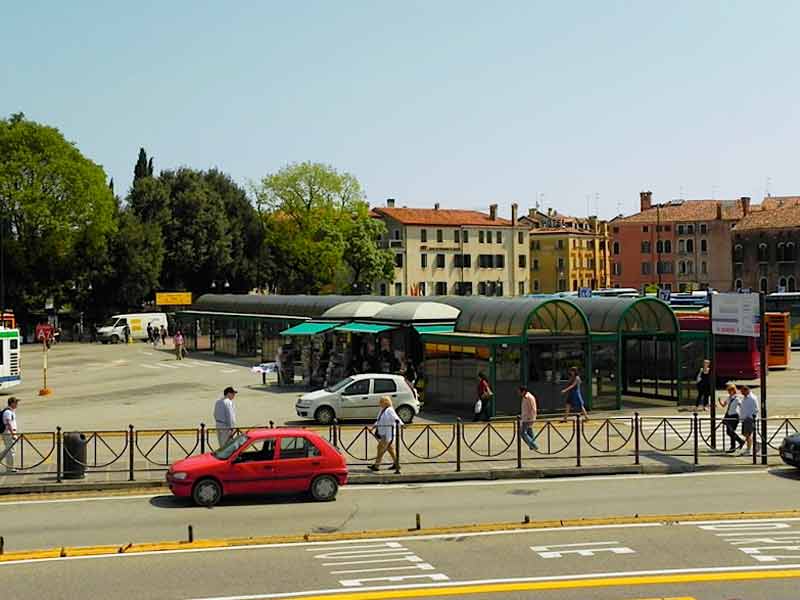 Piazzale Roma, Venice
Photo © IQCruising.com
The cruise traveler can easily reach Piazzale Roma, either on foot (10 to 15-minute walk) or using the people mover.
Being the main transportation hub of Venice, the Piazzale Roma is the right spot to get on a Vaporetto - public water bus - as you will find here the central Vaporetto Pier with all and every single itinerary. In other words, all Vaporetto start and finish at Piazzale Roma. For those that like to walk, starting the exploration of Venice at Piazzale Roma is a delight and an easy place to return to by Vaporetto or Water Taxi - costing way more, obviously.
Cruise Terminal, Venice
Photo © IQCruising.com
Walking from Piazzale Roma
Cruise travelers that, like the Editor, enjoy exploring Venice on foot, should head to Piazzale Roma and from here choose to go north (towards the Railway Station and the Ghetto) or East (to cross the district of Dorsoduro). Either way, you will find signs with arrows indicating two main directions: San Marco and Rialto.
Basically, just enjoy the walk and do not worry about getting lost: you surely will as all visitors do and you surely find your way as all travelers do.
Essential to know: when walking back, the cruise traveler should look out for the signs indicating the two directions closer to the terminal: Ferrovia (Railway Station) or Piazzale Roma.
San Basilico Terminal
If the traveling on cruise lines like Seabourn, Silversea or Seadream, your ship will most probably dock at San Basilico. This is a small pier in the district of Dorsoduro, right before the beginning of the Fondamenta delle Zattere - a wonderful waterfront promenade on the southern edge of the city, facing the Giudecca. This is one of the nicest spots to Dock in Venice, within walking distance to many highlights and no more than 30 minutes away from Piazza San Mark on foot.
Cruise Terminal San Basilico, Venice
Photo © IQCruising.com
From San Basilico, once you pass a small bridge that connects to the Zattere, you will find a major water-bus stop connecting to many top landmarks and highlights, but for those that plan to explore Venice on foot the walk along this waterfront promenade is a delight. The church of St. Mary of the Rosary (Gesuati) is not far, and turning left after this church, you will be very close to the Accademia and Guggenheim Collection. Crossing the wooden Accademia Bridge will allow a fabulous photo op and from Campo San Stefano you will be just 10 minutes away from Piazza San Marco.
Embarking and or Disembarking in Venice
Venice is a major embarkation cruise port for all cruise lines with itineraries in the Mediterranean. With thousands of cruise passengers embarking and disembarking every week, the operation is surprisingly smooth thanks to very good infrastructures and good services. There are many different ways of getting directly from the Terminal to the Airport and in the opposite direction: by taxi, water-bus (Vaporetto) or water taxi. And by bus from Piazzale Roma.
St Lucia Railway Station, Venice
Photo © IQCruising.com
If planning to go somewhere else in Italy by train after or before your cruise, the Railway Station of St Lucia is just next to Piazzale Roma and easy to access. For those staying overnight in Venice, a day trip to Verona or Padua should be considered and the train is undoubtedly the best way to explore these hidden jewels. But if you prefer to rent a car, you will find Hertz, Avis, and Europcar close by on your way to Piazzale Roma.
If docking at San Basilico Terminal, the cruise traveler will also have very good connections to the airport - taxi, Vaporetto, and water-taxi. However, be aware that only the latter will take you next to the embarkation terminal as both the taxi and the Vaporetto stops are around 300 meters away.