Everything you must know about Santorini cruise port: where ships anchor, what's in the tender dock in Skala, top things to do, the attractions in Fira and Oia, how to get around, and more ...
Few cruise ports in the World are genuinely unique, but Santorini is undoubtedly one of a kind. No other port provides such a spectacular setting as cruise ships anchor in an immense bay formed by a collapsed volcano, between the still-active crater and multi-hued cliffs.
Contents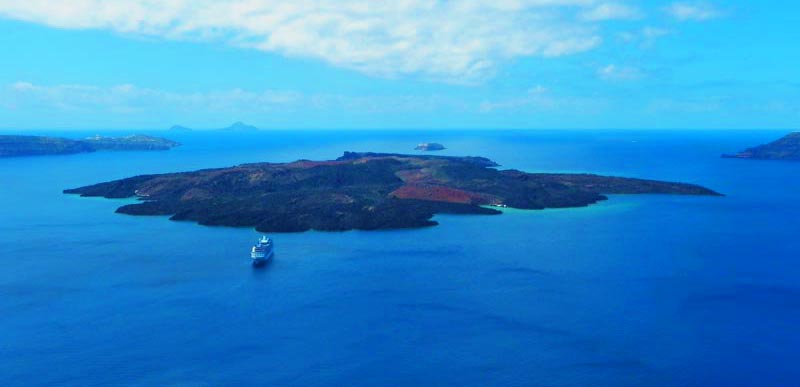 Volcano crater in Santorini
Photo © IQCruising.com
Overview
On top of the volcano walls, a white lining of houses hints at breathtaking views and quaint beauty, which in fact is the stunning Town of Fira. Only those that have been on top of the caldera's rim, and walked to the towns of Fira, Oia, and Imerovigli know that there is no other place in the World like Santorini.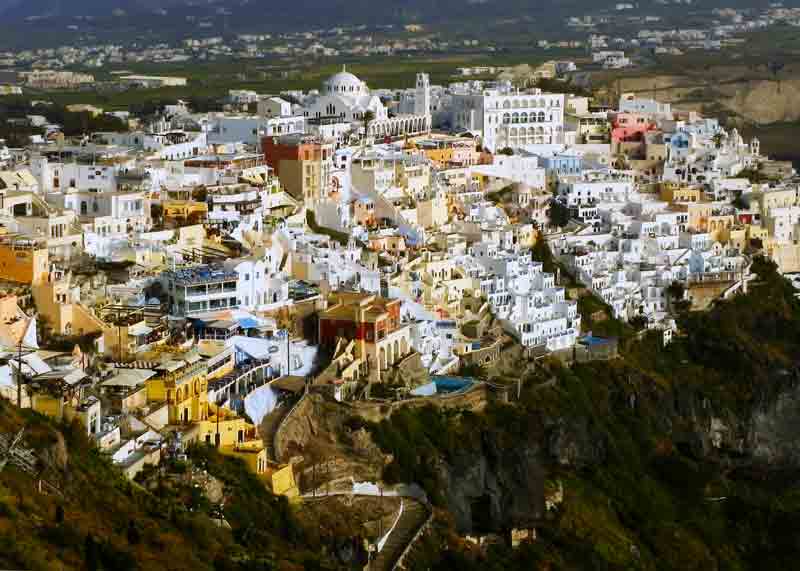 Fira Town in Santorini
Photo © IQCruising.com
Obviously, exploring these towns is an absolute must as is a visit to the extraordinary archaeological site of Akrotiri, which dates back to 900 BC. Several religious sites, a handful of museums, and a taste of Santo wine should not be missed. If you like to collect beach memories, the black, red, and multicolored sand beaches of Santorini are truly unforgettable.
Where is Santorini Island?
Located between Athens and Crete, Santorini is part of a group of over 200 islands known as the Cyclades, which circularly surround the sacred island of Delos - the legendary birthplace of Apollo and Artemis. Together with Mykonos (which is located very close to Delos), Santorini is one of the most visited cruise ports in the Cyclades for its stunning landscape, archaeological sites, and unusual beaches.
Where Cruise Ships Anchor in Santorini?
Although Santorini is one of the most visited cruise ports in the Mediterranean, with as many as 5 daily visits, cruise ships do not dock in Santorini.
Tender boats, and the piers in Skala and Athinios
As cruise ships anchor at the vast bay surrounding the volcano's crater, passengers will be transported to the small port of Skala on large and comfortable tender boats operated by locals. Skala is right below the town of Fira.
What's at the tender pier in Skala
Services and amenities
Cruise passengers will also find in the terminal many activities, diverse entertainment, and shopping (more about all these below). And the following services and amenities:
ATM
Exchange Office
Tourist Information
Car and scooter rental
Local tours and excursions
Duty-Free shops
Souvenirs galore
Cafes, restaurants, and taverns
Restrooms
► Explore: Anchoring and Tender to Skala
Where cruise ships anchor and transfer passengers to the pier in Skala, amenities, and services...
Learn More ►
Top things to do in Santorini on a cruise
Santorini is one of those cruise ports where there are many diverse things to do. For those that enjoy visiting archeological sites, Akrotiri is one the most important sites to visit for it takes you back to the 9th century BC.
The major towns on the rim of the Caldera are a delight and the views are spectacular, be it in Oia, Fira, Firostefani, or Imerovigli. Fira has a number of interesting highlights, countless shops, and excellent restaurants.
There is no shortage of beautiful landscapes, lovely beaches, and delicious restaurants with stunning views overlooking the caldera, making Santorini a must on anyone's itinerary.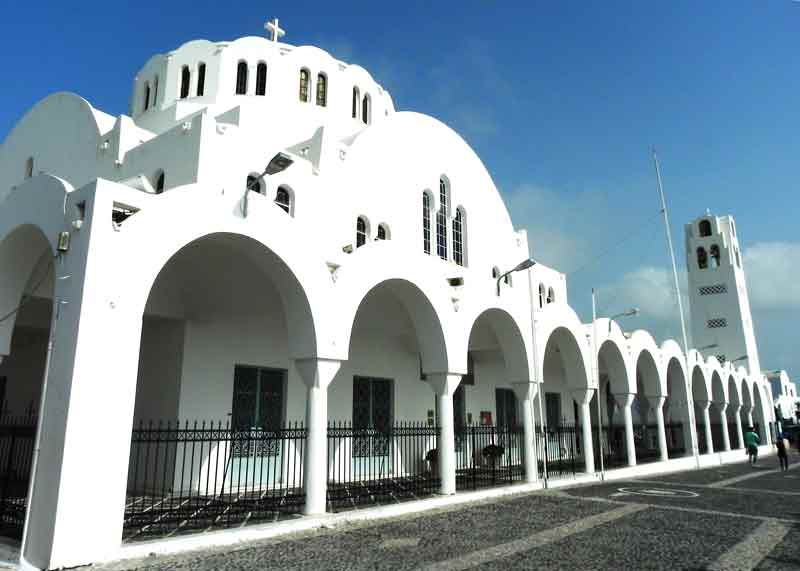 The wineries of Santorini are famous for their fortified wine (Vino Santo) and the beaches with black sand are out of this world. Here are the top things to do on a cruise to Santorini:
Visit Akrotiri.

Walk around Fira.

Travel to Oia.

Taste Vino Santo.

Enjoy the multicolored beaches of Santorini.

Dive in the Caldera.

Taste local cuisine.

Shop for local products and luxury jewelry.
Fira is a mandatory town to visit. The cruise traveler should always keep at least a couple of hours to meander the cobblestone streets lined with restaurants and cafes with breathtaking views, unique shops, and a handful of stunning sites to visit.
Fira Highlights
There are three museums not to be missed in Fira: the Archaeological Museum, the Megaron Gyzi Museum, and the Museum of Prehistoric Thira. The Orthodox Metropolitan Cathedral, the Fira Catholic Cathedral, and the Dominican Convent are top religious sites to visit.
The walk to Firostefani or even farther to Imerovigli is a memorable delight for photo enthusiasts and light trekkers. If staying in Fira look out for the following attarctions:
Archaeological Museum

Megaron Gyzi Museum

Museum of Prehistoric Thira

Orthodox Metropolitan Cathedral

Fira Catholic Cathedral

Dominican Convent
The charm of Oia
The town of Oia is a must-visit with its marble-paved streets, restaurants, bars, shops, a couple of museums, windmills, and the old Venetian Fort. This charming village was devastated by an earthquake in 1956 and has been completely rebuilt.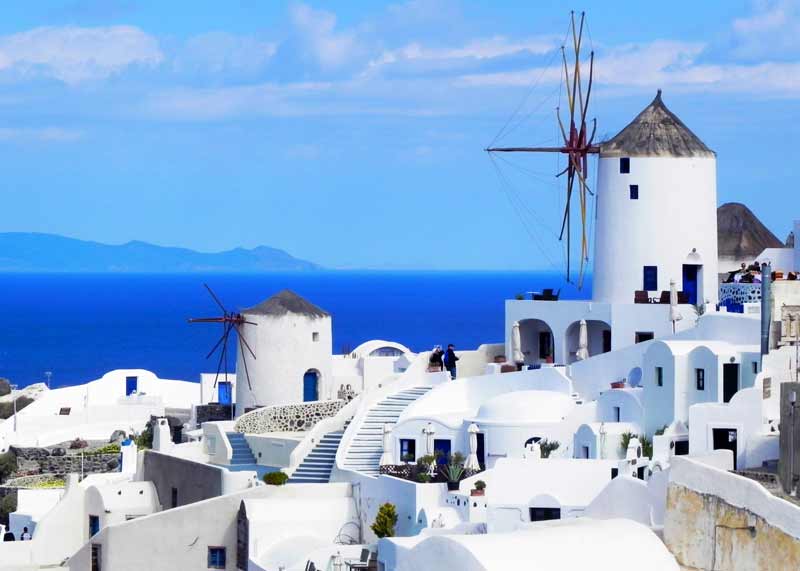 Oia's Windmills in Santorini
Photo © IQCruising.com
Buildings and tree trunks are painted white every year and stand out against the background of rust color layers of rock, earth, and volcanic ash. Here are the main attractions to enjoy in Oia:
Akrotiri Archaeological Site
The ancient city of Akrotiri lies at the southwestern tip of Santorini and is a fascinating and important archaeological site.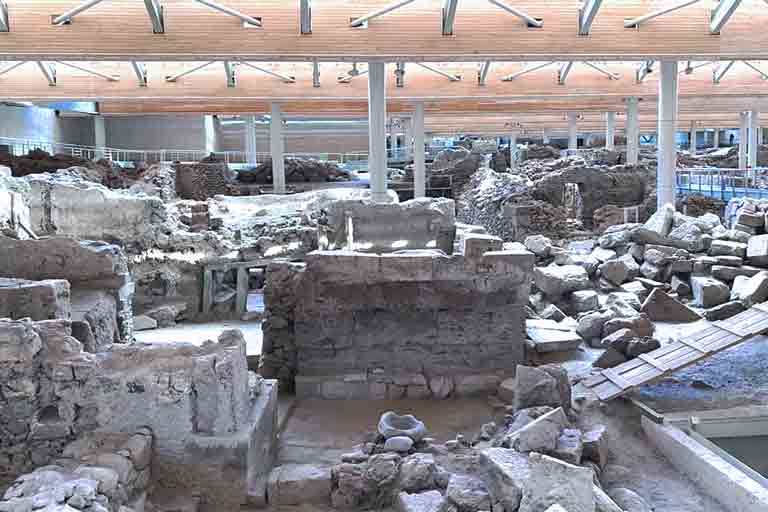 First settled during the 9th century BC by the Greeks known as Dorians, Ancient Thira comprises a diverse mixture of ruins with architectural elements from the Hellenistic, Roman, and Byzantine eras.
After being covered by lava from a volcano eruption in the 15th century, it has now been partially excavated.
Wine-making and Wine Tasting
The local wine-making industry on the island of Santorini has long been thriving, with a number of large vineyards located around the villages inland.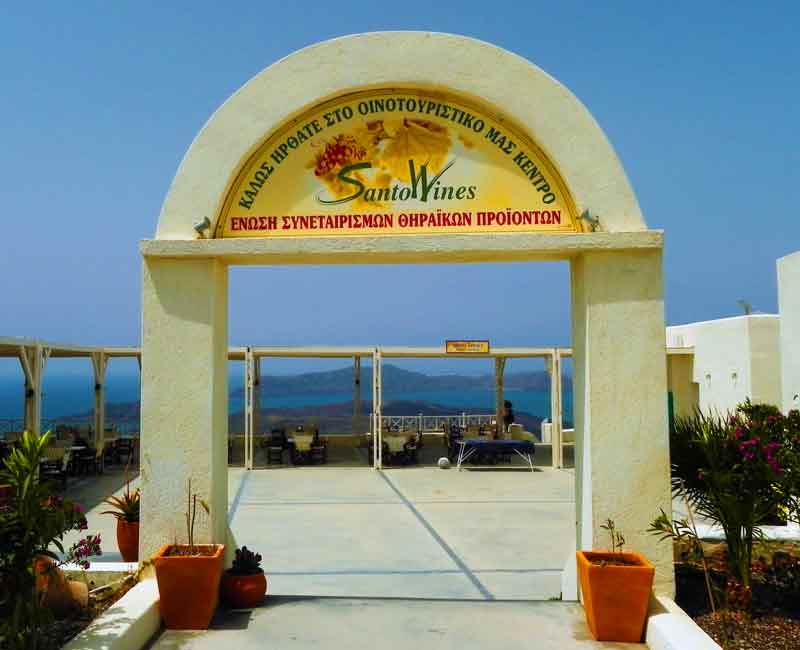 Santo Wines in Santorini
Photo © IQCruising.com
The following are the most famous wineries in Santorini, and all cruise lines offer wine tasting tours.
Boutari Winery
Venetsanos Winery
Canava Roussos
Santo Wines Winery
Beaches and Water-sport
Santorini volcanic beaches have produced unusual black and red sand that make for dramatically unique landscapes.
The many famous beaches are along the eastern coast, each with its own unique characteristics.
Although Santorini's beaches are not as nice as some of the others in the Greek islands, its volcanic rocks have produced unusual black and red sand that make for dramatic landscapes.
One thing to note is that this sand absorbs the sun's rays and gets much hotter than golden sand.
On the more popular beaches, umbrellas can be rented, and tavernas and refreshment stands abound. The more secluded beaches are worth a visit, though the paths leading down to them can be tricky. Here are the most popular and famous beaches in Santorini for cruise visitors:
Perissa and Perivolos
Amoudi Beach
Kamari Beach
Monolithos beach
The Red Beach
Aspri Ammos or White Beach
Armeni Beach
Other beaches on Santorini worth mentioning include Baxedes, on the northern coast (and uncrowded), although the swimming is not ideal. Cape Columbo beach is a secluded spot with calm waters suitable for swimming, dark sand, tall cliffs, and fine views.
Karterados is undeveloped, Messa Pigadia is small and easy to reach by boat, Pori is picturesque and quiet, Vlihada has pleasant views and dark sand, and Vourvoulos has two adjoining beaches with plenty of privacy.
Snorkeling and diving
The volcanic eruptions created impressive underwater scenery making for plenty of diving opportunities. Diving tours offer trips to shipwrecks, volcanic caverns, and coastal reefs. Snorkeling locations also abound for those wanting to look below the waves with a bit less equipment.
At the dives sites around the edge of the caldera and below the cliffs, there are many colorful sponges, lobsters, groupers, snappers, barracuda, schools of fish, and even octopus.
Scenic Views
Santorini is well known for its breathtaking sunsets from its towering cliffs, particularly when seen from the village of Oia on the island's far northern end. However, very few cruise ships sail late and do not stay in port long enough for cruise travelers to enjoy such a spectacle. When choosing a cruise calling at Santorini, you should pay attention to the sail away times.
How to explore Santorini on a cruise?
All cruise lines visiting Santorini offer excellent tours and excursions of the island to all highlights and top attractions. These excursions (aka Shorex or Cruise Excursions) offered onboard cruise ships can be very advantageous.
For those that like to be toured by guides with excellent knowledge of sites, shore excursions are advisable to visit the archeological site of Akrotiri, an overall visit to the highlights of the Santorini or the charming village of Oia.
However, the latter is also easy to explore on your own. There are four possible ways to discover and enjoy a day at the cruise port of Santorini:
Book a Shore Excursion onboard your cruise ship

Local tours at the tender pier in the port of Skala

On your own to Fira by cable car or donkey (mule)

Transfer to Amoudi

Rent a car or a scooter
You can rent a car or a scooter at the pier in Skala, but you will pick up your vehicle in Fira, and to get there you will need to go on the Cable Car, on a Donky, or climb 587 steps, which are shared with the smelly equines.
Shore excursions and tours
If you wish to visit the archeological site of Akrotiri a shore excursion is the best way to do it as you will have a knowledgeable tour guide accompanying you.
For those that wish to do a full tour of Santorini stopping at all the major highlights, a shore excursion or a tour with local guides is also advisable.
Local tours are also ideal for excursions of the caldera, be it to bathe in the hot springs of the volcano, snorkel, or fishing.
Obviously, all cruise lines offer many diverse shore excursions in Piraeus (Athens). Celebrity Cruises and Royal Caribbean offer as many as 19 shore excursions. Norwegian Cruise Line has available 9 shore excursions. Oceania Cruises organizes 22 shore excursions, and Princess has 27 excursions available.
There are also excursions offered by the following reputable private online services and local tour operators:
How to get to Fira, Oia, and around Santorini
Unless you choose to stay onboard your cruise ship or by the port of Skala, you will need to go up to the rim of the caldera to explore the attractions of Santorini. Regardless of whether you go on a shore excursion, or explore Santorini on your own, you will have to travel to the top of the volcano.
The traditional way to go up to Fira is the old Greek way - by donkey (mule). Although we mention this tradition in this review, it does not imply that we approve of the use of mules to climb to Fira.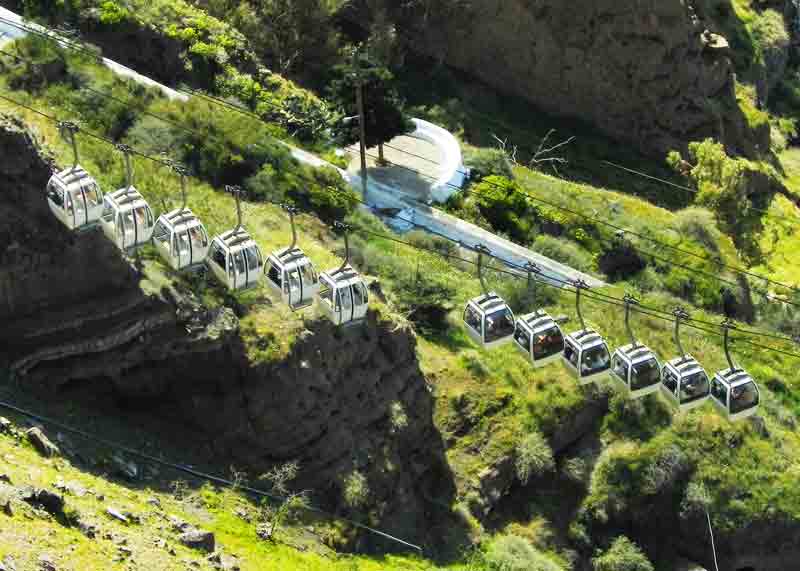 Cable Car in Santorini
Photo © IQCruising.com
Since 1979, there is a cable car connecting the port of Skala and Fira. The Cable Car offers spectacular views of the island and is thrilling for some.
Less known, divulged, and rarely mentioned onboard most cruise ships, there is also the Editor's Favorite way of exploring Santorini. For around €20.00 per person, you can get from the Port of Skala to the off-track Port of Amoudi - in itself a wonderful attraction - just below the village of Oia, which is one of the Top Highlights of Santorini.
Cable car
Donkeys (mules)
Boat transfer to Amoudi
There are three main ways to get around Santorini, explore the top attractions in Santorini (like the charming town of Oia), or spend some time at one of the unique beaches of Santorini:
Taxis
Rental Car or Scooter
Public bus
Discover and enjoy Santorini on Your Own
Cruise passengers that like to explore ports independently will be happy to know that most highlights of Santorini are easy to explore on your own. You will find almost all you need to discover Santorini on your own as you step out of the tender boat at the pier in the port of Skala.
But you can easily travel to any of the unique beaches of Santorini on your own or spend quality time in Oia.
To get to any of the beaches in Santorini, renting a car or a scooter is our favorite way. Although a taxi may cost less, you will be time constrained.
The fastest way to get to Oia from Fira is by taxi, and the slowest (around 30 minutes) is by public bus.
Our favorite way to travel to Oia is by boat transfer from the port in Skala to Amoudi Bay, a small and charming port just below the village of Oia.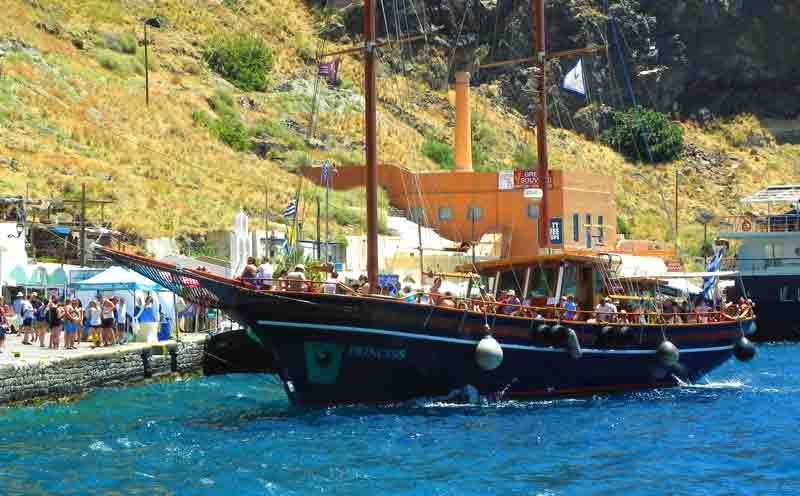 Amoudi Bay Transfer in Skala
Photo © IQCruising.com
From the pier in Amoudi, you can take a regular bus, a donkey, or walk up 214 steps to Oia.
In Amoudi Bay, before going up to Oia, you can choose to walk along the sea (make a left turn at the pier) and go swim on a secluded beach. Next to the pier in Amoudi, there are a few restaurants with marvelous settings and excellent fresh fish.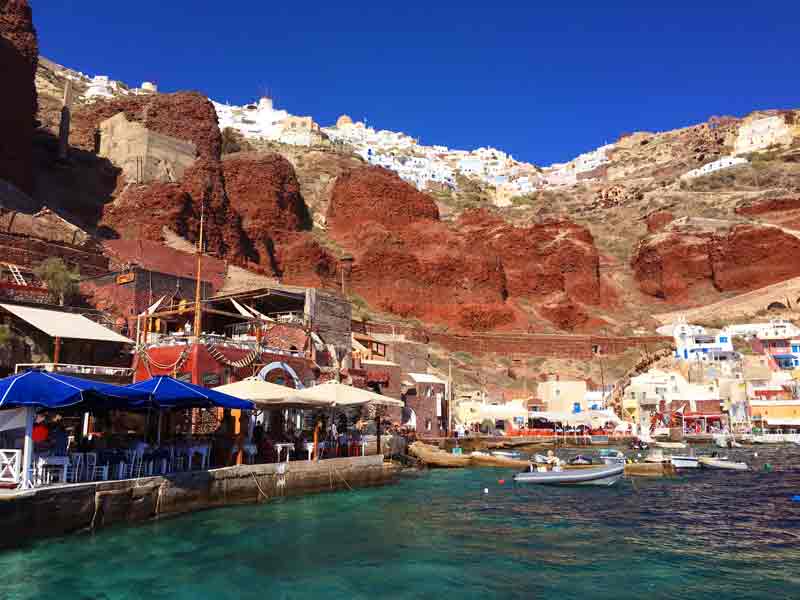 Amoudi Bay in Santorini
Photo © IQCruising.com
A couple of tour operators on the port of Skala offer this transfer to Amoudi including the bus transfer from Amoudi to Oia and from Oia to Fira.
Must-know: tourist info, language, and currency
Tourist Info
There is a Tourist Information at the pier in the port of Skala, and also up in Fira.
Language
Greek is the official language, but English is widely spoken - Santorini is such a tourist island that English-speaking cruise passengers will easily communicate with locals everywhere.
Currency
The legal tender in Greece is the Euro (€) (EUR). US$ dollars or any other currency are NOT accepted in Greece.
Safety, US travel advisory, and basics
For comprehensive and updated information about traveling to Greece see the U.S. Department of State website page evolving advisory. The US Embassy in Greece also has useful COVID-19 Information for travelers.
Santorini Cruise Port Basics
| | |
| --- | --- |
| Entry Requirements: | Passport is required for U.S. citizens. EU visitors are required either a valid photo ID or a valid passport. |
| Emergencies: | General Emergency - 112 |
| Driving: | Driving is on the right and generally speaking it is easy to drive around. The road signage is good and clear. |
| Electricity: | The standard voltage is 230 V and the frequency is 50 Hz. Typical European two-round prongs are used. |
| Drinking: | Legal drinking age is 18 years. |
| Smoking: | Smoking is prohibited in restaurants and public buildings. Bars and some restaurants may allow smoking outdoors. |
► Explore: Anchoring and Tender to Skala
Where cruise ships anchor and transfers passengers to the pier in Skala, amenities and services...
Learn More ►