All you need to know about the best active pursuits in Mykonos (Greece) cruise port including boat trips, scuba and snorkeling and horseback riding.
Many cruise travelers visiting Mykonos only realize too late that besides basking in the sun on a wonderful (but often crowded beach) the island also has other active attractions and secluded spots.
Diving in Mykonos can be one of the most rewarding experiences, specially for Certified Divers that can venture into shipwrecks or the caves in Tragonis. Horseback riding is another activity to have in mind when on a cruise to Mykonos.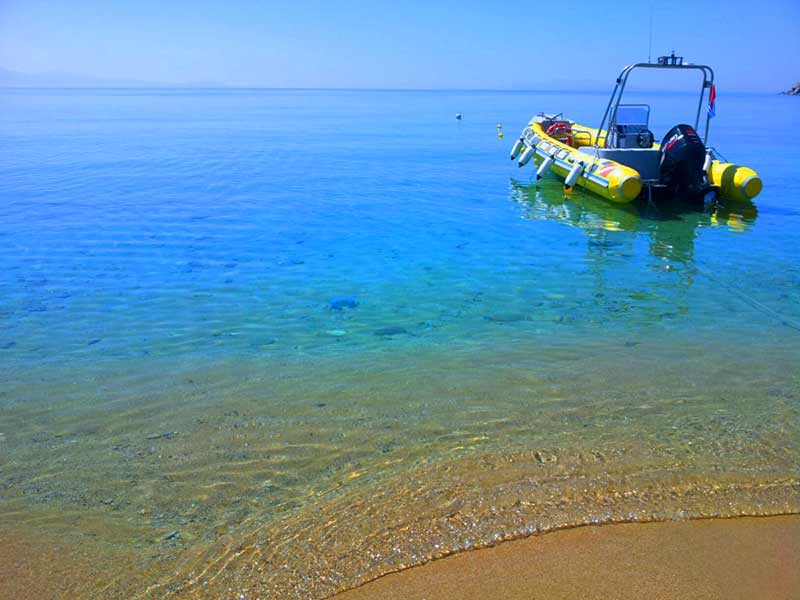 Diving Boat, Mykonos
Photo by Diving Center Management
If cruising with travel companions that just want to enjoy the sites but are not into more active ventures, a secluded beach or a boat trip to remote areas can be a great way of bringing them along.
Go Dive Mykonos (Dive Adventures)
Go Dive is a diving resort that besides scuba also allows the cruise traveler to enjoy Boat Trips to secluded beaches, snorkeling or just chilling out in the beautiful setting of Lia Beach. Located around 15 minutes from Mykonos Town by car, Go Dive offers transportation from and to the Town or you can just easily get there by taxi, renting a car or scooter.
Tragkonisi Caverns, Mykonos
Photo by GoDive Management
The diving resort offers scuba for almost all levels - from beginners to certified dive masters - to astonishing reefs, scenic sites, the shipwreck of Anna II, the cave systems in Tragonis, and many other. Obviously, they offer boat transfer to the diving sites, full equipment, insurance and guides. On Lia beach, the cruise traveler will find umbrellas, sun beds and two restaurants.
Where: Lia Beach
Website: www.godivemykonos.com
Phone: +30 6942616102
Prices: starting at €70 for one dive. Snorkeling staring at €20.
Mykonos Diving Center (Dive Adventures)
The Mykonos Diving Center has been in operation sine 2007 at Paradise Beach. Located just 4 km from Mykonos town, Dive Adventures is just 20 meters from the water and the location itself is beautiful. Due to the many restrictions imposed by the fact that there are quite a few off limits underwater archaeological sites, this is the only authorized Diving Center in Mykonos.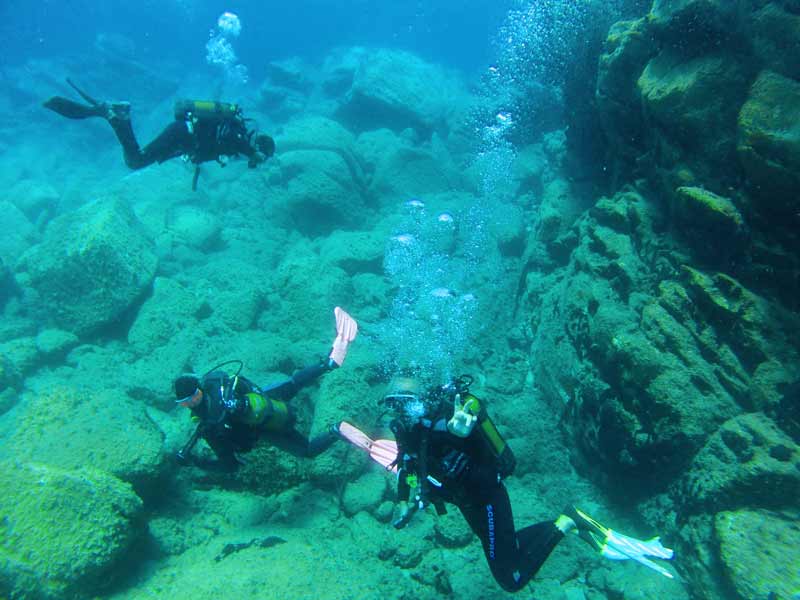 Scuba Diving, Mykonos
Photo by Diving Center Management
Open between May and October, Dive Adventures offers all sorts of dives for experienced scuba divers to the beginner and also for those that just want to snorkel. Most dives are just 5 to 20 minutes away from Paradise Beach but the great offshore wrecks and caves are father away. Dives can take you down up to 45 meters.
Where: Paradise Beach.
Website: www.divemykonos.gr
Phone: +30 6946 383115
Prices: starting at €65 for one dive. Snorkeling staring at €20.
Horseback Riding (Horseland)
If you are an equestrian or just want to experience the island on horseback, this is your destination. Take a ride on the beach, ride a sunset tour, have a photo-shoot on horseback, riding in the water. You can choose to stop for lunch in a local tavern, or have a beach picnic.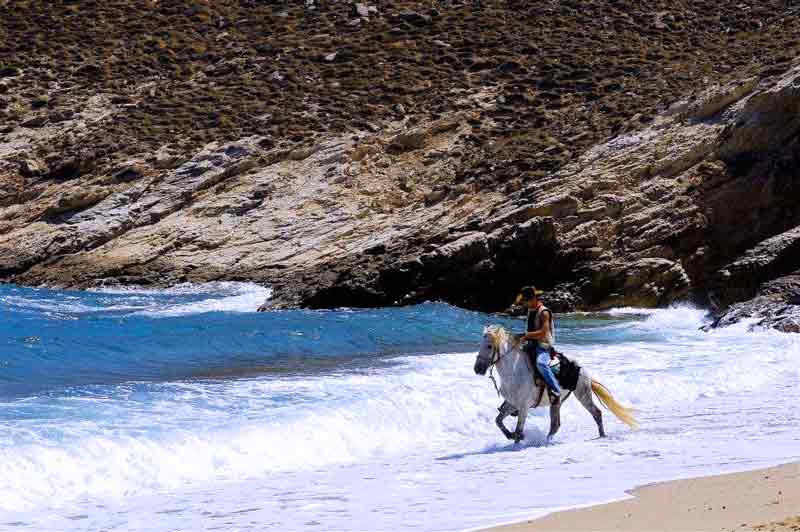 On the Beach, Mykonos
Photo by Horseland Management
You equestrian experience will be a memorable and safe one as overseen by owner and horse trainer Fanis Rouvas, who has been operating his establishment for over 15 years.
Where: Ano Mera - Fokos beach.
Website: mykonoshorse.com
Phone: +30 6945 778962
Prices: around €80 per person for a 2 hour ride.
NOTES: Rides start and end at the stables in Ano Mera following a trail to Fokos Beach.