Reviews of the best places to have lunch, a light fare or a quick bite in Mykonos when traveling on a cruise ship in 2023 and calling at this stunning island in Greece.
Mykonos is a great cruise port to taste genuine Greek flavors, gourmet cuisine or just a quick bite in the many cafes by the old port.
To make it more appealing, the cruise traveler can even choose to have lunch at one the many restaurants on a beach - some of which are rated as among the best in the island. And if your cruise ship sails late or is staying overnight, do not miss the opportunity to have dinner in one of the many highly praised restaurants of Mykonos.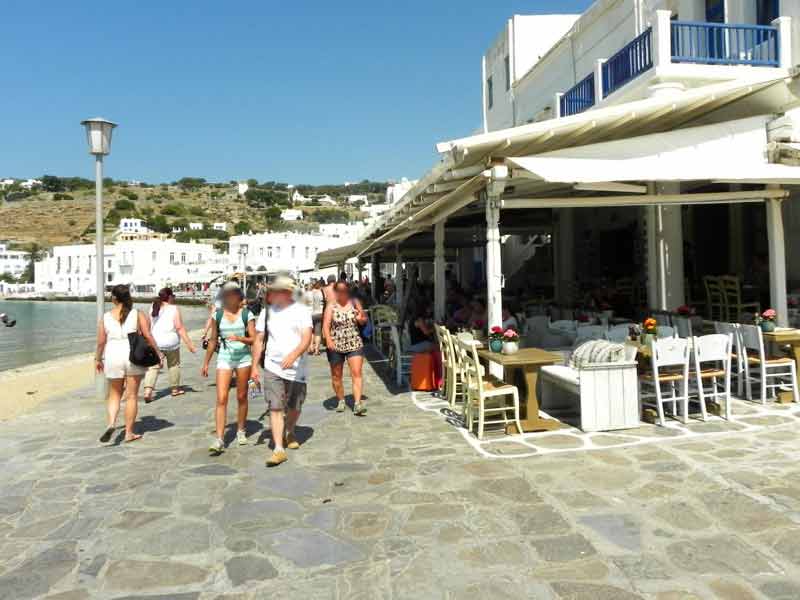 Restaurants and Cafes by Old Port, Mykonos
Photo © IQCruising.com
You will find the main restaurants and cafes in Mykonos Town aka Chora, where both Greek and International menus can be found. Right by the Old Port - where tender boats dock and also the Ferries to Delos depart - the cruise traveler will not miss the dozen or so cafes and restaurants with seating al fresco.
These are ideal for a refreshing drink, an ice-cream, a coffee or people watching but are not the best ones to have a lunch. To fully enjoy Mykonos cuisine the cruise traveler will need to walk the narrow streets of Chora.
As far as prices go you can find Greek food for very reasonable prices. The cruise traveler can also find gourmet restaurants where you can spend a fortune if that's what you want. The best way to find a restaurant to fit your budget is to a walk about, and read the menu posted outside most restaurants.
Remember that restaurants offering a beautiful view of the ocean or city may often cost more than those located deeper in the city.
But if the cruise traveler is not in the mood for tasting Greek food, you should at least enjoy a drink or a coffee with a stunning view in one the many bars in Little Venice.
1. Kounelas
(Fish Tavern)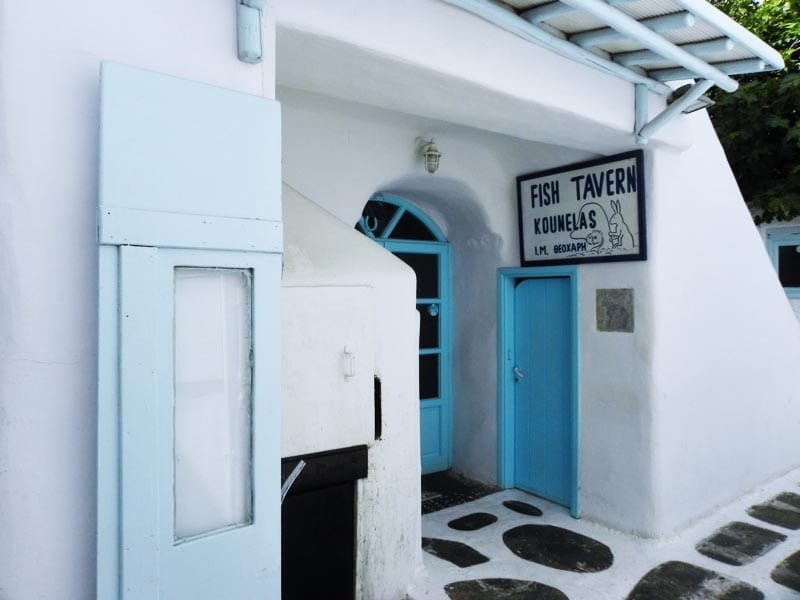 Kounelas Fish Tavern, Mykonos
Photo © IQCruising.com
This is a well-established restaurant known for their fresh fish and one frequented by locals. Many consider it a hidden treasure, as most seafood restaurants located at docks can be expensive, but here the value is worth it. Frequented by local fisherman, do we need to say more, than if they eat here it must be good.
Address: Small street Near Old Port, Mykonos Town
Phone: (+30) 22890/28220
Niko's Taverna
(Most Famous Tavern)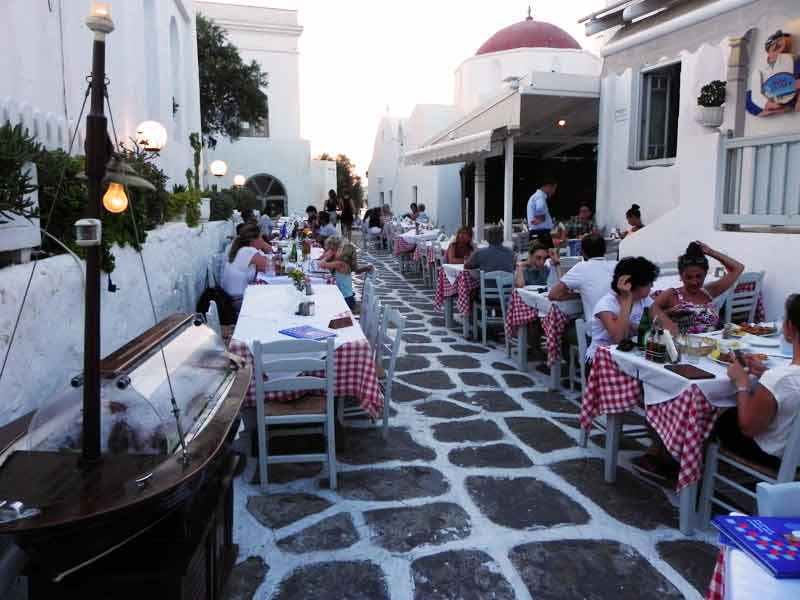 Taverna Niko's, Mykonos
Photo © IQCruising.com
This restaurant is located in the center of Mykonos Town, and is very popular and offers you a wonderful dining experience. You may find a line to get seated but it will be well worth the wait, for authentic Greek menus at a very reasonable price.
Where: Located one block off the harbor towards Little Venice, near Paraportiani
Phone: +30 22890 24320/28220
Antonini's Taverna
(CLOSED)
Has recently as July 2016, the Editor read in many a travel guide amazing reviews of Antonini's Tavern which has been closed at least since 2015. Be also aware that less experienced port lecturers will praise and, at worst, recommend this old tavern that is no more.
Fokos
(On the Beach)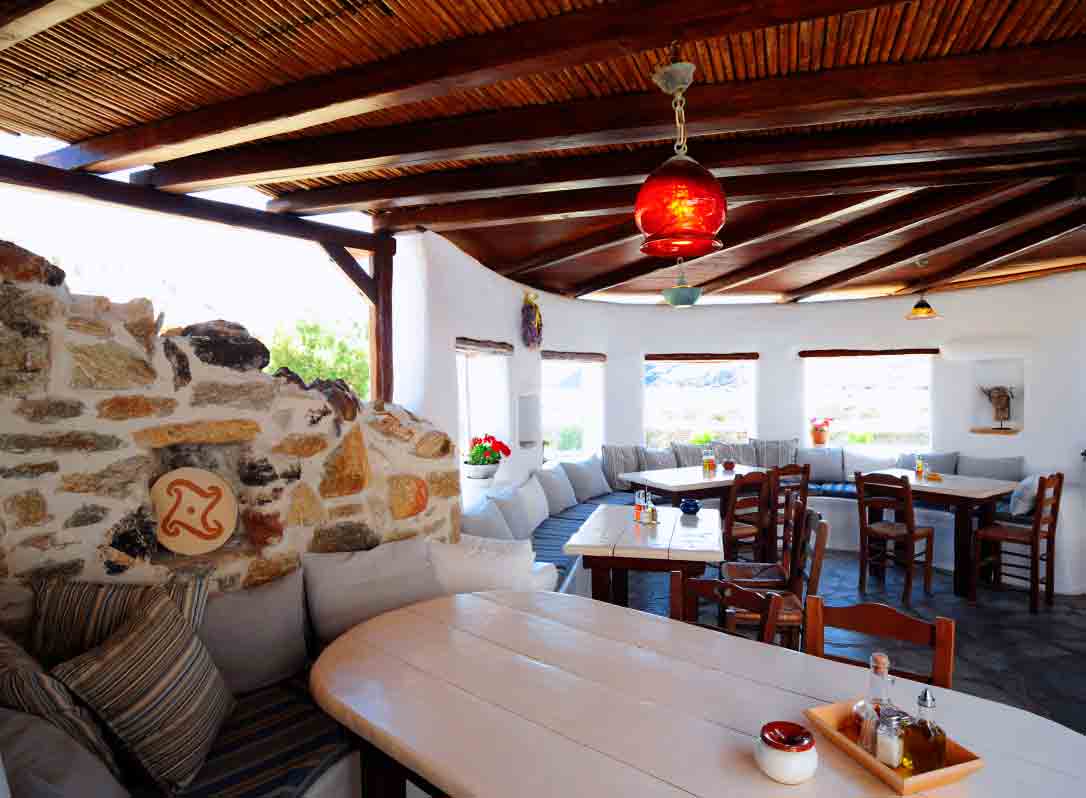 Restaurant Fokos Beach, Mykonos
Photo Courtesy of Management
This restaurant is located in surfer's paradise, on a secluded beach, and serves excellent Greek traditional cuisine. Specializing in fresh seafood and vegetables flown in from this owner's personal garden on the island of Crete, how could you find better.
Where: Located on Fokos Beach
Open: 10:00 am to 7:00 pm
Phone: (+30) 22890/23-205
Website:
www.fokosmykonos.com
Ithaki
(On the Beach)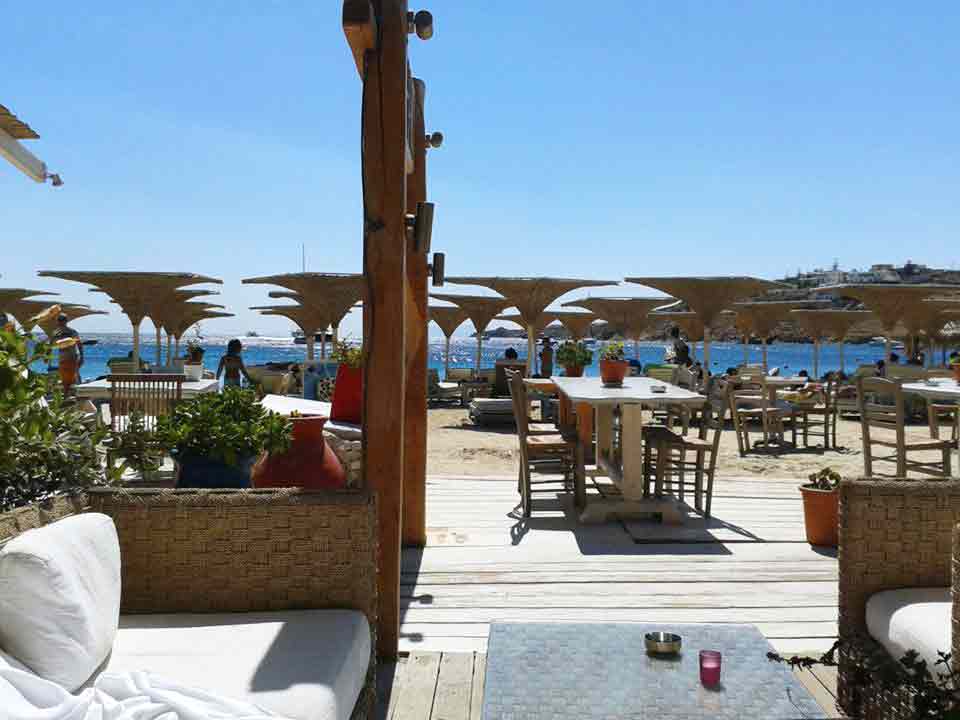 Restaurant Ithati, Mykonos
Photo Courtesy of Management
Located on a family beach is a local favorite, serving fresh Aegean cuisine, with starters like stuffed seafood zucchini, and dinners of egg pasta and baby shrimp, or grilled octopus. And what makes your dining experience even more fun is the fact that they are also serving authentic Thai preparations and also some Chinese dishes as well.
Where: Ornos Beach, Mykonos
Phone: (+30) 22890/24546
Website:
www.ithakirestaurant.gr
Nammos
(On the Beach)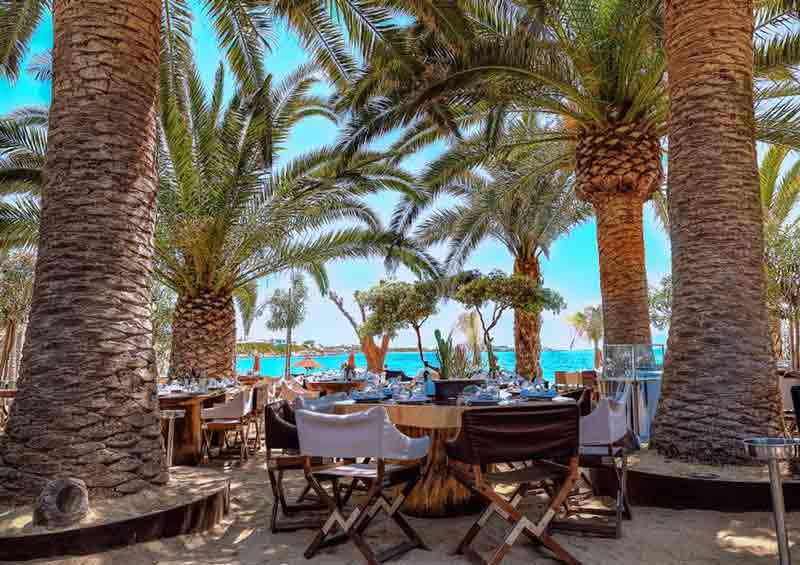 Restaurant Nammos, Mykonos
Photo Courtesy of Management
This beach-front restaurant is where the "rich and famous" or well to do diners come to dine. An open air, bamboo and palm tree rich environment along with the Mediterranean Fusion cuisine of fresh seafood, with the ocean sound as a background if spectacular. You might want to try the Mykonian meatballs, deep-fried with scented fresh oregano; they will melt in your mouth with the lightness they bring.
Open: daily 1:00 pm to 1:00 am
Address: Psarou Beach
Phone: (+30) 22890/22440
Website:
www.nammos.gr
Kiku
(Cavotagoo Hotel)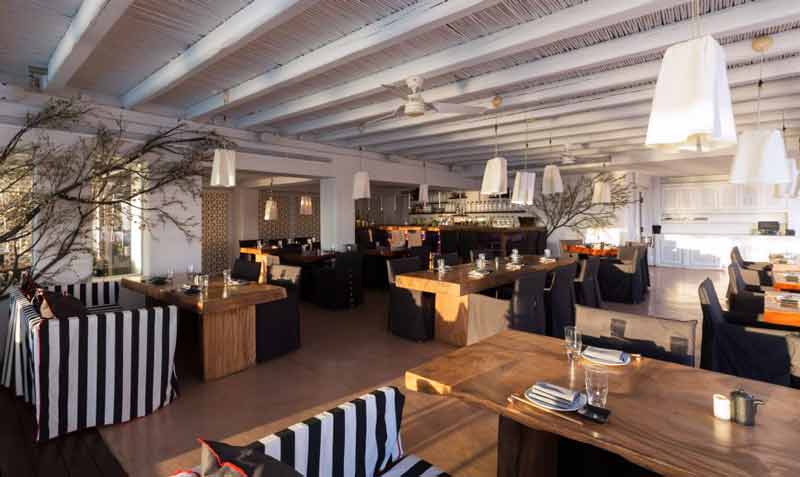 Restaurant Kiku, Mykonos
Photo Courtesy of Kiky Management
If looking for fine dining on the island of Mykonos, Kiku at the CavoTagoo Hotel is where a place to go. This is a Michelin Star rated restaurant, serving haute cuisine at outdoor tables overlooking the bay or the infinity pool, or inside on white linens. Seafood is always fresh, like the slow cooked octopus, or sea bass in coconut milk, and the sommelier is there to assist you with fine wine choices.
Address: Hotel CavoTagoo
Phone: (+30) 22890/20100
Website:
www.cavotagoo.com
Reservations: ESSENTIAL
Closed: November to April
Dinner Only Restaurants
Because Mykonos is famous for its beaches, most visitors to the island spend great part of the day sun bathing and splashing in the Mediterranean sea and, consequentially, many restaurants only open for dinner. When cruise ships stay in port for a longer time, cruisers may also take advantage of these restaurants, which are some of the best in the Mykonos.
Avra
(Chora)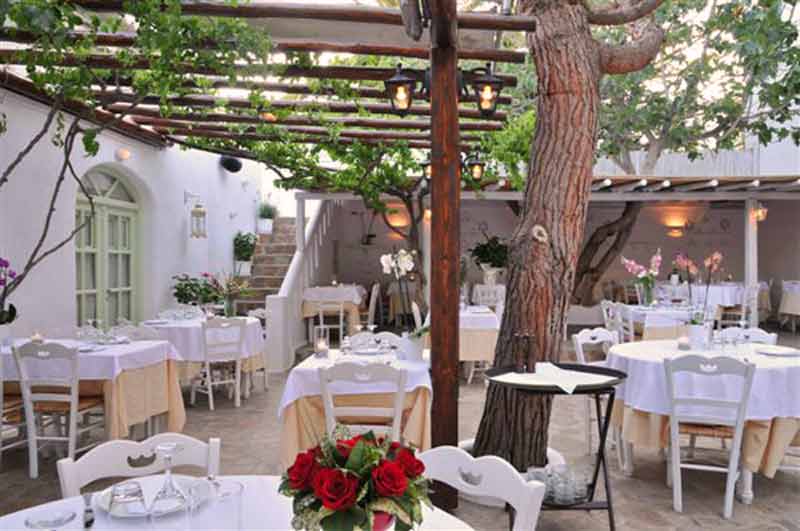 Restaurant Avra, Mykonos
Photo by Management
Located in a nice shady garden area in the center of town this Greek-Mediterranean Style restaurant is the perfect place for a relaxing dining experience, with reasonable prices and excellent food. Dine inside or out in the garden but beware that the terrace is always busy. Their orange pie is pretty famous here, and asks if the stuffed lamb is available, because you won't find it on the menu, but is excellent.
Open: daily 7:00 pm - 2:00 am
Address: Kalogera 27, Mykonos Town
Phone: (+30) 22890/22298
La Maison de Catherine
(Chora)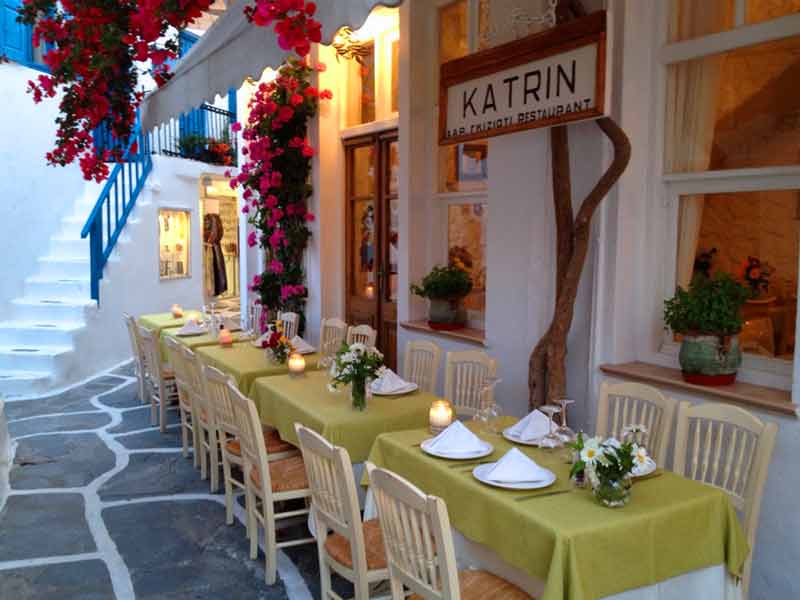 Restaurant La Maison de Catherine, Mykonos
Photo by Management
A wonderful place to spend an evening dining, you will find yourself in an elegant candlelit room, visited by the 70+ year old owner who visits the tables each evening. With a Greek cuisine that has touches of Gallic, you do have a choice of dining outside on the narrow street. With prices on the high side you will still be justified with the wonderful cuisine and surroundings. Try the seafood soufflé or maybe Chateaubriand.
Open: daily 7:00 pm - 1:00 am
Address: Ayios Gerasimos, Dilou, Mykonos Town
Phone: (+30) 22890/22169
Reservations: Recommended
Sea Satin Market-Caprice
(Chora)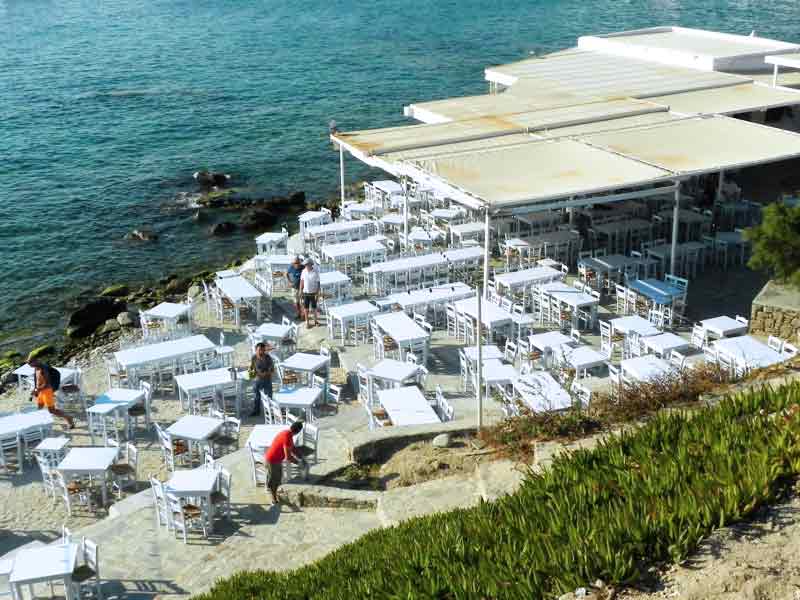 Restaurant Sea Satin, Mykonos
Photo © IQCruising.com
This restaurant has long been the favorite of the Greek ship-owners, a magical place overlooking the ocean and the windmills blowing in the winds. You will find this a charming little restaurant, with seafood priced by weight, where shellfish is the house specialty. During summer months, you will find live music and dancing. The kitchen is set up so as to be viewed by diners so you can watch as they cook sizzling catch of the day on the grill.
Open: daily 6:30 pm - 12:30 pm
Where: Located under the windmills by the seaside
Phone: (+30) 22890/24676