Basic guide to Mykonos (Greece) port for cruise travelers: top things to do and see, shopping and where to have lunch.
Most cruise travelers arriving in Mykonos are often misled by the island's reputation as a party place, leaving without realizing that the island's fame only happens late at night.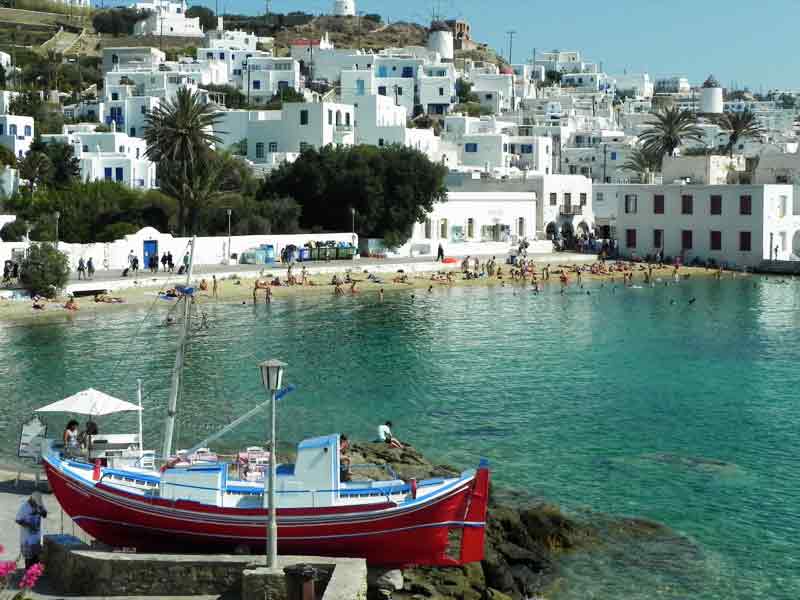 Old Port Bay, Mykonos
Photo © IQCruising.com
In the rare occasions when cruise ships stay overnight in Mykonos (or depart very late), the cruise traveler will have an opportunity to realize how crowded Chora (Mykonos Town) does get after sunset, when restaurants get packed and specially after midnight when bars and discos get busy. But, most probably, the cruise traveler doesn't look at an itinerary including Mykonos to rub shoulders with the rich and famous in a party mood.
Top Highlights
Undoubtedly, the top two attractions in Mykonos couldn't be more contrasting - the extraordinary Archaeological Site of Delos and the golden sands with turquoise waters only found on the beaches of Mykonos. Delos is, according to mythology, the birthplace of Artemis and Apollo and must see for those interested in Ancient History.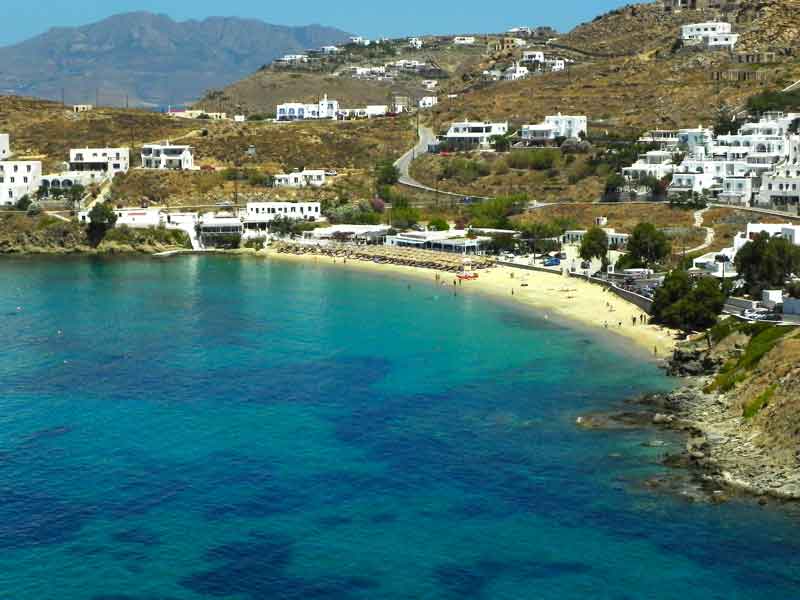 Saint Stefanos Beach, Mykonos
Photo © IQCruising.com
The beaches are numerous and ideal for the cruise travelers looking forward to both a relaxing day or active party. Indeed, Mykonos beaches have all on offer: be it a secluded cove, a massive party on the beach, scuba diving or horseback riding.
Panoramic View, Mykonos
Photo © IQCruising.com
If you have been in Delos and are not much into sun worshiping of any kind, a walk around Chora (Mykonos old Town) with its unique pedestrian streets is a must, and the famous windmills a sight not be missed, specially from Little Venice at sunset.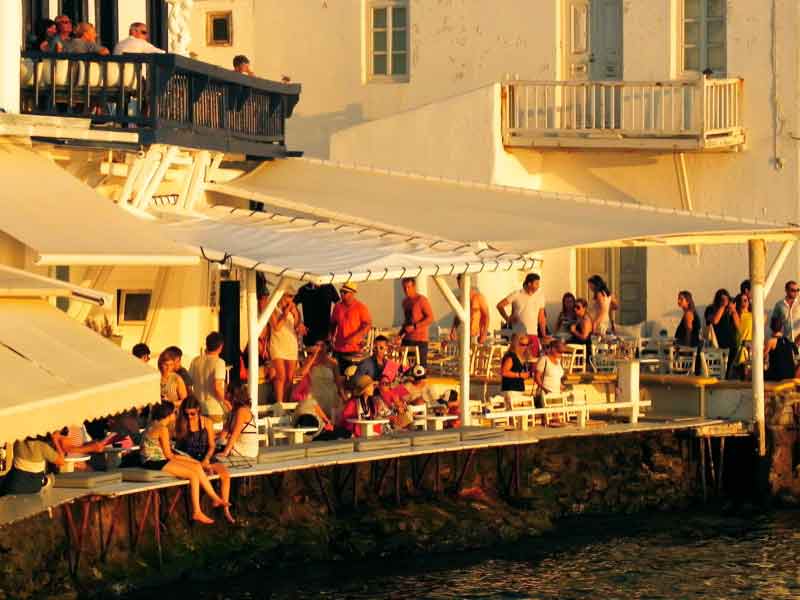 Sunset in Little Venice, Mykonos
Photo © IQCruising.com
Relatively close to the port but not within walking distance, Ano Mera, a small town about four miles inland from Chora, is a place to explore for those that would like to travel back in time and experience Greece has it once was.
Lunch and Flavors
If tasting the typical flavors of Mykonos is in your plans, there are many restaurants to choose from but the cruise traveler should be aware that many (some of the most reputable) only open for dinner. Generally speaking, restaurants are not cheap and you will pay a location price when seating at the harbor front in Mykonos Town or in Little Venice. But these are unique and the price well worth it.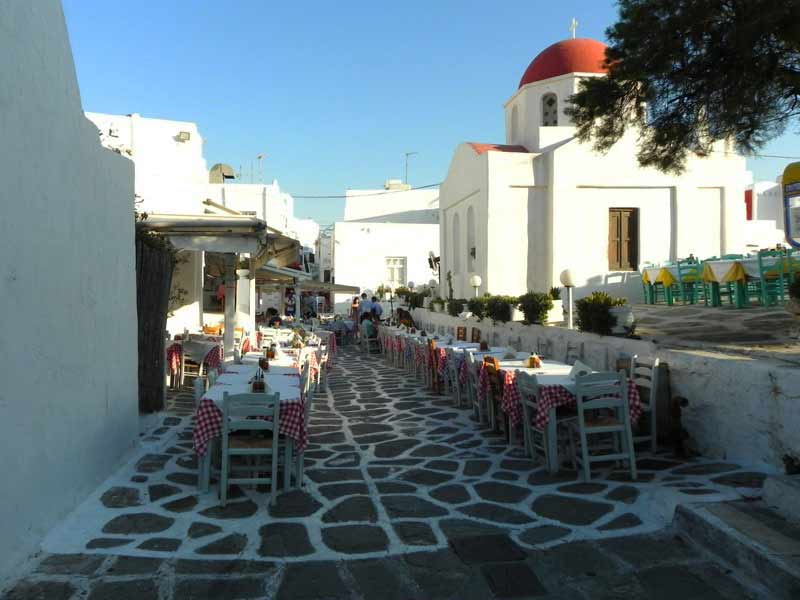 Paraportiani Square, Mykonos
Photo © IQCruising.com
Shopping and Best Buys
Be aware that Shopping in Mykonos is not a bargain hunt, very much the opposite, as you will find top brands such as Louis Vuitton or Chopard and many Greek top jewelers and designers.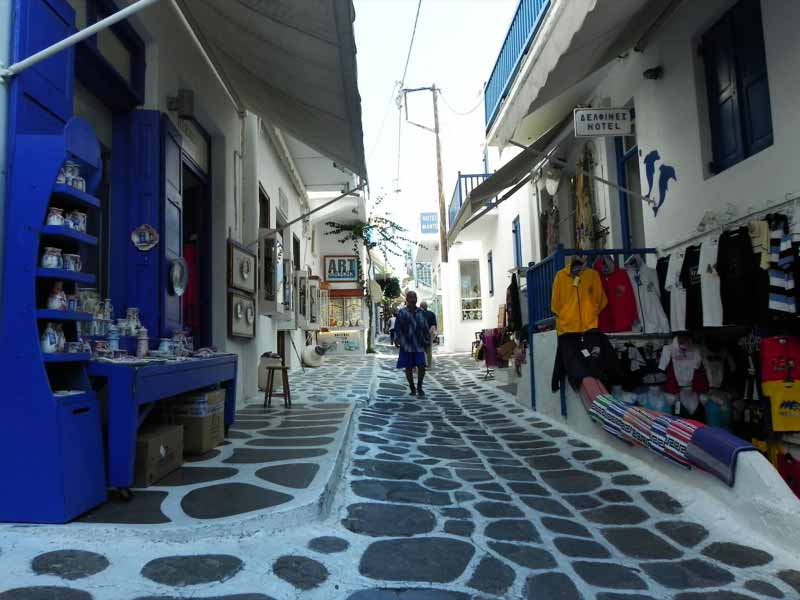 Shopping Street in Chora
Photo © IQCruising.com
This said, the cruise traveler will come across lots of very nice, well priced and small shops with great souvenirs, be it an artwork, a hand-crafted jewelery or the typical t-shirt.