Everything cruise travelers to Mykonos port (in Greece) need to know about the top things to do and see including reviews of the most interesting attractions.
Mykonos has many attractions that should not be missed - on top of the list, the Archaeological Site of Delos is an absolute must see.
The beaches of Mykonos are wonderful and if time allows a unique experience for those into sun-worshiping. On this note, if your cruise ship departs late, do not miss the sunset.
A walk around Chora (Mykonos Old Town and main City) with its unique pedestrian streets lined by all sorts of shops is an memorable experience. The famous windmills are a site to be seen and so is the famed area close by known as Little Venice in particular as the sun sets.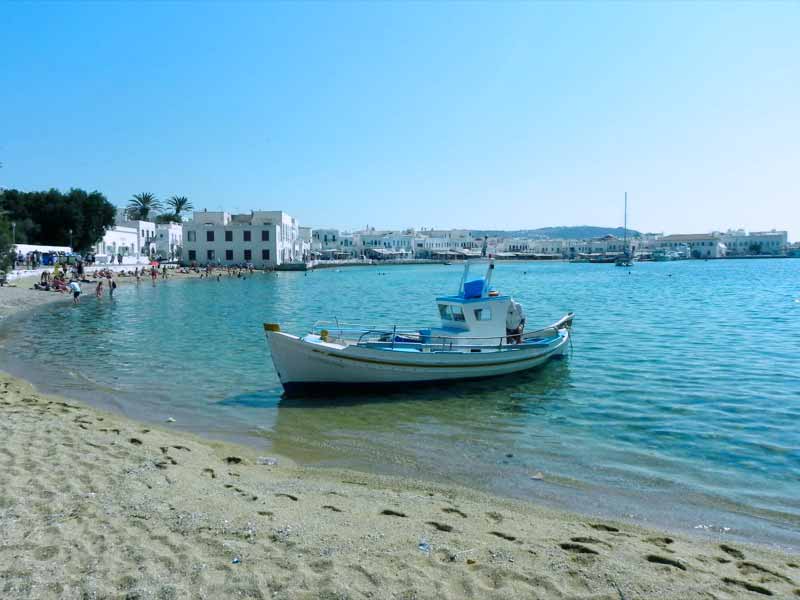 Chora Beach, Mykonos
Photo © IQCruising.com
The cruise traveler looking forward to exploring the museums of Mykonos should know that the most interesting museums are only open in the morning and, some, like the Folklore Museum, is only open for a couple of hours late in the evening. However, out of town, the village of Ano Mera will allow the cruise traveler to discover the quaint ambiance of a Greek Island as these used to be.
Mykonos Town (Chora)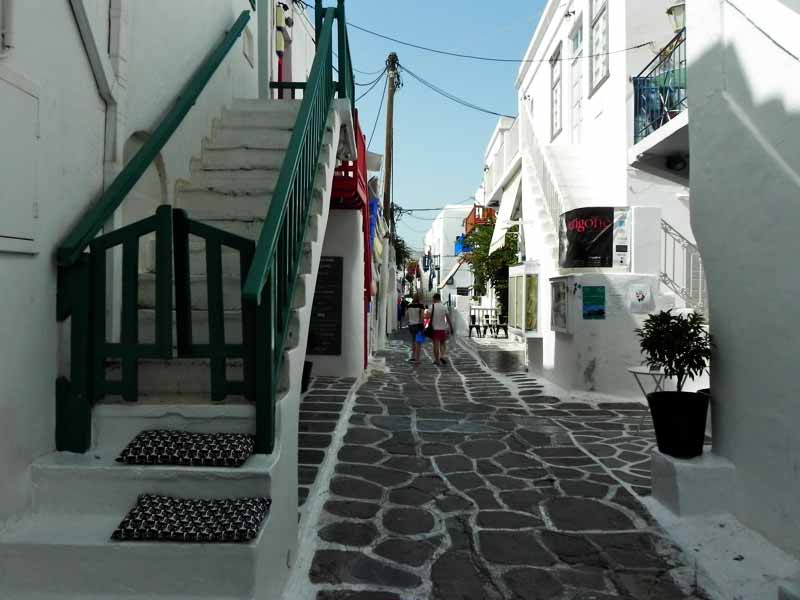 Street in Chora, Mykonos
Photo © IQCruising.com
The Islands capital, Mykonos Town (aka Chora) is a small picturesque village, with whitewashed houses, wooden shutters painted deep blue like the sea, and wooden balconies harboring bright flowers in clay pots. Walking around this historic town is a must, if not only for a visit to one of is five windmills that overlook the entire town. Long ago, it is believed that pirates roamed the streets of Mykonos Town, and is the reason the streets are so narrow and maze-like, so as to confuse possible raiders. That being said, if you plan to use a scooter to get around the island, it might be a good idea to park it at edge of town and stroll around, as streets are packed during the day, and very narrow.
With its many tourist shops with expensive clothes and items, to the town's many bars and cafes, this island capital is just a great place to spend some time, maybe sitting in a café enjoying an ouzo with mezedes, and people watching. While here don't forget to visit the Church of Panagia Paraportiani in Little Venice, one of the main attractions in Chora.
Delos Archaeological Site (Mythical Island)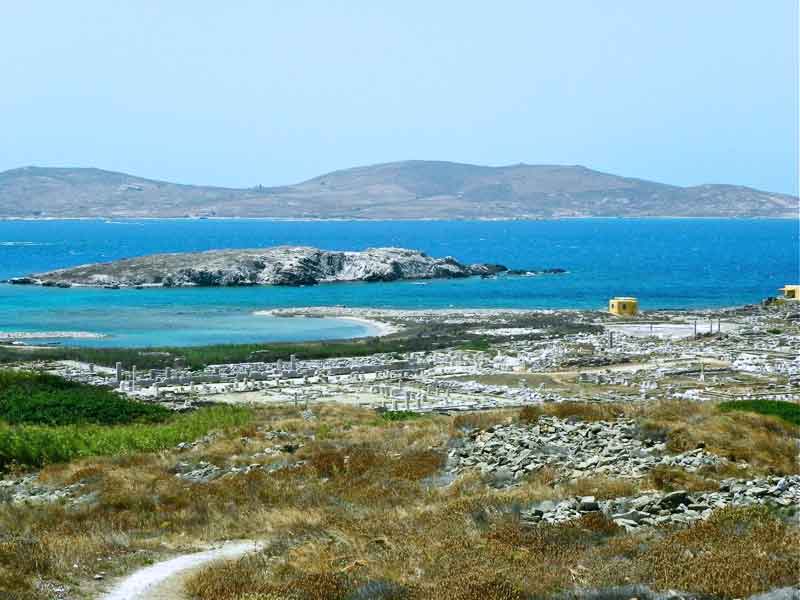 Delos Archaeological Site, Mykonos
Photo © IQCruising.com
According to ancient mythology, Delos (often referred to as Dilos) was the birthplace of Artemis and Apollo, god of the sun, light, harmony, and beauty. The archaeological sanctuary located on the island is considered to be one of the most important historical sites on earth and a UNESCO Heritage Site. The island itself is uninhabited but available for visitors between Tuesday and Sunday, and an absolute must-see.
Learn more about what to see and do in Delos Archaeological Site ▶
Windmills (Landmark and Photo Op)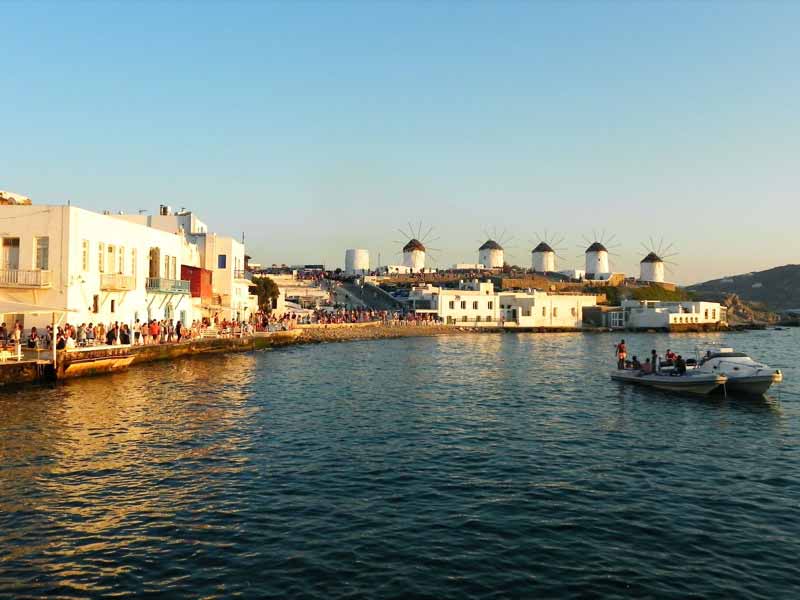 Windmills, Mykonos
Photo © IQCruising.com
When visiting the island of Mykonos, one can't help but notice the windmills that have graced this island ever since the 16th century. These large iconic wheels have had their place in history as part of the agriculture business of the island, used for crushing the crop yields. A total of sixteen on Mykonos, they can mainly be found in the neighborhood of Chora with a few also in Alevkantra. Today you can visit the Bonis Mill, which is actually a museum of sorts. The rest of the windmills are now homes.
Little Venice (Old Town's landmark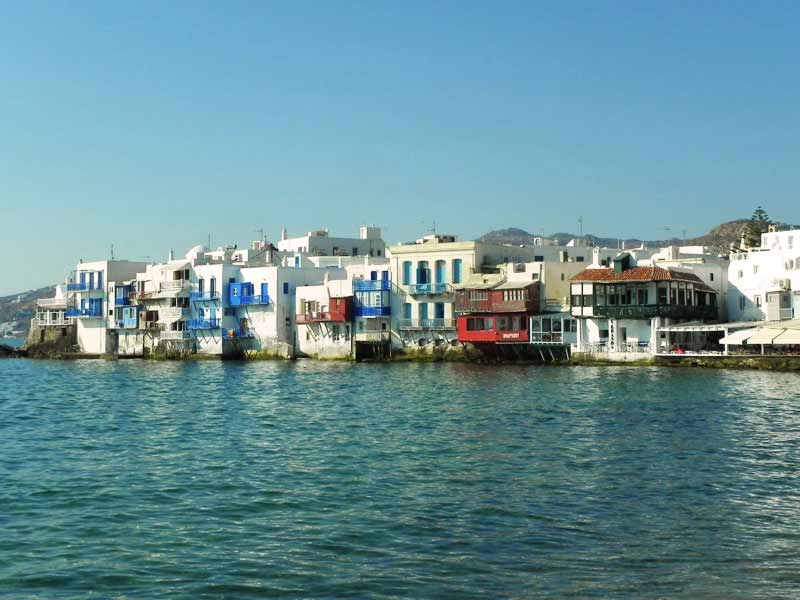 Little Venice, Mykonos
Photo © IQCruising.com
As one of the most and quaint site in Mykonos, what used to be a tiny little village on the sea is a romantic and highly picturesque place to visit. Streets lined with medieval stone houses with their colorful wooden balconies, and cafes and bars where you may enjoy an evening cocktail while watching a fantastic sunset over the water. This is where many ships captains built their fine homes of the day on the waters edge, some still standing today. Little Venice has become an artist haven where priceless paintings are on display and available for sale.
Lena's House (Folklore Museum)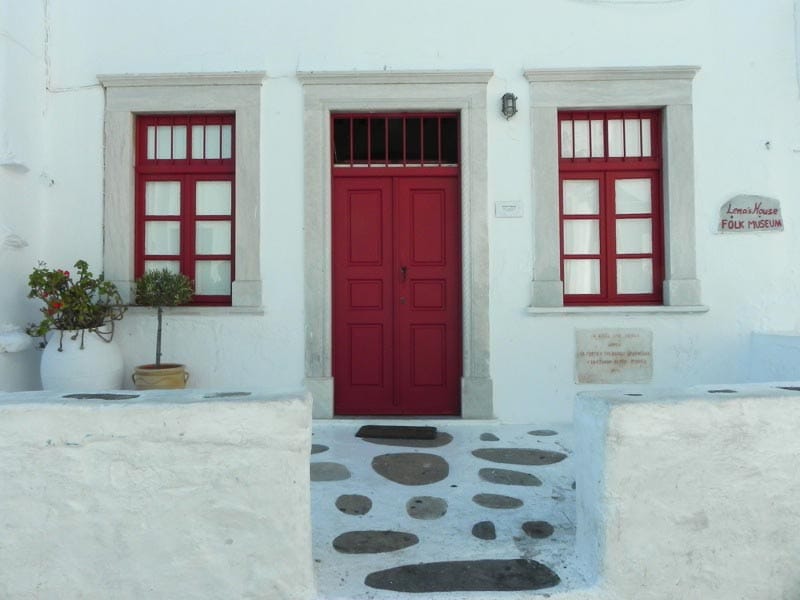 Lena's House, Mykonos
Photo © IQCruising.com
Located in the lovely town of Mykonos the cruise traveler can visit an authentic middle-class residence from the 19th century. Lena's House is part of the Folklore Museum which also includes the Boni Mill, an awesome example of a 16th century windmill that overlooks the east section of town. Lena's House contains antique furnishings, mirrors, tapestries, woodcarvings, and prints, a quite lovely place to visit.
Where: Tria Pigadia, Mykonas Town (Old Town next to Maritime Museum)
Phone: +30 2289022390
Open: April to October, Monday to Saturday – 6:30 pm to 9:30 pm Sunday – 7:00 pm to 9:00 pm
Entrance: Free, Donations suggested
Ano Mera (Town Inland)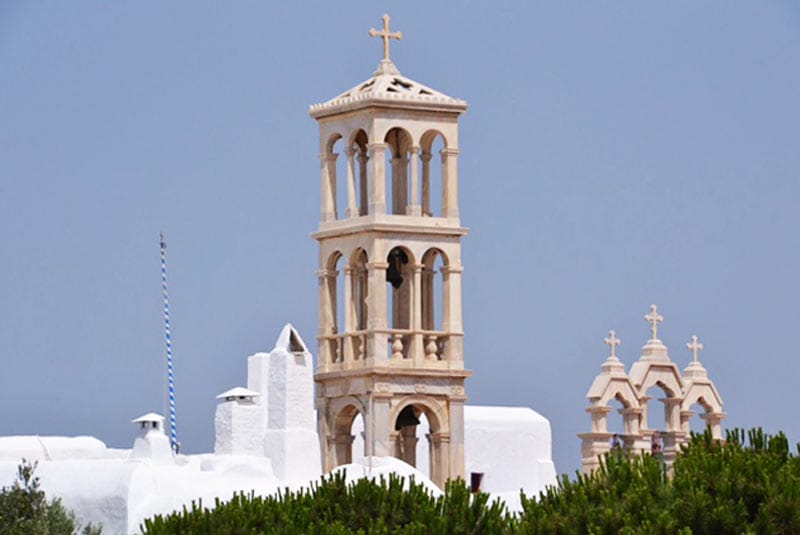 Monastery of Panagias Tourliani
Photo: courtesy of Emil Crivicich
You may want to take a side trip to visit Ano Mera, a small town about four miles inland from Chora, which has a an ambiance in total contrast to the beach cities. Here you will find the town surrounding a square where wonderful Greek tavernas are located. These taverns offer some of the freshest seafood as well as spit roasts for your lunching pleasure. However, don't pass up a opportunity to taste a bowl of Kakavia which is their Fisherman's Stew. A visit to the Monastery of Panagias Tourlianis built in the 6th century is mandatory.
Beaches (Sun Worship)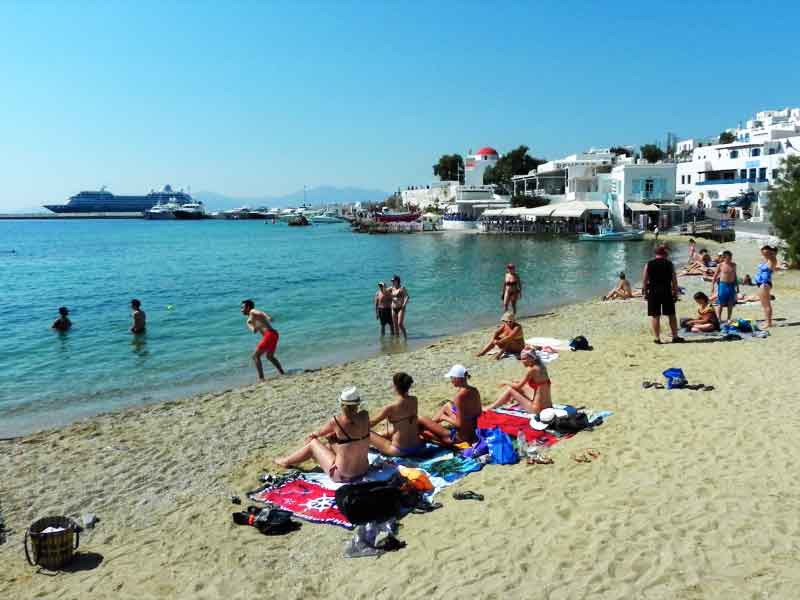 Beach in Mykonos Town
Photo © IQCruising.com
You will find a number of sandy beaches on the coastline of the island, where you may enjoy protected areas from wind, that give you some seclusion as well. During the summer months the beaches get pretty crowded during the day, so it is suggested that you get there early to secure a good spot. With turquoise waters, and the golden sandy beaches, these beaches get quite a draw, especially from the younger crowds. Most of the beaches offer taverns along the beaches with decks for lounging, enjoying a lunch, a cooling cocktail or glass of wine. On almost all beaches the cruise traveler can rent an umbrella and beach chairs. One word of caution, there are vendors walking the beaches selling watches, bags and jewelry that are most often plainly fake.
Shopping (Brands and Crafts)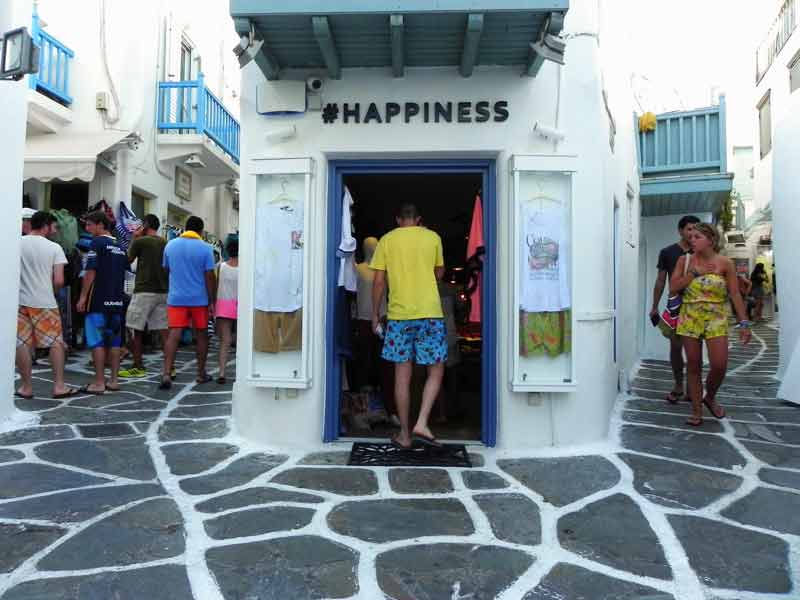 Shopping Street, Mykonos
Photo © IQCruising.com
Shopping on Mykonos can range from high-end clothing and jewelry to folklore items and everything in between. The majority of shops in the busy areas of town are open seven days a week between 9:00 am and 10:00 pm. Mykonos has a very large artistic community and therefore the cruise traveler will find interesting original artworks for sale.
Petros (the Pelican)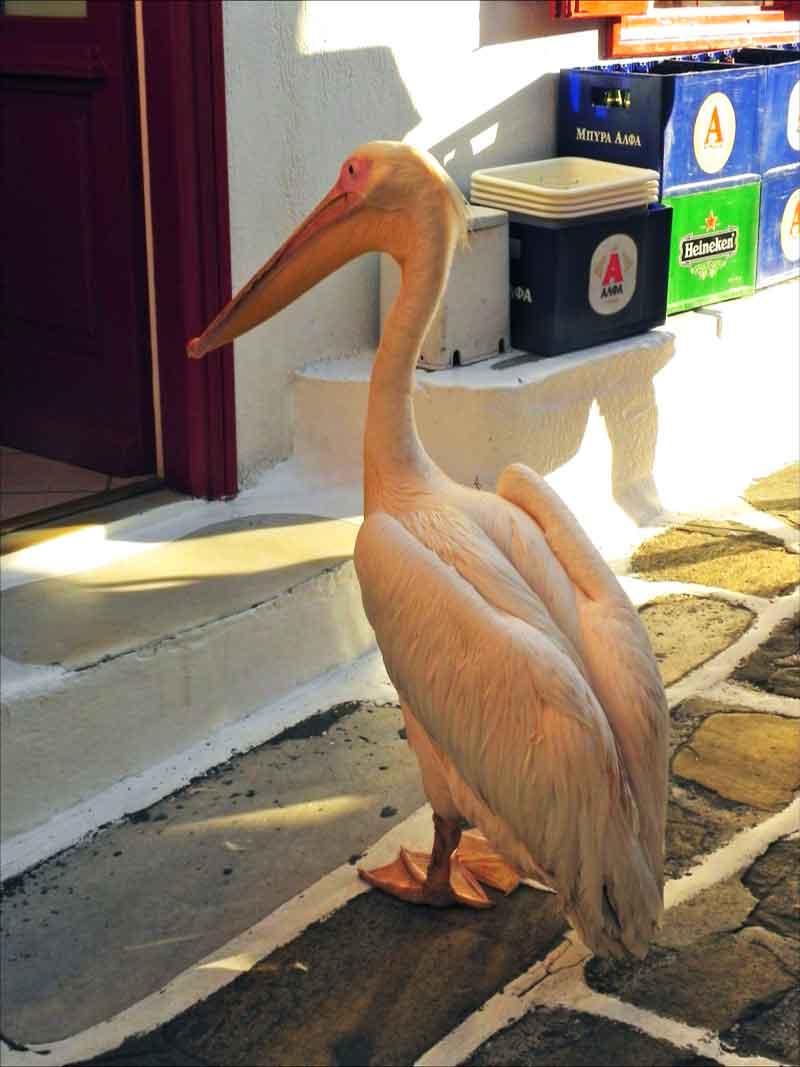 Most Famous Pelican, Mykonos
Photo © IQCruising.com
Petros the Pelican is quite the guy, being the mascot of Mykonos for over thirty years. Actually named after a pet tame pelican called Petros who passed on in 1985, Petros was the stuffed and is on display in the local museum. As the story goes, the pelican was rescued from the waterfront when found wounded there by a local fisherman in the 1950's following a violent storm. It was a very sad day when in December of 1985 while walking about his island, Petros the Pelican was struck by a vehicle and subsequently passed on. He was soon replaced by none other than Jackie Kennedy-Onassis with a female pelican named Irene. There are now three pelicans on the island, and if you see them by the docks at days end, you might catch them being rewarded by local fisherman, with one of the best catches of the day.