Basic guide for cruise travelers to visit the most interesting churches in Mykonos: reviews, photos, location, opening hours and entrance fees.
Cruise passengers may find surprising the number of churches in Mykonos - like in most Greek Islands - and even more so to discover that most are usually closed.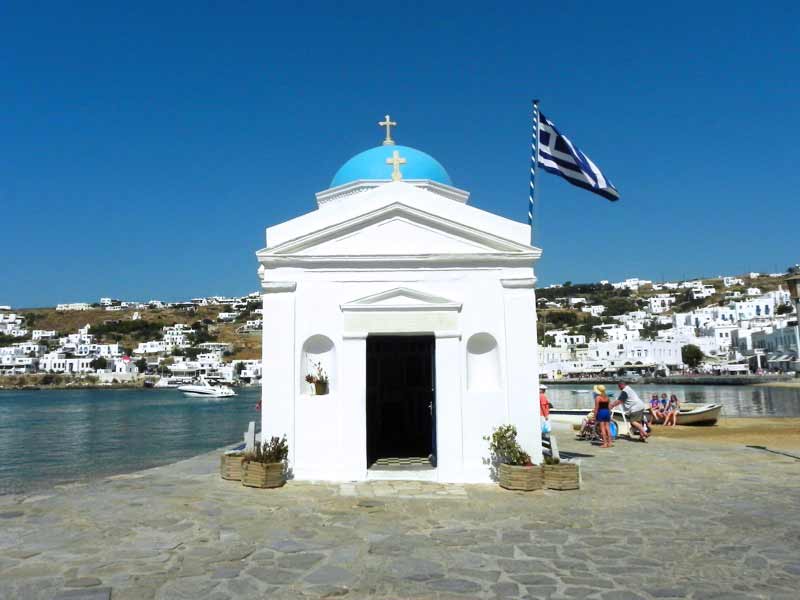 Agios Nikolakis Church
Photo © IQCruising.com
A good example is the Church of Panagia Paraportiani which is one of the most photographed in the World and is rarely open. So, if you find a door open do not miss the opportunity to have a look inside. You will be pleasantly surprised.
One of the Editor's favorite is the tiny Agios Nikolakis Church (Saint Nicholas), right by the bay of Chora. When open it is a surprising delight to visit.
But there are also a few churches and monasteries that are regularly open and, in the case of the ones in Ano Mera (a town 4 miles away) are worth an hour on the road to visit.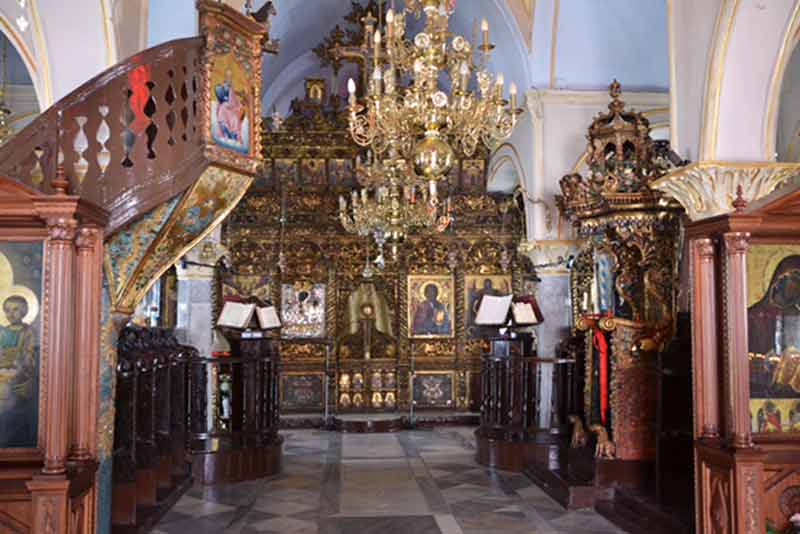 Monastery of Panagia Tourliani, Ano Mera
Photo Courtesy of Emil Crivicich
In fact, the Monastery of Panagia Tourliani, in Ano Mera, is one of the Highlights of Mykonos although smaller than many expect. Close by the Monastery of Paleokastro is also worth a visit.
Church of Panagia Paraportiani
(in Chora)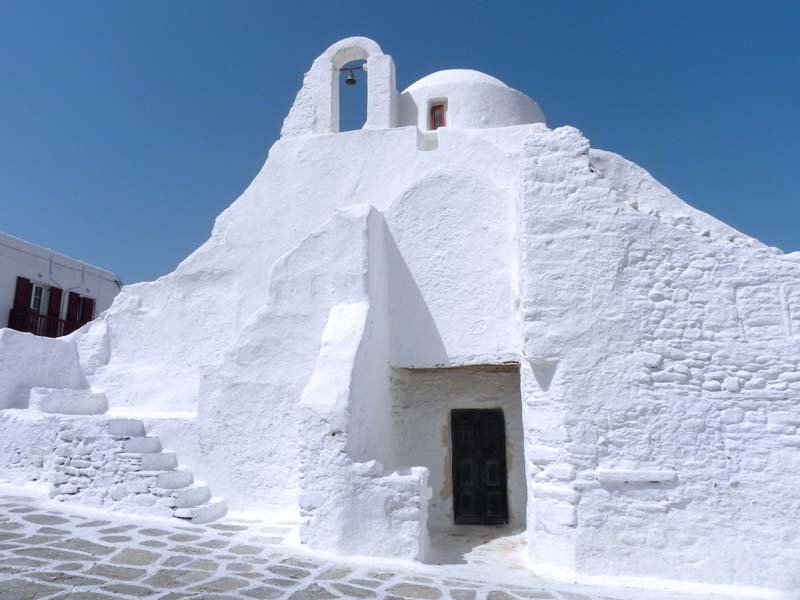 Panagia Paraportiani Church, Mykonos
Photo © IQCruising.com
Located in the most western portion of town this church of Panagia or "Virgin Mary" happens to be among the most photographed churches in the world. One of the truly amazing facts about this church is the fact that it consists of five separate churches built either next to or atop each other, over a period of centuries. The first church, Agios Anargyros was originally built in the 14th century.
Roman Catholic Cathedral (in Chora)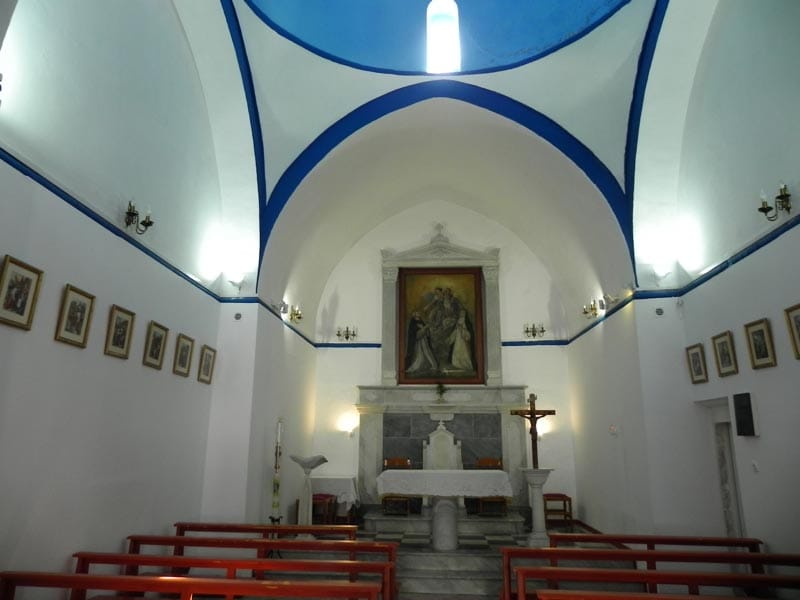 Roman Catholic Cathedral, Mykonos
Photo © IQCruising.com
Located alongside the Greek Orthodox Church in Alefkendra Square is the Roman Catholic Church, built in 1668, and remodeled again in 1677. This is the only Catholic Church on Mykonos and is located near its famous windmills. There is an Icon sitting over the Holy Table representing the Virgin Mary and Baby Jesus transferred from Venice back in 1715.
Monastery of Panagia Tourliani (in Ano Mera)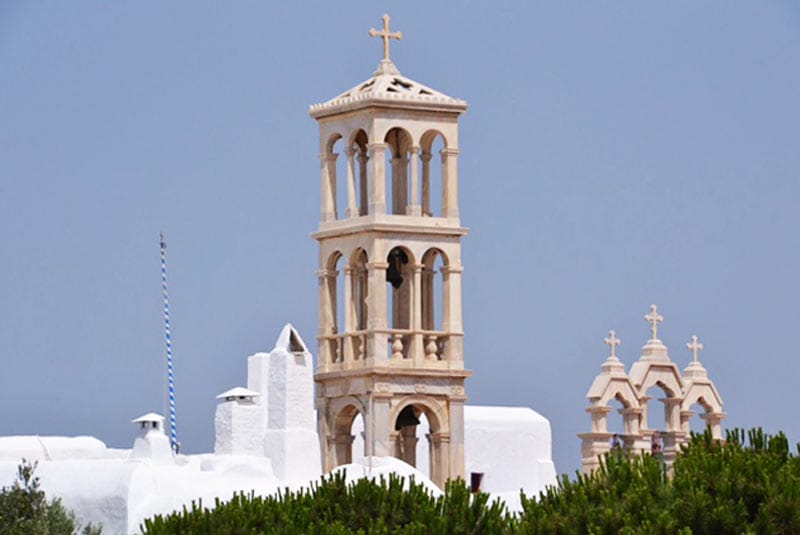 Monastery of Panagia Tourliani, Ano Mera
Photo: courtesy of Emil Crivicich
Founded back in 1580, the Monastery of Panagia Tourliani is rather smaller than many a cruise traveler may expect. But, once through a beautiful red door, you will enter a courtyard with a bell tower, folk carvings and beautiful flowers that couldn't be more peaceful. Inside the church, a wonderfully painted pulpit will inevitably catch your eye and the iconostasis (altar screen) is clearly visible. This wooden structure, made in 1775 by Florentine artists, is a spectacularly ornate screen painted green and red, with gold-leaf flowers and large icons depicting New Testament scenes. The Altar is toped by carved figures of the Apostles. The Monastery is open for visits between 9:00 am and 1:00 pm; Entrance fee: 1 euro.
Monastery of Paleokastro (in Ano Mera)
Monastery of Paleokastro, Ano Mera
Photo Public Domain
This monastery is an 18th century nunnery located on a hillside close to Ano Mera, which is the second most important town of Mykonos. The cruise traveler will find it to be one of the very greenest areas on the island. When visiting this monastery, you will have the opportunity to view a prehistoric tomb, made of a giant granite rock standing over three meters above sea level. The building architecture is typical of Cyclades.