Practical guide for cruise travelers to Mykonos to find the best shops and shopping streets in Mykonos: reviews, location, brands and more.
Shopping in Mykonos cruise port ranges from high-end clothing and jewlery to maritime crafts and everything in between.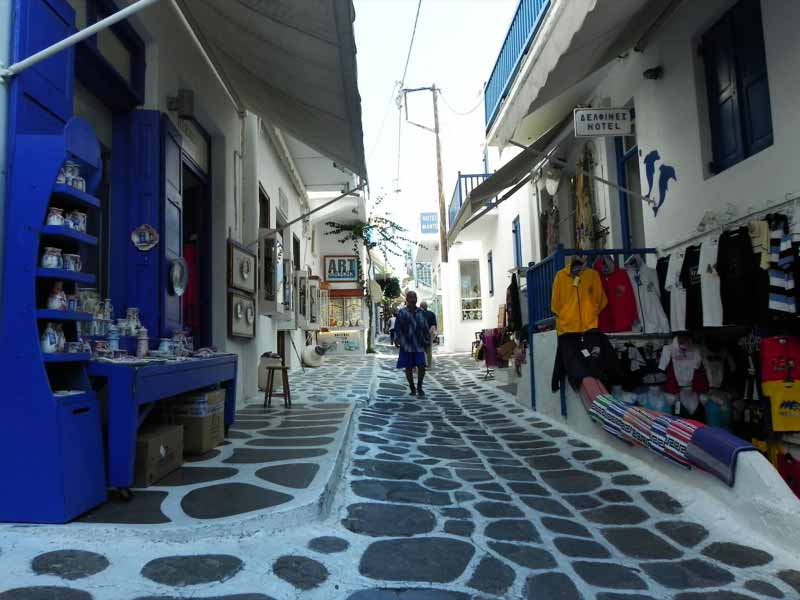 Shopping Street, Mykonos
Photo © IQCruising.com
Opening hours
The majority of shops in the busy areas of town are open seven days a week but be aware that many do not open before Noon and closing at 3:00 pm as they will open later in the evening (between 7:00 pm and 1:00 am) for the nightlife crowd. This said, you will find the top brand shops open all day long.
Sopping streets
If looking for designer boutiques and jewelry, look no farther than Matogianni Street, which begins at the Manto Mavrogenous Square. Here you will find shops that feature famous designers wear, most of which can easily max out a credit card, so bring many. But don't be discouraged if you are just looking for deals, local items or just a café, because this area also has many other shops for you.
Other streets should be scouted if in a serious shopping spree such as Enoplon Dinameon Street, Andronikou Street and Mavrogenni. There are shops in Mykonos for all budgets, and don't pass up a peek down some of the small alleys, where bargains can produce treasures.
Mykonos has a very large artist community and therefore the cruise travelers will find original artworks for sale on many a Art Gallery to be found all over the Old Town.
Editor's Top Shops
Ilias Lalaounis (Greek Jewelry)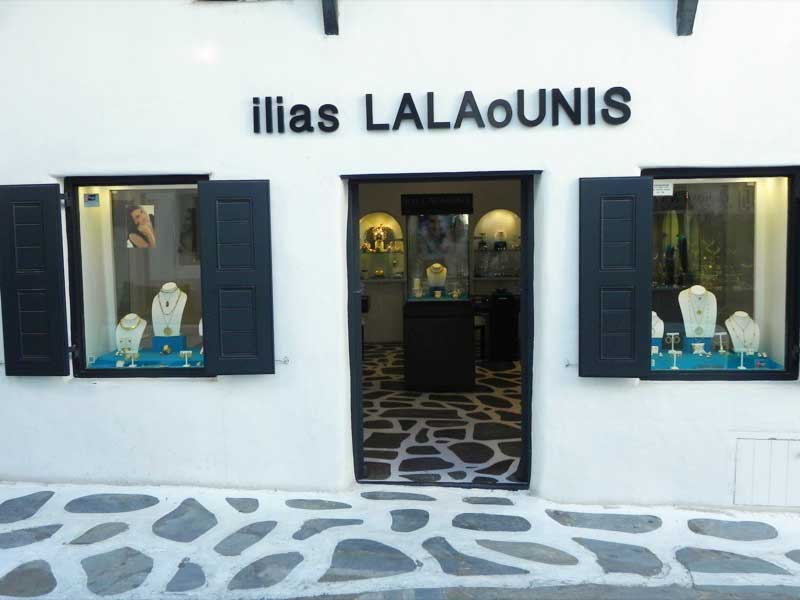 Ilias Lalaounis, Mykonos
Photo © IQCruising.com
Internationally known for fine Greek jewelry, this shop creates unique designs for the modern woman, necklaces and earrings that are pieces of art. How often do you get handed a glass of wine to sip while you shop? Your time spent in this shop will seem like a visit to a local museum.
Open: Noon to 3:00 pm and 7:00 pm to 1:00 am
Address: Polykandrioti 14, Mykonos Town
Website:
lalaounismaykonoslalaounis.gr
Rousounelos (Jewelry and Watches)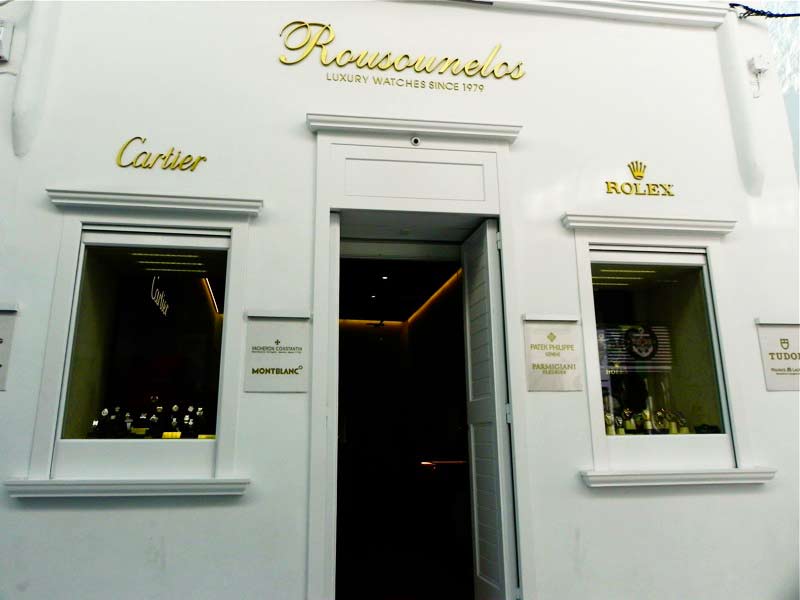 Rousounelos, Mykonos
Photo © IQCruising.com
Here you find yourself in a shop surrounded by top of the line and glamorous designer jewelry and watches, their specialty. With a guarantee of excellence, you will find names such as Rolex, Cartier, Patek Philippe and more.
Open: Noon to 3:00 pm and 7:00 pm to 1:00 am
Address: 18 Mavrogenni St. and 32 Matogianni St.
Phone: +30 2289022797
Website:
www.rousounelos.com
Famous Brands
Diesel (Fashion)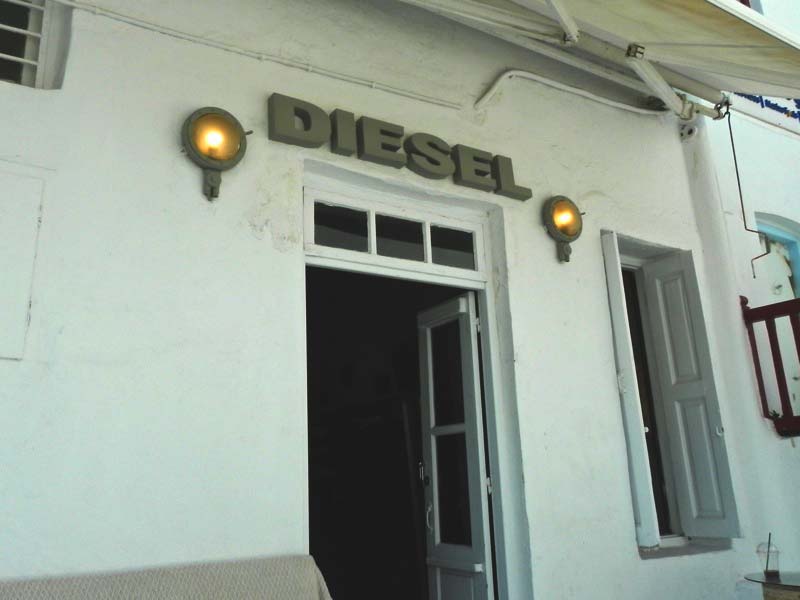 Diesel, Mykonos
Photo © IQCruising.com
Diesel is known primarily for jeans as a mixture of art and product, jean jackets, tank tops, T-shirts. They also sell many other items of clothing and accessories.The brand Diesel was born more than 20 years ago and is today an innovative international design company, manufacturing jeans and casual clothing as well as accessories.
Open: All Day
Address: Enoplon Dinameon Street
Phone: +30 2289028666
Website:
shop.diesel.com
Hondos-Center (Basics)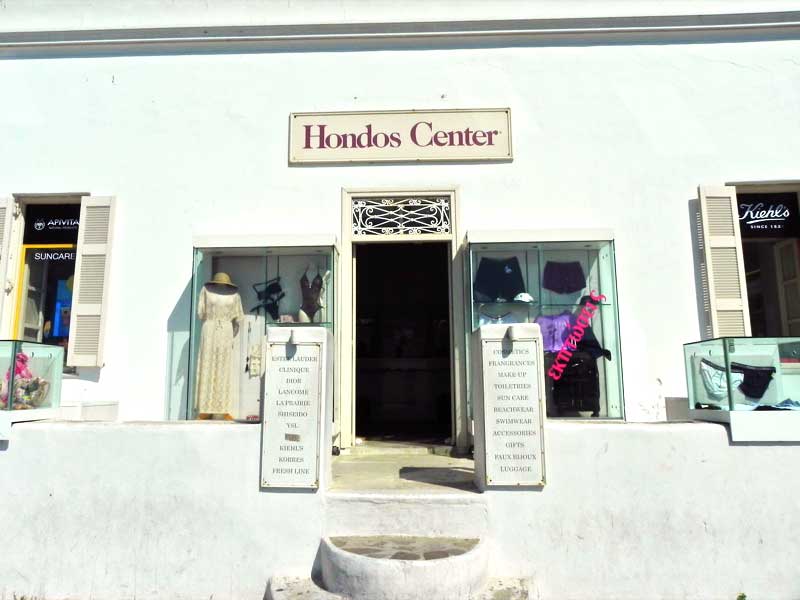 Hondos-Center, Mykonos
Photo © IQCruising.com
Like many other stores located in many cities throughout Greece, the Hondos Center in Mykonos offers a one stop-shop shopping destination for the most prestigious brands in: beauty, make up, lingerie, swimwear & hosiery, handbags, shoes & fashion & travel accessories fashion apparel for men, women & kids, watches & jewelry, home goods.
Open: ALL day
Address: Old Port
Phone: +30 2289028999
Website:
www.hondoscenter.gr
Lacoste (Fashion)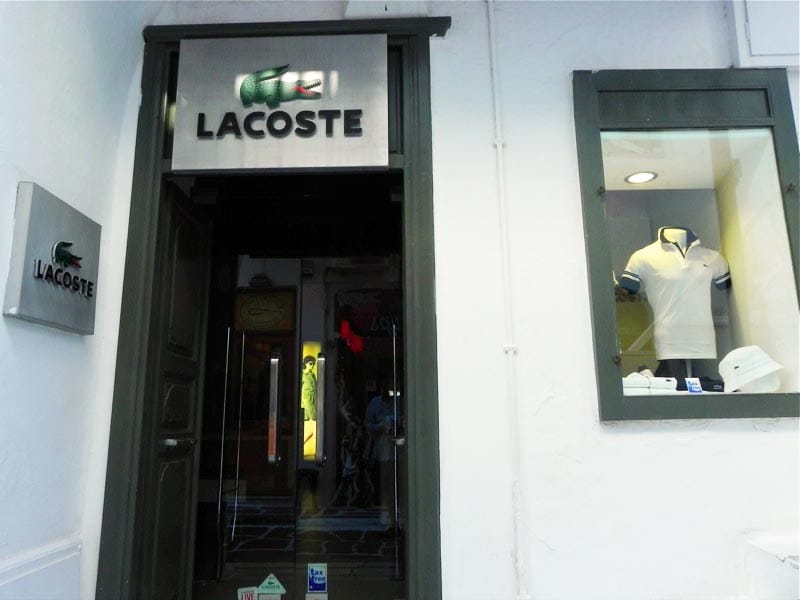 Lacoste, Mykonos
Photo © IQCruising.com
Lacoste is a French apparel company founded in 1933 that sells high-end clothing, footwear, perfume, leather goods, watches, eyewear, and most famously, tennis shirts. The company can be recognized by its infamous green crocodile logo. With an emphasis on colour, sporty tennis skirts, collegiate sweaters, and of course, piqued polos come in a vast range of colours.
Open: All Day
Address: 18 Andronikou Street
Phone: (+30) 2289022609
Website:
www.lacoste.com
Louis Vuitton (Luxury Design)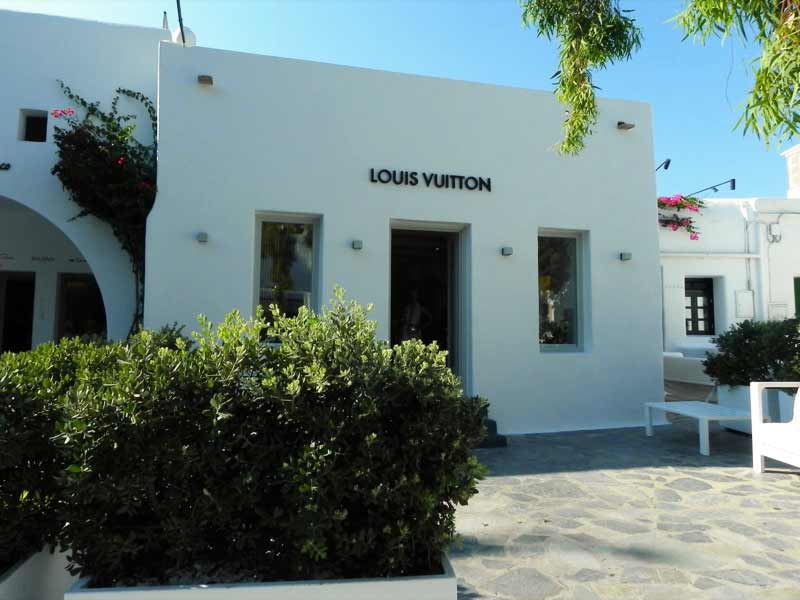 Louis Vuitton, Mykonos
Photo © IQCruising.com
Louis Vuitton is famous for it's handbags, beautiful, creative, unusual and in fantastic demand. It is a luxury French fashion and leather goods brand and company, and it's signature leather goods are considered a status symbol around the globe and are highly regarded in the fashion world. Vuitton bags and purses have a considerable list of celebrity adherents who are frequently seen in magazine photographs carrying the brand. The Vuitton collection has also created a cult-like following among male and female consumers throughout the world.
Open: 10:00 am to 1:00 am
Address: Enoplon Dynameon Street
Phone: +30 2289 078850
Website:
louisvuitton.com
Swarovski (Crystal Jewelry)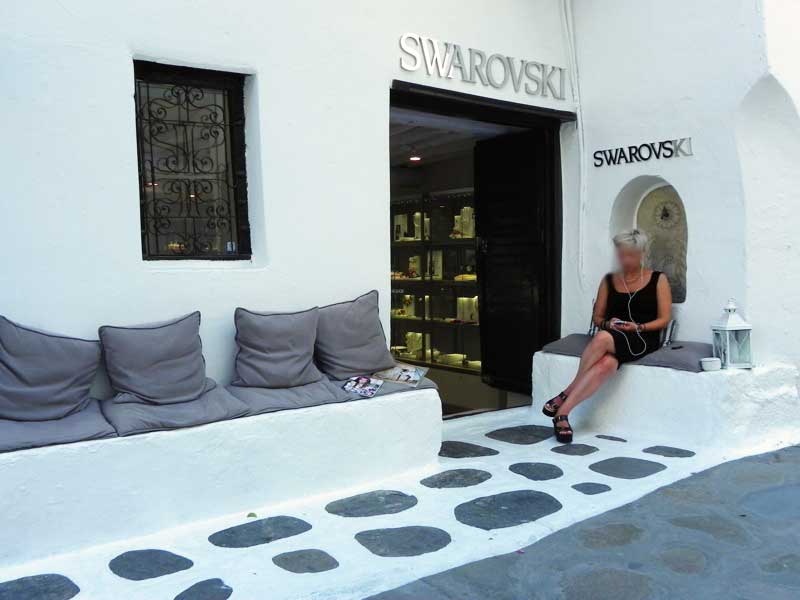 Swarovski, Mykonos
Photo © IQCruising.com
Swarovski Jewelry offers an exclusive collection of crystal jewelry and accessories from the world's leading fashion and jewelry designers. Swarovski exquisite jewelry collections consist of necklaces, pendants, earrings, bracelets, rings and accessories. Since its foundation in 1895, Swarovski has been synonymous with creativity, innovation, poetry and precision.
Open: All Day
Address: N. Polykandrioti street, Manto Square
Phone: +30 2289 023600
Website:
Facebook Page
Swatch (Watches)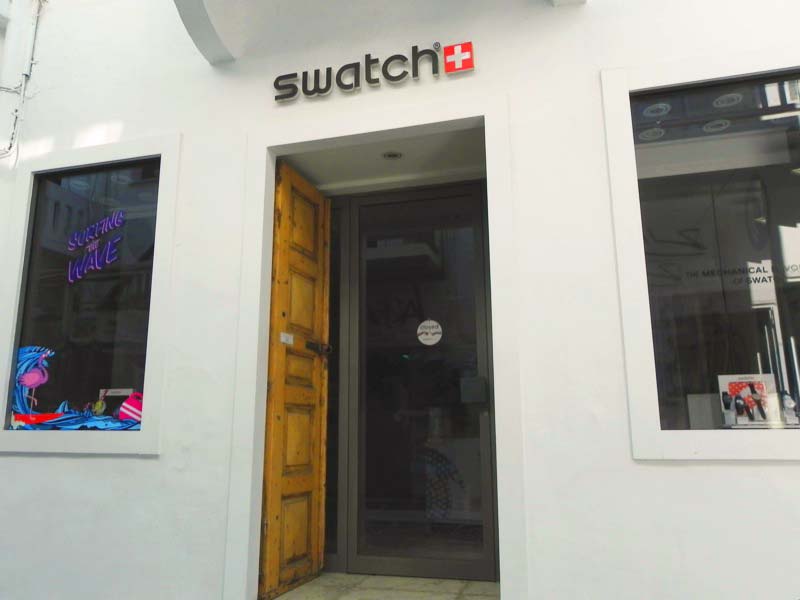 Swatch, Mykonos
Photo © IQCruising.com
In the nearly 30 years since the first Swatch caught the world by surprise, the Swiss watchmaker has introduced a series of innovative products, from the first Swatch Originals to the Skin and an amazing variety of Swatch Irony watches—including the Chrono Automatic. The signature Swatch material, plastic, is back with all kinds of exciting and trendy new colours, shapes and sizes. There are Swatch watches for people of all ages, and a Swatch for every occasion.
Open: Open All Day
Address: 11 Andronikou Street
Phone: (+30) 2289028227
Website:
www.swatch.com
Timberland (Fashion)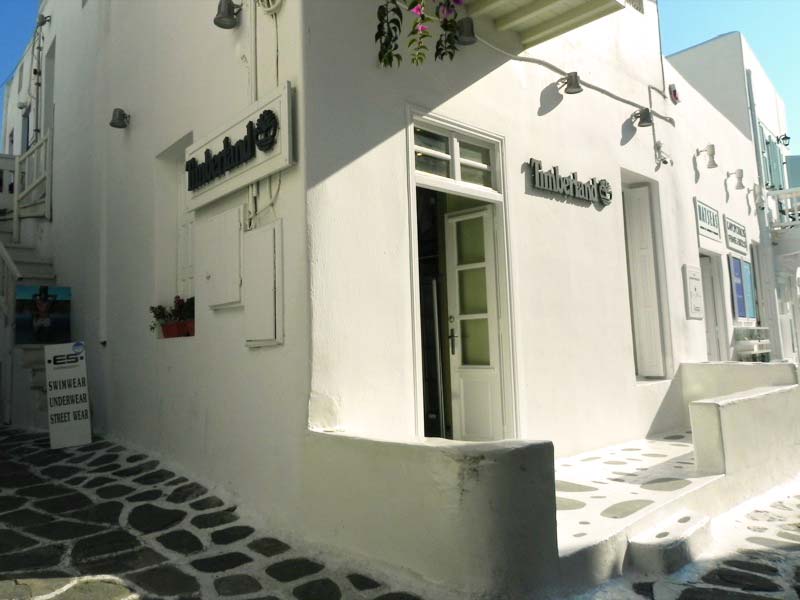 Timberland, Mykonos
Photo © IQCruising.com
Timberland makes boots, shoes, clothes and gear that are comfortable enough to wear all day and rugged enough for all year. In Mykonos, Timberland is an independent retailer with a collection focusing (naturally) on summer attire.
Open: Noon – 3:00 pm ; 7:00 pm -1:00 am
Address: 13 Enoplon Dinameon Street
Phone: (+30) 2289028870
Website:
www.timberland.com