Introduction to Volterra
for Travelers to Livorno Cruise Port
- Quaint Charm, How to Explore Volterra,
Top Things to See and Do, Shopping, Quick Bite or Lunch, Tourist Office.
Volterra is a magical Tuscan city built on a hilltop 550 meters above sea level, affording stunning views of the sea and the surrounding pastoral landscapes. D.H. Lawrence once described it as a city perched "on a towering great bluff that gets all the winds and see all the world."
Volterra Piazza del Priori
Photo: Jean-Christophe BENOIST (Creative Commons)
---
Volterra Quaint Charm
Volterra is rooted in 3,000 years of history and traces of every historical period can be found within its walls. From the Etruscan period, the Porta all'Arco is crowned by carvings of ancient gods. The enchantingly well-preserved Roman Theatre and Baths are testaments to the city's wealth under the rule of Augustus.
Volterra's Medieval and Renaissance prosperity left behind the Fortezza Medicea, the Palazzo Incontri-Viti, the impressive city walls, and a maze of narrow streets. The connection with the Florentine Medici is offered the city impressive artworks by masters like Ghirlandaio and Signorelli. Although Volterra is a short distance from Florence, Siena, and San Gimignano, and is part of Tuscany, it is surrounded by countryside that ascribes to a traditional, slower way of life.
As a result, the city has not felt the crush of modernity and has retained its Medieval charm. Cruise visitors wandering its majestic palaces and admiring the work of alabaster artisans will also feel Volterra's unique, timeless atmosphere.
How to Explore Volterra
Unfortunately, only a few cruise lines offer shore excursions to Volterra. There are a few online tour services, like Viator, that have organized tours to this quaint medieval town but usually in a combo with San Gimignano. The good news is that it is easy to explore Volterra on your own either renting a car or by rail and public bus. Find Out How to Travel to Volterra from Livorno Cruise Port ❯
Top Things to See and Do
The Cathedral, the Baptistery of Saint John and the Church of Saint Francis are religious sites impossible to miss in the historical center. These are highlights of Volterra together with the Museo Etrusco Guarnacci (Etruscan Museum), the Museo Diocesano d'Arte Sacra (Sacred Art Museum), the Palazzo Minucci-Solaini (Pinacoteca and Civic Museum) and the Ecomuseo dell'Alabastro (Alabaster Museum).
Explore the Museums of Volterra ❯
Discover the Religious Sites of Volterra❯
For the cruise traveler interested in ancient history, the Roman Theatre and the Archaeological Park are two major archaeological sites that must be visited. Explore the Landmarks of Volterra
Volterra Teatro Romano
Photo: Geobia (Creative Commons)
Shopping
Famous for its alabaster, Volterra has quite a few shops where carvings of this white stone can be purchased. Certainly the cruise traveler will not miss the displays all over town with all sorts of decorative objects. Explore What and Where to Shop in Volterra ❯
Quick Bite or Lunch in Volterra
Considering that the town is easy to explore in a couple of hours, the cruise traveler will have the opportunity to taste truly Tuscan flavors before returning to the cruise port in Livorno.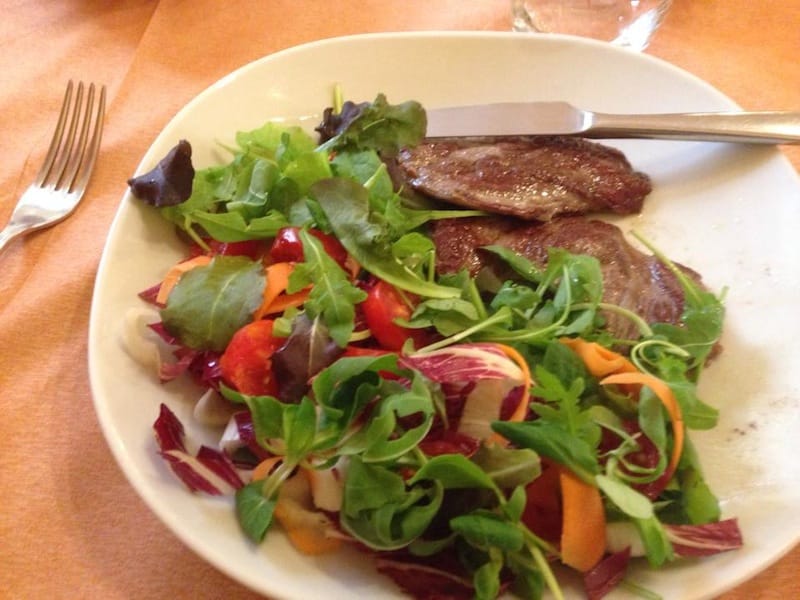 Photo by Nicola Dal Canto (Il Sacco Fiorentino Facebook Page)
There are many wonderful places to enjoy a light fare on an Enoteca (wine bar) or on more upscale and famous restaurants like "Il Sacco Fiorentino" or "Del Duca". Learn more about where to have lunch in Volterra ❯
Tourist Office in Volterra
IQCruising strongly advises a visit to the Tourist Information Office on Piazza dei Priori (very centrally located) - open every day between 10:00 am and 1:00 pm and between 2:00 pm and 6:00 pm to double check opening hours of main attractions.
The Tourist Information Office can provide additional information of interest for the cruise ship passenger calling at the Port of Livorno. Besides great maps, it also offers an Audio Guide Tour that is ideal to explore Volterra on your own.
If the cruise traveler is interested in the popular Twilight vampire saga, the Tourist Information Office has info about all major filming sites and tours on offer.
Official Website in English:
www.volterratur.it
► Explore: Tuscany Destinations and Livorno
All Reviews and Guides to Livorno Cruise Port Destinations - Florence, Pisa, Lucca, San Gimignano, Volterra, Cinque Terra and Livorno in Depth
Learn More ►