What and where to shop in San Gimignano for cruise visitors to the port of Livorno in 2023: Vernaccia wine, gourmet shops, and the farmers market
Most visitors do not travel to San Gimignano to shop. Considering that the town has an old medieval layout you will not find one block with more than a shop here and there.
What and Where
Dedicated shoppers would have the best luck wandering around the Piazza del Duomo or Piazza della Cisterna, and along the Via San Matteo for the widest selection of souvenir shops.
Beyond the usual tourist kitsch, cruise travelers will find books, leather, glass, wine and gourmet delicacies for sale. San Gimignano is a small medieval town with a quaint ambiance, so don't expect to find typical fashion brands and even less the famous Italian fashion design shops.
Wine
San Gimignano is famous for its white wine - the 'Vernaccia di San Gimignano DOCG'. This is a wine that has been appreciated for centuries by such personalities as the poets Dante Alighieri and Giovanni Boccaccio and powerful men like Ludovico il Moro and Lorenzo il Magnifico.
San Gimignano - Vernaccia Wine
Photo: Public Domain
So perhaps the best (and tastiest) souvenir to bring back from the city is a bottle of Vernaccia from one of its many Enotecas and wine shops.
But there are also other regional wines to look for like San Gimignano Rosso DOC San Gimignano Rosato DOC, San Gimignano Vin Santo DOC and Chianti Colli Senesi DOCG.
Gourmet
Another fun and tasting shopping option in San Gimignano is to peruse the gourmet shops found all over the city.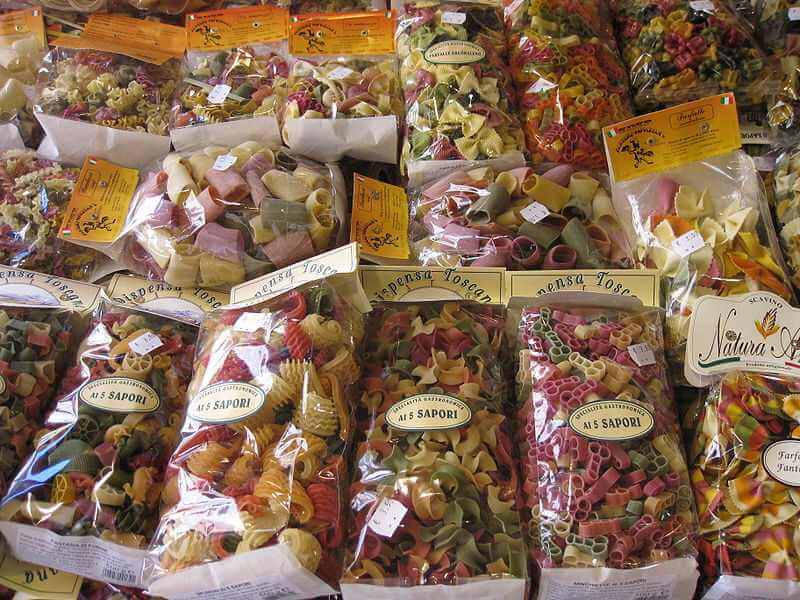 Pasta Galore
Photo: Deror Avi Cc By Sa
The local specialty most often found in these types of establishments is cinghale (wild boar). This may not make it to the airplane home, but take some sausage or cut of meat back to your cruise ship for a tender, earthy snack that goes perfectly with crusty bread drizzled with some San Gimignano olive oil. Or choose a bag, or two, from wide selections of pasta.
Besides being a UNESCO heritage site, with an amazing history and uniquely fascinating ambiance, San Gimignano is in the heart of a fertile agricultural area of Italy.
The ancient traditions of the town do also include this aspect and the rural qualities of the surroundings can be found in the excellence of wines and olive oil, but also in saffron, cheese, honey and smoked derivatives of pork.
Cured meats at Enoteca Gustavo
Photo: Management
Cured Meats
San Gimignano is also famous for its cured meats. Look out for local varieties like Prosciutto Toscano Dop - typically aromatic flavored and a must taste.
Spalla (shoulder ham); Salame toscano, (Tuscan Salami) - produced with the most valuable parts of the pig; Finocchiona - similar to salami with smoother mixture; Soprassata - produced with the less valuable parts of the pig but the most savory ones; or Buristo, a type of salami where pork blood is cooked with the meat.
Cheese
Another local delicacy to buy is the traditionally produced cheese (usually with ewe's milk) and especially the ripe or under-ripe pecorino. Take notice that every cheese has different flavors depending on the pasture and wild herbs of the area.
Cheeses to look for: Pecorino Fresco (Under-ripe Cheese) - sweet, aromatic, semi-hard texture; Pecorino Semistagionato (medium matured cheese) - aged for at least 40 days, strong and aromatic flavor; Pecorino stagionato (matured cheese) - aged for at least 120 days, it has a dark rind, velvety flavors, fabulous with San Gimignano Rosso Doc.
Farmers Markets
There are also several markets in San Gimignano that may offer up some good bargains and a fun time for the experienced haggler.
If you are lucky enough to dock in Livorno on a Thursday and are planning to explore San Gimignano, don't miss the markets that take place in the Piazza del Duomo and the Piazza della Cisterna.