Discover where to have lunch and shop in Florence on a cruise to Livorno. Street food, enotecas, cafes, top restaurants, and the best ice cream. Famous shops, brands, and shopping areas
Cruise passengers exploring Florence when docking at the port in Livorno will spend the entire day in the city (between 8 and 10 hours). Naturally, you will need to find a place to have a quick bite, a light fare, or a gourmet lunch. A break for lunch may also be an excellent opportunity to spend some time looking for souvenir shopping.
Cruise passengers on a shore excursion will have free time for lunch (between 1 and 2 hours). Tours guides will point out a couple of places, usually good and not too expensive, close to wherever the excursion meeting place is.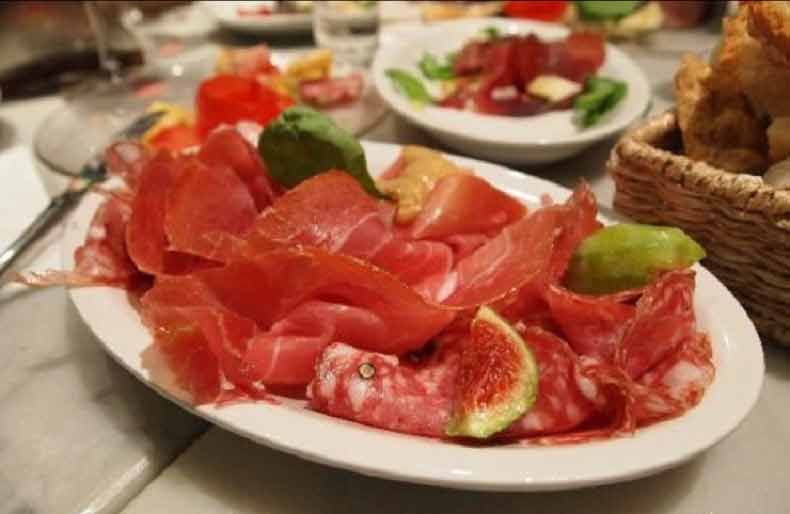 Quick Bites in Florence
Photo by Management
But there are so many good places to savor the best of Florentine flavors that you will find out - unfortunately, too late - that you could have tasted a superb lunch or quick bite on a day exploring Florence.
If you travel from Livorno to Florence on your own, you should not miss the opportunity to savor Tuscany's delicious cuisine. In this review, you will find suggestions for all pockets and preferences.
Borgo San Jacopo in Florence
Photo by Management
Quick Bites or Lunch
Cruisers with deep pockets (or in a splurging mood) may find the Enoteca Pinchiorri (with 3 Michelin stars) a must. It will set you back no less than $250 per person, but the Enoteca Pinchiorri is best restaurant in Florence and one of the top-rated in Italy.
All'Antico Vinaio in Florence
Photo by Management
Street Food, Enotecas, Cafes
On the opposite side of the scale, there are food vendors that serve food to be eaten on the street. Places like All'Antico Vinaio, L'Antico Trippaio or Ino (with its gourmet panini) are the Editor's favorites. For a quick bite but seating down, we like the following:
Osteria del Caffè Italiano
Cantinetta Antinori,
La Bussola
Le Volpi e l'Uva
Cantinetta dei Verrazzano
Popular and upscale restaurants
If looking for a real popular place where locals go, don't miss the famous Trattoria Mario (typical Florentine lunch for €20) on a square behind the food market (Mercato Centrale), which is a bit off track but fabulous.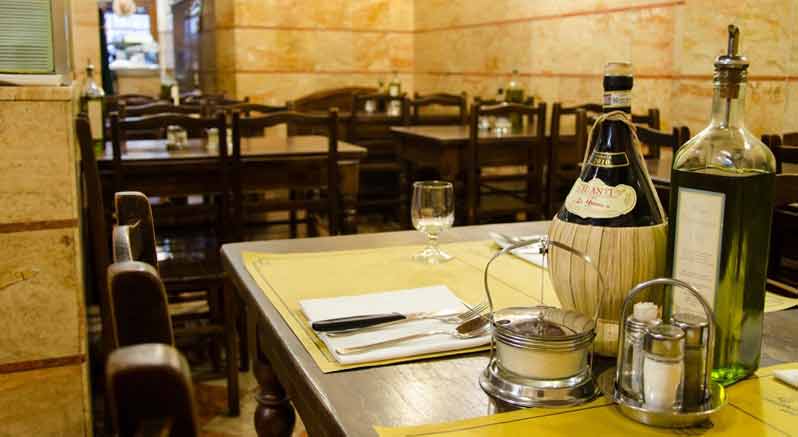 Trattoria Le Mossacce in Florence
Photo by Management
However, in the central area, close to all main attractions, you will find excellent restaurants such as:
Acqua al 2
Coquinarius
da Sergio
Trattoria Le Mossacce
Trattoria La Casalinga
Il Santo Bevitore
Dino
Cibrèo
Borgo San Jacopo in Florence
Photo by Management
For upscale restaurants with refined decor, settings and high-end service the following are the places to go.
Alle Murate
Borgo San Jacopo
Giacosa Roberto Cavalli
La Giostra
Ice cream galore
You must not leave Florence without tasting genuine, homemade Italian ice cream. There are so many vendors all over the city that it is impossible to choose the best ones as all look delicious, colorful and lines of clients may indicate quality.
Ice Cream in Florence
Photo © IQCruising.com
However, be aware that some ice cream vendors are ridiculously overpriced. So, check prices - usually displayed - before ordering. The Editor has run away from street vendors for many years now and instead recommends gelatarias like:
Carabé
dei Neri
Grom
la Carapina
la Carraia
Perchè No
Vestri
Vivoli
Coffee with a view
Wherever you decide to sit down for a meal, make sure you avoid the many tourist traps by famous sites, usually by historical buildings and squares. If you see signs with photos of pizzas and pasta dishes at affordable prices, do walk away. You will not be missing a great deal but, instead, dodge a lousy meal. There are exceptions, and these are far from affordable.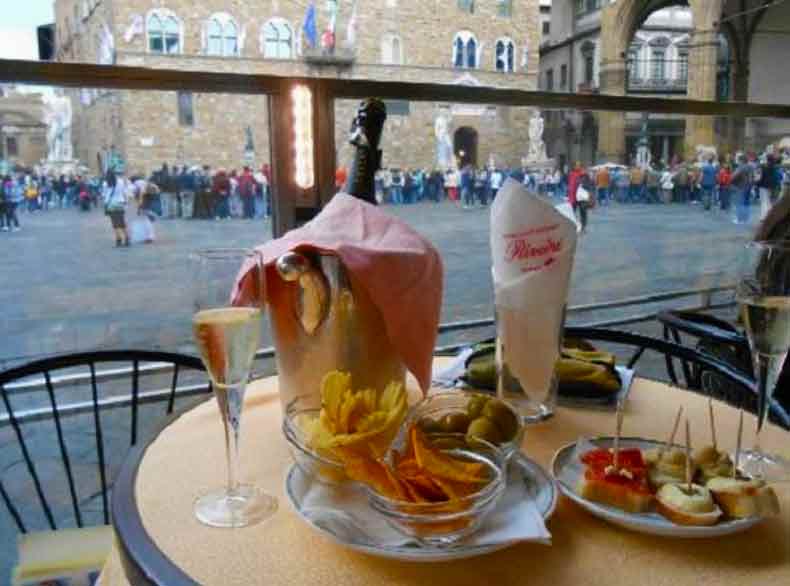 Caffè Rivoire in Florence
Photo by Management
But if you want to enjoy a view of a major landmark like the Piazza della Signoria whilst enjoying a quick bite, then look out for Caffè Gilli or the Caffè Rivoire (the Editor's favorite for over 20 years). Check the useful links on this article to find the websites of the recommended restaurants in Florence.
Shops and Shopping
Florence is known for the excellence of fashion design and as the city where many a famous name was born - Ferragamo, Cavalli, and Gucci are just 3 examples. Naturally, almost every single top fashion design label can be found in Florence and they are all on the same street - Via Tornabuoni and on a side street of this one, Via della Vigna Nuova. This couldn't be more convenient if you would like to buy a design souvenir or just window shop for the latest trend.
Salvatore Ferragamo Boutique in Florence
Photo by Management
Also on Via Tornabuoni, the Palazzo Spini Feroni shouldn't be missed - on the ground floor you will find a massive Ferragamo shop and on the floors above the amazing museum with Salvatore's shoe designs.
Famous and Affordable Brands
La Rinascente in Florence
Photo by Management
If looking for well-known but affordable brands, you will find them on streets like Via Roma, Via de' Calzaiuoli, and Piazza Repubblica. Here you will also find department stores like La Rinascente and C&A. It is also in this shopping area in Florence that you will find brands and names such as:
Benetton
Calzedonia
Desigual
Diesel
Furla
Geox
H & M
Hollister
Intimissimi
L'Occitane
Lacoste
Luisa Spagnoli
Lush
Mango
Marionnaud
Massimo Dutti
Puma
Replay
Sephora.
Sisley
Stefanel
Stradivarius
Swarovski
Swatch
Tezenis
Zara
One of a kind shops
Besides the fashion design, Florence is also known for the quality of the leather tanning process and, above all, for the overwhelming offer. There are so many shops, street vendors and leather markets all over the city that is next to impossible to figure out what to choose and what is really good quality.
There are a few shops that IQCruising can vouch for its genuine quality: Casini (Piazza de Pitti) in front of the Palazzo Pitti; Bemporad (Via Calzaiuoli 11) in the heart of the historical center and Giorgio 1966 (Via del Canto dei Nelli 34) and, most shops and stalls on San Lorenzo Market.
Ponte Vecchio in Florence
Photo © IQCruising.com
The Ponte Vecchio, or Old Bridge, is more than just a landmark. It was the only bridge crossing the Arno river in 1218 and rebuilt to its present form in 1345. For two centuries, the stench of butchers, fishmongers, and tanners shops lined the bridge. But after 1593, only goldsmiths and jewelers got permission to open shop at the Ponte Vecchio. Since then, the landmark became - to this day - both a unique historical site and the shopping place for jewelry.
► Explore: Tuscany Destinations and Livorno
All Reviews and Guides to Livorno Cruise Port Destinations - Pisa, Lucca, Siena, San Gimignano, Volterra, Cinque Terra and Livorno in Depth
Learn More ►