Essential guide for cruise passengers to the port of Livorno to travel to Pisa on your own by shuttle, bus, rail or taxi and how to get to top things to do and see.
Pisa is one of the most popular towns in Tuscany amongst cruise ship excursions and passengers. It is also one of the main reasons why cruise ships dock in Livorno.
Contents
Overview
Pisa is the closest of all the destinations on cruise traveler's must-see-list when calling at this port in the West coast of Italy. Naturally, all cruise lines offer shore excursions to Pisa. But it should be noted that most of these shore excursions include other destinations such as Lucca or Florence.
Inevitably, cruise passengers on these excursions will not spend much more than 1 hour (two at best) in Pisa and will only explore the Piazza dei Miracoli with its 3 main attractions - the Leaning Tower, the Cathedral, and the Baptistery.
For those that would like to visit other sites and attractions in Pisa and fully enjoy the town, it is advisable to travel on your own, especially because it is so easy to do so by rail, public bus or a transfer shuttle.
The shuttle from the port to the Livorno
Unless you are on a shore excursion, you will have to get to the historical city center of Livorno to travel to any of the top destinations in Tuscany independently, or on your own.
The good news is that the port of Livorno authority provides a free shuttle to the heart of Livorno with its drop off stop at the Piazza Municipio. The shuttle takes around 10 minutes and runs regularly every 15 to 20 minutes.
Piazza Municipio is in the heart of Livorno's historical center. Close to the shuttle bus drop-off, or nearby, you will find a city sightseeing bus stop, the stop for the Tuscany Bus and a taxi rank.
The stop for the public bus to Pisa used to be behind the Cathedral but it has changed in the last years. The bus stop is now on Piazza della Repubblica, around 10 to 15-minute walk from Piazza Municipio.
Right across the street where the shuttle bus stops, you will see right away a taxi rank, which will charge around €8.00 to take you to the railway station.
Travel to Pisa by private shutlle (TuscanyBus)
The fastest and most convenient way to travel to Pisa is by using the TuscanyBus service. This is not a guided tour but just a straightforward transfer from Livorno to Pisa. Although it is fast and reliable, cruise travelers must know that schedules and availability are limited.
Therefore, you need to book your tickets online and well in advance - don't leave it for the last days before calling at the Port of Livorno. To find out more about the TuscanyBus schedules and prices visit the official website in English: www.tuscanybus
As mentioned, the TuscanyBus pick up stop is on Piazza Municipio, right in front of the free shuttle bus drop off from the cruise port in Livorno. The TuscanyBus drop off stop in Pisa is within a few minutes walking distance to Piazza dei Miracoli. Therefore, the TuscanyBus is the most convenient way to get to Pisa and explore this magnificent city on your own.
How to travel by rail from Livorno cruise port to Pisa
Traveling by rail from Livorno to Pisa is another convenient way of exploring Pisa on your own and is very affordable considering that fares start at €2.50 for a 15 to 20-minute ride. However, you will need to get from the cruise port to the Railway Station in Livorno.
There are two ways of getting from the port to Livorno Centrale (as the railway station in Livorno is officialy named): by shuttle bus to Piazza Municipio and then public bus, or by taxi directly from the port.
To get on a public bus from Piazza Municipio shuttle drop off to the railways station is relatively easy. All you need to do is walk to the big square (Piazza Duomo) right behind Piazza Municipio and then turn right into Via Grande. Cross the street and the bus stop for Lam Blu (LB) line is right on the first block.
Alternatively, instead of turning right you can turn left on Via Grande, but make sure you cross the street. The Lam Blu (LB) Bus stop is right by the H&M department store.
To use Livorno's public bus network, you need to buy a bus ticket, as cash is not accepted at the bus. Public Buses have a fixed fare of €1.20 and are valid for 75 minutes. It is advisable to buy two tickets (for both ways).
Bus tickets can be acquired at tobacconists (Tabacchi). Right on the opposite side of where the cruise ship shuttle bus stop (on Via Cogorano) you will find a tobacconist - just look for the sign Tabacchi.
Alternatively, go to the Tourist Office and buy a Livorno Card, which offers unlimited rides for 24 hours on public buses. The tourist office in Livorno is inside the large building next to shuttle bus from the port.
Click here to read more about how to travel by bus in Livorno.
Once at the railway station (Livorno Centrale), you will have many train choices.
There are 5 trains to Pisa in the early morning every hour (on weekdays) and 6 (between 8:00 am and 10:00 am on Sundays). The journey takes between 15 and 20 minutes and costs €2.50.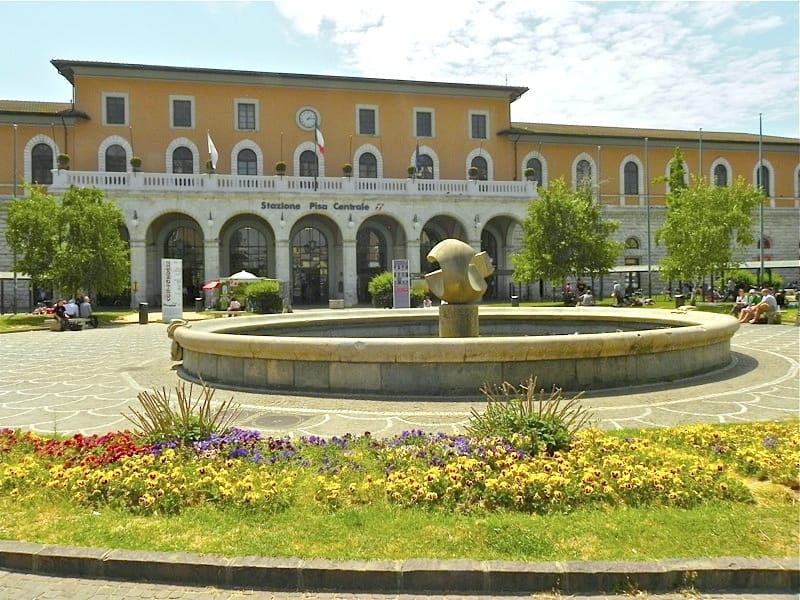 Pisa Train Station
Photo © IQCruising.com
Keep in mind that the "Frecciabianca" service is way more expensive - considering the journey duration and that it will cost €10.00 for a second-class ticket not worth it at all.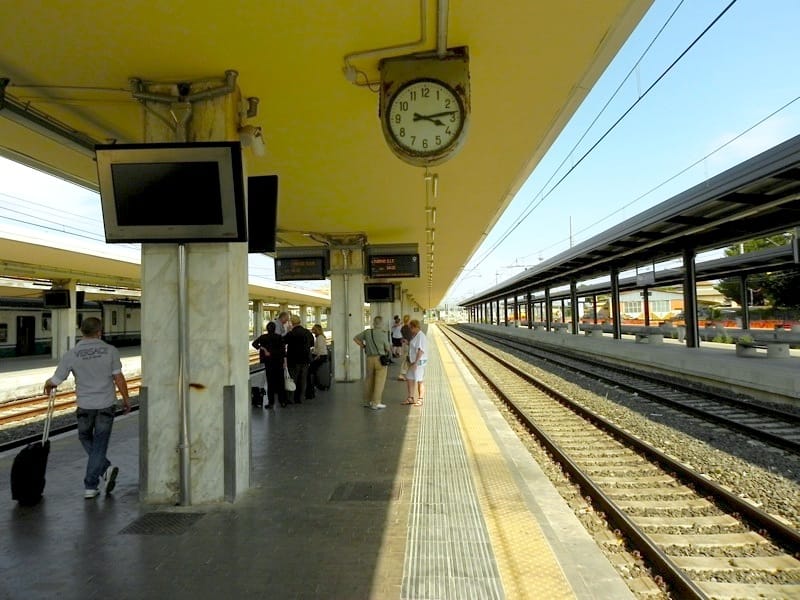 Pisa Train Station
Photo © IQCruising.com
Here is, step by step, how to get from your cruise ship to the railway station in Livorno:
Free shuttle bus from the port to Piazza Municipio
Walk to Via Grande and take Lam Blue bus to Livorno Centrale - €1.20 each way (buy two tickets)
Alternatively, take a taxi from Piazza Municipio (shuttle bus drop-off) to the railway station - around €8.00
Take a taxi from the port straight to the railway station - may cost up to €20.00
You will arrive at Pisa Centrale railway station and once there you have two choices. Our favorite choice is to go on a relaxed 20 to 30-minute walk through the city all the way to the Piazza dei Miracoli (where the Leaning Tower, the Cathedral, and the Baptistery are located).
Along the way, you will pass by or have the option to make short diversions to see off-the-beaten-track museums, art and religious sites such as:
St. Mathew's National Museum

Keith Haring's Tuttomondo Mural

Church of Saint Mary

Saint Catherine's Church

Synagogue

Palazzo dei Cavalieri (The Knights Palace)

Palazzo dell'Orologio (Clock Palace)
Instead of walking to Piazza dei Miracoli from Pisa Centrale railway station you can get on another train to the railway station of Pisa S Rossore - a secondary train station that is only a 5-minute walk away from the Piazza dei Miracoli.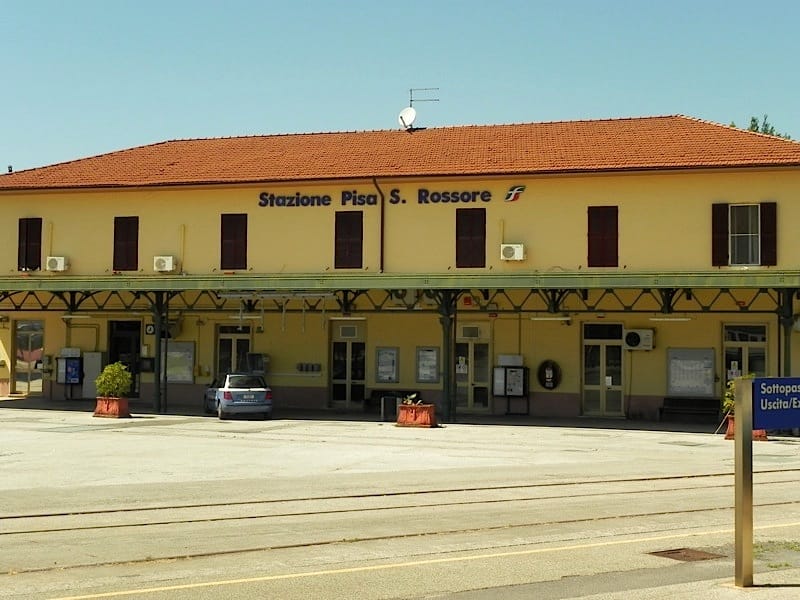 Pisa S Rossore Train Station
Photo © IQCruising.com
The journey time between Pisa Centrale and Pisa S Rossore is 5 minutes. However, in some cases, you may have to wait for 30 to 40 minutes for the connecting train.
If you prefer, Pisa has a good public bus network, and you may want to take a bus back to the Railway station. The stop for this bus is close to the Leaning Tower, right by the Museum of the Cathedral - look out for the City Sightseeing Bus Stop.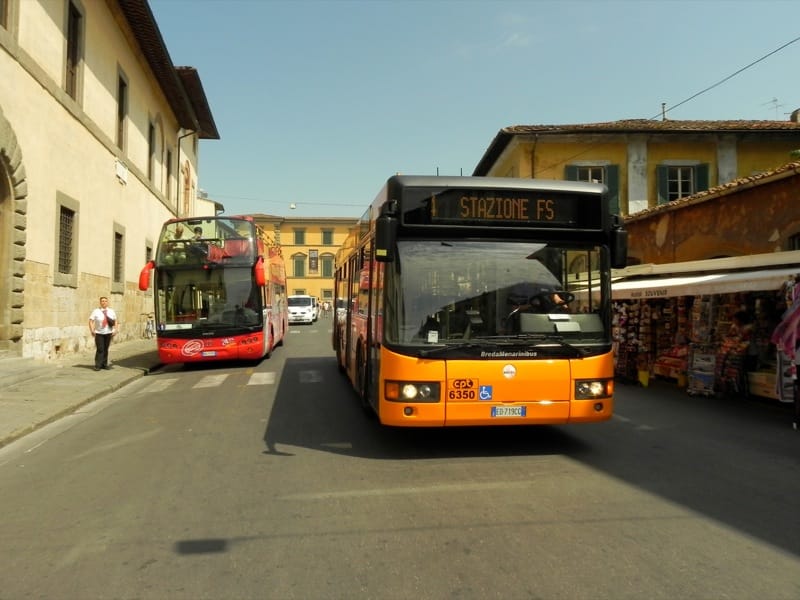 Public Bus in Pisa
Photo © IQCruising.com
How to travel by public bus from Livorno port to Pisa
Although the public bus drive from Livorno to Pisa takes longer than the TuscanyBus shuttle or the train, this can be a good transportation alternative.
The public bus to Pisa is ideal if you would like to stop at one of the beautiful beaches of Tirrenia, or for a unique lunch in Marina di Pisa savoring "Cacciucco" (a soup made of various sea creatures, wine, tomato, hot peppers, and garlic).
It should also be noted that the traveler would save some time as you will not need to take a bus or a taxi to the railway station. All added up, the bus ride would take about 20 minutes longer than the train.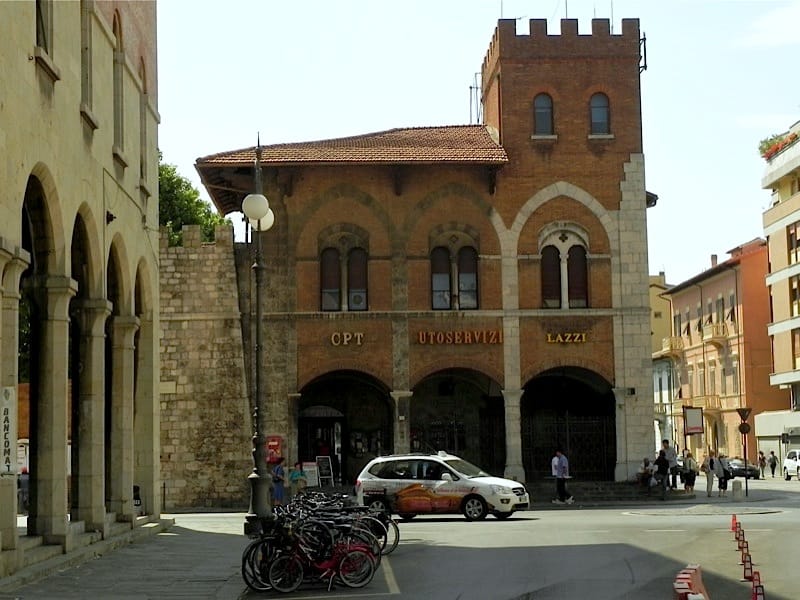 Pisa Bus Station
Photo © IQCruising.com
The Bus Nº 10 stop is located on Piazza Repubblica in Livorno, around 15-minute walk from Piazza Municipio where the port shuttle bus stops. Bus Nº 10 runs between Livorno and Pisa, every 30 minutes (between 6:00 am and 10:00 pm). The journey to Pisa takes around one hour.
The bus stops along the way at the beaches of Tirrenia, at Marina the Pisa and at a couple of small villages before arriving in Pisa.
The Bus Station in Pisa is not far from the railway station and, therefore, you will be at about the same walking distance (around one mile away) from the major attractions in Pisa.
Because Bus Nº 10 is an inter-city service you will not be on the most comfortable bus in the world but considering the journey time it can be a nice way to travel to Pisa. To return to Livorno, the bus departs every 30 minutes (last bus at 8:00 pm). The fare for this Bus is €4.00 and is NOT included in the Livorno Card.
Travel to Pisa by taxi
Finally, a word about traveling by taxi to Pisa. Most taxi drivers waiting for cruise passengers at the port of Livorno, expect a long journey to the farthest destinations such as Florence, Siena or San Gimignano.
Pisa is so close to Livorno that taxi drivers will only do it for a high fare. Some drivers may ask as much as €200.00 for a ride to Pisa and back with a couple of hours waiting time. We find this to be an exorbitant fare and always prefered to travel with the TuscanyBus, by public bus pr train.
However, if traveling with a group of 4 you may try to negotiate this exorbitant fare. There are reports of taxi drivers accepting €120.00 for the return drive with more than a couple of hours waiting time.
Aparently, the trick is to let all your fellow cruise passengers to leave the ship and then approach the taxi drivers left behind.
Travel to Pisa by car rental car
Car rental is the least advisable way of traveling from the cruise port in Livorno to Pisa. Although car rental is ideal to visit destinations such as San Gimignano, Siena and Volterra, we find it too much of a hassle if you planning to explore Pisa on your own.
Besides the fact that there are cheaper and easier ways to travel to Pisa, parking in Pisa is both complicated and expensive.
► Explore: Tuscany Destinations and Livorno
All Reviews and Guides to Livorno Cruise Port Destinations - Florence, Lucca, Siena, San Gimignano, Volterra, Cinque Terra and Livorno in Depth
Learn More ►