Everything you need to know to travel to Volterra from the cruise port in Livorno on your own by rail and bus, or car rental.
Traveling from the cruise port in Livorno to Volterra by rail is feasible but complicated. Renting a car at the port is easy, and the ride takes around 80 minutes.
Although there is a train service between Livorno and Volterra (station Volterra-Saline-Pomarance with a train change in Ceccina, taking around 1 hour and 30 minutes) there are only two trains in the morning
And the required bus connections from the train station to the city are complicated. Therefore this route is far from advisable.
By contrast, Renting a Car is very much the best way to explore Volterra on your own. It is easy to rent a car in Livorno Cruise port, be it at the Pier or at the Terminal. Automatic Cars and GPS are available. More about Car Rental in Livorno below.
For those that for whatever reason do not wish to drive, traveling by rail to Pontedera and then bus to Volterra is the only advisable alternative.
Train and Bus
The best rail connection between Livorno and Volterra is via "Pontedera-Casciana Terme" on the train line to Florence - with or without a train change in Pisa. The journey between Livorno Centrale and Pontedera takes between 30 and 40 minutes and there are numerous trains in the morning.
In Pontedera, you will need to get on Bus #500 (bus stop is next to the railway station in Pontedera). The bus ride takes around 1h 20 minutes and has a stop right at the heart of Volterra's historical center.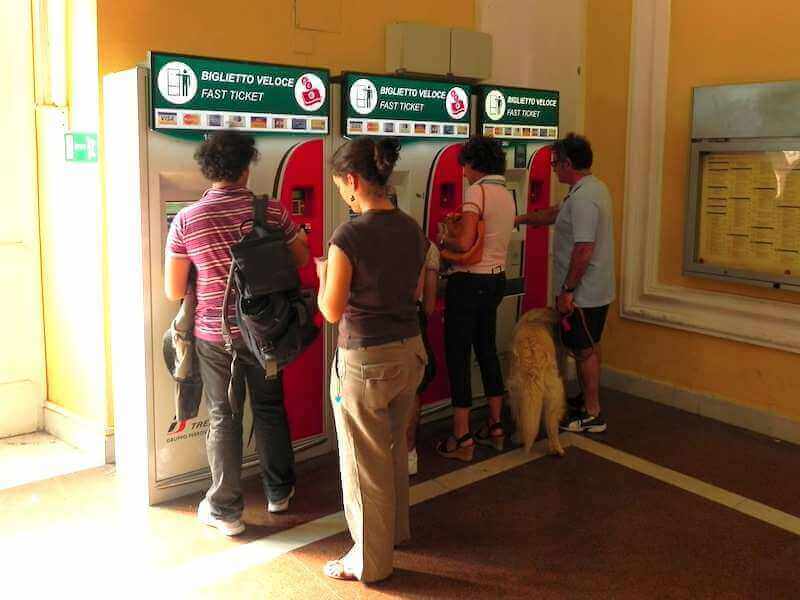 Livorno Railway Station
Photo © IQCruising.com
For the return journey, there are more Bus #500 departure times from Volterra and a good number of trains between Pontedera and Livorno.
In one word: depending on the arrival and sailing time of your cruise ship it is feasible and can be enjoyable to explore Volterra on a train/bus connection. However, the editor strongly advises the rental of a car if you wish to explore this hidden jewel. It will be very unlikely that your cruise ship will offer tours to Volterra and you will have to do it on your own.
Train Schedule from Livorno to Volterra and back
To Volterra by Rail and Bus
Via Pontedera (Weekdays)
LIVORNO
CENTRALE
(Train)
Arrival
Pontedera
Depart
Pontedera
#500 Bus
Arrival
Volterra
08:12 AM
09:12 AM
09:30 AM
10:12 AM
08:46 am
09:46 am
10:09 am
10:46 am
09:24 am
11:24 am
10:40 am
12:40 pm
Train return from Volterra to Livorno
VOLTERRA
Bus #500
Arrival
Pontedera
Depart
Pontedera
Train

Arrival
Livorno
1:05pm
2:02pm
4:02pm
2:23 pm
3:25 pm
5:23 pm
2:55 pm
3:14 pm
3:49 pm*
4:14 pm
5:14 pm
5:55 pm
3:34 pm
3:48 pm
4:23 pm
4:48 pm
5:48 pm
6:38 pm
* Change train in Pisa
These times are indicative and may change. Double check the English version of
Trenitalia Website
Driving to Volterra and Car Rental
If the cruise ship passenger enjoys driving (no gearshift skills are required as you can rent an automatic car) this will be the best way of traveling to Volterra. When renting a car in Livorno you can also get a GPS. The drive will not take more than 80 minutes to cover the 42 miles (72 km) between Livorno and Volterra.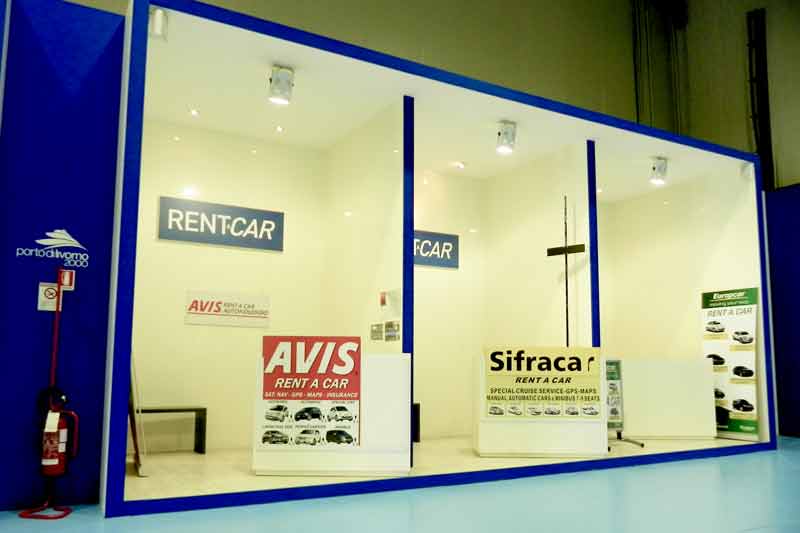 Car Rental at Livorno Port
Photo: © IQCruising.com
Cruise travelers will find Car Rentals at the port of Livorno but it is advisable to book online ahead of time. Read more about Car Rental in Livorno cruise port.
► Explore: Tuscany Destinations and Livorno
All Reviews and Guides to Livorno Cruise Port Destinations - Florence, Pisa, Lucca, San Gimignano, Volterra, Cinque Terra and Livorno in Depth
Learn More ►