Car Rental (How, Where and When)
for Cruise Travelers to Livorno
- Automatic Cars, Rates, GPS, Driving to Florence, Pisa Lucca, Volterra, San Gimignano and Siena. Top Car Rentals in Livorno.
Livorno has such a good network of 'Public Transportation' that both Buses and Trains are in fact the most popular ways to explore the famous highlights of the region like Florence, Pisa and Lucca. However, renting a car is the best way to discover and explore other Tuscan delights.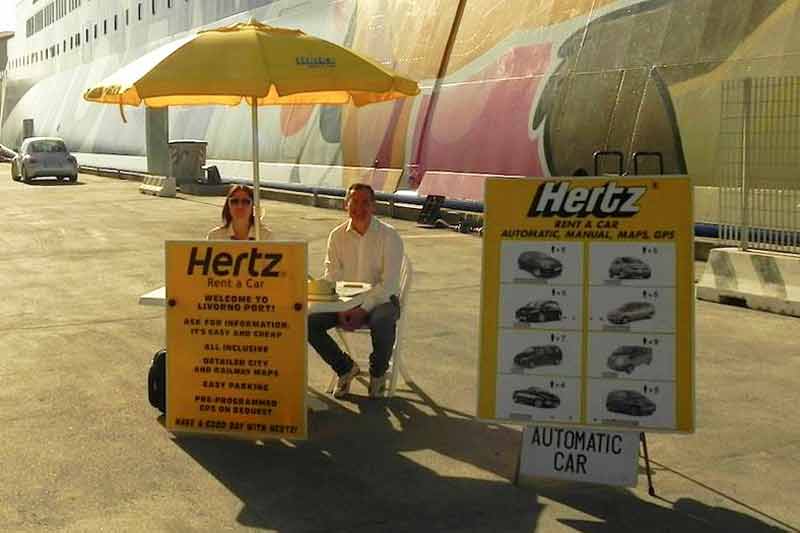 Hertz Car Rental at the Porto Mediceo
Photo © IQCruising
After all, some hidden jewels of Tuscany like Volterra, San Gimignano or even Siena are not as easy to explore by public transportation (bus or train) and you should consider renting a car if you wish to visit any of these.
Driving and Exploring Tuscany by Car
Driving in Italy is not complicated at all, particularly in countryside roads. The landscape is absolutely spectacular and you will have both the time and flexibility to enjoy at leisure the wonders of Tuscany.
Automatic cars, rental rates and GPS
Cruise visitors will find it easy to rent a car on line with major names such as Avis, Hertz, Sixt. But do not worry too much if you can not decide to rent a car until you get to the port. You will at least a couple of Car Rental companies right outside the gangway. All car rental representatives at the piers of the Port of Livorno have Automatic Cars available for those that are not familiar with a clutch and shifting gears.
Car rental for a day is offered with very good deals: between €50.00 and €100.00 depending on the car size and services requested.
If you are concerned with getting lost in the Italian maze of countryside roads, you have nothing to worry about as all Car Rental services provide GPS and Maps.
Driving to Florence
Although Florence is not exactly a stone throw away, it is a large city and driving is the least advisable way of getting to the major highlight of Tuscany. The main road between Livorno and Florence is known as Fi-Pi-Li (acronym for Firenza-Pisa-Livorno) and can be a bit of an adventure to drive. To make things even more complicated, once in Florence you will find that parking close to the historical center is both expensive and scarce. The best (and larger) car parking is located next to the railway station of Santa Maria Novella, on Via Luigi Alamanni. Visit the garage website for rates www.garagelastazione.it.
Driving to Pisa
Pisa is so close to Livorno - 15 miles (24 km) - that it doesn't really make much sense to rent a car for the trip, unless you want to combine a visit to Pisa with any other destination close by. In fact, renting a car can be ideal if you wish to explore Pisa and Lucca (for example) or any other lesser known jewel in Tuscany like Vinci. The closest parking to the Piazza dei Miracoli costs around two euro per hour. Be aware that you will need euro coins to pay at parking meters. Visit Pisa official website for updated rates www.pisamo.it.
Driving to Lucca
Very much like Pisa, Lucca is also relatively close to Livorno - 15 miles (24 km) north of Pisa or 30 miles (48 km) from Livorno. Although it is very easy to get to Lucca by train, renting a car is ideal if you wish to combine a visit to Lucca with other destinations nearby, be it Pisa or lesser known treasures like Torre del Lago, Viareggio, Carrara or Bagni di Lucca.
Driving to Volterra
If you enjoy driving, renting a car will be the best way of exploring Volterra (the journey is no more than 1 h 15 minutes - 45 miles / 73 km). Besides enjoying a wonderful scenic drive to Volterra, it is a much more convenient than traveling by rail. Above all, the cruise traveler will not have to worry about the tight train/bus connections to get to Volterra as it takes 2 hours each way. Parking in Volterra is easy, affordable and right by the main attractions.
Driving to San Gimignano
San Gimignano is another hidden jewel that is best explored by car, as you will not have to worry about the bus connection between the Railway Station in Poggibonsi and the town itself. Like in Volterra, parking is easy (outside the city walls) and affordable.
Driving to Siena
Siena is the other city that can be best explored by car - although the train / bus connections take almost as long as the drive to Siena (at least 2 hours - 80 miles / 130 km). The only drawback is that parking in Siena is outside the medieval walls and you will have a 15-minute walk to the main attractions. However, the same will happen if you go on a tour or by public transportation.
Car Rentals in Livorno
The following are the most reliable and well-known Car Rental Services available in Livorno.
Avis: www.avis.com | Hertz: www.hertz.com: | Sixt: www.sixt.com: | National: www.nationalcar.com: | Europe Car: www.europecar.com: | Auto Europe: www.autoeurope.com | Car Hire in Tuscany: carhireintuscany.com | Car Flexi: www.carflexi.com.