Everything you must know and basic information about the port of Livorno for passengers on cruises in 2023: tourism office, language, currency, public Holidays, emergency contacts, consulates, basic phone numbers.
Before calling at the Port of Livorno, cruise travelers should get familiar with some basic information about the city to better explore its attractions and highlights close by such as Florence, Pisa or Lucca.
Contents
Tourism Information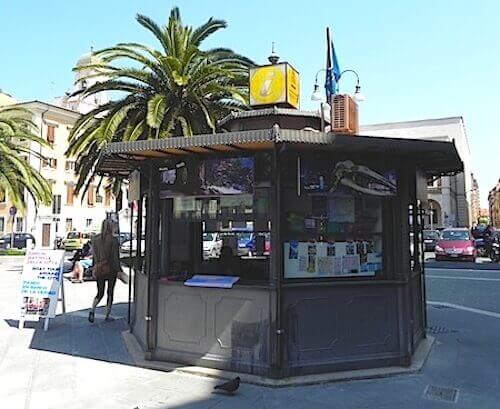 This Tourist Kiosk Doesn't exist any longer
Photo © IQCruising.com
Considering that Livorno is one of the major cruise ports in Italy, you will find that the city has excellent touristic services, which allow travelers to easily explore Tuscany on your own. Not until long ago, there was a Tourist Information Kiosk conveniently placed in Piazza Municipio where the cruise port shuttle stops. This Kiosk does NOT exist any longer and cruise travelers reading old reviews (or not updated) about Livorno may be puzzled wondering where and if it will be possible to get any sort of tourist information.
The good news is that the Tourist Information Office is now located inside the main building of Piazza Municipio just steps away from the Cruise Port Shuttle Bus.
In fact, this Tourist Information Office has always existed, it is larger, and has much more and better information than the old kiosk. Just look for the entrance into the inner gallery of the main building next to the Shuttle Bus Stop - or ask the driver if you cannot find it straight away.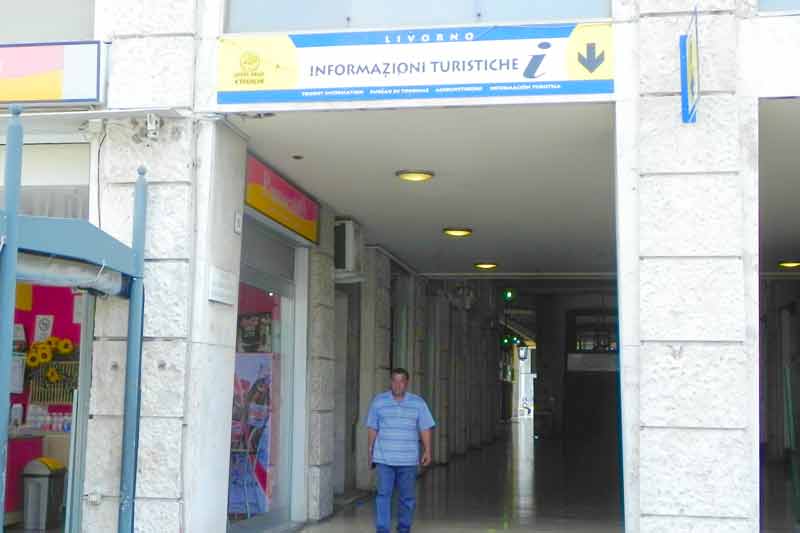 Entrance to the Tourist Information Office
Photo © IQCruising.com
This is the best place to get additional tourist information, if required, maps, guides and to double check for any recent updates. But keep in mind that at the pier where your cruise ship docks, next to the gangway, there might be a local Tourist Representative as well.
The Tourist Information Office at Piazza Municipio is the also the best place to buy the Livorno Card, which for €3.00 (Euros) offers FREE travel on the local CTT bus service, FREE entrance on museums like the Giovanni Fattori Museum, the Natural History Museum and the Sacred Art Museum.
The Livorno Card also offers discounts on the City Sightseeing Tour, the Boat Tours on the Medici Canals and the Aquarium. You can also buy at this Tourist Office the tickets for any of these tours.
Currency
Italy was part of the first group of countries founding what is know as the Eurozone adopting the Euro in 2002 and dismissing the Lira which was the country's currency between 1861 and 2002.
The Euro has 7 notes (5, 10, 20, 50, 100 200 and 500). The Euro is divided in cents. There are 5 coins (1cent, 2 cents, 5 cents 10 cents, 20 cents, 50 cents, 1 Euro and 2 Euros).
Learn More about using Money in Livorno, where ATM and Banks are located, and more ...
Public Holidays
Cruise travelers should know that on public holidays most businesses, attractions, museums and shops will be closed although a few coffee shops and restaurants may be open.
January 1 - New Year
January 6 - Epiphany
Pasqueta - Easter Monday
April 25 - Italy's Liberation Day
May 1 - Labor Day
May 22 - Santa Giulia Day (Livorno's Patron Saint)
August 15 - Assumption of the Virgin Mary
November 1 - All Souls Day
December 8 - Immaculate Conception of the Virgin
December 25 - Christmas

Transportation and Sightseeing
Livorno has an excellent network of public transportation. Cruise travelers that enjoy exploring port attractions and highlights on your own will find that Livorno is one of the easiest ports to do so.
For those planning to discover Livorno attractions the Public Buses are ideal.
The City Sightseeing Buses and the Canal Cruises are leisurely ways to explore Livorno learn more about Sightseeing
.
To travel to Florence, Pisa or Lucca the Railway Station is close by. Trains are frequent, affordable and one of the best ways to explore top highlights on your own - read more about Trains and the Railway Station.
Renting a Car is easy and inexpensive when planning to travel to Volterra, Siena or San Gimignano - find out all about Car Rental in Livorno.
The least affordable way to explore Livorno and its highlights is by Taxi but, when on a group or just to travel to the railway station the fares may be attractive.
Communications - Keep in Touch
Cruise travelers that prefer to stay in Livorno instead of exploring Tuscany's highlights, may want to get in touch with family and friends. All sorts of communication services are available in Livorno.
Considering that there are many places to get Free Wi-Fi Internet, Livorno is a good port to check your emails or make free phone calls. Learn more about How to Keep in Touch with Family and Friends in Livorno.
Health Matters
Has much as all cruise travelers wish to never need any medical assistance, in case you may require the most basic services or medication, Livorno has a good number of pharmacies and a very well equipped hospital. Read more about Health Matters.
Emergency Contacts
USA Consulate
The USA does not have a Consular Section in Livorno. However, there is one close by in Florence in case of an emergency. The Consular Section in Florence is part of the United States Mission to Italy, which includes the American Embassy in Rome and has a staff 18 and 3 Foreign Service Officers.
The U.S. Consul General is Benjamin V. Wohlauer (since July 2017).
Address: Lungarno Vespucci, 38 - Florence
Telephone (switchboard): (+39) 055.266.951
Emergency Services:
Monday through Friday - 9:00 AM to 12:30 PM (walk-in).
After Hours Emergency - Call (+39) 055.266.951 Website - it.usembassy.gov
Other Consulates:
Spanish Consulate:
Piazza Cavour, 12 - Phone: (+39) 0586 84 61 11
French Consulate:
Via della Padula, 251 - Phone: (+39) 0586 85 13 26
Greek Consulate:
Piazza Attias - Phone: (+39) 0586 26 56 87
Danish Consulate:
Via Del Marzocco 25 - Phone: (+39) 0586 25 01 11; (+39) 0586 89 41 51
Swedish Consulate:
Via Cogorano 25 - Phone: (+39) 0586 89 41 32; (+39) 0586 89 42 33
Finnish Consulate:
Piazza Attias - Phone: (+39) 0586 20 38 64
Uruguayan Consulate:
Via De Larderel, 93 - Phone: (+39) 0586 88 31 63
Basic Phone Numbers:
112 - Carabinieri (National Police)
113 - Local Police
118 - Ambulance
115 - Fire
116 - Roadside Assistance - paid service
117 - Finance Police
Language
As it happens in most regions with a rich past in Italy, the genuine native people from Livorno have a distinct Italian accent with some particular and peculiar expressions that leads some to consider "Livornese" to be a specific dialect – when, in fact, is a sub-dialect of the 'parent' Florentine dialect.
Although is not absolutely clear that the specific expressions and words spoken in Livorno are sufficiently characteristic to establish 'Livornese' as a distinct dialect the reality is that besides 'scholar' disputes, a satirical magazine entirely written in this 'dialect' is published monthly with the revealing title "Il Vernacoliere" - founded in 1982 as a successor of Livornocronaca (first published in 1961).
Amongst the most famous Livorno's personalities, the writer (and politician) Francesco Domenico Guerrazzi (1804 – 1873) must be mentioned as one of the Livorno's natives even though he wrote in 'standard' Italian - a small square at the end of Via Grande is named after him.
Livorno Basic Info
| | |
| --- | --- |
| LANGUAGE: | Italian - English spoken in tourist areas. |
| WEATHER: | Moderate Winters, Warm Summers |
| TOURISM INFO: | Main Office at Piazza Municipio |
| TRANSPORTS: | Taxis, Buses and Train. Airport in Pisa. |
| COMMUNICATIONS: | Good and efficient. |
| Internet: | At Cafes and a few Enotecas |
| Phone Codes: | Country (351), Livorno (21) |
| Post: | Very Efficient - Main Office at Via Cairoli |
| Couriers: | DHL |
| MONEY MATTERS: | Euro (since 2001) |
| Banks: | Open: 8:00am - 3:00pm |
| ATM: | Widely available. |
| Exchange: | Very few, only touristic areas. |
| Credit Cards: | Widely accepted, specially VISA and Amex. |
| Tipping: | NOT required |
| Haggling: | NOT customary, will not take you far. |
| HEALTH MATTERS: | Livorno has a modern Hospital; There is a good number of Pharmacies on main streets - namely on Via Grande. |
| EMERGENCIES: | USA consulate in Florence. |
| TIME ZONE: | European Continental Time (+ 1 GMT) |
| ELECTRICITY: | 240 V - 2 pin European socket |