Everything you need to know about currency and using money in the port of Livorno for passengers on cruises in 2023: banks, ATMs, exchange office, debit and credit cards, haggling and tipping.
Like in all ports in the Mediterranean, cruise traveler should always carry some cash when calling at the Port of Livorno. You should also know how and when to use debit or credit cards, when and where to use Exchange offices or how to use an ATM.
Contents
Overview
The Euro is the only currency accepted in Italy (and Livorno) but you will not need a lot of cash when calling at the Port of Livorno, as most attractions, shops and restaurants will accept both Debit and Credit Cards.
However, it is advisable to have some Euros to pay small amounts like Bus Tickets or Taxis that only accept cash; and for small payments like an ice-cream, a coffee or a quick bite as smaller shops will NOT accept Cards or any other currency besides the Euro.
Naturally, you can exchange money onboard your cruise ship, which can be convenient but be aware that the exchange rates will be far from normal. If you didn't bring Euros from your home country and have your own currency best option is to exchange it in Livorno or, alternatively, cash Euros at an ATM - more about this below.
However, do NOT go to a bank to exchange money - few provide the service, take a long time to process a simple transaction, exchange rates are far from good and the commissions exorbitant.
Banks and banking
Unless you have some emergency and/or need to make some major bank transaction, it will be very unlikely that you will need a bank in Livorno considering that this is not the best place to exchange money and the ATMs are located mainly outside the banks.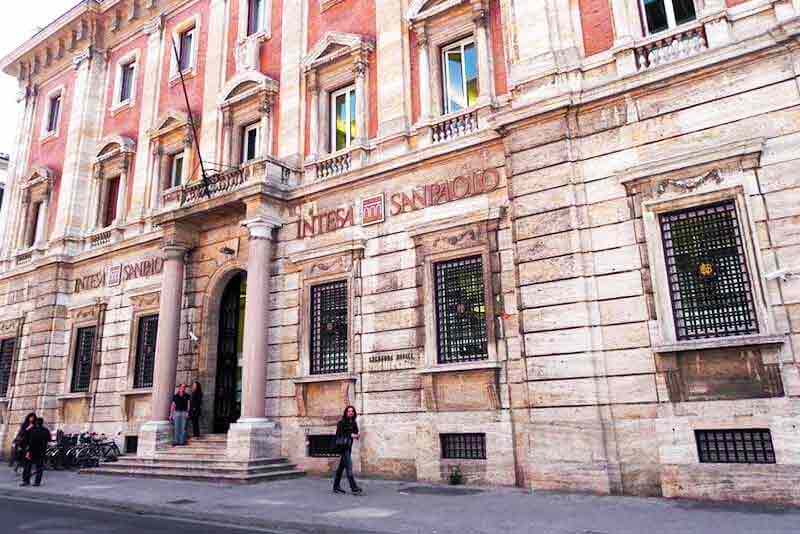 Intesa Sanpaolo Bank
Photo © IQCruising.com
However, if you need a bank, the 3 major banks listed below - where you will also find ATMs - are the most advisable ones: UniCredit Banca; Intesa Sanpaolo Bank; Monte dei Paschi di Siena; and also the larger branch of UniCredit Banca in Via Cairoli.
Be aware that banks operate between Monday to Friday only. Opening times: 8:00 AM to 3:00 PM.
Exchange - Cambio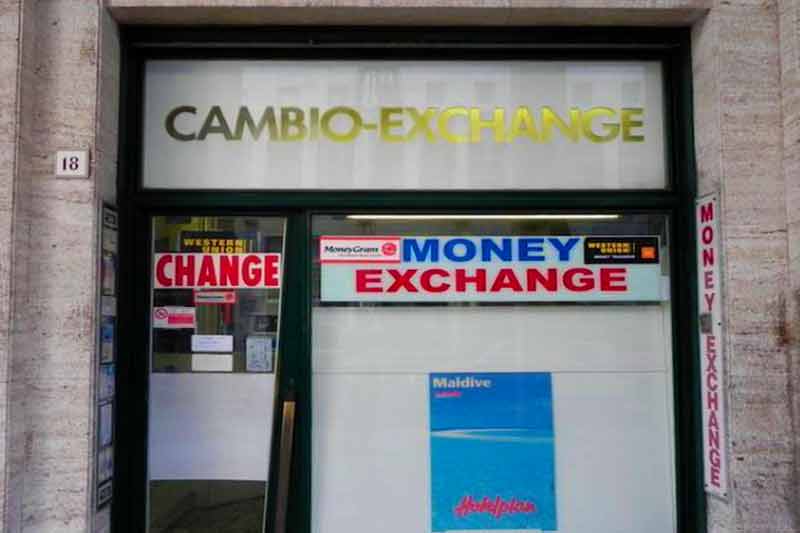 Exchange Office in Livorno
Photo © IQCruising.com
Since the introduction of the Euro in 2001 and in particular with the widespread use of debit and credit cards among Europeans, the traditional Money Exchange shops are vanishing as fast as Travelers Checks. Even so, some still survive and, generally speaking, offer better rates than onboard your cruise ship.
Ideally located as you walk from the cruise shuttle stop to Via Grande – just across the street in a corner under the arcades - is one of the few places in Livorno where you can exchange money.
Look out for the large sign "Cambio - Exchange". Commissions, if any, are low. If you don't want to cash Euros with your debit card on an ATM, this is the place to go.
ATMs (Bancomat)
You don't need to carry your own country currency or even Traveler's Checks when calling at Livorno. Cashing Euros at an ATM is like using one in your hometown. And, yes, instructions will be in English. Even if there are applicable fees it is usually a better deal than the rate you will be paying onboard.
Avoid using a Credit Card to cash money at an ATM) and use a Debit Card instead (Visa and Master Card are widely accepted). Always make sure you notify your bank prior to travel, and check what will be your bank fees (usually $2 to $5 per transaction).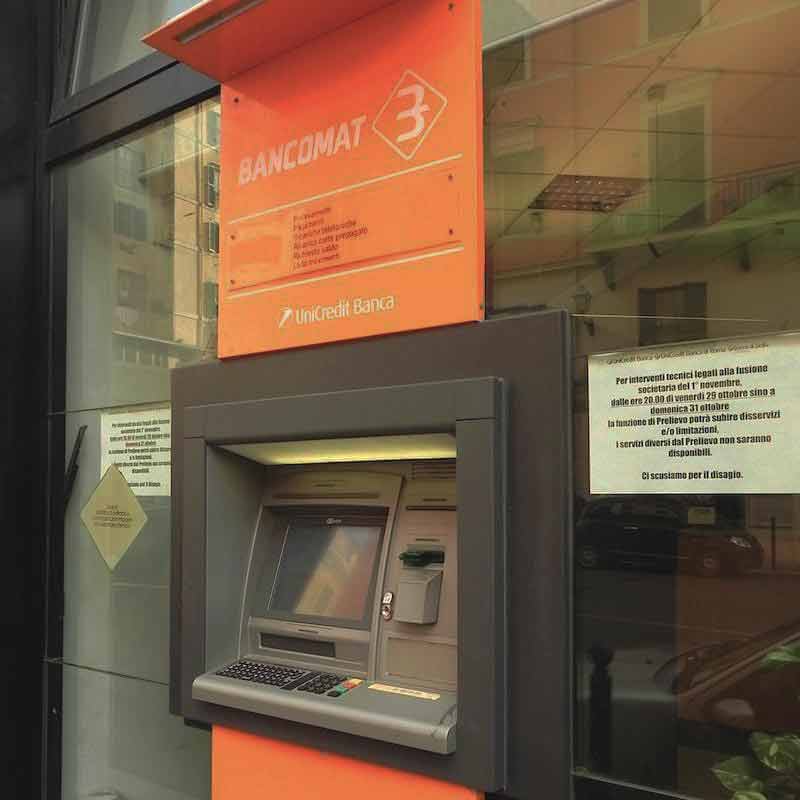 UniCredit ATM (Bancomat)
Photo © IQCruising.com
Depending on your home bank and the bank where you cash money on an ATM you will or will not be charged a transaction fee. To make sure you are cashing on an ATM of a regular bank look for the clearly identifiable Bankomat sign. Be aware that European ATM keypads only have numbers, so make sure you know your numeral PIN if you don't have one already.
It is advisable that you establish with your bank a maximum daily withdraw amount prior to cruising and, just in case, carry a second card.
Most ATMs in Europe are located outside in the vicinity of the Bank entrance but some are inside the lobby - if the bank is closed, there is a magnetic card slot next to the door, which will automatically open once you swipe your card. It may sound 'complicated' but once inside it provides a sense of safety and privacy.
Map of Banks and ATMs in Livorno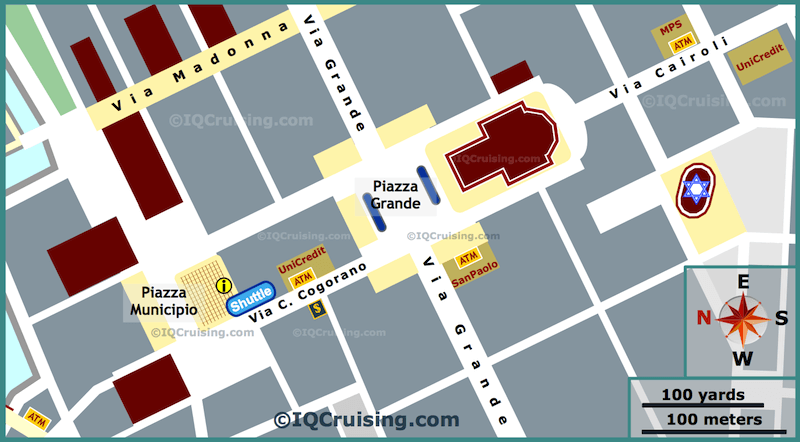 City Center ATMs
UniCredit: Via Cogorano, 17
This is the closest ATM (Bankomat) to the shuttle bus. Turn right as you exit the bus and after a couple of steps as you walk towards the Piazza Grand you will see on your left the UniCredit Banca.
Sanpaolo: Piazza Grande, 33/37
In the SW corner of Piazza Grande, tucked inside the arcades is the Intesa Sanpaolo Bank. This is the closest ATM (Bankomat) to the Porto Mediceo.
BancaCras: Via Borra, 2
If exploring the Venice Quarter is on your sightseeing plans, Via Borra is a must. Right at start of this iconic street (in the short block before the bridge) you will the ATM (Bancomat) of the BancaCras.
MPS: Via Cairoli 41
When heading towards Piazza Cavour and the south side of the city, right in front of the Post Office you will find the ATM (Bankomat) of Monte dei Paschi di Siena. One block farther there is another bank - BNL.
Using Money in Livorno
When paying for goods and services in Livorno, the cruise traveler should be aware of a couple of basic local practices.
Haggling
Unless you are dealing with street vendors haggling will not take you far. Not even on street markets and certainly not in fashion or department stores.
Tipping
Although many tourists tip like if in their own country, Italians don't usually tip a significant percentage (like in the in the US, for instances) but a 'keep the change' kind of tipping is always welcome.