Learn how to use public buses in the port for Livorno on a cruise in 2023: where are the bus stops, fares, discounts of Livorno card, the buses to the train station, Pisa and Montenero.
Livorno has a very good, modern and efficient public bus network with 15 routes, which are very easy to navigate especially for touristic purposes.
Contents
Where to buy bus tickets in Livorno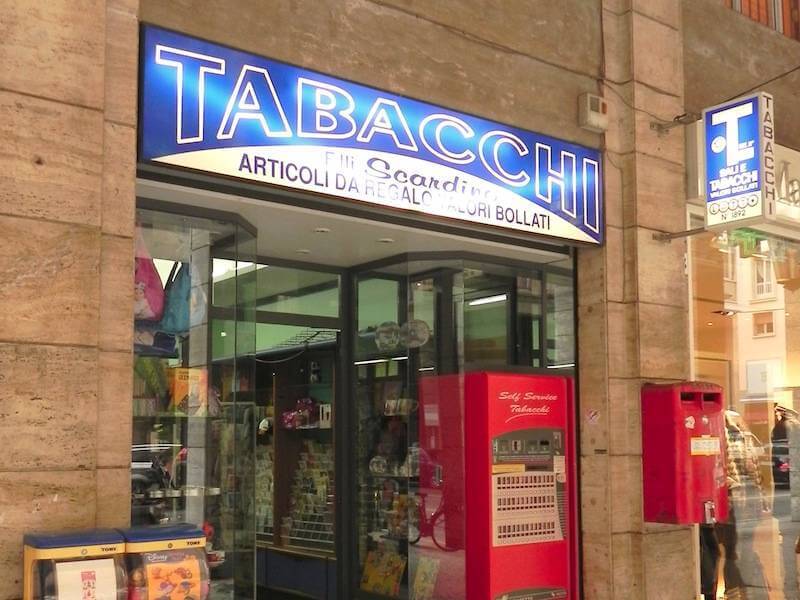 Via Grande Tobacconist
Photo Copyright IQCruising.com
To use Livorno's public bus network, cruise travelers need to learn how to buy a ticket. The good news is that bus tickets can be acquired at tobacconists (Tabacchi). Right on the opposite side of where the cruise ship shuttle bus stop (on Via Cogorano) you will find a tobacconist - just look for the sign Tabacchi. You can also buy bus tickets at any newsstand - there are four on Piazza Grande (one at each corner) very close to the Shuttle Bus stop.
If docked at Porto Mediceo, close to the Quattro Mori Monument, by the west end of Via Grande there are another two newsstands. At any of these newsstands, English is well understood.
Public Buses have a fixed fare of €1.20 and are valid for 75 minutes.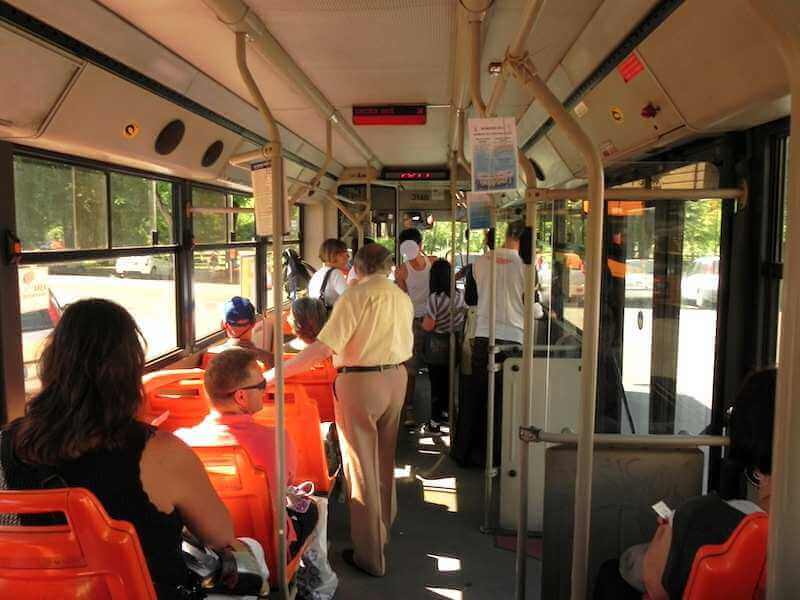 Livorno Bus Inside
Photo © IQCruising.com
Insider's Tip A: wherever you want go make sure to buy two tickets (for both ways), so that you don't need to look out for another newsstand for your return ticket.
Livorno Card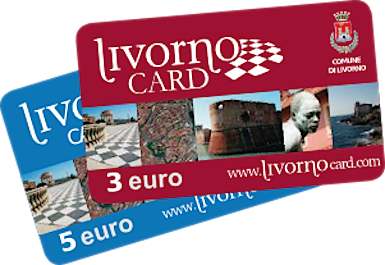 Until a few years, the Livorno Card offered unlimited rides for 24 hours on public buses and FREE entries to the Giovanni Fattori Civic Museum and the Natural History Museum among other discounts. However, the Livorno Card ceased to exist in recent years. IQCrusing used to mention and highly recommend this touristic discount card but, unfortunately, it doesn't exist any longer.
Bus to the Train Station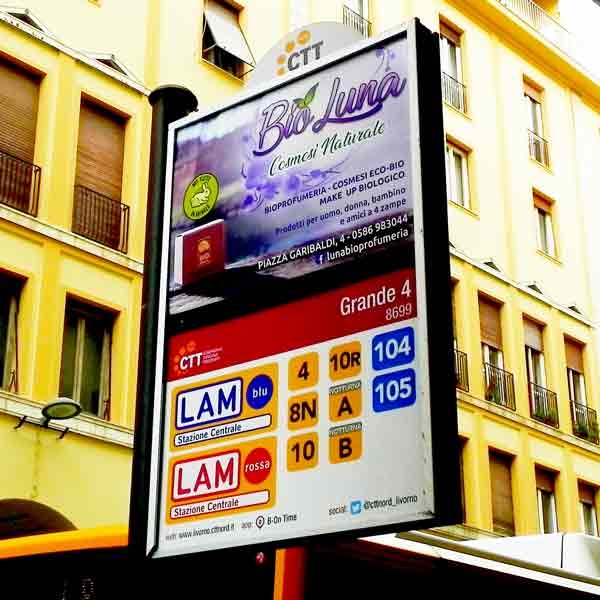 Bus Stop on Via Grande
Photo © IQCruising.com
If you have been in Livorno before or have read outdated reviews, it should be underlined that Livorno's Public Buses have changed routes and numbering. Furthermore, the Piazza Grande is not anymore a transportation hub and bus stops are in slightly different places along Via Grande. The two main buses routes of interest for cruise travelers are now LAM BLU, or LB (formally Bus Nº 1) and LAM ROSSA or LR (formally Bus Nº 2). Both are now easier to color identify and the bus stops have good and clear signs.
Lam Blu (LB) Bus
Don't forget that what used to be Bus Nº 1 is now LAM BLU or LB. This is the bus route you will need to get to the Railway Station if planning to travel to Pisa, Lucca or Florence by train.
Learn More about Travel by Train to Livorno's Destinations.
From Shuttle Bus Stop to Lam Blu (LB) Bus Stop
The nearest Lam Blue bus stop to the Cruise Shuttle Stop is on Via Grande. Just walk to Piazza Grande (where the impressive Duomo - Cathedral stands) and turn right into Via Grande. Cross the street and the bus stop for Lam Blu (LB) is right on the first block. Alternatively, instead of turning right you can turn left on Via Grande but make sure you cross the street. The Lam Blu (LB) Bus stop is right by the H&M department store.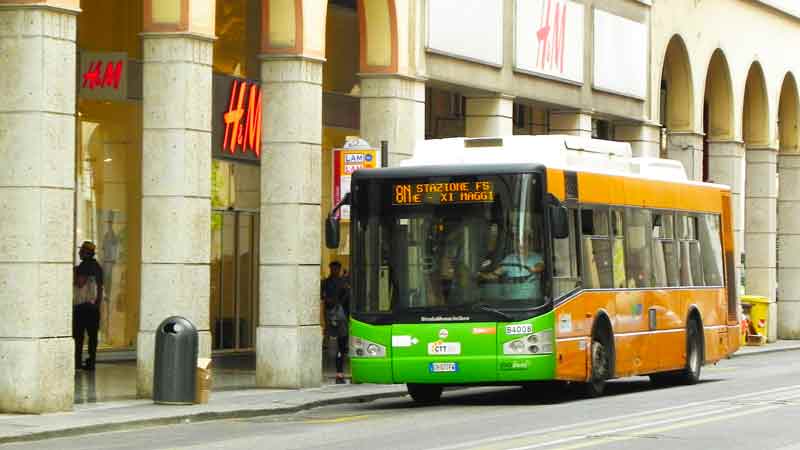 Lam Blue Bus on Via Grande
Photo © IQCruising.com
Closest bus stop to Porto Mediceo
If you are docked at the Porto Mediceo, the closest stop for the Lam Blue Bus is within walking distance, at the start of Via Grande on the right - going East. There are a couple of newsstands just before the start of Via Grande where you can buy bus tickets.
Journey between Piazza Grande and the Railway Station: 10 minutes. A couple of minutes more if boarding the bus at the start of Via Grande.
Lam Blu (LB) Bus to South Coast
If the Aquarium, the Terraza Mascagni, Ardenza or Artignano are in your plans, just get on Lam Blue on Via Grande but in the opposite direction. Bus Stops are just on the opposite side of the street.
LAM BLU or LB runs between the Railway Station and Artignano with stops at Piazza della Repubblica, Via Grande, Port Mediceo (by Quattro Mori statue), Vialle Italia (the coastal road to the south), Terrazza Mascagni, Naval Academy, Ardenza Mare and Antignano.
Lam Blu bus runs every 15 minutes (be aware: every 30 minutes on Sundays and Holidays. If walking from Porto Mediceo, the LAM BLU or LB stop is right at the beginning of Via Grande, but going East and then South all the way to Artigano. Journey between Piazza Grande and Antigano: around 25 minutes.
Bus to Pisa and Tirrenia
The Bus Nº 10 runs between Livorno and Pisa, every 30 minutes (6:00 am to 10:00 pm) and can be a good alternative to the train as you do not have to get on the Lam Blu (LB) to the Railway Station and then on a Train to Pisa. Again, you may read on outdated articles that the bus stop is behind the Duomo (Cathedral). In fact, the closest Bus Nº 10 stop for cruise travelers is on Piazza della Repubblica.
You will need to walk along Via Grande to its East end and turn left once on Piazza della Repubblica. Look out for the CPT sign, next to the City Sightseeing bus.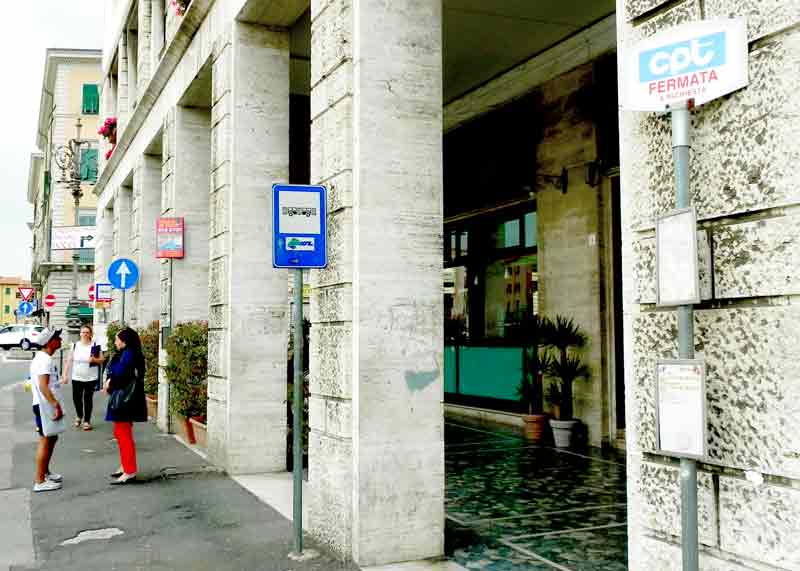 CPT Bus Stop on Piazza della Repubblica
Photo © IQCruising.com
The journey to Pisa takes around one hour. Along the way, the bus Nº 10 has a number of stops next to the most popular beaches of Tirrenia, at Marina the Pisa and at a couple of small villages before arriving in Pisa. The Bus Station in Pisa is not far from the railway station and, therefore, you will be at about the same (walking) distance to the major attractions in Pisa - more or less a mile away.
Because this is an inter-city service you will not be on the most comfortable bus in the world but considering the journey time it can be a nice way to travel to Pisa. To return to Livorno, the bus departs every 30 minutes (last bus at 8:00PM). The fare for this Bus is €2.70 (one way) and is NOT included in the Livorno Card.
Discover what to see and do in Pisa.
Bus to Montenero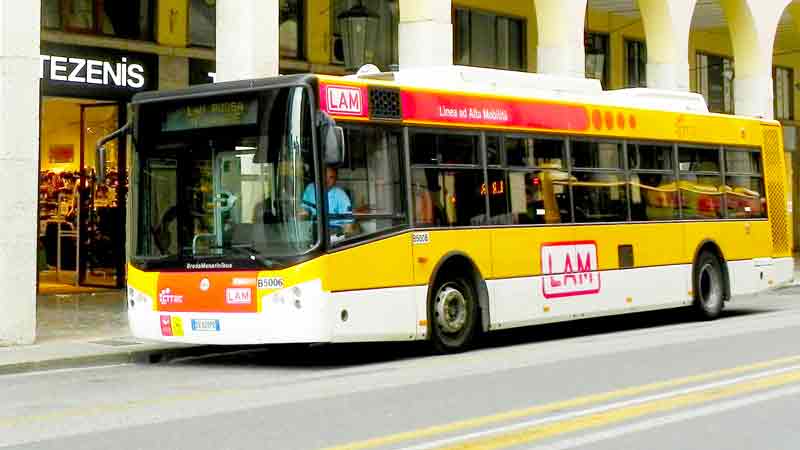 Lam Rossa Bus on Via Grande
Photo © IQCruising.com
LAM ROSSA or LR (formally Bus Nº 2): runs between the Railway Station and Montenero and has convenient stops on Via Grande if you wish to go to Montenero. It is the same stop for Lam Blue (going to the South Coast). Be aware: there is also a Lam Rossa that ends in Antigano. Regular Lam Rossa has Montenero written up front and is the one of interest.
After the stop close to Piazza Grande, it has stops at Via Cairoli, Piazza Cavour, Via Ricasoli, Piazza Attias, Via Marradi, Villa Fabbricotti, Ardenza Terra, Antigano and Montenero (Piazza delle Carrozze) - it is on Piazza delle Carrozze that you the funicular has the bottom stop to go up hill to visit the monastery and enjoy spectacular views. Lam Rossa or LR runs every 30 minutes. Journey between Piazza Grande and Montenero: 30 minutes.
Good to Know: although Lam Rossa also runs between Piazza Grande and the Railway Station, it takes longer than Lam Blu and his neither the faster nor the most efficient way to get to the Train Station.
Other Buses
If the Natural History Museum or the Gardens of Villa Fabriciotti are on your must see list then Bus Nº 5 with a stop at Via Roma, is the one of interest. Like with other Buses, make sure to buy two tickets (or the Livorno Card) as you will not find Newsstands close to Piazza Roma. The stop for Bus Nº 5 is on Via Cogorano, on the other side of the street where the Shuttle Bus stops. It runs every 30 minutes and it takes around 10 minutes. If docked at the Porto Medico the bus stop is the same for Lam Blu (LB) at the start of Via Grande - West-South direction.
Livorno's Public Buses
At a Glance
WHERE
TO
Via
Grande
Piazza della
Repubblica
Via
Grande
Railway Station
Lam Blu
East Direction

-

Lam Blu
East Direction
PISA

-

Nº 10

-

South Coast
Lam Blu
West Direction

-

Lam Blu
West Direction
Montenero

Lam Rossa

-

-

Piazza Roma

Bus Nº 5

-

-