Find out how to keep in touch in the port of Livorno for cruises in 2023: internet, free wi-fi, public phones, phone cards, post office, couriers, DHL and UPS
When cruising the Mediterranean cruise travelers may, eventually, want to get in touch with family and friends. Livorno is a good port of call to do so as it has very good communication services.
Contents
Overview
Internet connections are widely available and Free on a good number of Wi-Fi spots.
Although Internet providers have significantly lowered prices and most cruise travelers have smart phones, you may still want to avoid the exorbitant rates charged onboard cruise ships.
Caffè Duomo at Via Grande
Photo by Management
The Post Office is at walking distance, no more than 300 yards, from the Cruise Shuttle bus stop. Two couriers (DHL and UPS) are close to the city center as well. Even to make a straightforward phone call will be easy. Although for the latter it is advisable (and easier) to do it with Skype or FaceTime.
Internet - Wi-Fi
Since Coffee Shops started to offer free Wi-Fi connections to their customers the typical Internet Centers have literally vanished. After all, it is more pleasant to check your emails sitting in a nice, comfortable Café and paying for a cappuccino to be a "client".
Certainly, it works out cheaper than onboard. Besides the Cafés below, look out for the "Free Wi-Fi" sign on shop windows. Insider's TIP: if you don't need to spend much time online and just need to do a quick check on your smart-phone or tablet, you can always stand next to McDonald's on Piazza Grande and connect free.
Favorite FREE Wi-Fi Spots
Caffè Il Punto: Via Grande, 221 | Facebook Page: Bar Il Punto Piazza Grande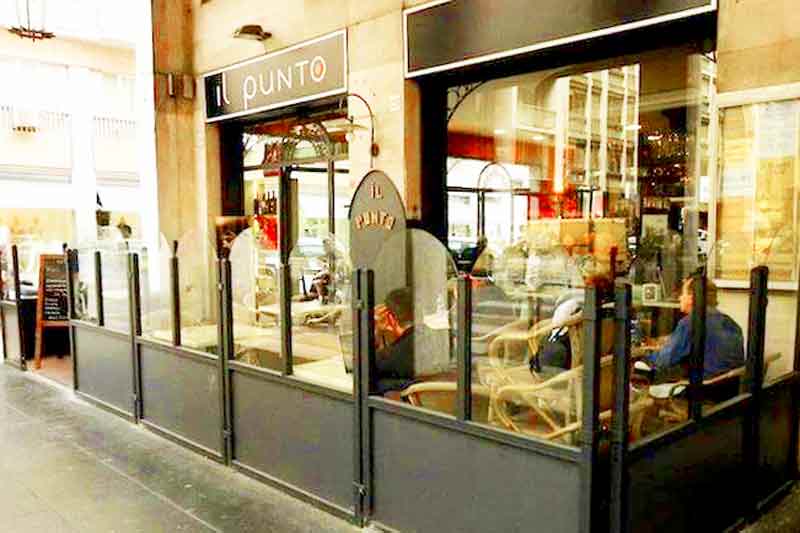 Caffè Il Punto on Via Grande
Photo © IQCruising.com
Close to the west end of Via Grande a couple of blocks before the square that overlooks the Porto Mediceo and where the iconic "Four Moors Monument" stands, this modern, cozy and comfortable Café has a nice and spacious outside seating area.
Enoteca Il Vinaino: Piazza Colonnella, 14 | Facebook Page: Il Vinaino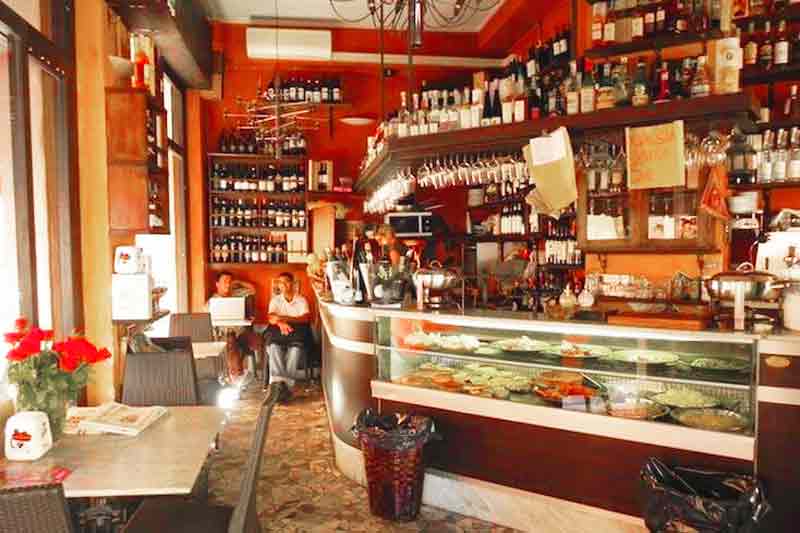 Wi-Fi at Enoteca Il Vinaino
Photo © IQCruising.com
Ideal if you docked in Porto Mediceo. If not the walk is worth it. Il Vinaino is an 'Enoteca' - basically a wine bar that also serves appetizers, pannini and quick bites for lunch. It has a nice outside seating area in a tiny square (Piazza Colonnella 14) right at the west end of Via Grande.
At the center of the square there is a bronze reproduction of a famous fountain by Pietro Tacca (the sculptor of the iconic "porcelino" - the original sits in Florence. Can get a bit crowded at lunch-time (around 1:00 PM).
---
Caffè Duomo: Via Cairoli, 6 | Facebook Page: Ristoro Caffè Duomo
Behind the Cathedral, at the end of the first block, on the right side, under the arcades, you will find the Café Duomo - and a great place for a quick bite, and to check your emails.
Caffè Mama: Via C. Cogorano 2 | Facebook Page: Caffè Mamà
This modern, clean and comfortable coffee shop is ideally located across the street where the Cruise Shuttle buses stop, right on the corner between Piazza Municipio and Via Cogorano (the street that connects to Piazza Grande). Because of its proximity to the shuttle stop, many a crew member knows about it and it can get a bit crowded.
Post Office in Livorno
Livorno's Main Post Office is located on Via Cairoli - a wide avenue starting right behind the Cathedral and ending on Piazza Cavour. The Post Office building occupies the entire second block on the right.
Post Office on Via Cairoli
Photo © IQCruising.com
Besides its functionality, it is an impressive 19th Century building and one of the city's landmarks. If you need to send any correspondence or a package home this is the best place to do it.
Italian Post Website: www.poste.it
Public Phones
If you need to call home and are not willing to pay the exorbitant fees charged onboard by cruise ships, the use of public phones in Livorno is not such a daunting task as it may seem at first.
The easiest way to make a phone call is to go to the Post Office (on Via Cairolli) where you will find public phone booths and staff that will be helpful in getting a connection.
A second option is to use a public phone booth. As smart-phone use has been spreading there are fewer and fewer phone booths but you still find a few around the central/touristic areas and are easy to identify.
Finally, there is still the possibility of walking to the Phone Centre Lilla (Piazza dei Mille 24), West of Piazza della Repubblica - read below under Couriers - to make a phone call.
Editor's Tech Tip: in this day and age, the best way to call home is to have a Skype, Viber, WhatsApp or any other similar app on your phone or FaceTime (if you have Apple). Just go to any of the Free Wi-Fi spots and connect to any of these apps.
Typical Italian Phone Booth
Photo © IQCruising.com
If you still prefer to use a Public Phone Booth these are easy to use as they have multilingual instructions displayed on the wall (English included) and are straightforward to follow. If in doubt, call the international operator number - assistants speak good enough English and are helpful. Although some accept coins, you will need a handful of coins and a quick feed to keep the connection. However, as you can (and may need to) use a 'phone card' instead it is crucial to have an Insider's Tip: phone cards are sold at newsstands / kiosks with different values - 3, 5, 10 and 20 Euros.
If you are wondering how to ask for a phone card without Italian language skills, don't worry too much - you will be understood if you ask for 'Phone Card' in plain but slow English (and if needed add obvious gestures). Going one-step further, you can always ask for "scheda telefonica" (pronounced: SKE-DUH TEH-LEH-FO-NEE-KA); or a "carta telefonica" (pronounced: KAR-TAH TEH-LEH-FO-NEE-KA). Just make sure you don't 'show off' too much your Italian skills as you may get a complicated reply back in good old Livornese.
To connect, you first need to dial 00 (the international access code in Europe) followed by the country code (1 for US and Canada, 44 for UK) and then the number you would use to call from home. Example to call the U.S: dial 00-1-xxx-xxx-xxxx.
Keep in mind: calls to mobile phones are always more expensive than landlines.
Phone Cards
The last option is to buy an International Phone Card - not to be inserted in the phone but that gives you an 800 number to call and a unique code/pin to dial.
This type of cards give you more calling time for less money BUT are not easy to find - kiosks/newsstands may have these as well. But you can buy these online before traveling. There are a few websites selling this type of card.
Editor's favorite: www.callingcards.com.
Couriers: DHL and UPS
Very much off the beaten track, but within walking distance of the Historical Centre there are two places that handle DHL and UPS shipments.
South of the Porto Mediceo (10-minute walk), Mail Boxes Etc (Via Borgo dei Cappuccini, 29) is the closest place to go if you want to send any package via UPS. Business hours: Monday to Sunday 09:00 AM to 12:30 PM - 3:30 PM to 7:30 PM (Closed on Saturday and Sunday). Website: www.mbe.it
Mail Boxes Etc in Livorno
Photo © IQCruising.com
In a small square behind Piazza della Repubblica you will find the Phone Center Lilla (Piazza dei Mille 24). This is the most central located DHL shipment spot in Livorno and also a place for phone calling or to use Internet services. Business hours: Monday to Sunday 09:00 AM- 11:00PM. Latest drop off time for DHL: 5:30 PM.