Introduction to Pisa for cruise visitors to the Port of Livorno. Things To Do, How to Explore on Your Own, Shopping, Dining, and Sightseeing
Pisa lies along the river Arno a mere 10km away from the Mediterranean coast and just 25km from the Cruise Port of Livorno. Pisa is around 20 minutes away from Livorno by train and, naturally, one of the top destinations for cruise travelers calling at this port of Tuscany.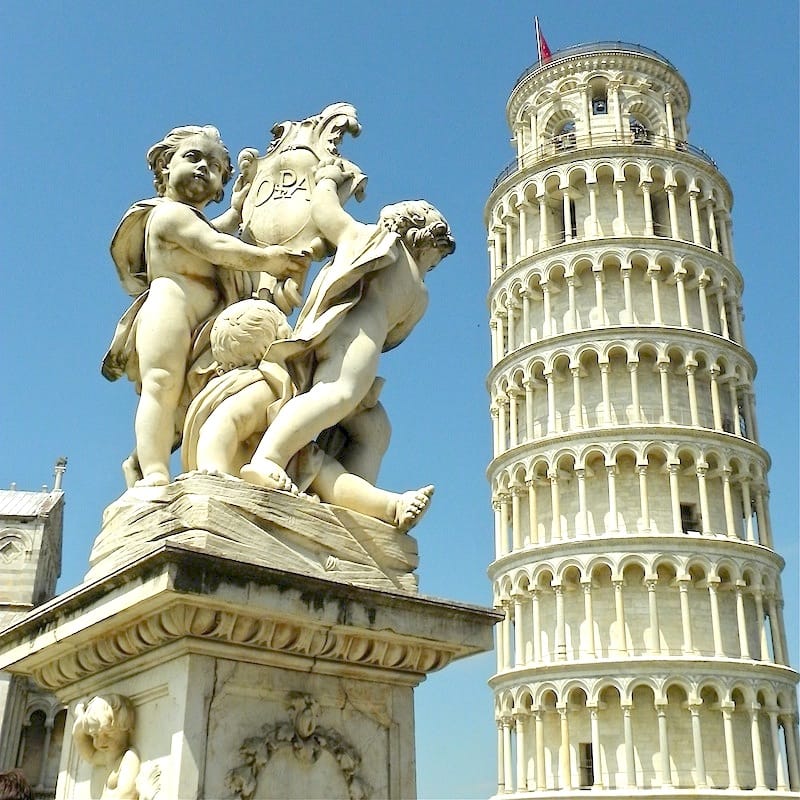 Leaning-Tower in Pisa
Photo © IQCruising.com
Overview
Legend has it that Pisa was founded be the Greek Pelopes and other missing Greek soldiers who came to Italy following the battle of Troy. Another theory is that the original settlers were Etruscans or Ligurians, but there is no definitive proof of either theory. When thinking of Pisa most people associate the city with the Tower of Pisa and its famous lean. The Piazza dei Miracoli, where the tower leans, is as famous as the Cathedral, the Baptistery and the Cemetery. This city is known as the place where modern sculpture began and you can see some of those works in Pisa today.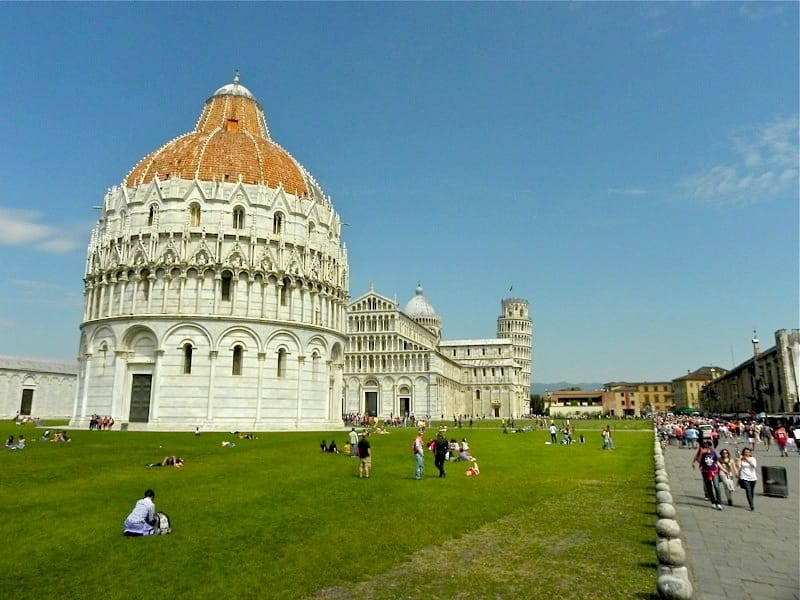 Piazza del Miracoli in Pisa
Photo © IQCruising.com
Pisa attracts romantic poets with its beauty, traditions of tolerance and temperate climate - both Byron and Shelly called Pisa home. The artistic side lends itself to being very environmentally sound and the people of Pisa treasure their natural landmarks like the Environmental Park of San Rossore and the Orto Botanico.
Pisa's beauty will win over anyone's heart. Make sure you leave plenty of time to explore the city and enjoy the historic building and their surroundings. The people of Pisa love to play host and will make your travels fun and exciting.
Top things to do and see in Pisa on a cruise to Livorno
The cruise traveler visiting Pisa on a shore excursion organized by the cruise line will not spend more than a couple of hours in the historical city and will only have time to see the top attractions on Piazza dei Miracoli - namely the Leaning Tower, the Cathedral, the Baptistery and the Cemetery aka Camposanto.
Explore Pisa on Your Own
However, if the cruise ship traveler wishes to explore these sites with more time, specially if you wish to climb the leaning tower, then it is advisable to travel to Pisa on your own. With direct trains from Livorno to Pisa, traveling on your own by Railway or by Bus (also with direct public service) it is very easy to explore Pisa on your Own. Learn How to Travel to Pisa from Livorno.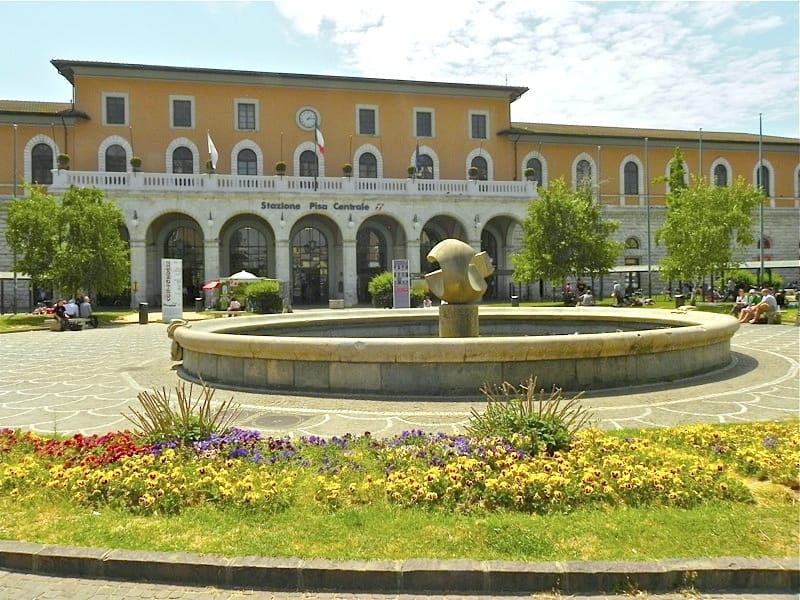 Pisa Railway Station
Photo © IQCruising.com
Landmarks and Museums
With more time in your hands, you will be able to explore other attractions such as two fabulous museums (the Museum of Sinopias and the Museo dell'Opera del Duomo) and the Piazza dei Cavalieri with three beautiful landmarks.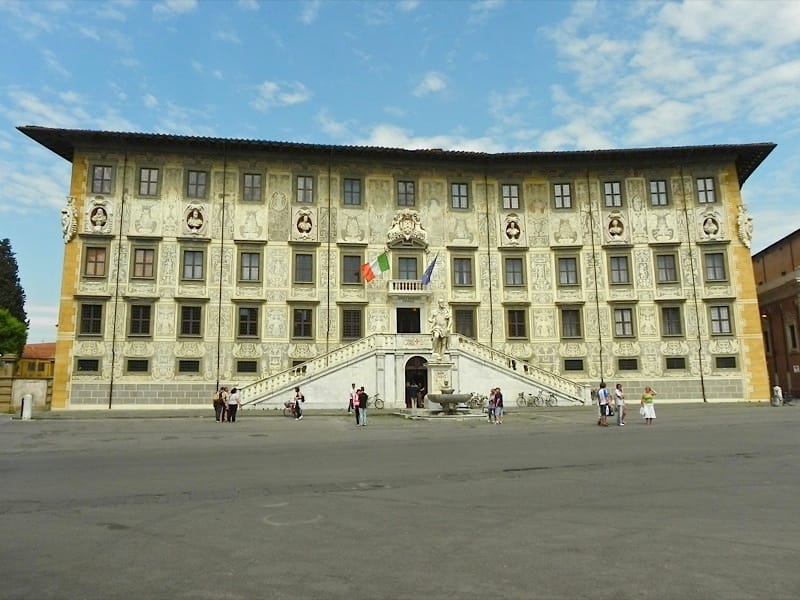 Piazza dei Cavalieri in Pisa
Photo © IQCruising.com
If art is on your must see list, the National Museum of San Matteo deserves a visit. For a selection of the Must See Sites and Highlights of Pisa- Explore Pisa Highlights.
Religious Sites
You will even have the opportunity to explore off the beaten track sites such as the Orto Botanico (Botanical Garden), religious sites like the Chiesa di Santa Maria Della Spina, the Chiesa di Santa Caterina or the Synagogue.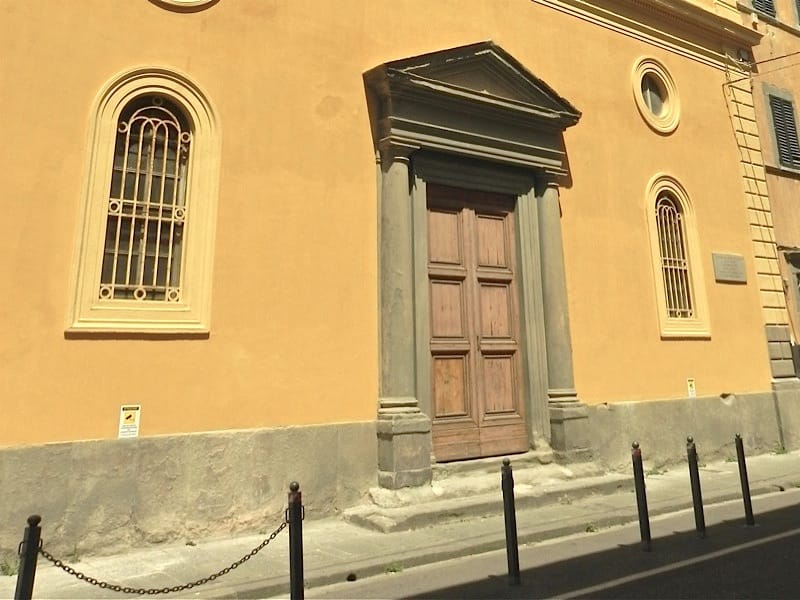 Synagogue in Pisa
Photo © IQCruising.com
Shops and Shopping
Pisa is far from being a particular interesting shopping town. In fact, unless the cruise traveler is exploring the city on your own, and walking to or from the train (or bus) station, it is unlikely that you will pass by any of the main shopping streets - Via Oberan and Via Italia.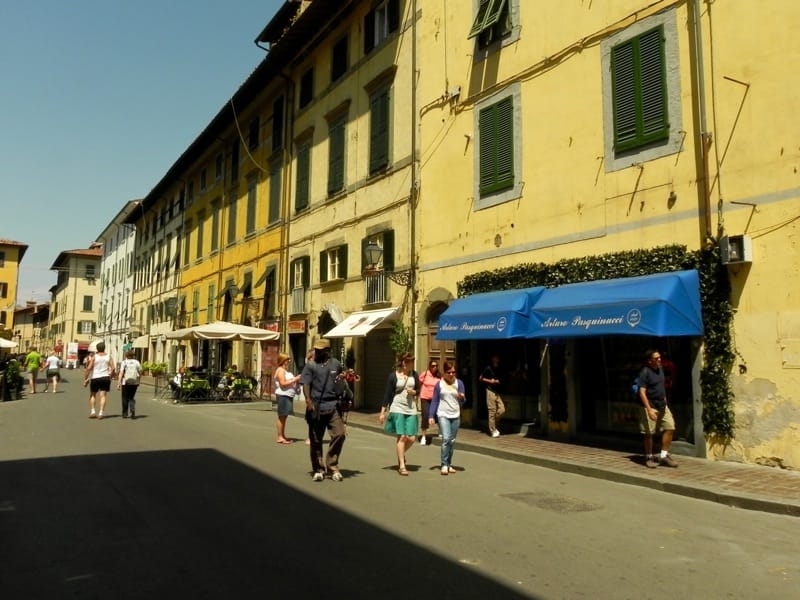 Via Oberan in Pisa
Photo © IQCruising.com
Around the Piazza dei Miracoli, the visitor will only find endlessly lined stalls with typical souvenirs - basically, Leaning Towers and more Leaning Tower of all sizes, colors and materials. For a selection of the best Shops - Explore Pisa Shopping.
Considering that the shore excursions organized by cruise lines do not spend more than a couple of hours in Pisa, the cruise traveler will not really have much more than 30 to 45 minutes of free time to peruse shops or stop by a cafe to enjoy a quick bite.
Quick Bite or Lunch
However, if exploring the town on your own, do not miss lunch al fresco in very nice restaurants away from the typical touristic areas. Close to the Piazza dei Cavalieri you will find one of the best restaurants in Pisa (Osteria dei Cavallieri) and not far, on Via Obredan, the cruise traveler will stumble upon very nice places to enjoy traditional Tuscan recipes.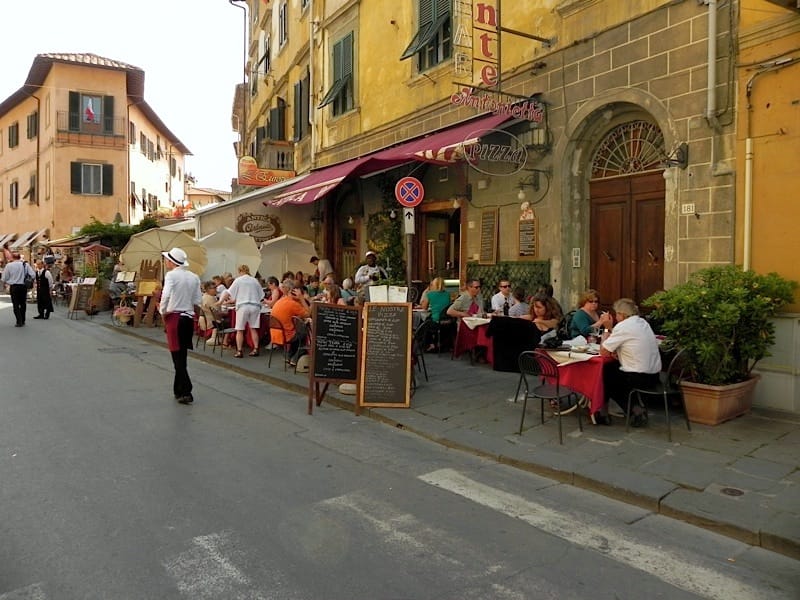 Lunch al fresco in Pisa
Photo © IQCruising.com
Insider's tip: look out for side streets as you may come across hidden tables like the ones of La Grotta, one of the Editor's favorites.
For a selection of the best Restaurants - Explore Pisa Restaurants.
Sightseeing
Obviously, if the cruise traveler is on a shore excursions organized by the cruise line, the sights that you will see are set and you will have to stick with these. By contrast, whilst exploring Pisa on your own, the cruise traveler should contemplate a hop-on hop-off sightseeing tour. The main stop is located next to the Piazza del Miracoli, right in front of the Museum of the Cathedral, and will take you all around Pisa highlighting the mot interesting sites.
Sightseeing Bus
Photo © IQCruising.com
Good to know
Tourist Information Offices
There are two tourist info offices conveninetly located for cruise travelers visiting Pisa on their onw. One close to the railawya station, if you travel by train from Livorno to Pisa and another close to the Leaning Tower.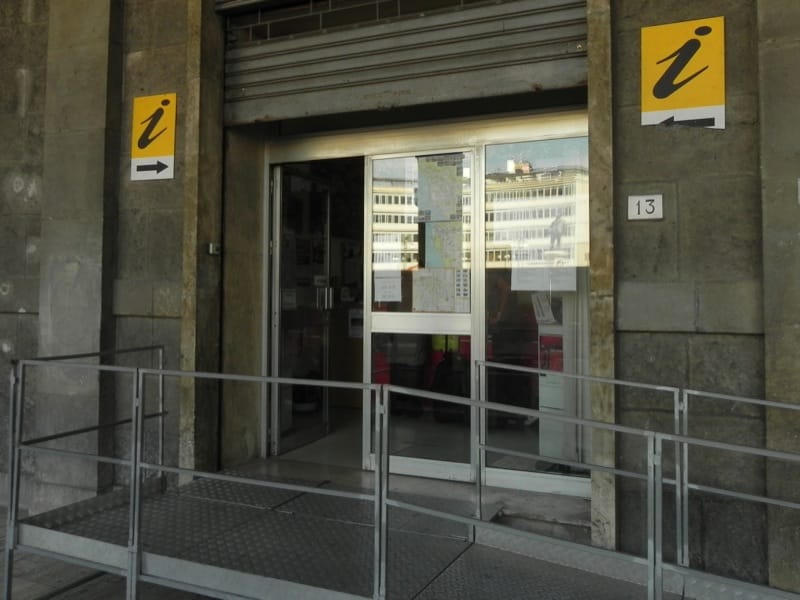 Railway Station Area
Piazza Vittorio Emanuele II, 16
Opening Hours: every day from 10.00 am to 1.00 pm and from 2.00 pm to 4.00 pm
Leaning Tower - Piazza del Duomo
Opening Hours: every day from 9.30am to 5.30pm
Be aware that both offices close on 25 December. However, on December 24 and 26; and on January 1 and 6 both will be open from 09.30am to 3.30pm.
► Explore: Tuscany Destinations and Livorno
All Reviews and Guides to Livorno Cruise Port Destinations - Florence, Lucca, Siena, San Gimignano, Volterra, Cinque Terra and Livorno in Depth
Learn More ►