Must See Religious Sites
in Volterra for Travelers to Livorno Cruise Port
- Duomo (Cathedral), Baptistery of Saint John, Saint Francis Church.
Like many a town in Tuscany, Volterra has a number of churches built along the centuries dating as far back as the early years of the second millennium.
Religious Sites of Volterra Overview
Most of these churches are on the streets where the cruise ship passenger will inevitably pass. The Cathedral, the Baptistery of Saint John and the Church of Saint Francis are must see religious sites. But as you will pass by many others, a pick inside is always recommended.
1. Duomo
(Cathedral)
Dedicated to the Holy Mary, the Volterra Duomo was built during the 12th and 13th centuries on the site of a previous church that also honored Mary. The current structure is a mixture of late-Renaissance and Romanesque styles. Restoration work carried out after a fire in 1842 added a Gothic style transept. Although the Duomo is filled with baroque paintings, the two most striking elements of the cathedral are its ceiling and the Cappella dell'Addolorata (Chapel of the Grieved). The Duomo's ceiling is covered with portraits of Volterran saints, which was embossed in 1580 with gold and azure. The Cappella dell'Addolorata features two Nativity scenes made of terracotta and a fresco by Benozzo Gozzoli that provides a background for the arrival of the Magi.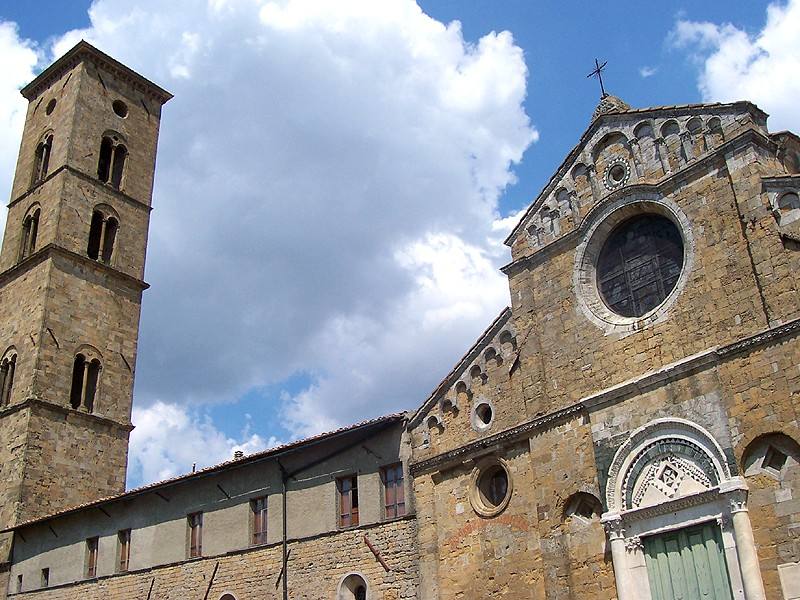 Duomo (Cathedral) in Volterra
Photo by Geobia (Creative Commons)
2. Battisterio di San Giovanni
(Baptistery of Saint John)
Although it is widely believed that the Baptistery was constructed during the 13th century, some of its elements suggest an earlier era. The exterior of the structure is festively adorned with green and white marble, but the interior is rather austere. The most notable attraction of the Baptistery is a small marble baptismal font elegantly sculpted by Andrea Cuntucci, in 1502, which portrays Christ's baptism and four virtues: faith, hope, charity, and justice. The church also contains a baptistery drum distinctively decorated on one side with black and white marble bands, a marble frieze by Mino da Fiesole and Alessandro Balsimelli, and a painting by Nicolo Cercignani.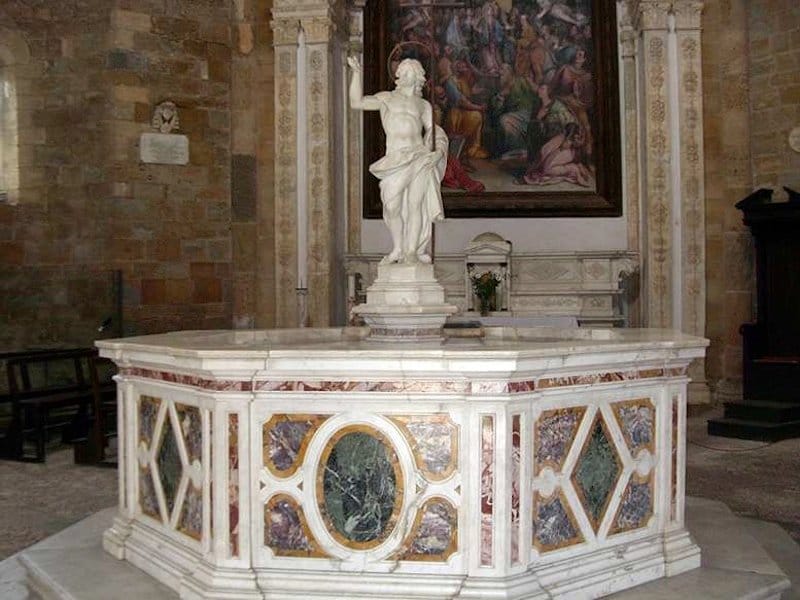 'Fonte Battesimale' by Andrea Sansovino
Photo by Geobia (Creative-Commons)
3. Chiesa di San Francesco
(Saint Francis' Church)
The 13th century San Francesco Church is a simple building that many would not look at twice. The only decoration on its stone facade is the city's coats of arms while its interior holds a single nave covered by a wood-beamed ceiling. There is one truly magnificent aspect of the church that makes it worth a visit: fresco of the Legend of the True Cross by Cenni di Francesco. Not only is this 15th-century masterpiece decorating the 'Cappella Croce del Giorno', a delightfully colorful work of art in itself, but it also provides a historical record of fashion and architectural trends during the early 1400s.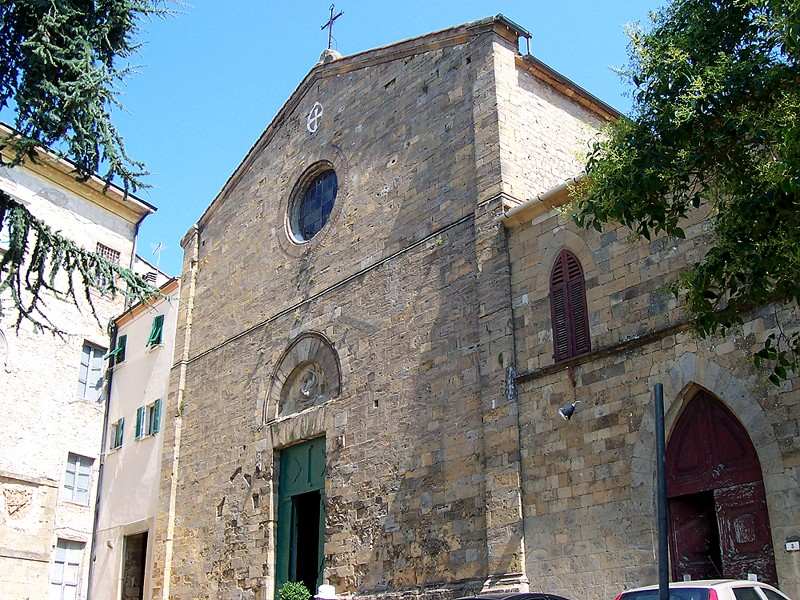 Facade of Saint Francis' Church
Photo by Geobia (Creative-Commons)
► Explore: Tuscany Destinations and Livorno
All Reviews and Guides to Livorno Cruise Port Destinations - Florence, Pisa, Lucca, San Gimignano, Volterra, Cinque Terra and Livorno in Depth
Learn More ►