Interesting facts, history and geography for cruise passengers to the port of Livorno
More than just a cruise port, Livorno has a very rich history dating back over 1,000 years that many a cruise traveler find interesting to explore.
Brief History
The city of Livorno has roots that go back to ancient times, but it was first referred to as Livorno in 1017. Built in a natural cove, Livorno was ruled by the Republic of Pisa throughout the Middle Ages. It was sold to Milan in 1399 (ruled by the Visconti family) and then in 1407, it was sold to Genoa. Finally, in 1421 Livorno was sold to Florence and for the next 300 years, it was under the rule of the Medici family.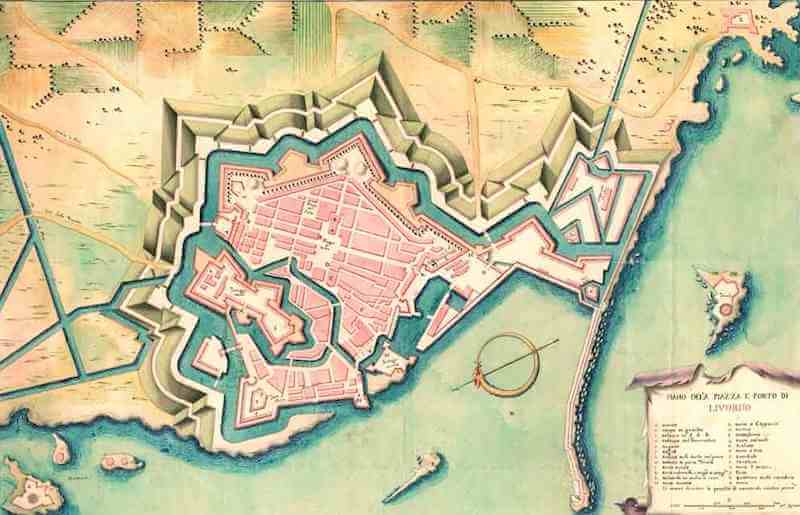 Livorno Map 17th Century
Public Domain
The city of Livorno flourished under the Medici family, who turned it into a flourishing port. In the late 16th century Livorno was officially given the status of city and the architect Bernardo Buontalenti designed the city as and 'ideal town' with a population of 20,000 and a port that could hold 300 ships.
In the end of the 16th century, Ferdinand I made an offer to merchants from all over the World. Ferdinand invited them to live and work in Livorno, offering special privileges and other incentives to do so. The largest group of people to move were Jewish, but there were also Spaniards, Russians, Muslims, English, French, Dutch, Greek, Portuguese, and many more.
This invitation laid the foundation for what became a very multi-cultural city. The 19th century was a golden age for Livorno, a time of growth and prosperity. Many new buildings were erected, such as the Aqueduct of Colognole and the Cisternone, the new city walls, the train station and many more.
Nevertheless, has Livorno lost the free port status and its mercantile relevance declined. The city was damaged during World War II bombings that destroyed many landmarks and historical buildings including the Cathedral and the Synagogue. The Cathedral has been rebuilt, many other buildings have been restored and a new Synagogue has been erected but Livorno is still trying to restore itself to its former glory.
History - Timeline
1017 - First reference as Livorno.
1103 - Countess Matilda of Tuscany gives it to the Pisan Church
1399 - Sold to the Duchy of Milan.
1404 - Sold to the Republic of Genoa.
1421 - Sold to the Republic of Florence.
1518 - 1534 - Construction of the Old Fort (Fortezza Vecchia).
1571 - Cosimo I orders construction of the Porto Mediceo
1577 - First stone of the 'Ideal City" was laid.
1580's - Ferdinando I of Tuscany declares Livorno a free port.
1606 - Ferdinando I de' Medici elevated Livorno to the rank of city.
End of 17th Century - Great expansion and town planning.
1808 - Napoleon takes over Tuscany and Livorno.
1868 - Livorno became part of the new Kingdom of Italy.
WWII - Livorno is heavily bombed and damaged.

Historic Personalities
Francesco Domenico Guerrazzi (1804–1873) - writer and politician.
Giovanni Fattori (1825–1908) - painter and leader the Macchiaioli group.
Pietro Mascagni (1863–1945) - opera composer known for works like "Cavalleria Rusticana" and "L'amico Fritz".
Amedeo Modigliani (1884–1920) - Jewish painter and sculptor known for his modernist style in which faces and figured nudes are elongated.
Carlo Azeglio Ciampi (born 1920) - former President of the Republic of Italy between 18 May 1999 and 15 May 2006.

Trivial Curiosities
Communist Party of Italy - following a split on the 17th Congress of the Italian Socialist Party, the Communist Party was founded in Livorno on 21 January 1921.
Leghorn - The British have been referring to Livorno as Leghorn.