Discover the best shops and shopping streets for cruise passengers visting the port of Livorno
Livorno's doesn't have the amazing fashion design shops that you find in Florence, nor exclusive products like the 'alabaster' to be found in Volterra. But, being a city of a reasonable size, Livorno boasts some well-known European brands like H&M, Zara or Benetton. There are also small boutiques and a few jewelry shops.
The Shopping Streets
Most shops are to be found in two main streets: Via Grande, which crosses the historical center between the 'Porto Mediceo' and the 'Piazza della Repubblica' and Via Ricasoli on the southern area of the city. Via Grande is impossible to miss and is very close to the Shuttle bus stops that transport the cruise ship passenger to the city center. Via Ricasoli is a bit farther away but at walking distance – less than a mile away – and is where most 'high-end' boutiques are to be found. For basic needs, there is a supermarket - 'Conad' – at the west end of Via Grande
Very much off the beaten track, Livorno has a large shopping mall – 'Centre Commerciale Fonti del Corallo' – a couple of miles east of the city center (behind the Train Station). At the end of Via Ricasoli, tucked in a corner of 'Piazza Attias', 'Coin' is a small department store.
Useful to Know When Shopping in Livorno
If you decide to shop in Livorno there one of two things that you should have in mind. To start with, the Euro is the official, legal tender and the only currency accepted in Italy.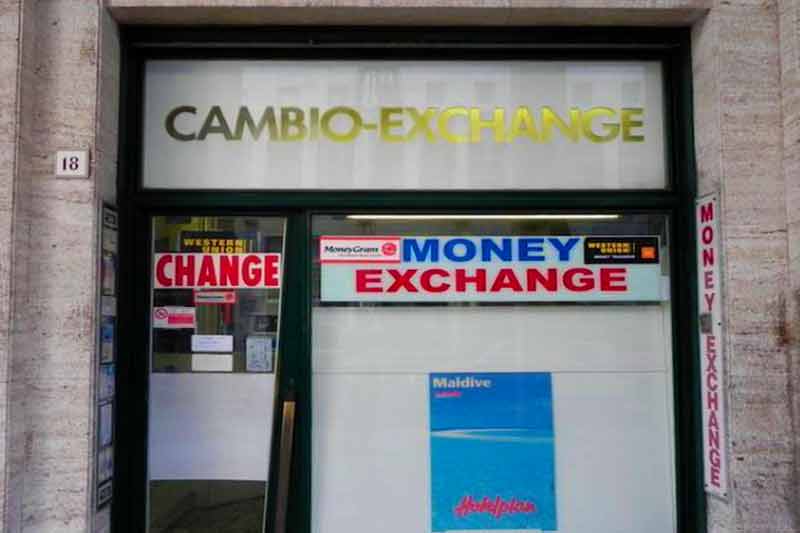 Exchange Office in Livorno
Photo © IQCruising.com
Unless you are dealing with street vendors haggling will not take you far - not even on street markets and certainly not in fashion or department stores. If you wish to have a coffee or light lunch in between a shopping spree there are a few nice places for a quick bite – some even offer Free Wi-Fi. It is always good to have some cash with you for incidentals and you will find both an Exchange Bureau and ATM's in Livorno's city center.
Money Matters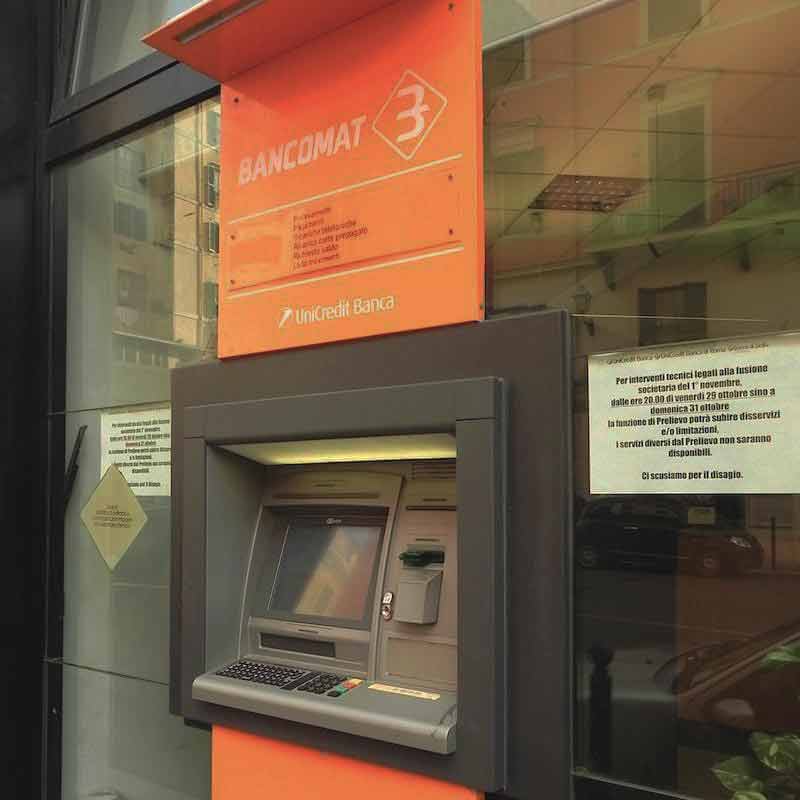 UniCredit ATM (Bancomat)
Photo © IQCruising.com
Although most shops in Livorno will accept Credit Cards, you may need cash for small purchases, a coffee, for a light lunch or a quick bit. The easiest way to cash money in Livorno is on any of the many ATM's to be found in the city center. The ATM of Unicredit Bank and of Sanpaolo Bank are the most convenient. UniCredit on Via Cogorano, 17 is the closest ATM (Bankomat) to the shuttle bus. Sanpaolo Bank on Piazza Grande, 33/37, in the SW corner of Piazza Grande, tucked inside the arcades is the closest ATM (Bankomat) to the Porto Mediceo.
Pharmacies in Livorno City Center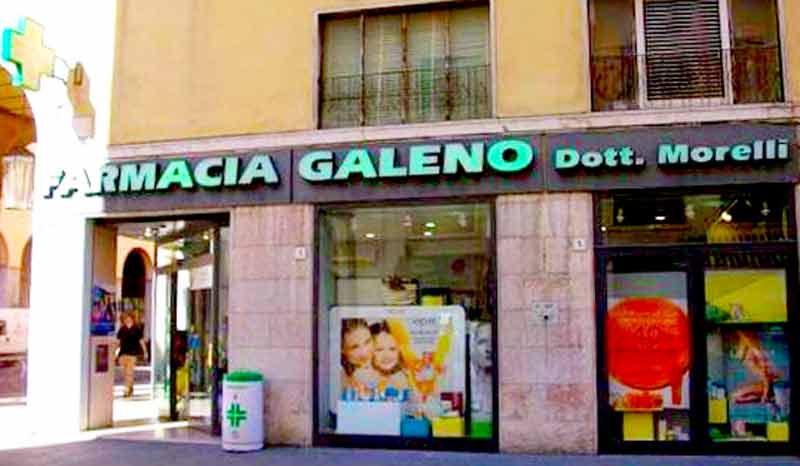 Like in many other European countries, Pharmacies are almost exclusively selling medical products but you will also find basics for infants or babies and even beauty products. There are quite a few pharmacies in Livorno's city center. Farmacia Comunale: Piazza Grande, 39 - Phone: (0586) 89 44 90 - Closest to the Shuttle Bus - Open: Everyday, 24 hours.
Farmacia Grossi: Piazza Grande, 20 | Phone: (0586) 88 41 31 | West Side of Piazza Grande | Open: 8:00 am to 1:00 pm and 3:00 pm to 8:00 pm (Monday to Saturday).
Farmacia Internazionale: Via Grande, 140 | Phone: (0586) 89 03 46 | West Side of Via Grande - Closest to Porto Mediceo | Open: 8:00 am to 1:00 pm and 3:00 pm to 8:00 pm (Monday to Saturday).
Farmacia Galeno: Via Grande, 62 | Phone: (0586) 88 01 31 | East Side of Via Grande | Open: 8:00 am to 1:00 pm and 3:00 pm to 8:00 pm (Monday to Saturday).
Opening Hours
Most shops are closed on Sundays and on Public Holidays and, some, also close on Monday morning. With some exceptions, shops are open between 9:00 am and 1:00 pm, reopening from 3:00 pm to 8:00 pm.
The top shops in Livorno
GIOIELLI BANCHIERI
Jewelry
With a wide range of jewelery exhibited in nineteen different showcases, 'Banchieri' has been creating unique pieces of jewelery for 40 years. Gems are purchase directly from their place of origin, offering high quality stones at favorable prices - specially Diamonds, Emeralds, Topaz and Aquamarine but also Pearls, Coral and Amber.
| | |
| --- | --- |
| WHAT: | Jewelery,Watches and Silverware, including handcrafted photograph frames. |
| Address | Via Grande, 106/108 |
| Open Hours | 10:00 am to 7:30pm |
| Closed: | Sundays and Monday Mornings |
| Phone | 0586.891186 |
| Website: | www.gioiellibanchieri.it |
CUCCUINI
Livorno's Original
When Gianni Cuccuini and Gabriella Billi's founded their original boutique in 1967, on Via Ricasoli, it was exclusively dedicated to accessories. But since the 70's that they have been adding a emerging clothes labels from the Italian fashion tradition but also including international designers. The brilliant choice of labels and diversity of items was the recipe for the success of this boutique that has now five shops in Livorno - 4 on Via Ricasoli and 1 on Via Grande.
| | |
| --- | --- |
| WHAT: | Woman and Man Accessories; Clothing labels by emerging designers. |
| Labels: | Alexander Wang, Bottega Veneta, Fendi, Lanvin, Marc Jacobs, Moncler, Philippe Audibert, Rick Owens, Samantha Sung, Burberry, Tod's, Dolce & Gabbana, Alexander McQueen and many more. |
| Address | Via Ricasoli, 35 /45 / 59 and 89 - Via Grande, 191. |
| Open Hours | 10:00 am to 8:00 pm |
| Closed: | Sundays |
| Phone | 0586 899512 |
| Website: | www.cuccuini.it |
LUISA SPAGNOLI
Elegant Refinement
Luisa Spagnoli is considered a leader in the manufacture and sale of women's high fashion clothing, based in Italy. Refinement, innovation, tradition in complete balance with creativity and quality be it classic, casual or ceremonial, smart or ethno-chic, the Luisa Spagnoli woman can invent a new look for herself everyday, reflecting the belief that clothes are to the body what education is to the spirit.
| | |
| --- | --- |
| WHAT: | Women Fashion: Casual, elegant, evening, ceremonies and wedding dresses. |
| Address | Via Grande, 169 / 171 |
| Open Hours | 10:00 am to 8:00 pm |
| Closed: | Sundays |
| Phone | 0586 219003 |
| Website: | www.luisaspagnoli.it |
STEFANELL
Simply Essential
Stefanell is an Italian clothing designer, manufacturer, and retailer, producing fashions for the men's and women's segments under its own Stefanell brands, as well as clothing under license for French design duo Marithé and François Giraud, including their jeans collection and the SPQRCITY sportswear collection.
WHAT:
Woman Fashion
Address
Via Grande, 217
Open Hours
Monday to Saturday - 9:00 am to 7:00 pm
Sunday: 9:00 am to 1:00 pm and 4:00 pm to 8:00 pm
Closed:
Holidays
Phone
0586 892767
Website:
www.stefanel.com
MAX MARA
Sartorial Luxury
MaxMara, is an Italian fashion house known for its ready-to-wear clothing and is one of Italy's most successful fashion companies with more than 100 stores. With 23 different collections, the Max Mara collection is dedicated to chic women who enjoy a refined yet dynamic and practical look in everyday life. Sartorial tradition, luxury materials, experimentation, international feel, modernity and status: these are the distinctive traits of Max Mara.
| | |
| --- | --- |
| WHAT: | Women's Fashion: Outwear, Casual, Elegant and Accessories. |
| Address | Via Grande, 142/144 |
| Open Hours | 10:00 am to 8:00 pm |
| Closed: | Sundays |
| Phone | 0586 219548 |
| Website: | www.maxmara.com |
ZARA
Popular Fashion
Low-priced clothing, resembling popular, higher-end clothing fashions, Zara is a popular fashion label, the largest international fashion company in the world. Zara's approach in developing design and new product is totally based on customers' feedback and meeting shoppers preferences.
| | |
| --- | --- |
| WHAT: | Fashion: Women, Man; Accessories and Footwear. |
| Address | Via Grande, 44 |
| Open Hours | Everyday: 9:30 am to 8:00 pm |
| Closed: | Holidays Only |
| Phone | 0586 219916 |
| Website: | www.zara.com |
HAVAIANAS
Flip-Flop Mania
Brazilian flip-lop brand is conquering Italy and Livorno being on the coast (with beautiful beaches) wouldn't escape the mania that has developed in the last decade. One of the most recent shops in Livorno, the 'Havaianas' showroom displays a huge diversity of flip-flops for all tastes and sizes.
| | |
| --- | --- |
| WHAT: | Flip-Flops and more Flip-Flops in all colors and sizes. |
| Address | Via Grande, 163 |
| Open Hours | 9:30 am to 8:00 pm |
| Closed: | Sundays |
| Phone | 0586 886383 |
| Website: | havaianas.com |