Venice overview for cruise passengers: where ships dock, what to do, top attractions, and shore excursions; dining and shopping.
Venice is one of the most visited cruise ports in Italy and Europe. Built upon 117 separate islands and held together by wooden beamed structures below water, Venice is as strong today as it was when first inhabited over 1500 years ago.
The maze of tiny cobbled streets and courtyards, where you bump into history around every corner, seems to go on forever. Not surprisingly, Venice remains a city that all cruise passengers must have on their bucket list.
Contents
Overview
There is so much to do and see in Venice that cruises calling at the port for one day will force passengers to choose carefully. The good news is that most cruise lines stay at least two days in Venice, allowing more time to explore this unique city.
Venice is both a port of call and a homeport in Italy for cruises in the eastern Mediterranean. However, the overwhelming majority of cruise ships dock in Venice to embark and disembark passengers.
Embarking and disembarking in Venice
Cruise passengers embarking in Venice cruise port, especially those traveling from the US or Canada, should fly at least one day ahead. Arrive in Venice before noon and stay in a hotel overnight to fully enjoy the city.
If you are disembarking a cruise in Venice, you should also consider staying an extra day to explore the city, although you should have in mind that hotels tend to be very expensive but worth every penny.
Where is Venice and the cruise port
Venice is on the northern tip of the Adriatic sea, formed by the Italian peninsula on the west and coasts of Croatia, Albania, and Greece on the east side. Trieste and Ravenna are another two cruise ports nearby and also visited by cruise ships to explore Venice. Trieste is 68 miles (110 km) to the east, and Ravenna is 66 miles (107 km) to the south.
The cruise port is inside the Venetian Lagoon, on the west side of the city. For over one century, cruise ships have been sailing in and out of the lagoon, offering spectacular vistas of Venice but damaging the wooden structure underwater. There have been many complaints by residents and, sooner or later, there will be inevitable restrictions on cruising.
Where cruise ships dock
There are 2 cruise terminals in Venice where ships may dock:
Venezia Terminal Passeggeri

San Basilico
With very few exceptions, all cruise ships dock at the Venice Passenger Terminal. This main cruise terminal is in an area connected to the mainland by road and train. It has excellent access for all cruisers embarking or disembarking in Venice.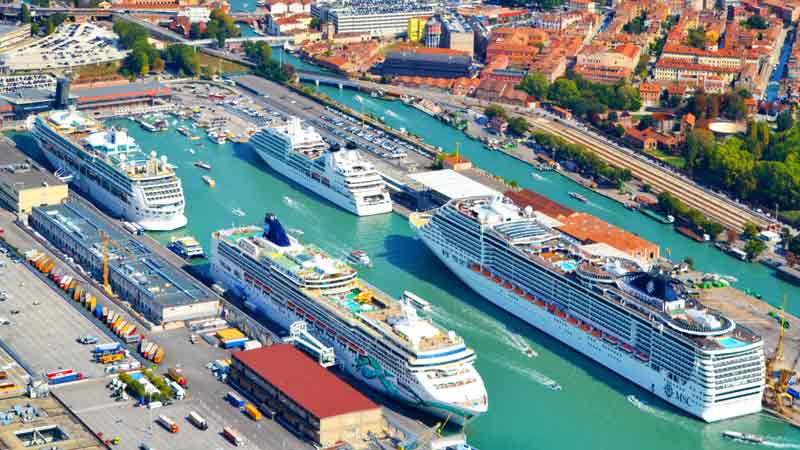 Cruise Port, Venice
Photo: Public Domain
The terminal also has good connections to the historical center - namely by Vaporetto or Water Taxi -, and is less than 3/4 of a mile (1 km) from Piazzale Roma. This large square is the primary transportation hub of Venice. Within walking distance of the Piazzale Roma, there are quite a few impressive highlights.
► Explore: At The Pier and Terminal in Venice
The Cruise Terminal and the San Basilico pier, amenities and services, Vaporetto, Taxis, Getting to Piazzale Roma and more ...
Read the full review ►
Things to do on a cruise to Venice
Whatever you want to do and see in Venice, be aware that the historical city is exclusively pedestrian. So, make sure you wear comfortable footwear.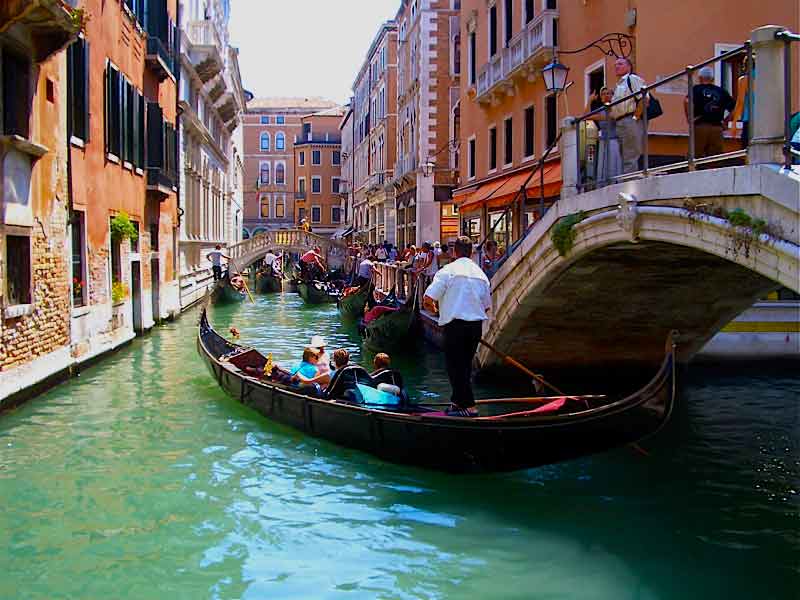 To visit the top attractions, you will always walk a lot. And there are many highlights and different areas to explore on foot in Venice. Inevitably, you need to choose carefully what you want to do, which sites to visit, and which to skip. Here are the top things for cruise passengers to do in Venice:
Visit the highlights around St Mark

Enjoy top museums and art galleries

Visit churches with stuning art

Walk around the Jewish Ghetto

Explore Murano and Burano

Take a Gondola Ride

Discover Verona

Go on a tour to Padua

Enjoy beach time in the Lido

Go on a shopping spree

Lunch al fresco in a secluded piazza
Top attractions in Venice cruise port
St Mark Square is, undoubtedly, the top highlight of Venice. Besides the fact that this is one of the most beautiful squares in the World, here you will find some other highlights: Saint Mark's Basilica (Basilica di San Marco), the Bell Tower (Campanile), the Clock Tower (not to be confused with the previous one), the Correr Museum.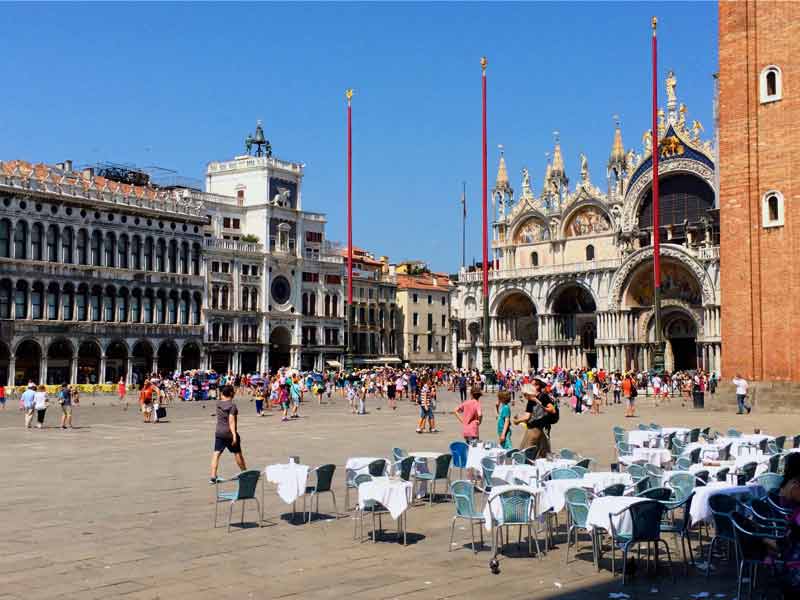 St. Mark's Square, Venice
Photo © IQCruising.com
The magnificent Doge's Palace and the famous Bridge of Sighs (Ponte de Sospiri) are literally around the corner. In St Mark Square, the cruise passenger will also find three famous cafe-restaurants: the Cafe Florian, the Ristorante Quadri, and the Cafe Lavena.
► Explore: Top Highlights and Main Attractions
Reviews of St Mark's Square, Doge's Palace, Bridge of Sighs, Rialto Bridge, Accademia, and more ...
Learn More ►
Landmarks beyond St Mark's square
But there is much more to see in Venice beyond the Piazza San Marco. The Rialto Bridge is an iconic landmark - and the walk from San Marco to Rialto a must-do.
The Teatro La Fenice, the Jewish Ghetto (and Museum), the Arsenale, the Riva degli Schiavoni (Waterfront Promenade), the Palazzo Contarini del Bovolo, the Ca' D'Oro, are among the top landmarks to enjoy. Finally, visiting Venice would never be complete without a tour to Murano, Burano, or the Lido.
► Explore: Top Landmarks (Squares, Streets and Monuments)
Reviews of Canal Grande, La Fenice, the Jewish Ghetto and more ...
Learn More ►
Churches and Museums
Once upon a time, Venice became famous for being a magnet for some of the most famous artists ever gathered in the world. Their masterworks are on display in the countless churches of Venice. And in excellent museums. A look inside churches is always an eye-opening experience as, in most cases, the exuberant interiors do not match the humble exteriors.
The Basilica di Santa Maria Gloriosa dei Frari and the Basilica dei Santi Giovanni e Paolo are two examples of modest facades with exuberant interiors.
Amongst the many art exhibits, the Galleria dell' Accademia and the Scuola Grande di San Rocco are two must-see museums. Museums like Peggy Guggenheim Collection, the Ca' Rezzonico, or the Museum of Naval History should also be on your to-do list.
► Explore: Top Religious Sites not to be missed in Venice.
Reviews of Santa Maria Gloriosa dei Frari, San Zanipolo, Santo Stefano, Gesuati and more ...
Learn More ►
Cruise shore excursions and tours
Obviously, all cruise lines visiting Venice offer many and diverse shore excursions of the city and other destinations close by. Royal Caribbean offers 11 shore excursions, and Norwegian Cruise Line has available 9 shore tours.
Celebrity Cruises offer as many 8 shore explorations, Holland America lists 25 cruise excursions and Princess has available 18 excursions in Venice cruise port.
The upper-premium cruise lines like Oceania and Viking visit Venice cruise port on many itineraries. Oceania Cruises organizes 23 shore excursions in Venice. Although most luxury cruise lines include shore excursions with the cruise fare, Regent, Seabourn and Silversea offer unique and diverse explorations ashore in Venice. Regent lists 27 excursions, and Seabourn has 12 excursions.
Dining, quick bites, and local cuisine
One thing cruise passengers must-do in Venice is to have lunch, a quick bite, or at least grab a snack as you explore the city. The cruise terminals are too far from top attractions and to walk back to the cruise ship for lunch is a waste of precious time.
Yet, be aware that Venice is famous for not having as good restaurants as you would expect. There are, obviously, excellent restaurants in the city. But you have to be in the know to find the best gourmet cuisine. However, there are lots of places to have a quick bite or grab a snack. And the settings are unbeatable.
Whether it's by a canal, under an arcade, on a side street, or an off-the-beaten-track square, the cruise visitor will stumble upon great scenic choices. You may want to follow your instinctive nose (if you have one) or read our review of the best places to have lunch, a quick bite, and learn about the local cuisine.
► Explore: Restaurants, Cafes and Bars
Reviews of Bistrot Venise, Co Vino, Oliva Nera, Rosa Rossa, Tratoria Al Cugnai and more ...
Learn More ►
Shops and shopping
Very few people live in Venice (population rounds fewer than 40,000), which means that most shops the cruise passenger will come across target the 20 million tourists that visit the city every year. However, this doesn't mean that shops are tourist traps but that most are very high quality.
In Venice, you will find boutiques with all the high fashion designers ranging from famous Italian names like Salvatore Ferragamo to international brands like Louis Vuitton, Chanel, or Tiffany.
Murano Glass Shop, Venice
Photo © IQCruising.com
Cruise passengers looking to buy a nice souvenir to take a bit of Venice home should look for handcrafted glass made in nearby Murano. There are shops all over Venice with beautiful glass designs. You will also find art galleries with famous contemporary artists. Like most in Venice, even souvenir stores are of exceptional quality.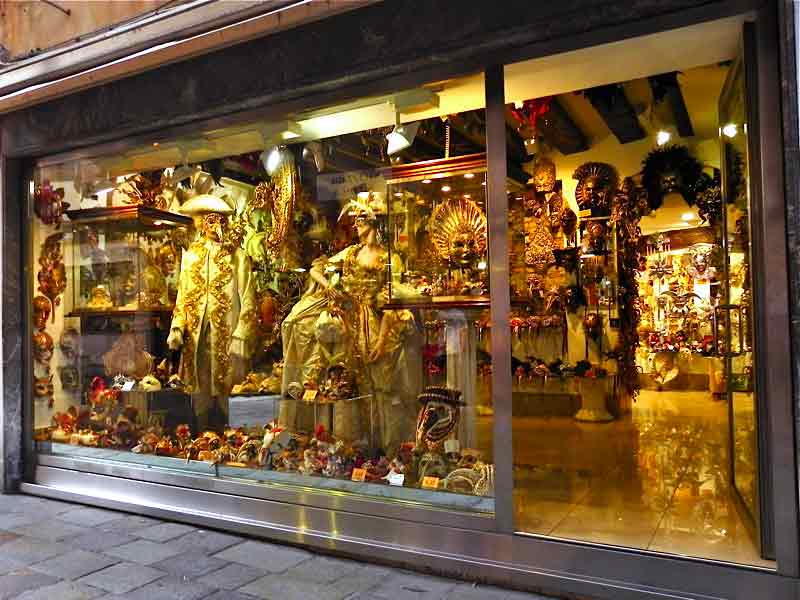 Carnival Costume Shop, Venice
Photo © IQCruising.com
Some of these shops are just a delight to look at, in particular, the stores selling Carnival costumes and masks.
► Explore: Shopping Areas, Streets and Best Shops
Reviews of Unique Shops, Italian and International Design, and more ...
Learn More ►