Find the best places to enjoy lunch, a light fare, or a quick bite in Volterra when exploring the city on your own or a shore excursion out of Livorno cruise port.
Most probably the cruise ship passenger will travel from Livorno to Volterra to explore the most interesting attractions in this quaint medieval town whilst your cruise ship is calling at the port for a day
Considering that Volterra is not a big place, the cruise traveler will have time to taste truly Tuscan flavors – be it a quick bite or with more sophisticated cuisine. There are many options close to the main points of interest allowing the choice between a light fare and a more elaborate lunch. On this page, you will find a selection of restaurants that provide different options.
1. Il Sacco Fiorentino
(Tuscan Dishes) - $$
Il Sacco Fiorentino is a family-friendly neighborhood restaurant that features Tuscan dishes with hints of international flavors. House specialties include the antipasti del Sacco Fiorentino and the tagliatelle del Sacco Fiorentino (pasta with chicken and red peppers).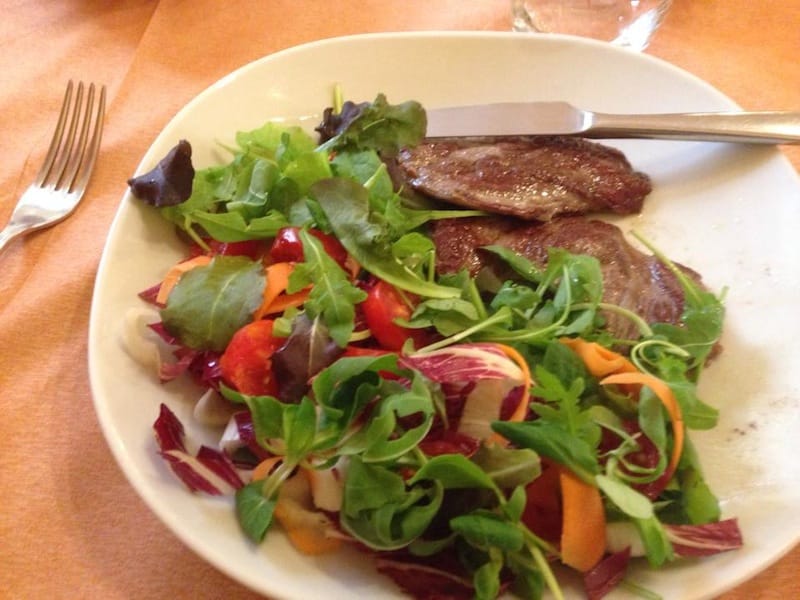 Photo by Nicola Dal Canto (Facebook)
Where: City Centre
Prices: Average price per person: € 25.00 - tasting menu €28:00
Open: noon to 3:00 pm | 7:00 pm to 10:00 pm
Closed: Wednesday
Address: Piazza XX Settembre, 18
Phone: +39 (0)588 88537
Website: Visit Page on Facebook
2. Ristorante Etruria
(Finest in Volterra) - $$$
Etruria is located on the Piazza Priori and ideal for lunch al fresco. Considered Volterra's finest restaurant it attracts famous visitors politicians, actors, and artists to enjoy Tuscan dishes under its frescoed ceilings. The well-priced and delicious food includes highlights such as the fantasia di crostini, pappardelle di leper, riso salsiccia e Funghi, and farfalle all'Etrusca.
Where: City Centre - on main square
Prices: Between € 25.00 and € 30.00
Open: Everyday - noon to 4:00 pm | 6:00 pm to 10:00 pm
Closed: NA
Address: Piazza dei Priori 6-8
Phone: +39 (0)588 86064
Website: Visit Official Site
3. La Vena di Vino
(Quick Bite) - $
La Vena di Vino is a wine bar - enoteca, in Italian - located on Via Don Minzoni just across from the Etruscan Museum. Its interior is strangely, and famously, decorated with bras, but there is always a steady supply of bottle samples, food, and music.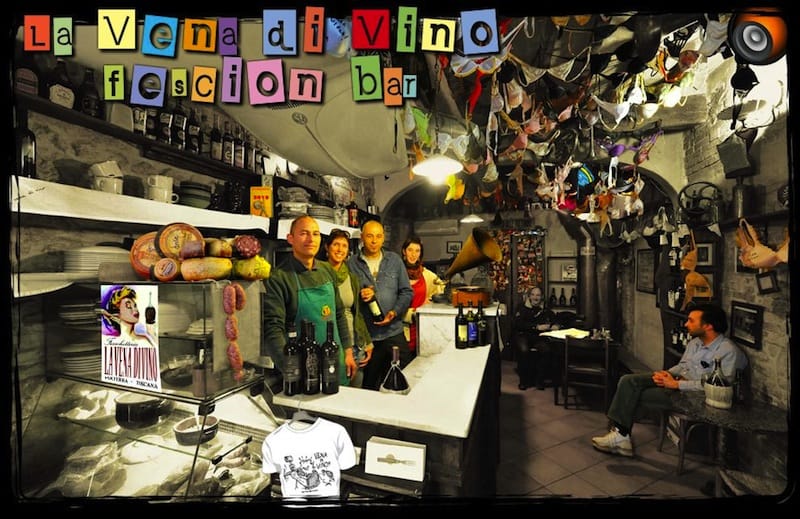 Where: City Centre - across Etruscan Museum
Prices: Soups €6.00 | Cheese and Cold Cuts €11.00
Open: 11:00 am to late
Closed: Tuesday
Address: Via Don Giovanni Minzoni,, 30
Phone: +39 0588 81491
Website: Facebook page
4. Ristorante-Enoteca "Del Duca"
(Quick Bite al Fresco) - $$$
The Ristorante-Enoteca "Del Duca" is located between the acropolis and Piazza dei Priori. Part wine bar and part restaurant, its beautiful courtyard, and refreshing food make Del Duca a wonderful oasis on hot summer days with delicious gourmet cuisine. The wine list is truly impressive: priced between €18.00 and €1,250.00.
Where: City Centre - close to the acropolis
Prices: 5-course tasting menus €45.00
Open: 12:30 pm to 3:00 pm | 7:30 pm to 10:00 pm
Closed: Tuesday
Address: Via di Castello, 2
Phone: +39 (0) 588 81510
Website: Visit Official Site
5. Trattoria da Badò
(Out of Town) - $
Da Bado is a family-run restaurant located just outside Volterra in the small village of San Lazzero, but convenient if the cruise ship passenger rented a car and is driving back to Livorno. The dishes are improvised based on what ingredients are available, but are always based on traditional Volterran recipes. The Zuppa (soupe) alla Volterrana, Pappardelle alla Leper (hare), Coniglio a modo nostro, and Trippa alla Volterrana are not to be missed.
Where: Out of Town - on the way between Volterra and Livorno
Prices: Moderate
Open: 12:30 pm to 2:30 pm | 7:30 pm to 10:00 pm
Closed: Wednesday
Address: Borgo San Lazzero, 9
Phone: +39 342 39 58 385
Website: Visit Official Site
► Explore: Tuscany Destinations and Livorno
All Reviews and Guides to Livorno Cruise Port Destinations - Florence, Pisa, Lucca, San Gimignano, Volterra, Cinque Terra and Livorno in Depth
Learn More ►