Best shops and shopping streets in Siena for visitors on a cruise to the Port of Livorno
There is no reason to visit Siena if shopping is your primary interest when cruising. There are good shops in town but when docking on a cruise ship in Livorno you will find more and better shopping in Florence, which is closer.
Shopping Overview
Siena's main shopping areas are all north of Piazza del Campo and all very close to the main landmarks and attractions. The cruise traveler will find most of the shops on Via di Citta, Via Banchi di Sopra, and the Via Dei Montanini.
Via Banchi Sopra
Photo by Markus Mark CC-by-SA
Major Shopping Streets
On these streets visitors will find traditional Sienese crafts that include gold jewelry, ceramic tiles, terracotta vases, tapestries, lampshades, and other fabrics embroidered with Renaissance patterns. On Via di Città the following shops are worth a visit: Antichità Monna Agnese (antiques); Arte & Libri (old books and postcards); Ceramiche Artistiche Santa Caterina (the best ceramics in town); Antica Drogheria Manganelli (wines and gourmet delicacies); Forno Le Campane (pastries).
For those interested in fashion, Via Banchi di Sopra is where the cruise ship traveler can find high-end fashion boutiques and designer outlets that carry Versace, Gucci, Prada, Burberry, Louis Vuitton, and Armani. Do not miss the Pasticceria Nannini on this street.
1. Siena Ricama
(Embroidery)
Siena Ricama is a tiny embroidery store on the Via di Citta that offers up a truly Sienese shopping experience. The magnetic Signora Bruna Brizi stitches all of the medieval art-inspired embroidered lampshades, tablecloths, and household items herself. The magic of a trip to the Siena Ricama, though, is in Signora Brizi herself. She spends so much time chatting away with visitors to her shop, that it is a wonder that she has any time to create her lovely products.
Address: Via di Città 61
Phone: 0577-288-339
2. Bottega dell'Arte
(Artistic Reproductions)
Did you see a 14th or 15th century painting hanging in one of Siena's palazzos that the cruise ship traveler wished could hang in your own "palazzo" back home? Bottega dell'Arte is the best place to visit for an affordable world class reproduction done by Chiara Perinetti Casoni.
3. Antiche Dimore
(Cloth Galore)
Debora Loreni's Antiche Dimore is the place to go for cloth products made by Sienese artists. There are an abundance of sheets, curtains and towels in stock, as well as reams of fabrics on sale so that you can make your own Sienese cloth masterpiece.
Address: Via di Città 115
Phone: 0577-45-337
4. Mercato
(Markets)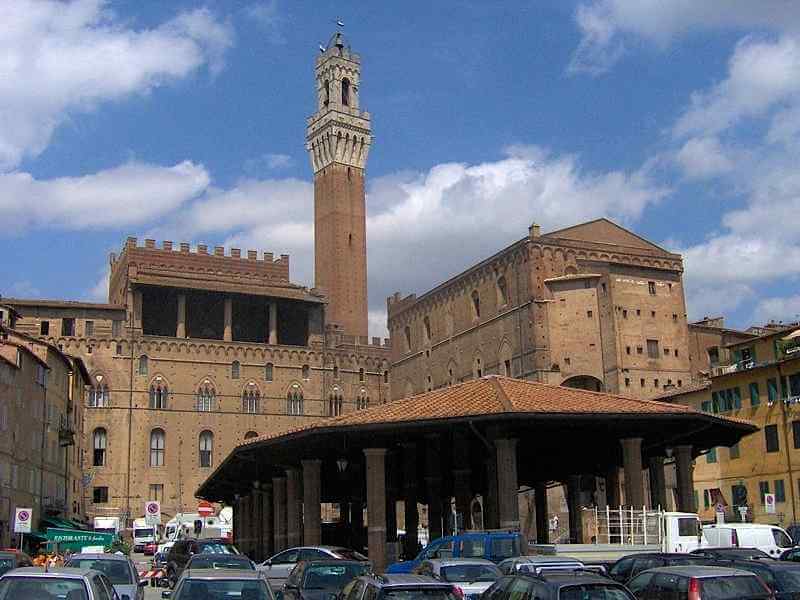 Piazza del Mercato in Siena
Photo: William Domenichini CC-by-SA
There is a market every Wednesday (8:00 am to 1:00 pm) in front of the Fortezza, known as La Lizza where visitors can find everything from fresh produce to clothes. Piazza del Mercato is the site of a wonderful antiques market every third Sunday of the month - it is located right behind the Piazza del Campo
► Explore: Tuscany Destinations and Livorno
All Reviews and Guides to Livorno Cruise Port Destinations - Florence, Pisa, Lucca, San Gimignano, Volterra, Cinque Terra and Livorno in Depth
Learn More ►