How to get to Siena on your own from the cruise port in Livorno by rail. How to rent a car in Livorno, drive to Siena and where to park
Exploring Siena on your own from the Port of Livorno is not particularly complicated. Either by rail or car rental, cruise travelers will have time to visit many of the highlights not included in most cruise ship excursions.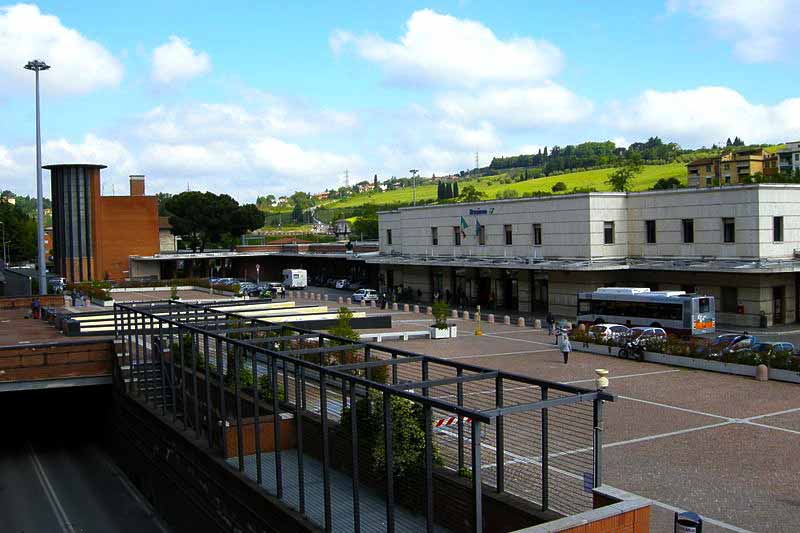 Siena Railway Station
Photo DV CC-by-SA
Traveling to Siena Overview
Renting a car is undoubtedly the best option. Regardless of where your cruise ship docks in Livorno, you will find Car Rental services at the pier or at the terminal. This said, it is always advisable to book ahead of time.
The journey will take you around 2 hours to cover the 80 miles / 130 km between Livorno and Siena but the road crosses wonderful Tuscan landscapes. If time allows you can even stop in San Gimignano or Volterra on the way back. More about Renting a Car below.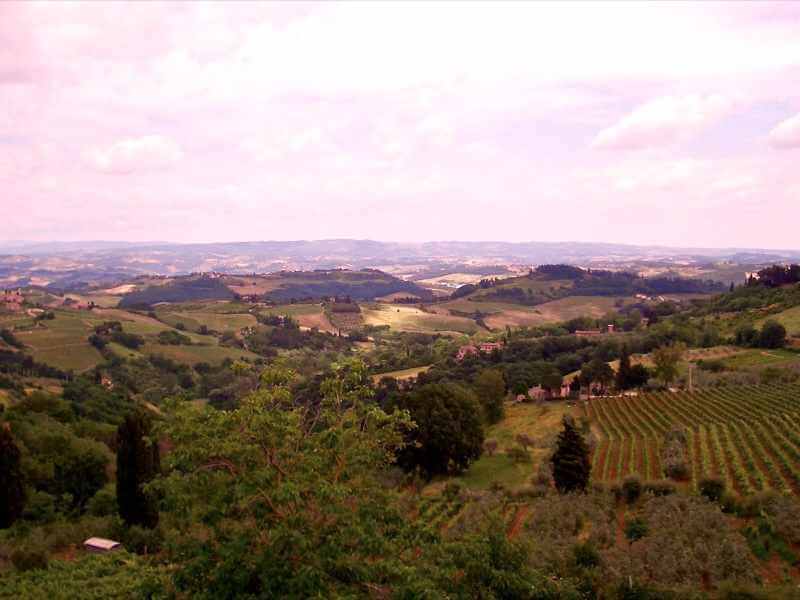 Tuscan Landscape
Photo: © IQCruising.com
However, if the cruise traveler doesn't like to drive or feels uncomfortable with Italian country roads, traveling by train is easy and takes around the same time.
Train and Bus
The train from Livorno to Siena takes around 2 hours and costs €11.00. Be aware that the faster, "Frecciabianca" train service, will costs €19.20. You will have to change train at least once.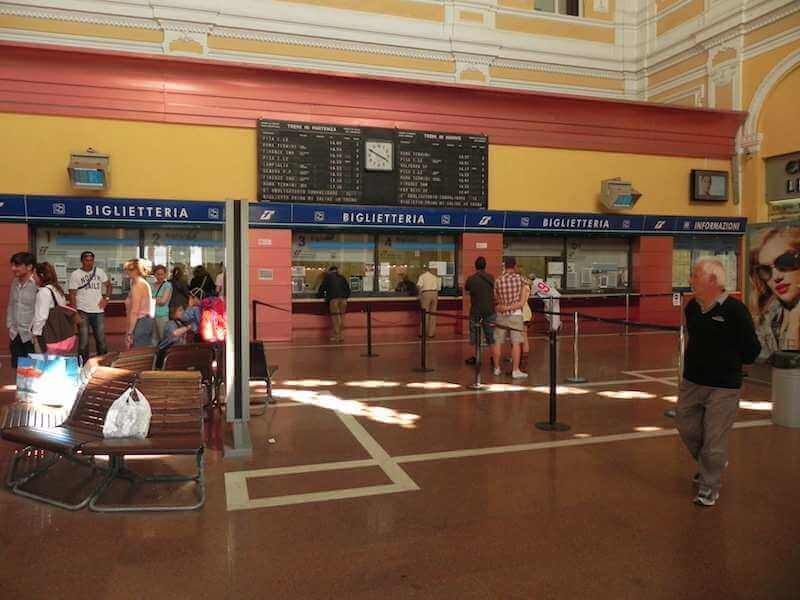 Livorno Railway Station
Photo © IQCruising.com
Naturally, it is better to just change train once, in Empoli (on the line to Florence). But if the schedule is more convenient you can always take the train to Pisa and change train again in Empoli.
The fact that 2 changes may be required doesn't mean it takes longer - see the schedule below. Trains are frequent both ways, even on weekends.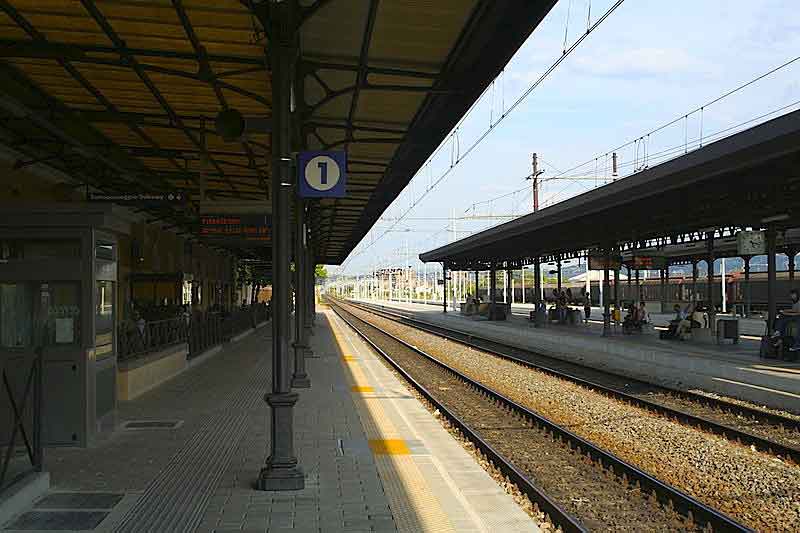 Empoli Railway Station
Photo Prof Quatermass Public Domain
Train Schedule from Livorno to Siena
To Siena by Train
Via Empoli (and Pisa) Weekdays
LIVORNO
CENTRALE
Arrival
Siena
DEPART
SIENA
Arrival
Livorno
08:12 AM *
09:12 AM *
09:30 AM **
10:12 AM *
10:14 am
11:38 am
11:38 am
12:38 am
2:18 pm **
2:41 pm *
3:41 pm *
4:18 pm **
4:41 pm *
4:23 pm
4:48 pm
5:48 pm
6:38 pm
6:46 pm
* Change train in Empoli
** Change train in Empoli and Pisa
These times are indicative and may change.
Double check Trenitalia Website
Bus or Taxi at Siena Railway Station
Once at the Siena Railway Station the cruise traveler will need either to get on a taxi or on a short bus ride (5 to 10 minutes) to get to the Historical Centre.
You will easily find taxis and a number of bus stops just outside the railway station. Bus #10 is the best as it has a stop at Piazza San Domenico (next to one of the Highlights in Siena) in the Historical Centre and no more than 300 meters from the absolute must see Piazza del Campo
For more and updated information on the Bus Service in Siena, visit the Visit Siena's Public Bus Website.
Exploring Siena with a car rental in Livorno
Siena can be easily be explored by car - although the train / bus connections take almost as long as the drive to Siena (around 2 hours - 80 miles / 130 km).
The only drawback is that parking in Siena is outside the medieval walls and you will have a 10-minute walk to the main attractions. However, the same will happen if you go on a tour or by public transportation.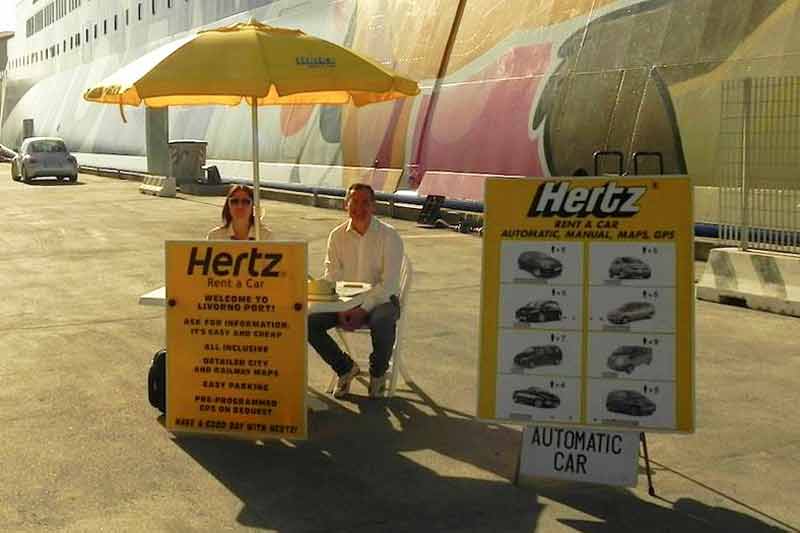 Car Rental at the Port of Livorno
Photo © IQCruising.com
Driving in Italy is not complicated at all, particularly in countryside roads. The landscape is absolutely spectacular and you will have both the time and flexibility to enjoy at leisure the wonders of Tuscany.
All car rental representatives at the piers of the port of Livorno have automatic cars available for those that are not familiar with a clutch and shifting gears.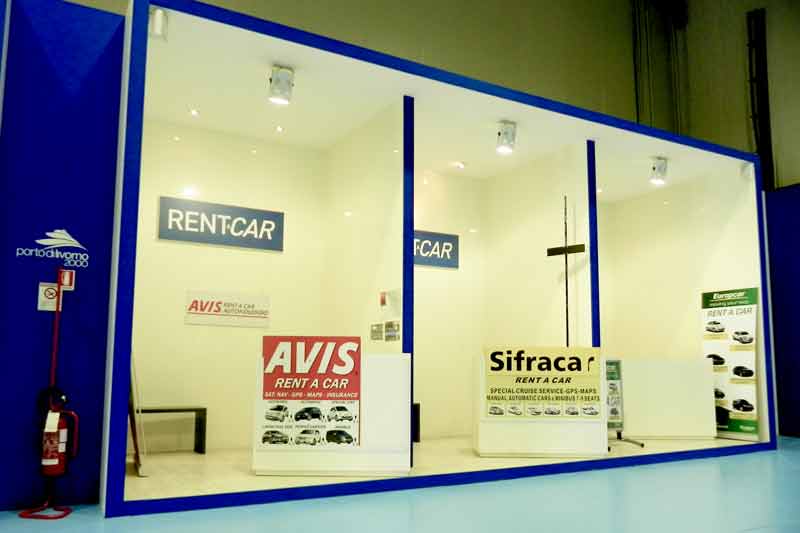 Car Rental at Livorno Port
Photo: © IQCruising.com
Car rental for a day is offered with very good deals: between €60.00 and €100.00 depending on the car size. If you are concerned with getting lost in the Italian maze of countryside roads, you have nothing to worry about as Car Rental offer GPS and Maps.
For more information about Taxi services visit the Siena's taxis website
For more information about the Parking visit the Siena's Parking Website
► Explore: Tuscany Destinations and Livorno
All Reviews and Guides to Livorno Cruise Port Destinations - Florence, Pisa, Lucca, San Gimignano, Volterra, Cinque Terra and Livorno in Depth
Learn More ►