All you must know about the best things to do in Florence on a cruise to Livorno: the highlights on shore excursions, how to get there independently, explore the top attractions, and what to do on-your-own.
There is so much to do and see in Florence that what you can visit will be restricted by how long your cruise ship stays in the Port of Livorno: on an excursion or on your own by bus, car, or train. Remember that it can take up to 2 hours to get to Florence from the Port of Livorno.
Exploring Florence's Attractions
Regardless of the tour - be it a cruise excursion or a private tour/guide - even the shore excursions attempting to visit the highlights of Florence will always be forced to skip significant sites.
As such, the cruise traveler should consider traveling to Florence independently by train to explore one or two places, enjoy lunch or a light fare, and visit a few shops. A good alternative, although more expensive, is to book a "Tour on Your Own," which all cruise lines offer.
Shore Excursions Highlights
David's Head (detail) in Florence
Photo Public Domain
Because of time restrictions, all excursions take cruise travelers to see a handful of really interesting sites but with few exceptions, you would not have time to go inside to more than one or, at best, two. Typically, cruise excursions will take you to see the Cathedral and Bell Tower (Duomo - Campanile), the Baptistery of Saint John (Battistero di San Giovanni) right in front, the Piazza della Signoria to see the Palazzo Vecchio (Old Palace) from outside, the Loggia dei Lanzi (aka Loggia della Signoria) and a walk outside the Galleria degli Uffizi (Uffizi Gallery) all the way to the river Arno to have a look at the Ponte Vecchio.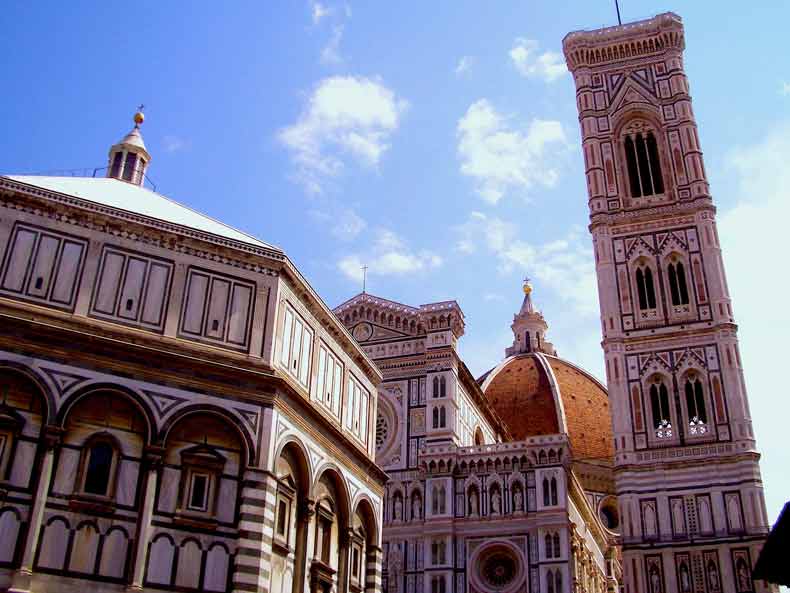 Cathedral in Florence
Photo © IQCruising.com
All these highlights will be seen only from the outside in a leisurely walk through the historical center. Only two sites will be visited inside: the Galleria dell'Accademia (Accademia Gallery) to see the famous David sculptured by Michelangelo and the Church of St. Croce (Holy Cross Church) to see the tombs of illustrious sons of Florence like Michelangelo, Galileo, Machiavelli and the memorial to Dante.
But many other highlights will have to be skipped. This doesn't mean that the shore excursions offered on cruise ships are bad or not worthwhile. The fact is that it is plainly impossible to see it all in one day and choices have to be made.
Borgo San Jacopo in Florence
Photo by Management
Top Attractions To Visit On-Your-Own
Erroneously, many a cruise traveler that has been in Florence before on a cruise excursion may be under the impression that has seen it all. If that's your perception, you couldn't be more wrong. There are literally over 30 other must-see places that are not included on ship excursions and that would take at least 1 to 2 hours each to fully enjoy. The Palazzo Pitti, for example, is a must see, which takes at least 3 hours to tour - not including the adjacent Boboli Gardens.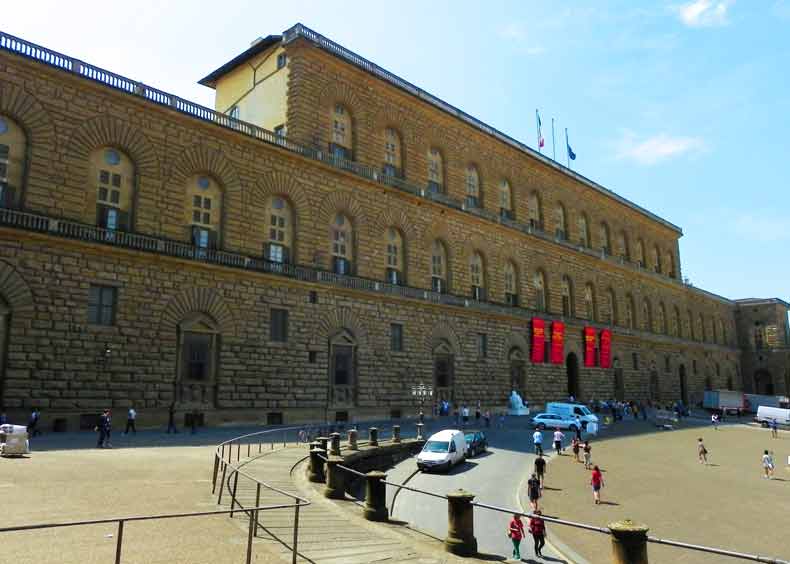 Palazzo Pitti in Florence
Photo © IQCruising.com
As a matter of fact, in twenty years of visiting Florence with organized excursions, the Editor never came across a tour offering visits to major highlights like the Laurentian Library, the Medici Chapels, San Miniato al Monte, Palazzo Pitti or the Synagogue. It has been in many other prior journeys to Florence that the Editor visited all these highlights.
Uffizi Gallery, a must-visit museum
For those wishing to admire some of the major artworks on display at the Uffizi be prepared to spend at least 3 hours at this fabulous museum with some of the most important works of the Italian renaissance.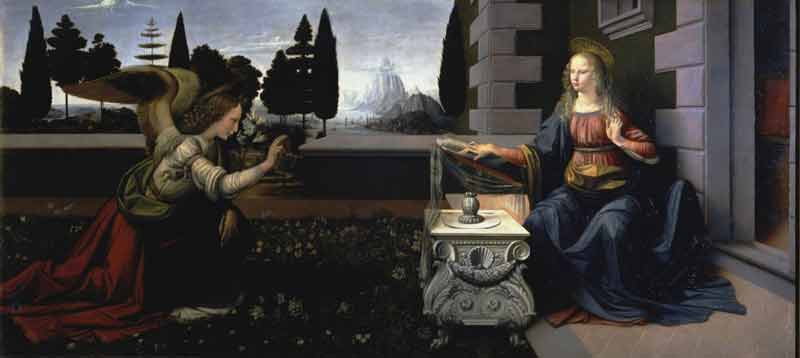 Da Vinci's Annunciation at the Uffizi
Photo Public Domain
Among other masterworks a handful must not be missed such as Da Vinci's 'Annunciation', Donatello's 'Birth of Venus' and 'Spring', Caravaggio's 'Medusa', Michelangelo's 'Doni Tondo' or Titian's 'Venus of Urbino'. The good news is that most cruise lines offer tours to the Uffizi or you can book tickets online to save time.
Religious Sites: Churches and the Synagogue
Among many other sites, cruise excursions also leave out wonderful churches with stunning artworks that must be seen like San Lorenzo (with masterworks by Michelangelo), Santa Maria Novella, Santo Spirito, Orsanmichele, the Basilica Santissima Annunziata, the Brancacci Chapel in Santa Maria del Carmine, Ognissanti, the Chiostro dello Scalzo and the Great Synagogue.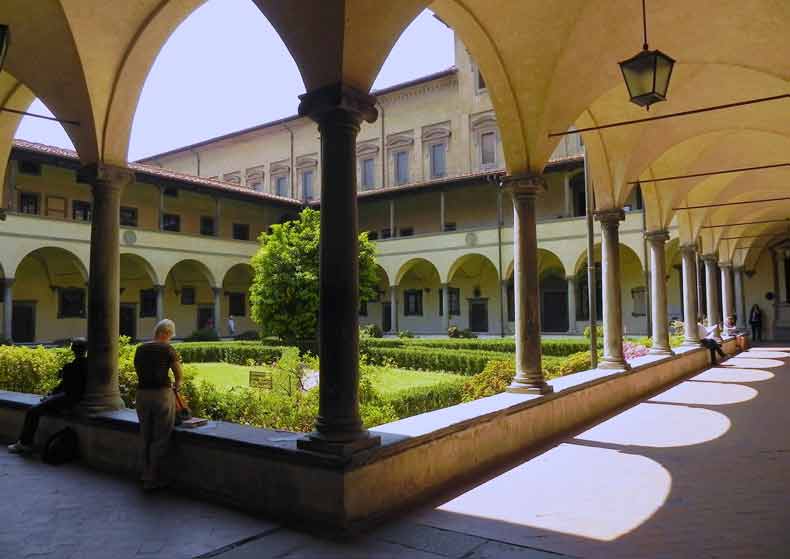 San Lorenzo Cloister in Florence
Photo © IQCruising.com
Art and Museums
When visiting major churches and landmarks such as the Loggia dei Lanzi, the cruise traveler will literally stumble upon works by great artists like Botticelli, Ghirlandaio, Giotto, Verrocchio, Donatello or Pontormo. However, the most precious masterworks are kept in museums. A visit to any of these museums will never take less than a couple of hours each.
Besides smaller and not as important museums, you should consider visiting the following: Bargello Museum (works by Michelangelo, Donatello, Giambologna, Della Robbia, Cellini, Bernini, Ghiberti, Brunelleschi), the San Marco Museum (with the best collection of Fra Angelico's frescoes), the Medici Riccardi Museum, the Duomo's Museum or the Galleria degli Innocenti.
There are also other lesser known museums that you may want to include on a must visit list such as the Davanzati's Palace Museum, the Galileo's Museum, the Horne Museum, the Stefano Bardini's Museum, the Stibbert Museum and the Marino Marini Museum.
How to Get to Florence On-Your-Own
The cruise traveler that wishes to visit any of these highlights and attractions or fully enjoy extraordinary art collections displayed in museums like the Uffizi or the Bargello will have to travel on your own as the Editor did (and does) when exploring Florence. Or take a ship tour that only offers the transfer to and from Florence. And what a delight it is to have the time and freedom to enjoy what you really want to see and do.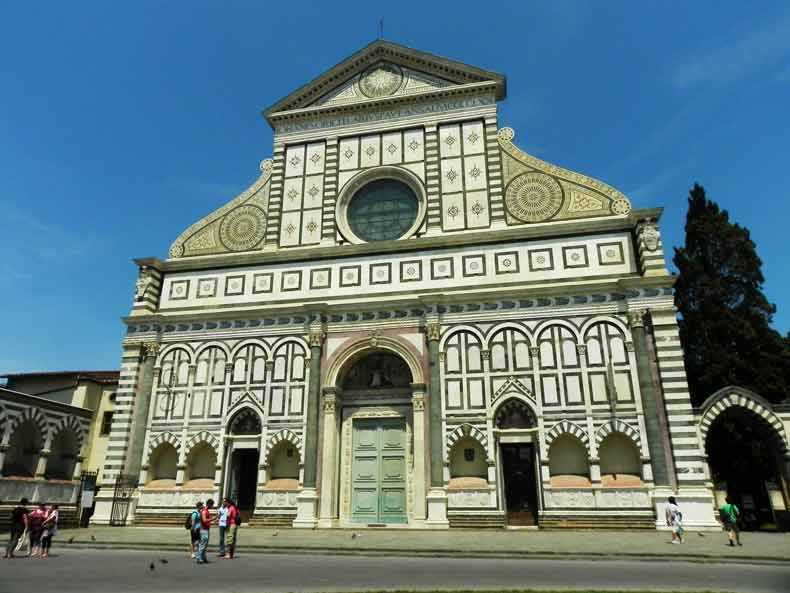 Santa Maria Novella in Florence
Photo © IQCruising.com
The train has been the Editor's favorite traveling choice for one main reason - the railway station in Florence is centrally located. Just 5-minute walk away, Santa Maria Novella and San Lorenzo are two sites that organized excursions never visit. Learn more abou How to Get There on Florence Overview Page.
► Explore: Tuscany Destinations and Livorno
All Reviews and Guides to Livorno Cruise Port Destinations - Pisa, Lucca, Siena, San Gimignano, Volterra, Cinque Terra and Livorno in Depth
Learn More ►