All cruise passengers need to know to have a quick bite or lunch in Pisa when on a cruise the port of Livorno.
The overwhelming majority of cruise travelers will visit Pisa on an excursion organized by the cruise line and, most probably, will not have enough free time to have lunch or even a quick bite in Pisa.
Contents
However, if the cruise visitor decides to explore Pisa on your own, there are quite a few good options to stop for a nice lunch. Discover How to Travel to Pisa from Livorno and Explore On Your Own.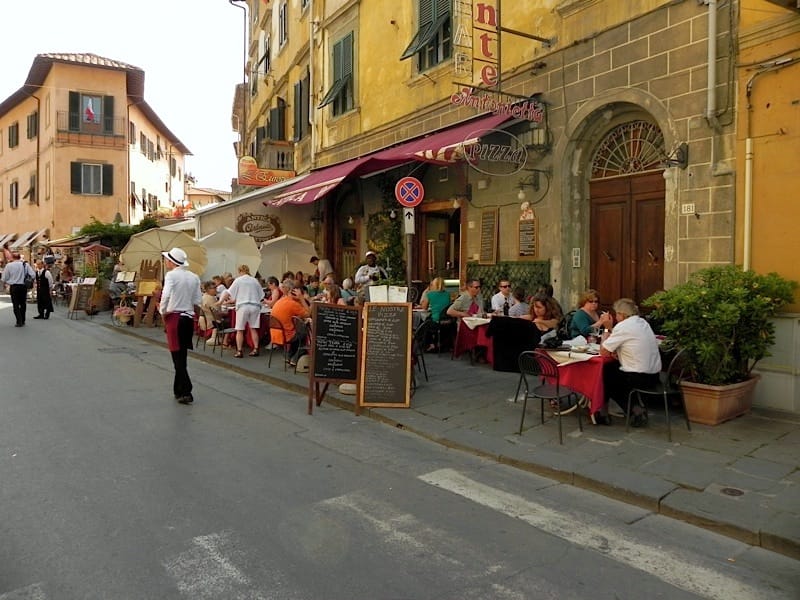 Restaurant on Piazza dei Miracoli in Pisa
Photo © IQCruising.com
The traveler will see a few restaurants right on or by the Piazza dei Miracoli but none of them are particularly attractive unless the visitor really wants to enjoy seating al fresco with views of the Leaning Tower. The best restaurants in Pisa are located south of the Piazza dei Miracoli and in a way ideally located for the cruise visitor exploring other attractions of the city.
Side Street Restaurant in Pisa
Photo © IQCruising.com
For those that do not like to explore without recomendations, the restaurants reviewd below are the Editor's favotites. Altough prices may not be as affordable as side street restaurants, all have excellent cuisine and service.
1. Osteria dei Cavallieri - $$ | $$$
Located on Via San Frediano, 16 - right by Piazza dei Cavalieri - this restaurant specializes in grilled fish dishes but also has some of the finest tagliata (thin slivers of uncooked beef).
Osteria dei Cavallieri, Pisa
Photo © IQCruising.com
The array of food leaves both vegetarians and meat lovers filled with joy. You can choose from three set menus - from the sea, garden, earth - or a la carte.
2. Osteria La Grotta - $$ | $$$
One of the best restaurants for lunch al fresco in Pisa, La Grotta is ideally located for the cruise traveler exploring Pisa on your own.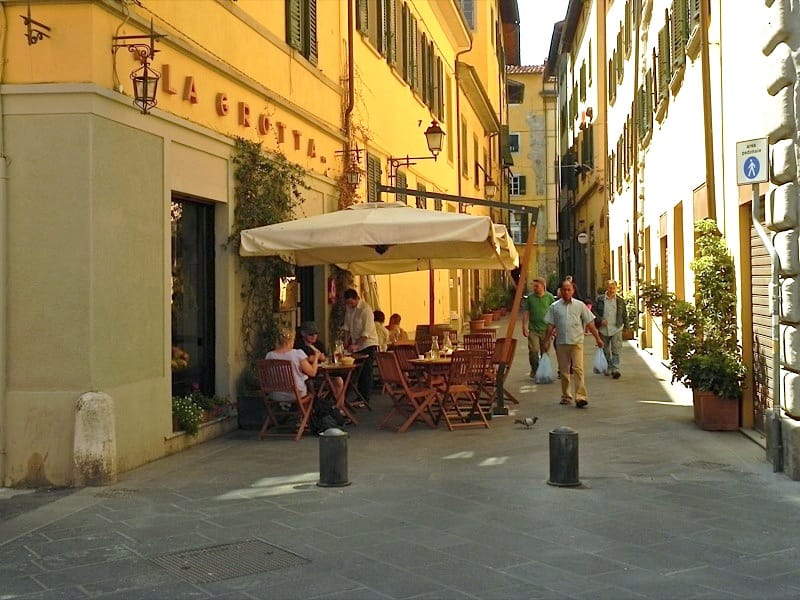 La Grotta, Pisa
Photo © IQCruising.com
On a main street off Via Oberdan, La Grotta is an affordable option if you venture into the main streets of Pisa beyond the Piazza del Miracole.
Address: Via San Francesco, 103
3. Osteria La Mescita - $$ | $$$
On Via Cavalca, very close to Piazza delle Vettovaglie, this restaurant might have simple décor but it features fine cuisine. The chefs keep things interesting by changing the menu every month. Sometimes you can find unique dishes such as eggplant soufflé and ravioli stuffed with garbanzo bean pate with a shrimp and tomato sauce. You cannot forget the cheeses, as the chefs like to include the standard Parmesans as well as richer cheeses like Gorgonzola. This restaurant stays open as an after-hours place, so the wine list is extensive.
4. Antica Trattoria da Bruno - $$
A Trattoria with paintings and photos littering the wall, this restaurant sticks with traditional Pisan dishes. You will find lots of prosciutto, pasta, garbanzo beans, salt cod, stock-fish and roasted lamb. The Trattoria focuses on seasonal dishes, taking advantage of the fresh seasonal vegetables and offerings of the area.
Address: Via Luigi Bianchi, 12
► Explore: Tuscany Destinations and Livorno
All Reviews and Guides to Livorno Cruise Port Destinations - Florence, Lucca, Siena, San Gimignano, Volterra, Cinque Terra and Livorno in Depth
Learn More ►