Top 4 Bagni (Bathing Establishments)
for Cruise Travelers to Livorno
- Overview, How to Get There and Reviews of Bagni Tirreno, Pancaldi Acquaviva, Bagni Fiume, Bagni Lido
Cruise Travelers calling at the port of Livorno and not exploring highlights of Tuscany like Florence or Pisa, may find that the "Bagni" close to town offer a good way of spending the day in the sun, in particular for those cruising with young ones.
Close to the Historical Center of Livorno and not that far from where the Port Shuttle stops at Piazza Municipio there are a few nice 'Bagni'. To have an idea of what to expect in these Bagni it is advisable to read our Port Guide to the Top Activities in Livorno.
Getting There
Besides the "Bagni" listed below there are a few more farther south that are not as easy to get to. The ones selected here have bus stops very close by. LAM BLU Bus, or LB (formally Bus Nº 1) has a stop on Via Grande on the right side (going south), which is very close to the Cruise Port Shuttle. It takes between 15 and 20 minutes to the Bagni on the South Coast.
If your cruise ships is docked at Porto Mediceo, the LAM BLU Bus has a stop at the start of Via Grande, on the left side (going south). For more information about this bus route check our Port Guide pages reviewing Basics and how to Get Around Livorno by Public Bus.
City Sightseeing Bus and Livorno Bagni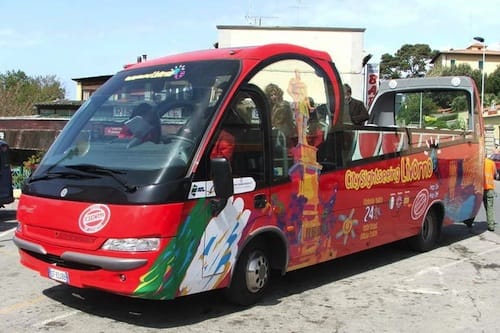 The City Sightseeing bus that tour Livorno as far as Montenero also has stops close to any of the "Bagni" listed on this page. The City Sightseeing Bus Tour offers discounts for the entrance fee in some of these "Bagni". If you want to do a tour of the highlights of Livorno and then go for a quick bite and a swim this can be a good way to do it. Tour Rates: children under 5 years old (Free) | Children up to 15 years old (€6.00) | Adults (€12.00) | Family Package for 2 Adults and 2 Children (€30.00).
Visit the City Sightseeing Website in English.
Bagni Tirreno
Closer to Town
The closest to the city center, just before the Aquarium, and almost at walking distance (1,800 meters or slightly over 1 mile) this is a typical "Bathing Establishment" with a swimming pool and a concrete flattened area with umbrellas, deck chairs and sun beds by the rocks that give access to the Tirenian Sea.
Click Photo to Enlarge and View Gallery
| | |
| --- | --- |
| WHERE: | South of Historical Centre - Next to Aquarium |
| More: | It has a water slide for children |
| Address: | Viale Italia, 36 |
| Prices: | Day Admission: €6.00 (Adults) Sun-beds/Deck-chairs: €6.00 | Umbrellas: €7.00 |
| Phone: | 0586 805076 |
| Website: | www.bagnitirreno.it | Facebook Page |
| Notes: | Public LAM BLU Bus, or LB (formally Bus Nº 1) stop for the Aquarium is very close to Bagno Tirreno. City Sightseeing Bus stop #3 is also nearby. |
Pancaldi Acquaviva
Historically Famous
Just after the end of Terrazza Mascagni, right in front the Grand Hotel Palazzo, it is impossible to miss the Pancaldi Acquaviva. However, the entrance is 200 meters farther south. Pancaldi Acquaviva has an Olympic Swimming Pool (50 meters long), two shallower swimming-pools for children (great for families with babies and young children) an a small beach. The historical sea-bathing complex was built in the 19th century (1840) for the local nobility and latter for the Italian Royal family. On site you will also find the Accademia Blu, a Padi Diving Center.
Click Photo to Enlarge and View Gallery
| | |
| --- | --- |
| WHERE: | South Coast - Acquaviva |
| Address | Viale Italia, 62 |
| More | Bar; Self-service and à la carte restaurant. Sailing (laser) and Pedal Boats, Soccer Field. |
| Prices: | Day Admission: €6.00 (Adults) | €5.00 (Children) | Sun-beds/Deck-chairs: €6.00; Umbrellas: €10.00 |
| Website: | www.pancaldiacquaviva.it |
| Notes: | Public LAM BLU Bus, or LB (formally Bus Nº 1) stop for the Aquarium is very close to Bagno Tirreno. City Sightseeing Bus stop #3 is also nearby. |
Bagni Fiume
Seaside Charm
One mile south of the Terrazza Mascagni, and the Piazza San Jacopo in Acquaviva, this old establishment (original structure goes back to the late 1800s) has a charm of its own. Although it doesn't have a swimming pool, the easy access to the water and the design of the sun decks 'transform' the ocean into a very large natural sea water pool.
Click Photo to Enlarge and View Gallery
| | |
| --- | --- |
| WHERE: | South Coast - Ardenza |
| Address | Viale Italia, 94 |
| Phone: | 0586 50 11 37 |
| Prices: | Day Admission: €5.00 Umbrella + 2 Deck-chairs: €27.00 |
| More: | Bar; Pizzeria; Self-Service Restaurant. |
| Website: | www.bagnifiume.com |
| Notes: | Public LAM BLU Bus, or LB (formally Bus Nº 1) stop for the Aquarium is very close to Bagno Tirreno. City Sightseeing Bus stop #3 is also nearby. |
Bagni Lido
Last but not Least
The last of the Bagni closer to Livorno's Historical Centre ( 3 miles or 5 kilometers south) its is right across the Casisni di Ardenza and the Parco Bartolini. It doesn't have a beach but the swimming pool and sun-decks are inviting.
Click Photo to Enlarge and View Gallery
| | |
| --- | --- |
| WHERE: | South Coast - Ardenza |
| Address: | Viale Italia, 126 |
| Prices: | Day Admission: €5.00 Sun-beds/Deck-chairs: €8.00; Umbrellas: €8.00 |
| More: | Self-Service Restaurant. Soccer field. |
| Phone: | 0586 501153 |
| Website: | www.bagnilidolivorno.com |
| Notes: | Public LAM BLU Bus, or LB (formally Bus Nº 1) has a stop right next to the "Bagno". |