The airports in Pisa and Florence, near the port of Livorno for passengers on cruises in 2023: flying in and out, how to get to the airports.
Livorno is not an Embarkation / Disembarkation port as it doesn't have a proper Cruise Ship Terminal designed and with required facilities for this purpose. Therefore is very unlikely that cruise travelers will use any of the two airports close by - in Pisa and Florence - unless there is a major emergency.
Contents
Pisa Airport
In the case of an Emergency Disembarkation when on a cruise ship docked in Livorno the nearest Airport is in Pisa, around 16 miles (25 km) north of the port.
The Galileo Galilei Airport in Pisa is one the most important in Tuscany, with domestic, and European flights to major cities such as London, Munich, Paris, Madrid or Berlin. This means that European cruise travelers can get home in no time and American cruisers will get connecting flights in any of the major airport hubs in Europe.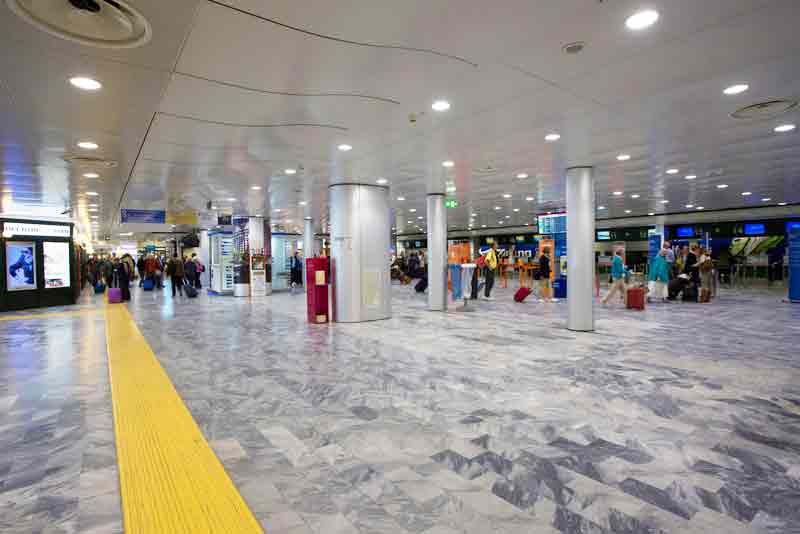 Pisa Airport
Photo: Public Domain
For some years, Delta Airlines operated a direct long-haul flight to New York but this has not been operational since 2016. Unfortunately, the direct bus service to the airport has been terminated in 2013.
Either the train or a taxi (€60.00 Euros) will be the best options to get to the Airport. For more information on this airport check the Pisa Airport Official Website.
Pisa Airport Map
Florence Airport
Farther away from the Cruise Port of Livorno, the airport in Florence also has direct flights to most major Italian and European cities.
The Aeroporto Amerigo Vespucci is close to Florence and around to 57 miles (92 km) from the cruise port. Don't expect to pay less than € 200.00 (Euro) to travel by taxi to the Airport in Florence. Florence Airport Official Website.
Florence Airport Map