Essential guide for cruise passengers to the best museums in Dubrovnik: reviews, photos, opening hours, entrance fares and all basic info.
Besides the top museums, which are highlights of Dubrovnik, there is a handful of very interesting museums in the Old Town the cruise traveler should keep in mind and eventually visit.
Contents
Overview
The top museums are reviewed in our article about the highlights of Dubrovnik and usually included on shore excursions but the other lesser known museums are very easy to explore on your own.
Some are small or specific like the Museum of Icons of the Serbian Orthodox Church, the Galerija Pulitika or the Natural History Museum.
If keen on exploring hidden treasures of Dubrovnik the visitor may find interesting exhibitions such as the ones displayed in the unique but disturbing War Photo Limited, the unusual Home of Marin Držić, the memorable Croatian War of Independence Museum, the impeccable Archaeological Museum, the astonishing Ethnographic Museum or the Maritime Museum.
Cruise travelers that enjoy visiting museums should look into buying the 1 day Dubrovnik Card, which for 200 kuna offers free transportation on Public Buses and free entry to 9 Attractions.
The Dubrovnik Card includes free entry on the following museums reviewed below: Ethnographic Museum Rupe, Marin Držić House and Archaeological Museum. A 10% discount is offered when buying the Dubrovnik Card online.
1. Ethnographic Museum
(Etnogrofaski Muzej Rupe)
This building, establish to house the state reserves of wheat, barley, and millet was called a "Rupe". It was built in 1580, carved out of stone, and then coated with a waterproof material that would keep the internal temperature at 17 degrees centigrade.
Ethnographic Museum Rupe in Dubrovnik
Photo courtesy Etnogrofaski Muzej
Today this building houses the ethnographic heritage of the Croatian people, with cataloged 70,000 plus items including weapons, musical instruments, tools, folk costumes, and jewelry. Also on display are artifacts from early explorers Stevo and Mirko Seljan from such places as Australia, the Congo, South America, China and New Guinea.
Where:

In the Old City, on the West Side

Address:

Od Rupa 3

Hours:

Between 10 AM and 4 PM

Closed:

Tuesdays, December 25, January 1 and February 3 (St. Blaise Day)

Entrance:

130 kuna adults | 50 kuna schoolchildren and students.

Phone:

+385 020 321 497

Website:
2. War Photo Limited
(Photojournalism)
In this museum you will find stunning (and sometimes disturbing) photographs of wars around the globe taken by some of the most famous photojournalists who covered them. The photos are changed throughout the seasons.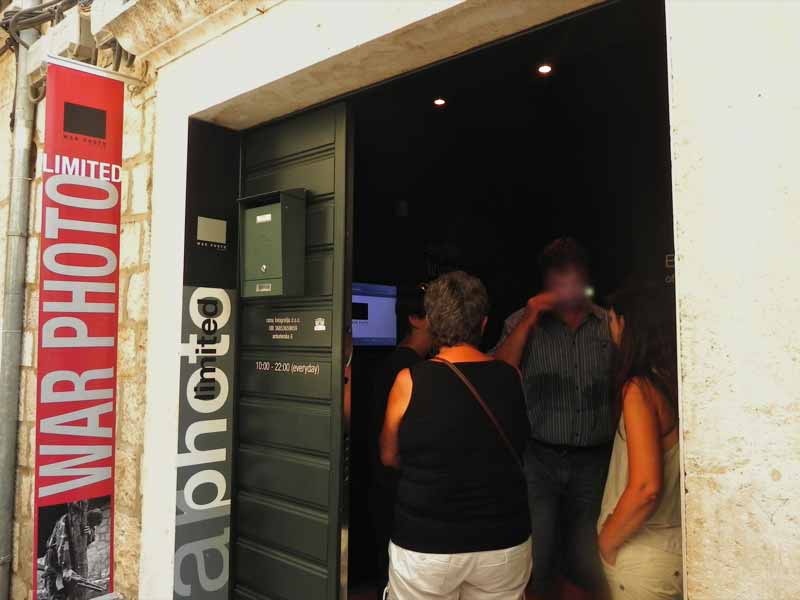 War Photo Limited Entrance in Dubrovnik
Photo © IQCruising.com
Located near the Placa, you will also find a section dedicated to the most recent conflict in the city, which resulted in a worldwide outcry and in the break of Croatia from Yugoslavia.
Where:

In the Old City, just off the main street (Placa aka Stradun) on the left side.

Address:

Antuninska 6

Hours:

April and October: everyday 10AM - 5PM (last admission 4PM) | May through September: everyday 10AM - 10PM (last admission 9PM)

Closed:

November through March

Entrance:

single 70 kuna | student ID 40 kuna

Phone:

+385 20 322 166

Website:
Croatian War of Independence Museum
(Muzej suvremene povijesti)
Located in one wing of the Fort Imperial, up in the Mount Srd, the museum is really named 'Museum of Contemporary History'. However, the museum is famous and usually referred to as a memorial to 'Dubrovnik in the Croatian War of Independence 1991 - 1995', because of its permanent exhibition about that infamous war.
Photo © Museum of Contemporary History
It displays documents, art and documentary photographs, printed materials, weapons and maps used at the time. And also objects from everyday life which belonged to the residents and defenders of Dubrovnik under siege.
Where:

Out of Town - up in the Mount Srđ, access by Cable Car

Address:

Fort Imperial | Srđ ul. 2

Hours:

Summer (March 22 to November 2) - 8AM to 8PM | Winter: between 9AM and 4PM

Entrance:

Adults: 30 kunas | Children: 15 kuna
House of Marin Držić Museum
(Croatian Renaissance)
Step back into the 16th century and visit a museum the likes of which you have never yet seen.
Home of Marin Držić in Dubrovnik
Photo © IQCruising.com
An interesting and modern audiovisual presentation will give visitors the opportunity of becoming familiar with the life and works of Marin Držić, the greatest Croatian Renaissance comedy writer from Dubrovnik.
Where:

In the Old City, on the East side, close to Old Harbor

Address:

Široka 7

Hours:

Tuesday – Sunday: 9AM to 8.30PM

Closed:

Monday, December 25, January 1 and February 3 (St. Blaise Day)

Entrance:

Adults: 130 kuna | Students: 50 kuna

Phone:

+385 (20) 32 32 42

Website:
NOTES: Joint ticket includes entry to Dubrovnik Museums (Cultural History Museum in the Rector's Palace, Maritime Museum in Fort St John, Ethnographic Museum in the Rupe/Holes granary, Archaeological exhibitions in Revelin Fort), House of Marin Držić, Dubrovnik Natural History Museum, The Museum of Modern Art Dubrovnik, Gallery Dulčić Masle Pulitika, Studio Pulitika.
Archaeological Museum
(Arheološki Muzej)
Divide in 8 collections, the Archaeological Museum was founded in the 1990's and occupies the ground floor of the Revelin Fortress by the Old Port.
Archaeological Museum (Fort Revelin) in Dubrovnik
Photo © IQCruising.com
The museum has been going through constant expansion and the Fort is just a temporary venue but one that is as impressive to visit as the displays exhibited.
Where:

In the the East side of the Old City on ground floor of Revelin Fortress.

Address:

Paska Miličevića 1

Hours:

Between 10AM and 4PM

Closed:

Wednesdays, December 25, January 1 and February 3 (the Feast of St Blaise)

Entrance:

Adults: 130 kuna | Students: 50 kuna

Phone:

+385 20 324 041

Website:
Aquarium and Maritime Museum
(Pomorski Muzej)
The Dubrovnik Aquarium and Maritime Museum is located on the first floor of St John's Medieval Fortress, (Sveti Ivan) and is perfect for the cruise traveler traveling with children.
Aquarium
Photo © IQCruising.com
Here you can view the many species from the Adriatic Sea in the 27 tanks featuring everything from lobster and eels to seahorses, octopus, and coral. A walk around the Maritime Museum brings insight into the importance of the sea and maritime trade to Dubrovnik.
Where:

on St John's fortress, close to the harbor on East end of the Old City

Address:

Za Karmenom 1

Hours:

Winter (3 November – 21 March): 9AM to 4PM | Summer (22 March – 2 November) - 9AM to 6PM

Closed:

Mondays, December 25, January 1 and February 3 (St Blaise's Day).

Entrance:

120 kuna

Phone:

+385 20 323 904

Website:
Sigurata Convent Museum
(Samostan Muzej Sigurata)
The Sigurate Convent Museum is located on grounds believed to house an early church and was later established by the Franciscan Nuns as a convent during the 13th century. The museum itself now houses artifacts and household items that were once used by the Nuns. The unique location on a small street appears to be an entrance to someone's garden and is quite beautiful. Inside you will also observe two wax dolls of "Bambino" or baby Jesus.
Where:

In the Old City

Address:

Od Sigurate 13

Hours:

July and August - 10AM to noon | 4PM to 6PM

Closed:

Sundays. All other months open on request by prior arrangement.

Entrance:

€3.00

Phone:

+385 20 321 467

Website: