Everything cruise travelers need to know about cruise ships anchoring in Santorini: tender boats to the dock in Skala, all services and amenities, how to explore on your own, and the cable car to Fira.
The island of Santorini in Greece does not have a port where cruise ships can dock. Instead, cruise ships will anchor and, sometimes, with as many as five ships calling at Santorini, the transfer operation to the island can be a bit hectic.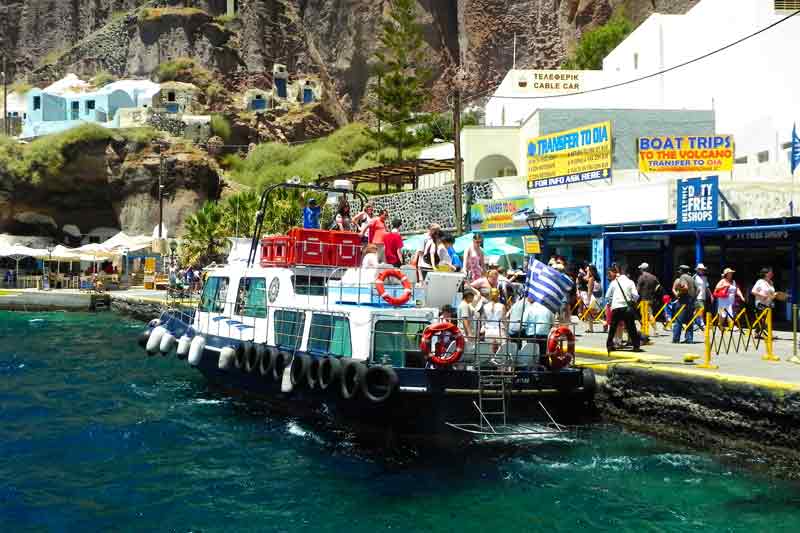 Tender Boat in Skala
Photo © IQCruising.com
As cruise ships anchor at the vast bay surrounding the volcano's crater, passengers will be transported to the to the small port of Skala on large and comfortable tender boats operated by locals. Skala is right below the town of Fira perched on the top of the volcano's wall.

Some cruise ships offering excursions to Akrotiri or full-day sightseeing tours of the island may have an earlier stop close to the port of Athinios just to transfer those on these excursions booked onboard. However, unless booked on of these shore excursions, all other cruise travelers will be tendered to the Port of Skala.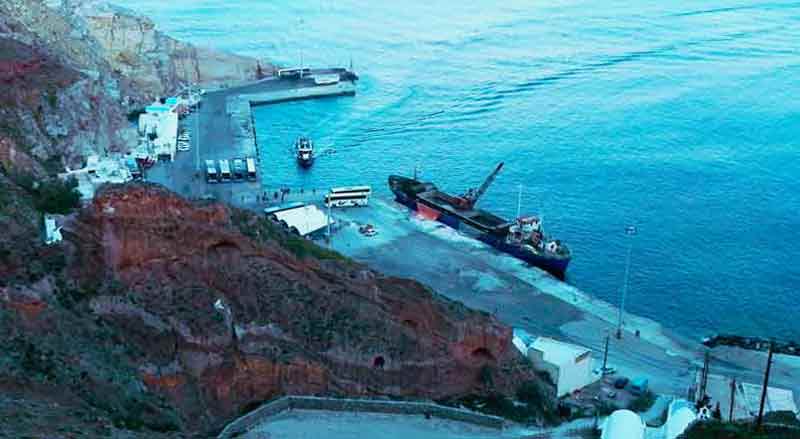 Port of Athinios in Santorini
Photo © IQCruising.com
Cruisers should be aware that the pier/dock in Skala can get very busy with travelers walking to and from tender boats, in particular when there are as many as 5 ships anchored. Besides the regular transit between the tender-boat piers and transportation to the attractions uphill, many also like to explore the many amenities in Skala.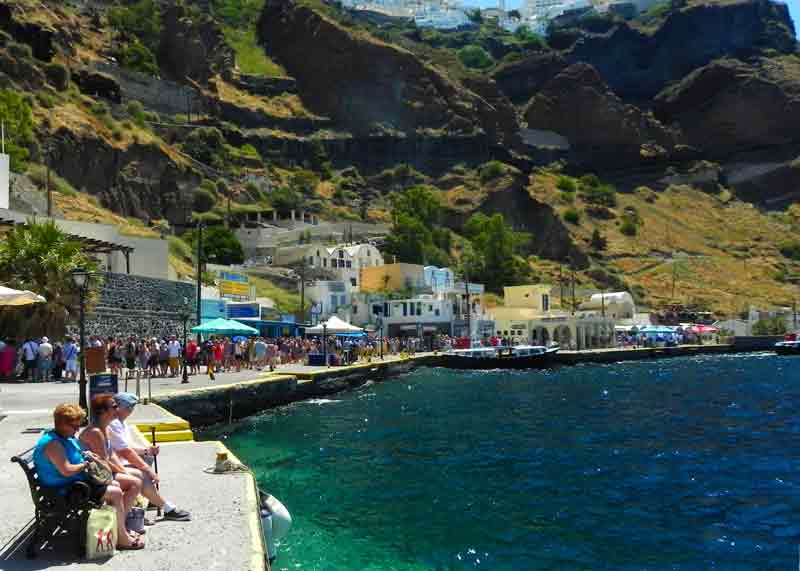 Skala Dock in Santorini
Photo © IQCruising.com
Amenities and Services in Skala (Santorini Port)
Here, you will find a good number of shops with souvenirs of the island, and also excellent and very well priced duty-free shops selling tobacco, liquors, spirits, chocolates and local delicacies with some of the best prices in the Eastern Mediterranean.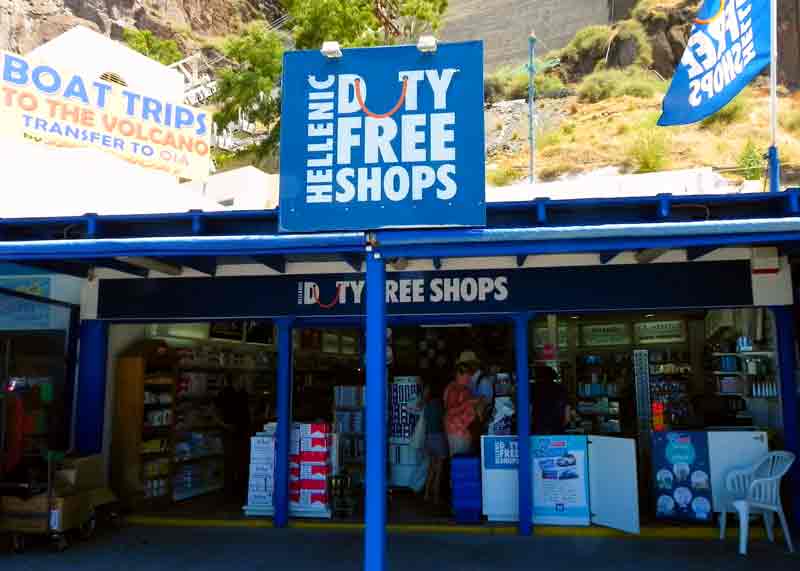 Duty-Free in Skala
Photo © IQCruising.com
The port/dock of Skala is also known for having a handful of restaurants, tavernas and cafes where prices are much more reasonable than up in the towns of Fira and Oia. In fact, Syrtaki is the Editor's favorite restaurants to taste excellent fresh fish and one of the best salads (Greek one, obviously) in Santorini.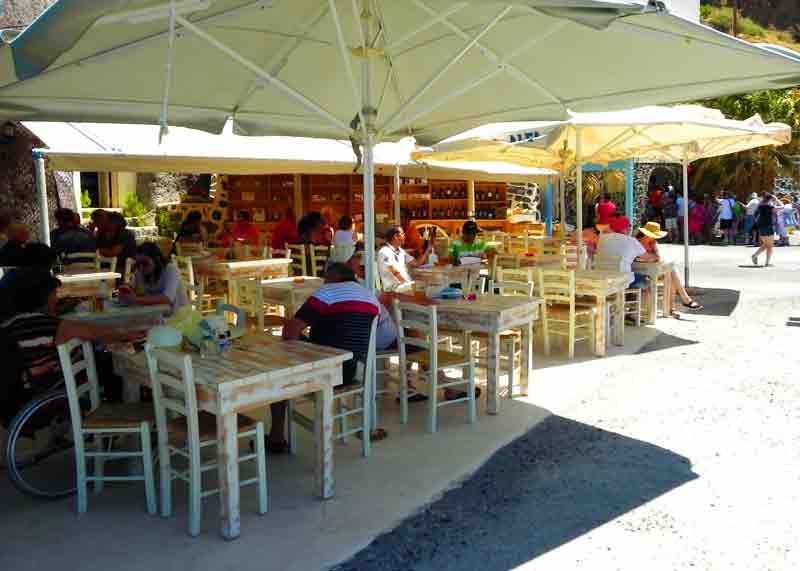 Restaurant in Skala
Photo © IQCruising.com
Besides souvenir shopping and a few good places to have a quick bite or lunch, Skala is also the place to find most service and amenities for cruise travelers to Santorini.
Exploring Santorini on Your Own
For those planning to explore Santorini on your own, cruise travelers will find and Exchange Office with some of the best rates in the Eastern Mediterranean, a Tourist Information office or Car and Scooter Rental - although you will have to go to Fira to pick up the vehicle the top of hill.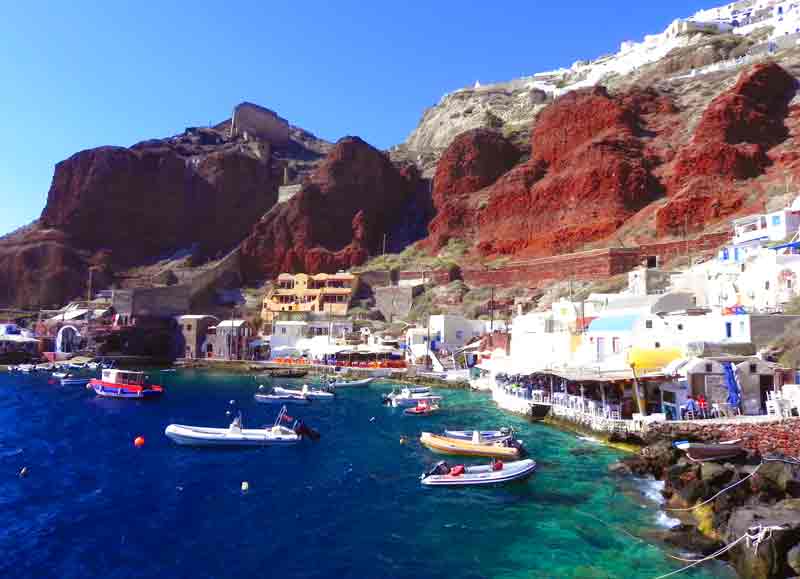 Amoudi Bay in Santorini
Photo © IQCruising.com
There are also a few local operators/guides offering tours of the island, and in Skala you can also get on the excellent transfer to the bay of Amoudi that deserves to be highlighted.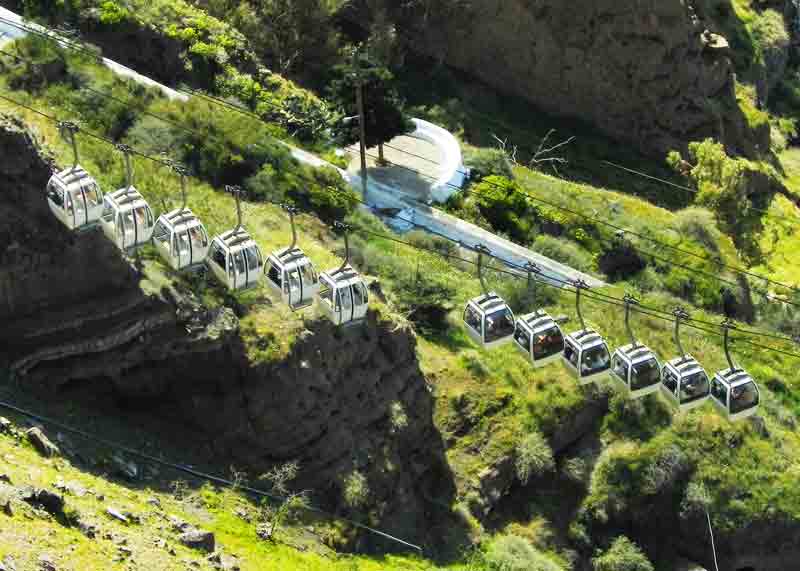 Cable Car in Santorini
Photo © IQCruising.com
Skala is also the location where you will get on the Cable Car to Fira or on a Donkey (Mule) unless you are prepared to go up 587 steps, which are shared with the smelly equines.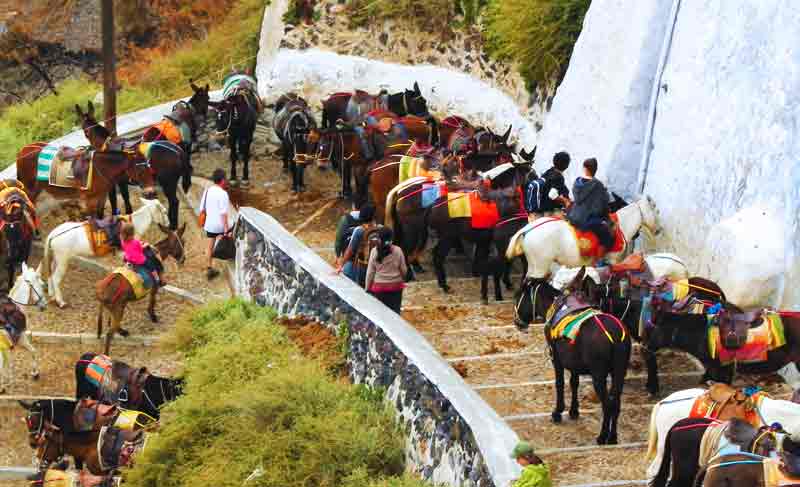 Donkey's Steps in Santorini
Photo © IQCruising.com
Money Exchange, Tourist Information, Scooters and Car Rental
If you need to change money, a Exchange Office in Skala has the best rates in the Eastern Mediterranean - take advantage as you will not get better anywhere else. Next, to the Exchange Office, there is a Tourist Information office with good maps. For those that would like to get on a scooter or a car to drive around the island - be it to the beaches or to secluded hidden gems that shore excursions do not cover - there are excellent offers.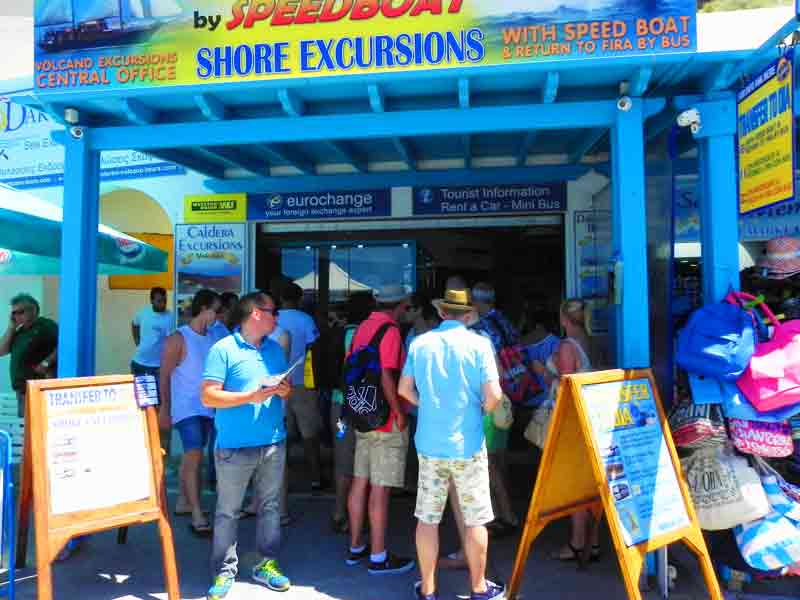 Basics in Skala
Photo © IQCruising.com
Be aware that cars and scooters need to be picked up in Fira (the town on top of the Port of Skala) but do not think that you will get a better price anywhere else but by the tender pier of Skala. If you have pre-booked a car online, make sure that you know exactly where to pick up - it most probably will be in Fira where Thrifty, Sixt, Hertz and all other top international Car Rentals are located.
Local Tours and Excursions
If you haven't booked an excursion onboard, you can still get on a tour with local and independent tour operators right at the Port of Skala.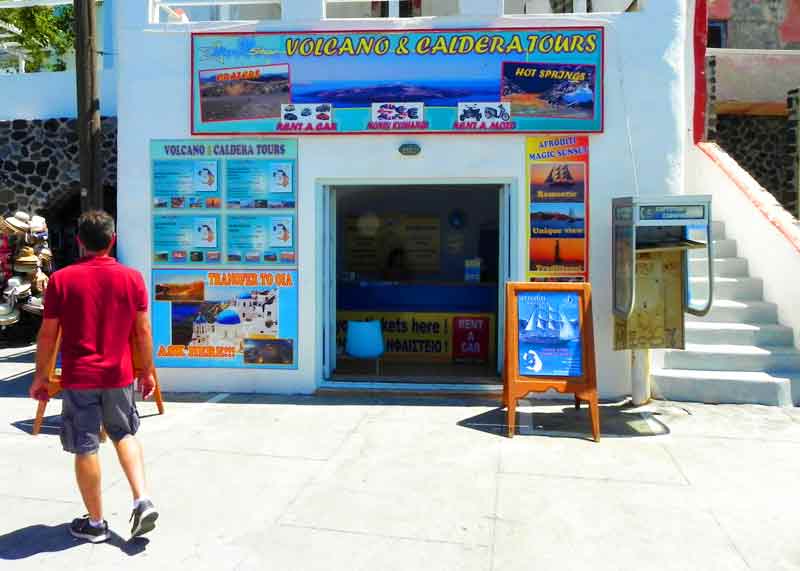 Tour Operators in Skala
Photo © IQCruising.com
Most of these tours are pretty much identical to the ones offered by the cruise lines and although prices can be a little lower do not expect to get a huge discount. However, the local operators/guides tend to have fewer excursionists in their groups, which in itself can be much nicer. At the Port of Skala, there is also an excellent transfer to the bay of Amoudi that deserves to be highlighted - more about this below.
Cafes and Restaurants in Skala
Along the pier there are a few restaurants and coffee shops to enjoy a leisurely waiting time - either for the remaining of the afternoon before getting back on the tender and to the cruise ship, or before going up to explore the island. To the left of where the tender boats dock, there a couple of nice taverns and to the right, a couple of cafes are good places to wait.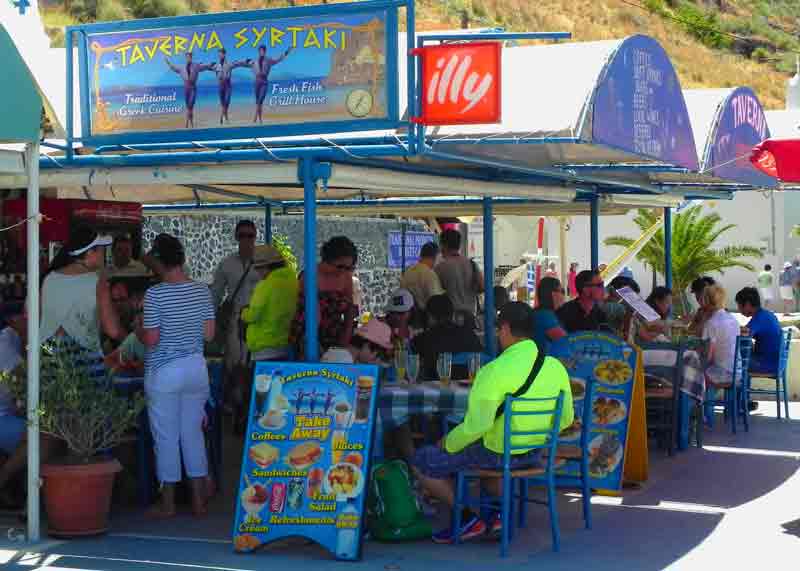 Syrtaki Restaurant in Santorini
Photo © IQCruising.com
If looking for a real Greek lunch the Editor's favorite is Syrtaki: excellent fresh fish and one of the best salads (Greek one, obviously) in Santorini.
How to Get to Fira, Oia and Around
Besides the fact that the Port of Skala is the place where the cruise traveler will find the best services to explore Santorini, it is also here that you will find the only two ways of getting to the top of the cliffs and to the town of Fira - the Cable Car or the zig-zag steps (587 to be precise) shared by pedestrians and donkeys.
Donkeys - Mules
The most traditional way to go up to Fira is the old Greek way - by donkey (mule) - although many do not realize that it is also pretty smelly until getting closer to the spot where you will mount the equines. Many a cruise traveler do point out the cruelty of such a tradition. The fact this tradition is mentioned in this review does not in anyway imply that the Editor approves of the use of mules to climb to Fira.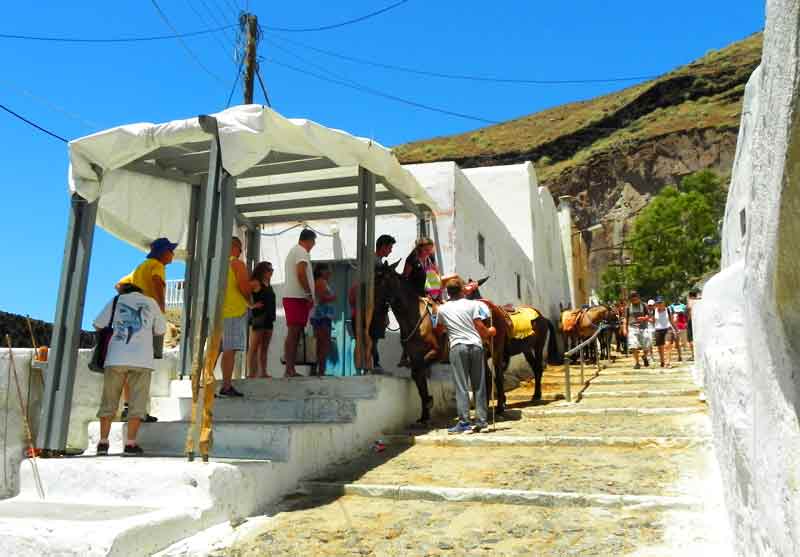 Donkey Station in Santorini
Photo © IQCruising.com
Many a cruise traveler cannot resist the temptation of this adventure and the thrill has become a typical attraction when visiting Santorini. The cobblestone path for the donkeys is also accessible for all that prefer to walk up but, if you choose to do so, be aware that the paved steps will at times need to be negotiated with riders.
It is also good to know that donkeys do NOT use public toilets and that pedestrians may have to engage in a negotiation of a completely different nature.
Cable Car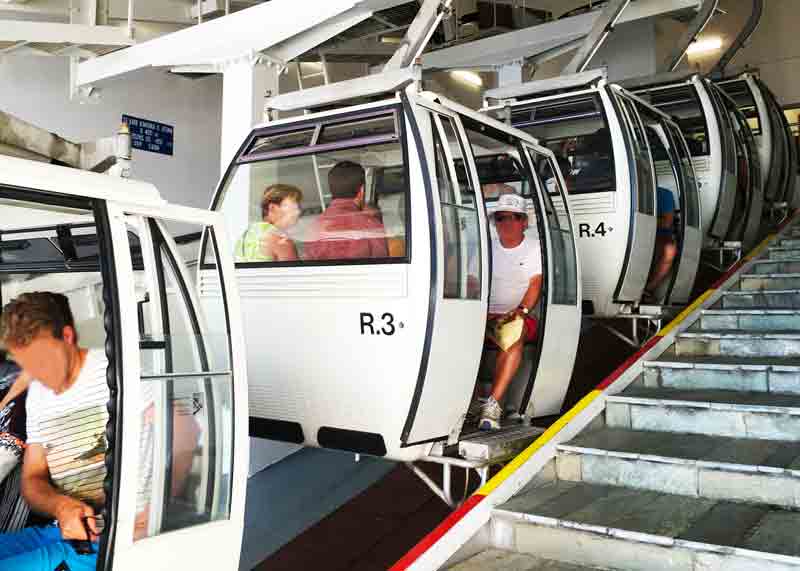 Cable Car in Santorini
Photo © IQCruising.com
For a few decades now (since 1979) there is a cable car connecting the Port of Skala and Fira. The Cable Car doesn't have the same "attraction" status as the donkeys but offers equally spectacular views of the island and is thrilling for some. The journey takes less than 3 minutes, is smooth and comfortable and costs €7.00 each way.
Six pods with a capacity for 4 travelers run almost continuously and transport 600 people per hour in each direction. You don't have to be a math genius to figure out that, inevitably, there can be a bit of waiting in line when there are more than a couple of big cruise ships in port.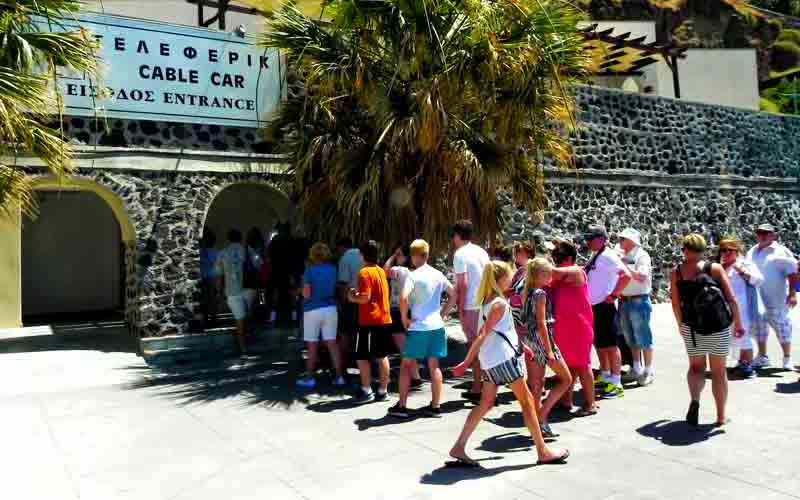 Cable Car Entrance in Skala
Photo © IQCruising.com
Going up is not much of an issue and if you don't want to wait in line just enjoy a few minutes on any of the cafes close by. But you should be aware that on the way down, particularly as it gets closer to sailing time, the lines can get as long as frustrating.
Obviously, if the cruise traveler encounters too long a line there is always the alternative of walking down the 'donkeys' zig-zag path. The Editors' advice is to get in line at least 1 hour prior to the last tender and enjoy the amenities around the dock/pier, be it for a relaxed refreshment or last-minute souvenir shopping.
The Transfer from Skala to Amoudi
Less known, divulged and rarely mentioned onboard most cruise ships, there is also the Editor's Favorite way of exploring Santorini. For around €20.00 per person, you can get from the Port of Skala to the off-track Port of Amoudi - in itself a wonderful attraction - just below the village of Oia, which is one of the Top Highlights of Santorini.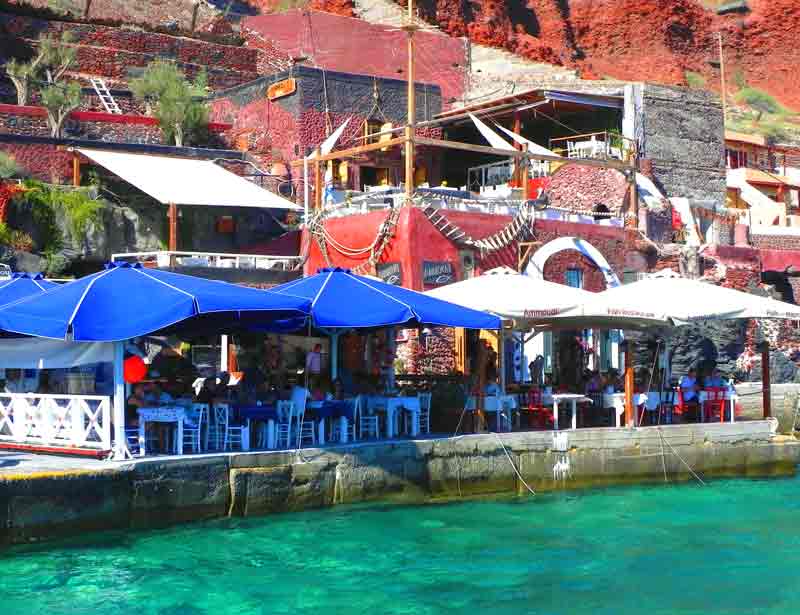 Amoudi Bay Restaurants in Santorini
Photo © IQCruising.com
From the dock on the bay of Amoudi, you can take a regular bus, a donkey or walk up 214 steps to Oia and then from Oia get a bus to Fira.
When deciding to choose this path, just look out, as you exit the tender boat in Skala, for a couple of tour operators offering this service - you may choose between a speedboat or a motorized sailing boat. It is advisable to confirm if the service is offered on a hop-on-hop-off basis.
The only downside of this transfer is that you will arrive in Amoudi too early for lunch, where a couple of restaurants serve absolutely delicious fresh fish in a spectacular setting. However, close by there is a wonderful, secluded, small rocky beach and you may want to make some time basking in the sun.
The dock in Amoudi is also the departing pier for the boat to the island of Thirasia - an off the beaten track non-touristic quaint stunner. Cruise lines do not offer tours to Thirasia and if you want to explore it on your own, make time to enjoy late lunch in Amoudi on the way back.
► Explore: Overview of Santorini
Top Highlights, Fira, Oia, How to Get Around...
Learn More ►