Basic guide to the landmarks of Basseterre historical center for cruises to Port Zante in St Kitts such as the National Museum, the Independence Square, and famous Churches
Every single cruise line offers tours (know by many as 'Shorex) to the Old and Historical Town of Basseterre, which is a stone throw away from the Terminal of Port Zante in Saint Kitts. Local and Independent Tour Operators will invariably suggest or include on their excursions a couple of stops by major landmarks of the Old Town.
Any of the excursions that include the historical sites of Basseterre are always interesting. However, if for whatever circumstance you prefer (or have the spare time) to explore on your own, the Historical Old Town is very easy and safe to be meander on foot.
Explore on Your Own
If you wish to explore the landmarks of the Historical Town of Basseterre the best exit is through the archway at the north west end of the Terminal in Port Zante. Although there is a sign clearly indicating the National Museum, many a cruise traveler do not realize that the building with the archway once was the Treasury and is now home to the National Museum. The archway opens right into Bay Street.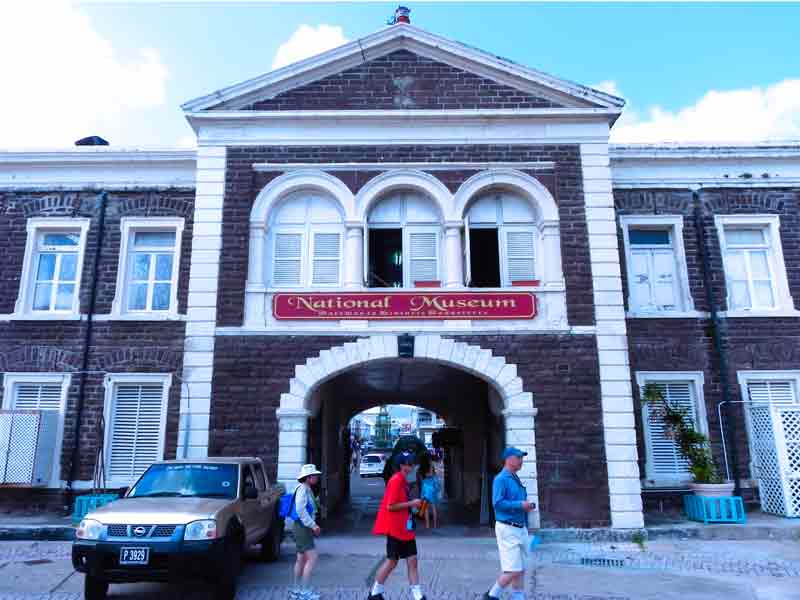 National Museum in Basseterre
Photo © IQCruising.com
This will be the first time since leaving the ship that you will see cars on a street. Be aware that driving in Saint Kitts is like in Britain (on the left) therefore make sure you look right before crossing any street in Basseterre.
Once you pass the Museum's archway, the street right in front is Fort Street. This is one of the major streets in Basseterre and you will not miss a green iron clock tower - aka Berkley Memorial - just one block down at the center of the 'Circus', a small and iconic square.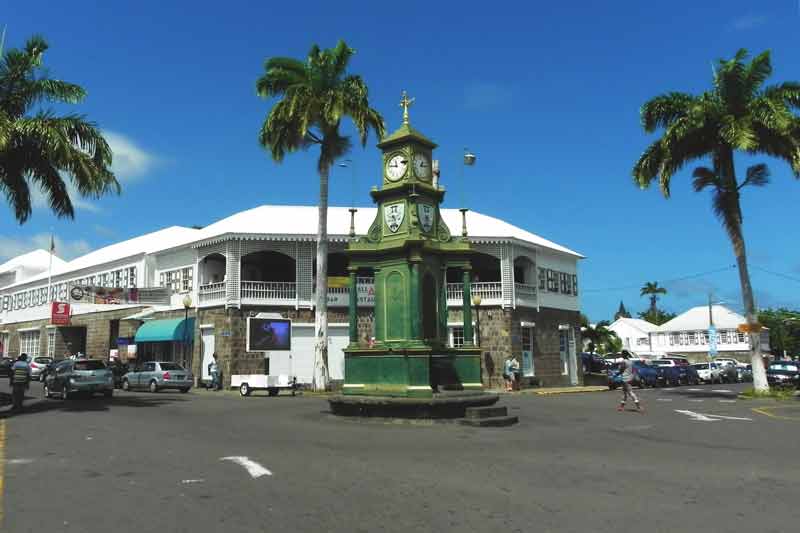 Berkley Memorial in Basseterre
Photo © IQCruising.com
To the north of the 'Circus' (continuing on Fort Street) the St. George Anglican Church and the Wesley Methodist Chruch are two major landmarks that those wishing to explore the Caribbean past will enjoy. It should be noted that the Anglican Church is open to visitors and has a very interesting interior.
St. George Anglican Church in Basseterre
Photo © IQCruising.com
To the East of the 'Circus' (right), the Central Street leads straight to the Independence Square. This historical landmark, once named Mall Square and where the old slave market once upon a time took place.
Independence Square in Basseterre
Photo © IQCruising.com
Besides its greenery and unique design in the shape of a Union Jack, the main attraction of Independence Square is the Immaculate Conception Catholic Co-Cathedral. The church is open to visitors and its interior a must see. The Catholic Co-Cathedral is a reminder of Saint Kitts' French colonial past and its religious influence in the island.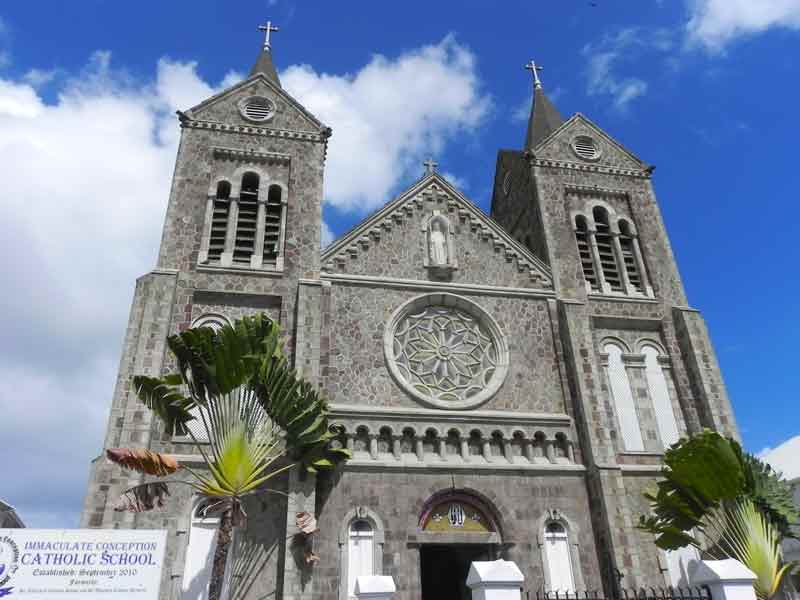 Immaculate Conception Catholic Co-Cathedral in Basseterre
Photo © IQCruising.com
Other Saint Kitts Reviews