Guide to the top attractions, highlights and best things to do on a cruise to Port Zante (Basseterre) in St Kitts: Beaches, Zip Line, Brimstone Fortress, Scenic Railway, Timothy Hill, Caribelle Batik, and more
There are lots of things to do and many attractions to see in St. Kitts. Cruise passengers looking for a day enjoying the sun and beach have quite a few choices ranging from the hip and party ambiance to the secluded and paradisiacal.
If adrenaline pumping is your thing, there are all sorts of activities available. A good number of Historical Landmarks, including a UNESCO site, are just around the corner from the cruise port. Scenic routes, tours and nature treks should definitely be added to any cruise passenger to-do-and-see list.
A to Z - Attractions
Activities
(Sea and Land)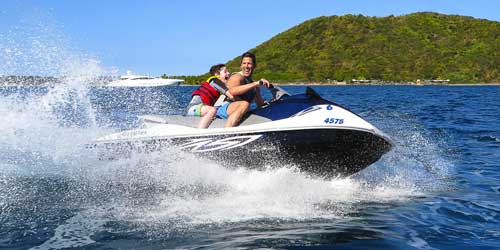 Photo Courtesy of St Kitts Tourism Authority
The cruise traveler looking for energetic pursuits will find a good number of activities in Saint Kitts. Most are water-related but also a couple of fun land experiences such as horseback riding or ziplining (review below). For those that enjoy adrenaline pumping, Jet Skiing, Kiteboarding or Flyboarding, are widely available. Like everywhere in the Caribbean both Snorkel and Scuba are not to be missed. For more relaxed water sports, Sailing, Kayaking or Stand-up-Paddleboarding, are great options. Finally, Deep Sea Fishing is a must do.
Beaches
(Popular and Secluded)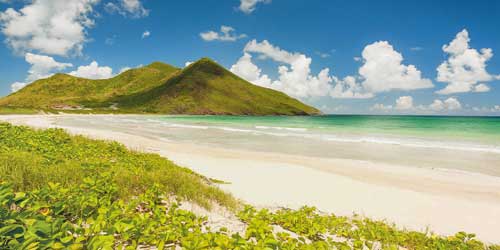 Photo: Courtesy of St Kitts Tourism Authority
Although the cruise traveler will not find any beaches within walking distance from the Port Zante, Frigate Bay, South Friars Beach and Cockleshell Beach are top rated beaches easy and affordable to get to by taxi. All these have the typical amenities and services cruise travelers expect in the Caribbean: beach chairs and umbrella rentals, water sports and famed beach bars like Shipwreck Beach Bar or Reggae Beach Bar. Inevitably, because these are the most popular and divulged, they can get a bit crowded. But the cruise traveler as many more beaches to choose from.
Brimstone Fortress
(a UNESCO Site)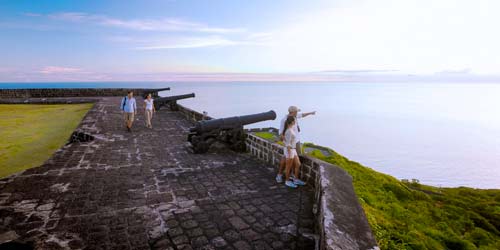 Photo Courtesy of St Kitts Tourism Authority
With stunning vistas of St. Kitts and the Caribbean Sea, the Brimstone Hill Fortress National Park is a UNESCO World Heritage Site of singular historical importance. On a site 240m above sea level, construction started in the 1690's and finished in the 1790s. Among the best-maintained military structures in the Americas, the Fortress is a stunning architectural example of what became known as a 'polygonal system'. The Citadel is a delight to visit and the views a panorama not to be missed.
Official Website: brimstonehillfortress.org
Clay Villa Plantation
(House Museum)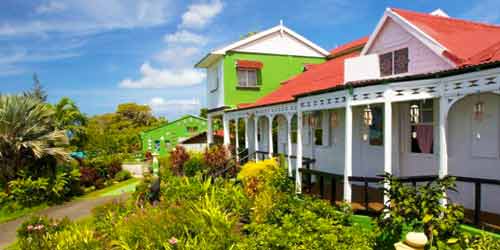 Photo: Courtesy of St Kitts Tourism Authority
A genuine Kittitian Legacy, the Clay Villa is a hidden secret that surprises all visitors to its Plantation House and Gardens. The charming, tropical, lush gardens are a delight to meander. Although still occupied by the owners, the Overseer's House is also a family museum where the cruise visitor can travel in time to bygone days. After all, you will be visiting a 10-acre property that dates back to the 1760's.
Official Website: clayvilla.com
The National Museum
(Treasury Building)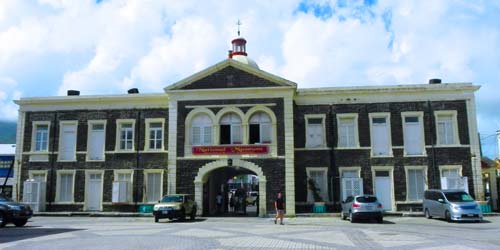 One of the main exits of Port Zante, on the left side of the Terminal, is through the archway of a colonial building dating from 1894 that used to be the Treasury. This unmissable building is now the National Museum. Unless you have absolutely no interest whatsoever in history, the Museum is a Must See. Here the cruise visitor will have the opportunity to discover a lot about the history of St. Kitts and Nevis. On display, you will find all sorts of exhibits, artifacts, objects, photos and documents with information about the islands' people, sea life, traditional culture, colonial past and recent history.
Entrance: $3.00 (USD)
Official Website: www.stkittstourism.kn
Nevis
(The Sister Island)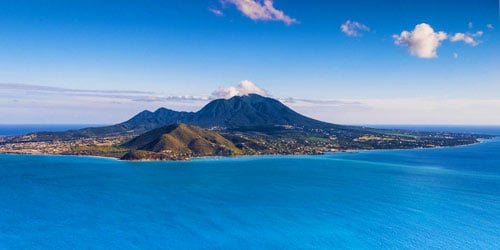 Photo: Courtesy of St Kitts Tourism Authority
Although a few cruise ships dock in Nevis, the island can be visited when calling at Basseterre. This can be an interesting excursion for those that have been in St. Kitts before. The island has quite a few Historical Sites and Landmarks to visit, like the Museum of Nevis History (birthplace of Alexander Hamilton), the Nelson Museum, the Jewish Cemetery, the Botanical Gardens, the Bath Hotel or the St. Paul's Anglican Church. Over half a dozen paradisiac beaches seldom crowded are major attractions..
Rainforest
(Exuberant Trails)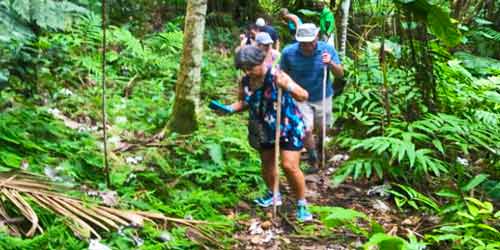 Photo: Courtesy of Greg's Safaris
As much as St Kitts is a lush island, it is in the Central Forest Reserve National Park that the cruise visitor will have the opportunity to explore its unique tropical exuberance. Besides a good number of trails through over 900 botanical varieties, wildlife can be observed (namely green vervet monkeys, hummingbirds, and mongooses), a refreshing dip in creeks and springs can be enjoyed, and from mountains and hills, the panoramic views are unique. Hiking, mountain biking or a drive on a modified 4X4 Land Rover are great ways to explore this Rainforest. Ziplining is also a top attraction - more about this below.
Romney Manor
(Caribelle Batik)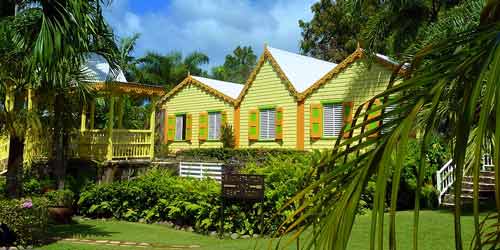 A visit to the Romney Manor is both a historical revival and a crafts education. The house is on a Sugar Estate that once was the home of the Caribe Kalinago Chief Tegraman. The first British settlers lived here in 1623, and so did Sam Jefferson (the great great great-grandfather of the American President) until the Earl of Romney took over and transformed it into the wealthiest on St Kitts. Today, Caribelle Batik occupies the colorful Manor where you can visit the workshop and see live demonstrations of the tie-dye process.
Open: Everyday 9 AM to 5 PM
Official Website: www.caribellebatikstkitts.com
The Scenic Railway
(Top Attraction)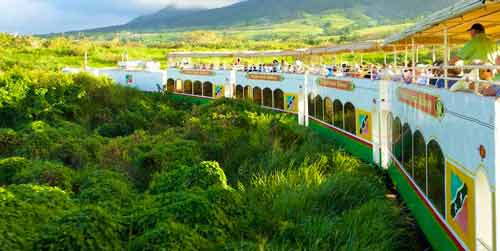 One of the most popular attractions among cruise-ship travelers, the Scenic Railway is a one-of-a-kind experience. The only and last operational railway in the Caribbean offers a sightseeing tour covering a 30-mile circle around St. Kitts. Most of the tour, 18 miles, is on double-decked railcars with the remaining 12 miles on air-conditioned small buses. This allows travelers to enjoy scenic vistas and also more up-close views of major landmarks. Along the tour, a historic narration is accompanied with complimentary drinks and a three-voice a cappella group singing Caribbean folk songs.
Official Website: www.stkittsscenicrailway.com
The Strip
(on Frigates Bay)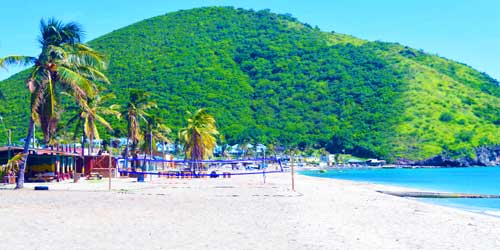 Photo Courtesy of Pereira Tours
The Strip is a hot-spot in St. Kitts that become a top attraction for both cruise travelers during the day and staying visitors that flock here for the best nightlife on the island. This sandy strip on Frigate Bay, a couple of miles south of Basseterre, is lined with beach bars and restaurants for all tastes and flavors. As much as the golden sanded beach is very pleasant and good for sunbathing, the Strip's real magnetism is the party ambiance and great food served in over one dozen bars and restaurants.
Timothy Hill
(Spectacular Sightseeing)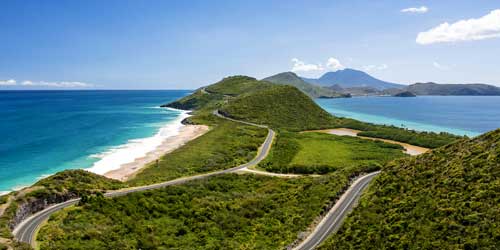 Photo: Courtesy of St Kitts Tourism Authority
No sightseeing tour of St. Kitts is complete without a stop at Timothy Hill. The view is wonderful and a great photo opportunity not to be missed. From this lookout, the cruise visitor has the rare chance to view the meeting of the Atlantic Ocean and the Caribbean Sea. In between, stands the island of St. Kits with its lush foliage, sloping hills, beautiful coastline and Nevis close by. Thansk to the popularity of this spectacular sightseeing spot it can be a bit crowded. Inevitably, tourist stalls and the odd man with a monkey charging $5 for a photo are showing up along with visitors.
Zip Line
(in the Rainforest)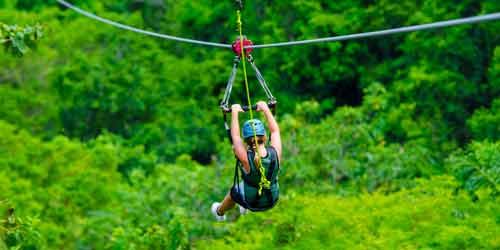 Photo Courtesy of Sy Safari Tours
As mentioned above, the Rainforest of St Kitts can be enjoyed in an adrenaline experience that has become a top attraction of the island. The scenic ziplining offered at Wingfield Estate has 5 cable lines. The longest is 1350 feet long, reaching speeds up to 80km an hour (55 miles/hour) and some 250 feet above the ground. Besides the thrill of flying over the rainforest, the cruise traveler will also explore its treks and learn about the ecosystem in between lines. As with many Top Attractions in St. Kitts be prepared to have large (20 people) groups ahead of you.
Sky Safaris Website: www.skysafaristkitts.com
More Saint Kitts Reviews