Guide to unusual things to do in St Kitts on a cruise to Port Zante (Basseterre). There are 5 off-the-beaten-track attractions to explore beyond shorex highlights: the Amazing Grace Experience, the Bloody Point, the Mount Liamuiga, the Petroglyphs next to Romney Manor and the Exotic Flora found at the Eco-Park.
Surprising as it may sound considering the small size of the Island, the cruise traveler that has been-there-and-done-that will find quite a few hidden secrets in St Kitts.
Nevis Island
Photo Courtesy of St Kitts Tourism Authority
Naturally, Nevis with its secluded beaches (over half a dozen) and historical landmarks is an off-track destination to explore that was included in the 'highlights' review of St. Kitts.
► Explore: St Kitts Top Things to See and Do
Activities, Beaches, Brimstone Fortress, Old Town, Scenic Railway and more ...
Learn More ►
Below you will find a few more off-the-beaten-track attractions that you may want to add to your to do and see list.
A to Z - Off-Track
Amazing Grace Experience
(an Historic Landmark)
Photo Courtesy of Amazing Grace Experience
Few cruisers to St. Kitts are aware that Amazing Grace - one of the most loved songs of all time - was composed here. The dramatic story of how John Newton, a slave trader, ended up writing such a sublime song can be revisited in the bay of Sandy Point. Here, a Visitor Center invites travelers to discover the history of St. Kitts, what happened to John Newton and how it contributed to abolish the Slave Trade.
Open: Monday to Friday 10:30 AM to 4 PM | Closed on Public Holidays.
Entrance: $5.00 (USD)
Website:
amazinggraceexperience.com
Bloody Point
(Historic Landmark)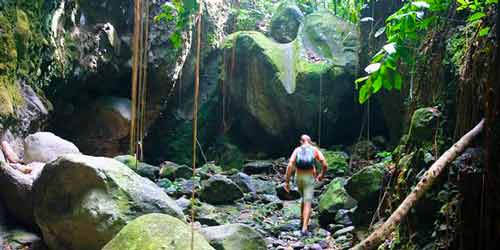 Photo Courtesy of TripAdvisor
There isn't much to see at Bloody Point and just a few tours will include it in historical itineraries. However, some cruise travelers may want to make sure that they don't miss it. The main reason to mention Bloody Point and pass by is purely historical. This is where, in 1626, English and French colonial invaders massacred most of the Carib population of the Island. Seldom mentioned, a nice hike through the Stone Fort River will lead to the narrowing of the canyon where some interesting petroglyphs can be also found.
Mount Liamuiga
(and Black Rocks)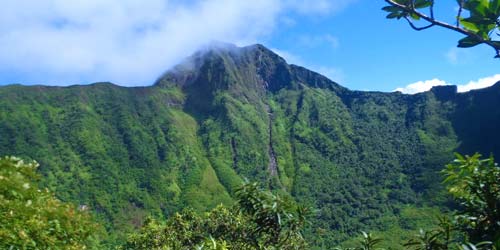 Photo Courtesy of Saint Kitts Tourism Authority
For those that enjoy hiking adventures, climbing the Mount Liamuiga will be a memorable one. You need to be fit, count with 6 to 7 hours for the hike to the top of a dormant volcano and have a guide but the reward is unique. On the seashore, close to the village of Saddlers, the flow of lava from eruptions over 2,000 years ago developed into unusual rugged formations know as Black Rocks. Interesting to see on a tour of the island but not really worth a visit on purpose.
Petroglyphs
(next to Romney Manor)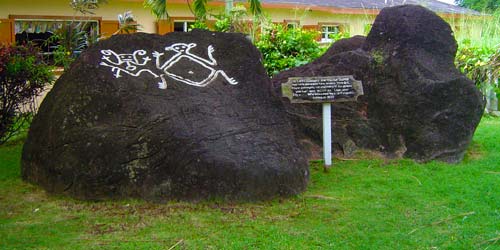 Near the Romney Manor a series of unusual carvings on two dark rocks should not be missed. Known as petroglyphs, these carvings seem to be in their original location as it looks unlikely that they have been moved here. Experts haven't agreed on what they depict - Gods? Fertility symbols? - but archeologists do not doubt that these were made the original Carib inhabitants long before Europeans discovered the Island.
St. Kitts Eco-Park
(Exotic Flora)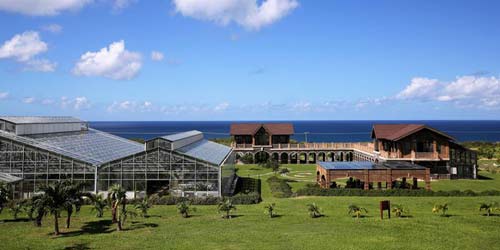 Photo Courtsesy of Eco Park
Although the Eco-Park is open for visitors, the cruise traveler shouldn't expect a full tourist guided service to this farm-demonstration. Most staff are working gardeners and guidance is not always the best. With an $8.00 (USD) entrance fee, some may feel that it isn't worth it. However, for those that enjoy discovering exotic botanical wonders, the Eco-Park may be an interesting surprise. The setting is wonderful and there are many attractions to enjoy in its 20 acres like the Greenhouse, the Rose Garden, the Horticultural Labyrinth or the Tropical Orchard.
Facebook Page: StKittsEcoPark
Other St Kitts Reviews