Discover where cruise ships dock or anchor in Saint Lucia (Castries). Everything you need to know about the cruise terminals in La Place Carenage and Pointe Seraphine.
The cruise port in St Lucia is located in Castries the main city and capital of the Island Nation. Although most cruise ships dock at one of the two piers/terminals, some large ships may also anchor just outside the bay of Castries.
Where Cruise Ships Dock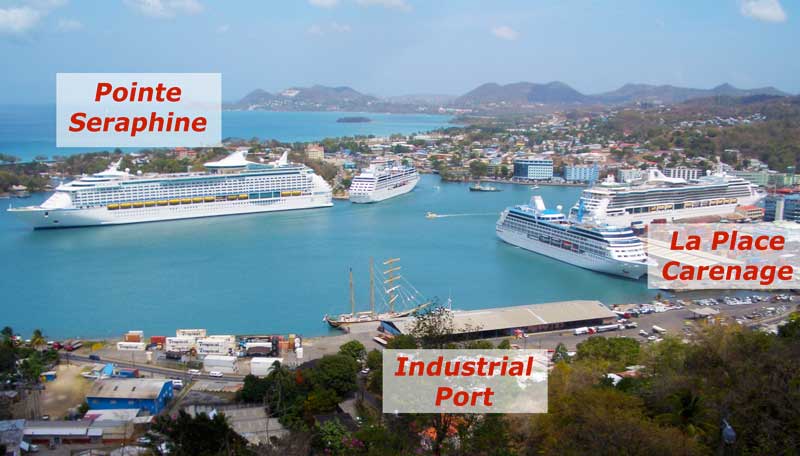 Most cruise ships of all sizes dock in a small bay by Castries - the capital of St Lucia. There are two main piers (and Terminals) in St Lucia's main cruise port. The Pointe Seraphine on the northern side and the pier at La Place Carenage right downtown - the exit gates literally open to the main street. Very seldom, small ships may also dock at the Industrial Port.
Anchor and Tender
It may also happen that mega-ships like Queen Mary II will anchor outside the bay and passengers are tendered by their own boats to the eastern corner of La Place Carenage.
Tender Boats in Castries
Photo © IQCruising.com
Services and Amenities
Both piers are serviced by Cruise Port Terminals with all basic amenities - Tourist Information Kiosk, Taxi Dispatch, Tours and Excursions Desk, Restrooms, Cafes, Bars, Car Rentals, Restaurants, the best duty-free shopping in St. Lucia and also souvenir shops and some local crafts.
Tourist Office at La Place Carenage, Castries
Photo © IQCruising.com
Alternative Ports - Soufriere
Although Castries is the main cruise port in St. Lucia, some ships may have an additional stop next to Soufriere to pick up passengers on full-day tours to the famous Pitons and other attractions close by.
Soufriere Tendering, Saint Lucia
Photo © IQCruising.com
Some small and luxurious cruise lines like Seadream, Windstar or Seabourn also call at Soufriere - instead of Castries - anchoring and tendering passengers to the old capital of St. Lucia. Both Marigot Bay and Rodney Bay (Pigeon Island) are also alternative anchoring ports of call.
La Place Carenage Cruise Port Terminal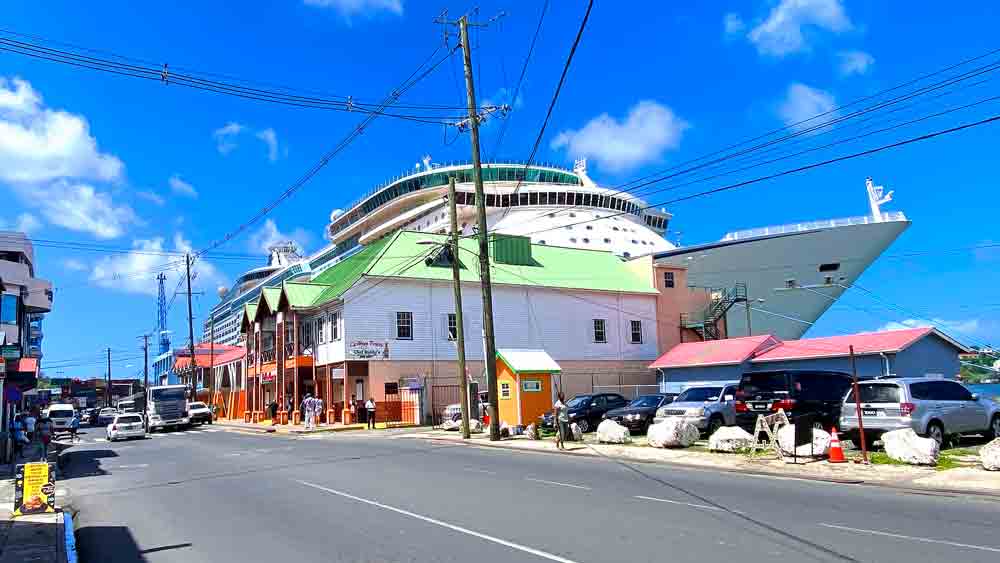 The Cruise Port Terminal at La Place Carenage is ideally located to explore landmarks of Castries such as the Catholic Cathedral, the Derek Walcott Square, the Central Library or the Craft Market which all can be visited in slightly over one hour.
La Place Carenage, Castries
Photo © IQCruising.com
On the ground floor of the Cruise Port Terminal, there are quite a few duty-free shops. Besides the usual ones found almost everywhere in the Caribbean - Diamonds International among others - liquor, spirits, tobacco and souvenir shops do offer some of the best prices in the Caribbean.
Shop at La Place Carenage, Castries
Photo © IQCruising.com
The cruise traveler interested in handcrafts and less touristic souvenirs, should walk out of the terminal, turn left and explore the Craft Market - no more than 500 feet (150 meters) away.
Central Market, Castries
Photo © IQCruising.com
Inside the terminal, on the first floor, the cruise traveler will also find the very popular the Caribbean Pirates Restaurant & Bar. Unfortunatelly, it has been closed since the pandemic but there are rummors that it will open soon.
Caribbean Pirates Restaurant
Photo © IQCruising.com
Besides the cuisine of Chef Robbiy, the restaurant has Free Wi-Fi and a wide veranda overlooking the pier. If moored at Point Seraphine Cruise Porte and no ships are docked at La Porte Carenage (which happens quite often) the views of the bay are a wonderful sight - many savvy cruisers (as well as crew and officers) cross the bay on a water taxi to savor truly genuine Saint Lucian flavors al fresco.
Pointe Seraphine Cruise Port Terminal
The Pointe Seraphine Terminal is larger than La Place Carenage. It is also more spacious, with a mix of covered and open air areas and with quite a few enticing attributes for the cruise traveler to relax after a day exploring St. Lucia and before getting back onboard. In fact, many a cruise traveler that has been to St. Lucia before doesn't even leave Pointe Seraphine.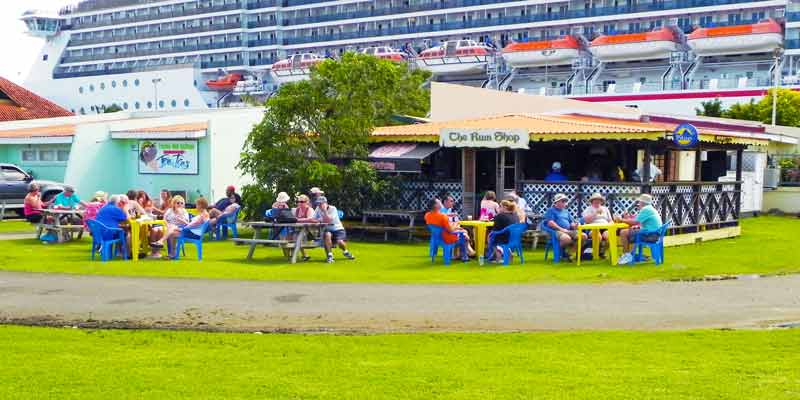 Pointe Seraphine Terminal
Photo © IQCruising.com
The pier is parallel to the Terminal and as the cruise traveler enters the main building a Tourist Information Desk occupies the center of the main hall with a few duty-free shops around it and very good signs indicating where to go.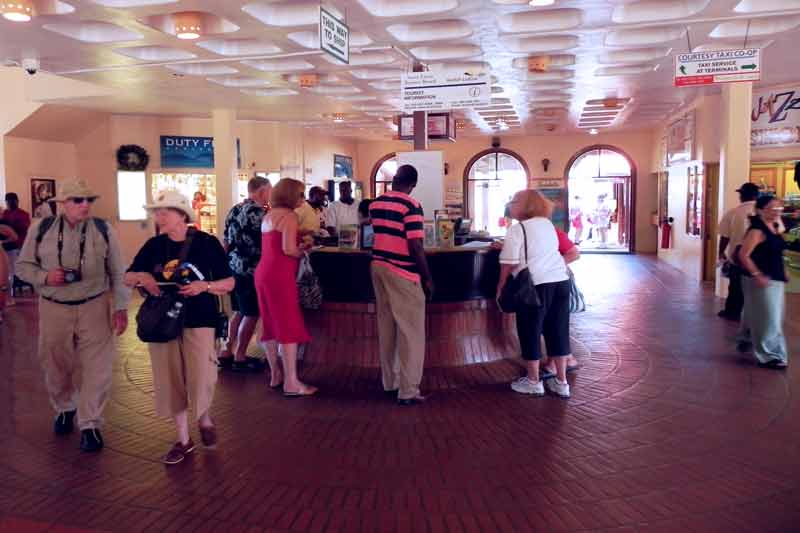 Tourist Information Desk
Photo © IQCruising.com
From the main hall there are three possible paths. The doors right in front open to a Local Tour Desk, a couple of Car Rentals (National and Guys) and a Diving/Snorkeling Kiosk among other services.
Tour Desk Pointe Seraphine
Photo © IQCruising.com
To the right of the port the cruise traveler will find higher end shops (more about shopping below), the exit to town, the parking for tour buses and a taxi dispatch just before the gates that open to the main road.
Shop at Pointe Seraphine
Photo © IQCruising.com
To the left, there is an open zone lined with small shops (mainly souvenirs and a few crafts) and beyond these, you will find a manicured garden with cafes, bars, grill/restaurant. The following are Editors' favorites: the Rum Therapy Bar & Treatment Centre, the Antillia Brewing Company, and the Pink Papaya Facebook Page.
Pointe Seraphine Terminal
Photo © IQCruising.com
It is also in this green area that the cruise traveler will find a water-taxi connecting the two piers. This is a relaxing way to cross to downtown or to Pointe Seraphine if docked at La Place Carenage and wishing to explore the other terminal.
Water Taxi Ferry at Pointe Seraphine
Photo © IQCruising.com
Last but not least amongst amenities, Free Wi-Fi Internet is available almost everywhere at the Point Seraphine Cruise Port Terminal. Insider's hint: you will get better connections in the indoors areas.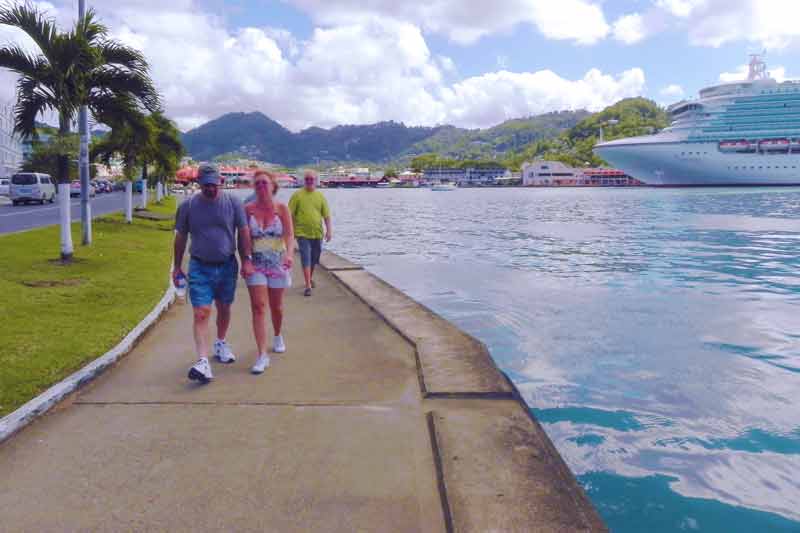 Walking to Castries
Photo © IQCruising.com
The Cruise Port Terminal in Pointe Seraphine is a 20-minute leisurely walk (under 1 mile) along the waterfront to the center of Castries. Have in mind that it will most probably be hot and that there isn't much shade on the way. Light clothing, sunscreen, hat and comfortable footwear are strongly recommended. You may find a few local vendors along the way but unlike what happens in many a Caribbean island none will be harassing you.
Other St Lucia Port Reviews
► Explore: Top Reviews - Caribbean Ports
Discover the Most Popular Caribbean Port Reviews - St Thomas, St Kitts, Barbados, Nassau, Cozumel, Grand Cayman, Miami and more ...
Learn More ►