Best Places to Shop
in Miami for Cruise Travelers
- Bayside Market, Brickell City Center, Design District, Lincoln Road, Dadeland Mall
Most cruise travelers visiting Miami with shopping in mind, have heard or read about famous and huge malls like Aventura, Sawgrass, Dolphin or the shops in Bal Harbor. All have distinctive characteristics but all have in common the fact that they are located miles away from Miami's Cruise Port.
Shopping Overview
The cruise traveler will need at least half-day to shop at any of these malls as it takes no less than an hour to get there. The popular Aventura Mall is 30km north of the Port - over 90 minutes by bus (Route #93 at Downtown MetroBus Terminal). The equally famous Dolphin Mall is 24km East of the Port; close to 2 hours by bus - Route #7 at Downtown MetroBus Terminal.
The luxurious Bal Harbor Shops are not that far from South Beach, if staying overnight in the area, but are over 1 hour away from the Port by bus or at least 40 minutes if driving. The Sawgrass Mills Mall is over 30 miles away - no less than 45 minutes driving and more than 2 1/2 hours by public transport. Obviously, the cruise traveler will need at least half-day to shop at any of these malls
Shops & Malls Close to the Port
The good news is that there are other malls closer to the Port with easier transportation. Malls like Bayside Market, which is just around the corner from the Port of Miami, the Brickell City Center that is at walking distance or Dadeland Mall that is just 15 minutes away by train.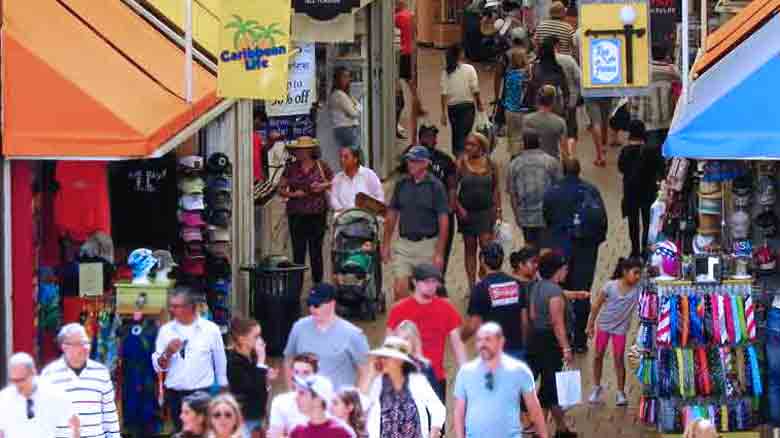 Bayside Market, Miami
Photo © IQCruising.com
Bayside Market
The Bayside Market has been for many years the most popular among cruise travelers. It has a good number of stores and lots of booths and stalls with souvenirs of all types. Amongst the famous stores, you will find Gap, Victoria's Secret, Sunglass Hut, Bath & Body Works, Claire's, Footlocker, Crocs, Disney Store or Brookstone. The Bayside Market is equally famous for its eateries and restaurants to enjoy a meal all fresco in well-known places like Bubba Gump, Hooters, Chili's, Fat Tuesday, Five Guys or the massive Hard Rock Cafe.
Brickell City Center, Miami
Photo © IQCruising.com
Brickell City Center
However, not known by most cruise travelers, there are 3 other major shopping malls closer to the Port of Miami and with easy access - two of them recently open. The Brickell City Center is within walking distance, just south of the Miami River. It is a luxury ultra-modern mall anchored by Sacks Fifth Avenue surrounded by over 50 shops filled with beauty, home decor, jewelry, and apparel - brands like Acqua di Parma, Adolfo Dominguez, Armani, Audemars Piguet, Bally, Boss, Coach, Cole Haan, Lululemon, Richard Mile, Sephora, Stuart Weitzman, Ted Baker, Tommy Bahama and Victoria's Secret among others.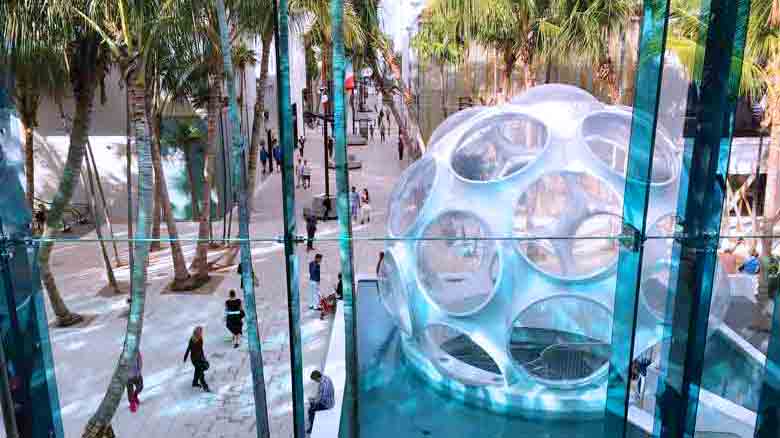 Design District, Miami
Photo © IQCruising.com
Design District
The Design District is the most recent urban development in Miami (north of Downtown) and has already become a must. It is easy to reach on the Biscayne Trolley (FREE). The wonderful Palm Court of the Design District and the four blocks around it are worth a visit, as are the shops of major luxury brands: Armani, Bulgari, Cartier, Dior, Fendi, Givenchy, Hermes, Hublot, IWC, Lowe, Miu Miu, Panerai, Piaget, Prada, Tiffany, and Vuitton are some of the names the visitor will stumble upon.
► Explore: Port of Miami OVERVIEW
When looking at a map, it is clear that the Port of Miami is connected to Downtown by a bridge and access 'should' be easy. However, many a cruise ship passenger ...
Learn More ►
South Beach - Lincoln Road
Obviously the Lincoln Road Mall in SoBe could not be left out. The mall takes its name from the pedestrian section of the road between Alton Road and Washington Avenue. Every single store is either a shop, a restaurant, a bar or a cafe. Famous shops include brands like Aldo, All Saints Spitalfields, American Eagle Outfitters, Banana Republic, BCBG Max Azria, Bebe, Desigual, Diesel, Fossil, Gap, Guess, J Crew, H&M, Lacoste, L'Occitane, Sketchers, Swarovski, Swatch, Ted Baker, Urban Outfitters or Zara. The Apple Shop in Lincoln Road is massive and just behind the pedestrian street (on the northern side) the cruise traveler will find a large Macy's Department Store.
Dadeland Mall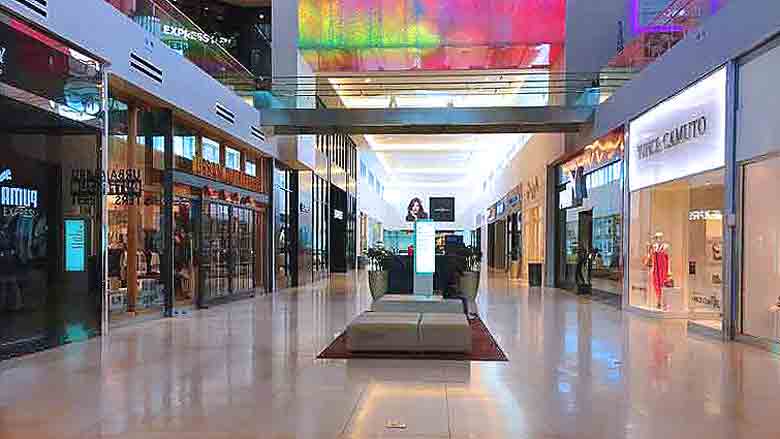 Dadeland Mall, Miami
Photo © IQCruising.com
Little know to visitors but a must for residents, the Dadeland Mall is a massive mall with 4 major department stores: Sacks Fifth Avenue, Macy's, JC Penney and Nordstrom. In between these, the visitor will find stores of brands such as Abercrombie & Fitch, Aeropostale, Aldo, American Eagle Outfitters, Ann Taylor, Armani, Aeropostale, Banana Republic, Bebe, Brookstone, Claire's, Coach, Gap, Disney Store, Florsheim, Guess, Hollister, Kay Jewelers, Kipling, Lacoste, Louis Vuitton, Michael Kors, Oakley, Pandora, Porsche Design, Puma, Sephora, Stuart Weitzman, Talbots, Tommy Bahama, Tumi, Urban Outfitters, Vans, Victoria's Secret, Vince Camuto, Stuart Weitzman, White House Black Market, Zales Jewelers or Zara.
Getting There: MetroRail south route takes 15 minutes from Government Center Satin in Downtown. The Mall is a 5-minute walk from the MetroRail Dadeland South Station.
More Miami Reviews
► Explore: Top 7 Caribbean Ports
Discover where cruise ships dock and what's at the pier in Grand Cayman, Nassau, St. Thomas, Cozumel, St. Maarten, Aruba and Antigua.
Learn More ►